15 Mar
News and Analyses, A Foreign Perspective
Nearly all of these are English-edition daily newspapers. These sites have interesting editorials and essays, and many have links to other good news sources. We try to limit this list to those sites which are regularly updated, reliable, with a high percentage of "up" time.


About 3,000 schools across America protest in coordinated riposte

Students step out of classrooms to spur action for change
Students across US walk out of class in gun violence protest – video
Thousands of students poured out of classrooms in the US on Wednesday in an unprecedented expression of mourning and a demand for action to stem the country's epidemic of gun violence.
In a stunning visual riposte to the public inertia that has followed mass shootings in the US, crowds of students at an estimated 3,000 schools across the country marched on running tracks, through parking lots and around building perimeters, carrying signs that read "Enough" and chanting, "Hey hey, ho ho, gun violence has got to go".
The walkout fell one month after a student gunman killed 17 people at Marjory Stoneman Douglas high school in Parkland, Florida, in the deadliest high school shooting in the country's history. Survivors of that massacre joined other student activists to organize Wednesday's demonstration, which was promoted by the Women's March movement that sprang up after the election of Donald Trump.
"There were lots of emotions, many people were crying. We were thinking of the 17 we lost," said Florence Yared, a third-year student at Stoneman Douglas, who joined 3,000 of her schoolmates on the school's football pitch, where exactly one month ago many were running for their lives.
Students elsewhere filled sidewalks in Brooklyn, kneeled in hallways in a Georgia high school, stood silently in a row in Virginia, and sat in a group with backs turned on the White House. Most demonstrations were planned to last 17 minutes, one for each of the Parkland victims.
In some school districts, students gathered against the warnings of administrators. At Booker T Washington high school in Atlanta, Georgia – once attended by Martin Luther King – a public announcement warned that any protester who left school hallways would incur "swift and severe consequences".
"Dr King carries a legacy even in death," said Markail Brooks, a senior. "So I feel as if it's an obligation to carry on what he wanted and what he was trying to fight for and that's why this day is very important."
At an elementary school in Alexandria, Virginia, children synchronized their watches and a captain in each room led students outside two minutes before the planned 10am protest start time.
"Some parents have felt that we're not old enough to know about it," said one student, Carter, 11, about school shootings. "They think because we're fifth-graders we don't know anything about what's happening."
Another student, Henry Gibbs, 10, said: "Just the sensation that we are going to make a difference makes me feel proud."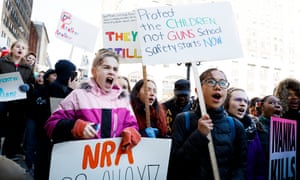 The students called for new gun safety legislation and opposed plans to arm schoolteachers. Photograph: Justin Lane/EPA
In Chicago, public schools changed class schedules to accommodate the walkouts, while the archdiocese announced that about 80,000 students at 200 Catholic schools would participate in assemblies to discuss gun violence.
The protesters called for new gun safety legislation, including a ban on assault weapons and high-capacity magazines, and the introduction of universal background checks. They also opposed the additional fortification of schools with fences and armed guards, policies endorsed by the NRA, America's powerful gun lobby group.
The NRA's "national school shield" proposal to prevent school shootings calls for the "hardening" of school sites with not only armed guards and armed teachers but also the elimination of trees, parking lots and some windows, and the construction of fences.
"Let's work together to secure our schools and stop school violence," the NRA said as the walkouts began. Shortly afterwards, the group tweeted a picture of a semi-automatic rifle with an American flag sticker and the caption: "I'll control my own guns, thank you."
Neither Trump nor the White House offered a statement.
At the Academy for Young Writers high school in Spring Creek, Brooklyn, New York, students used the walkout to also bring attention to discrimination against people of color, women, and other groups………………….As protesters filled the streets, the Senate judiciary committee convened a hearing on school safety in light of the Parkland massacre. Republican chairman Chuck Grassley gave voice to "the imminence and necessity of passing some legislation quickly" but he hewed in his questioning to minor proposals that even the NRA supports, such as the banning of certain gun accessories.
Multiple gun control bills are currently pending in the US Congress, including bills that fit with the student protesters' demands relating to assault weapons and background checks. But Congress in the past has repeatedly taken up such legislation only to shelve it, year after year, including in the wake of the 2012 shootings at Sandy Hook elementary school in Newtown, Connecticut.
Ninety-six Americans are killed each day by guns, and Americans overall are "25 times more likely to be murdered with a gun than people in other developed countries", gun control advocates say.

As we support teenagers bravely taking the lead on gun control, let's help the ones in less privileged places have their say too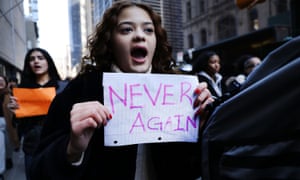 Students from surrounding schools gather at Zuccotti Park in lower Manhattan to demand an end to gun violence. Photograph: Spencer Platt/Getty Images
A

s high school students across the country plan walkouts and marches to demand gun control legislation in the wake of the school shooting in Parkland, Florida, a social media refrain has emerged among sympathetic adults: Don't listen when people say protesting will hurt your future. The "permanent record" they talk about doesn't exist. Your high school punishments are meaningless once you graduate. Go, girl. March on.
While it is thrilling to cheer brave young people on, it is reckless – and indicative of social privilege – to suggest that their civil disruption will have no negative consequences.
As a child of poverty and the first college-bound member of my family in rural Kansas, I did not grasp the extent to which I depended on the teachers, administrators, coaches and counselors of my small public high school to connect me with academic and civic opportunities. My family was working in fields, on construction sites, and in retail stock rooms. They had neither the time nor the knowledge required to help me toward graduation and higher education.
Meanwhile, a justice-minded kid by nature, when I saw something I thought was wrong, I held nothing back – pressing my luck against the grownups who held the power to help or harm me. A budding muckraker, I helped resurrect the defunct student newspaper and vexed adults by publishing op-eds that, in Kansas, carry the same first amendment protections as the professional press. When a male teacher said something inappropriate, I told anyone who would listen that he was a pervert. When another teacher said something sexist, I called him out in front of the class.
I gained a reputation as the cheerleader who, instead of acting bubbly, had strong opinions and a smart mouth.
Students from South Plantation high school carrying placards and shouting slogans walk on the street during a protest in Plantation, Florida. Photograph: Carlos Garcia Rawlins/Reuters
Fellow students began asking for my help when some injustice had occurred – say, the "stoner" kids being punished for what football players got away with. I led student walkouts and spoke on their behalf at assemblies called by the principal, who already knew me well. I was the only one of my high-achieving friends regularly sent to his office, perhaps because I had less to lose than they did in the way of social capital and thus saw little cause for self-censorship.
But without a mother in the parent-teacher association, without advocates available to show up and defend me in case of poor treatment, I was an easy target for immature teachers who thought I should be put in my place. One somehow forgot to take my artwork to the state capitol to hang alongside other student pieces selected from across the state. Another somehow left my name off the playbill when I was a lead actor.
Amid the swelling #NeverAgain movement, some high school administrations have publicly warned that students who participate in walkouts will be suspended for causing a commotion. In response, hundreds of higher education institutions – from state schools in the midwest to Ivy League universities in the north-east to liberal arts colleges in small towns of the south – have released statements assuring that high school punishment for peaceful, lawful activism will not adversely affect a student's application. Some have extended not just tolerance but democratic solidarity. Spring Hill College, a Jesuit and Catholic school in Mobile, Alabama, tweeted to teenagers: "Speak your truth."
Such responses from our formal centers of higher learning are heartening. But what of teenagers who rely on their high school to access, understand and submit a college application? What of those who will only afford college with scholarships – and only learn about scholarships through a high school guidance counselor? Others yet have no plans to attend college and will need to hire on at a local business, the manager of which might be a staunch member of the NRA.
In addition, people of color, LGTBQ youth and other historically marginalized student groups may face greater retribution than their peers for breaking the rules.
This moment in our democracy calls for risky disruption, and we are right to be inspired by the young revolutionaries among us. But we should not claim that all of them will be equally supported by parents, protected by community or lifted up by their adult liberal counterparts on Twitter. For many, speaking truth to power indeed threatens their lives beyond high school – not by establishing an official record, maybe, but by fostering unofficial disapproval among the adults to whose whims they are vulnerable.
To my knowledge, my challenging authority did not impede my path to college. But every time I spoke up and was promptly shut down I received the message that I was a bad kid for standing up for what I thought was right. The same treatment might have deterred another student from not only speaking her mind in the moment but seeking a life of community engagement through which her voice might be heard.
Having had negative experiences in public schools that had more to do with their poverty than with their promise as students, my own family members were both suspicious of and intimidated by the system I was trying to harness for a better life. My socioeconomic class sensed that we had little agency in public affairs, and unscrupulous school employees were the first teachers of a lesson we would relearn for the rest of our lives: if we wanted to avoid punishment, we best know our place – and nothing would ever change anyway.
This was, I see now, the adolescent socialization that carves the class divide in adult civic engagement.
In 2014, the Center for Information and Research on Civic Learning and Engagement (Circle) at Tufts University found that social class significantly influences participation in extracurricular activities among high school students.
Drawing on the federally funded annual survey of high school students Monitoring the Future, researcher Kei Kawashima-Ginsberg looked at responses from 14,000 seniors from 120 schools. Students from low-income backgrounds, the survey revealed, receive less encouragement and financial help to join clubs and activities – experiences that, many other studies have demonstrated, shape and predict civic identity in adulthood. Students perceived as slackers work more hours and have less formally educated parents than those perceived as leaders.
The widening wealth gap has increased those disparities, Kawashima-Ginsberg noted. Well-off families spend almost twice as much on organized activities for their teens as they did in the 1970s. Households of lesser means haven't been able to increase their level of help, as their functional incomes have decreased. Thus, today's wealthy family spends almost nine times as much on organized activities as their poor counterpart.

Hundreds of students from a number of Maryland and DC schools walked out of their classrooms one week after 17 were killed in Parkland. Photograph: Alex Wong/Getty Images
In addition to economic status, geographical proximity and access to opportunity shape the teenage experience of civic engagement. In a survey of 1,000 millennials after the 2016 election, Circle found that 60% of rural youth live in "civic deserts" – areas lacking organizations and institutions that enable democratic action – compared with about 30% of suburban and urban youth.
My rural school district was 40 miles from the small city of Wichita, and we perhaps fared better than the most remote rural areas in terms of civic organizations. Through our high school, the regional YMCA and Optimist club encouraged participation in an annual model-legislature field trip to argue student-penned bills at the state capitol. When I rapped the gavel as speaker of the house, for the first time I sensed the government as something I could touch and change rather than an amorphous power above the common people.
But as graduation neared, in my quest to enroll in – and afford – college, I was beholden to the same high school staff I often needled. It was the late 1990s, and there was no computer in our farmhouse from which I could attempt to research universities and funding options through the nascent world wide web. Only one computer in my school had a dial-up connection. Federal aid forms, tips for writing the required personal essay, how to choose a school, scholarship applications that might help me get there – all of these would be accessed through my school, not my family or the internet.
Fortunately for me, some of the adults in my high school championed me precisely for the reasons that others sent me to the principal's office. Most of them were women. They told me about contests I should enter, drove me home after basketball practice while my caretakers worked, wrote in the margins of my essays that I was a born writer. They told me I should be a lawyer for how I argued. They told me I should be the goddamned president.
Their belief in me – my voice, my spirit, my American right to raise hell when I perceived an injustice – was crucial positive feedback for a kid who presented as confident but starved for affirmation in ways that my family of laborers was not equipped to provide.

World Politics
United States
US president told donors 'I had no idea' when he complained to Canada's prime minister over (non-existent) trade deficit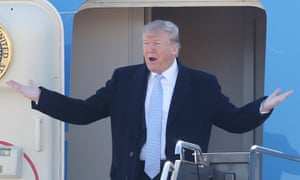 Donald Trump arrives in St Louis ahead of the fundraising dinner for US Senate hopeful Josh Hawley. Photograph: UPI / Barcroft Images
Donald Trump bragged that he made up facts in a meeting with the Canadian prime minister, Justin Trudeau, according to an audio recording obtained by the Washington Post.
The US president – notorious for making false claims on countless issues – admitted he told Trudeau that America has a trade deficit with its neighbour when he "had no idea" if that was true.
The office of the US trade representative states that the American goods and services trade surplus with Canada was $12.5bn in 2016.
According to the recording, Trump told guests at a fundraising dinner in Missouri: "Trudeau came to see me. He's a good guy, Justin. He said, 'No, no, we have no trade deficit with you, we have none. Donald, please.'
"Nice guy, good-looking guy, comes in – 'Donald we have no trade deficit.' He's very proud because everybody else, you know, we're getting killed … So he's proud. I said, 'Wrong Justin, you do.' I didn't even know … I had no idea.
"I just said, 'You're wrong.' You know why? Because we're so stupid … And I thought they were smart."
Trump went on: "I said, 'You're wrong Justin.' He said, 'Nope, we have no trade deficit.' I said, 'Well, in that case I feel differently,' I said, 'but I don't believe it.' I sent one of our guys out, his guy, my guy, they went out, I said, 'Check because I can't believe it.' 'Well, sir, you're actually right. We have no deficit but that doesn't include energy and timber … And when you do, we lose $17bn a year.' It's incredible."
The Office of the United States Trade Representative has said the US has a trade surplus with Canada, the Post reported.
Trump and Trudeau, 25 years apart in age and polar opposites in temperament, have projected warm relations so far. Last year, in honour of Canada Day, the president used Twitter to praise his "new found friend" north of the border.
Trump defied critics in his own Republican party last week to announce stiff import taxes on steel and aluminium, risking a trade war with China and the European Union. His top economic adviser Gary Cohn quit over the tariffs, while secretary of state Rex Tillerson, who also disagreed with them, was fired earlier this week.
On Wednesday, the Post report says, the president again lambasted the EU, China, Japan and South Korea, which he claimed were taking advantage of America. He also described the North American Free Trade Agreement (Nafta) as a disaster and appeared to threaten to pull US troops out of South Korea if the country does not come up with a satisfactory trade deal.
"We have a very big trade deficit with them, and we protect them," Trump was quoted as telling donors. "We lose money on trade, and we lose money on the military. We have right now 32,000 soldiers between North and South Korea. Let's see what happens."
He added: "Our allies care about themselves. They don't care about us."
After visiting a Boeing factory in St Louis earlier in the day, Trump was headlining a fundraiser for Republican US Senate candidate Josh Hawley, who is running for the seat held by Democrat Claire McCaskill.
But as is his wont, the president boasted about his 2016 presidential election victory, derided cable news anchors and mocked his predecessors, George W Bush and Barack Obama, for failing to achieve what he has done by setting up a meeting with North Korean dictator Kim Jong-un. "It's called appeasement: please don't do anything," he reportedly said.
Trump made 2,140 false or misleading claims in his first year as president, according to a Washington Post count.

New Mexico is a battleground in the fight over once public waterways, sparking fears it could set a national precedent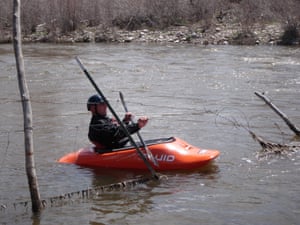 A paddler navigates through barbed wire across the Rio Chama in New Mexico in 2015. Photograph: Courtesy of Scott Carpenter
A

s Scott Carpenter and a few friends paddled down the Pecos river in New Mexico last May, taking advantage of spring run-off, the lead boater yelled out and made a swirling hand motion over his head in the universal signal to pull over to shore. The paddlers eddied out in time to avoid running straight through three strings of barbed wire obstructing the river.
Swinging in the wind, the sign hanging from the fence read "PRIVATE PROPERTY: No Trespassing".
One member of their party waded into the swift water to lift the wire with a paddle for the others to float under. As they continued downstream, Carpenter, a recreational boater from Albuquerque, looked over his shoulder a see a figure standing outside the big ranch house up the hill. He offered a wave, but received nothing in return.
It's a scene playing out with increasing frequency in New Mexico, where a recent bid to legally privatize streams has public users like Carpenter more than a little alarmed, not least for the precedent it might set beyond the borders of this western state.
While the fight over US public lands has reached a fever pitch unlike anything seen in recent decades, and the Trump interior department seeks to lease out vast areas to private interests for mining and drilling, the fate of public waterways has largely flown under the radar. Now New Mexico has become a battleground for that very issue, with the state government, landowners, and outfitters on one side of the fight and anglers, boaters, recreationalists and heritage users on the other. At the heart of the argument: who owns the water that has long been considered the lifeblood of the arid west.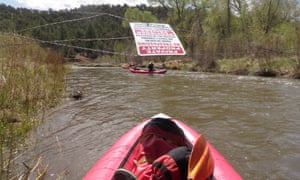 Barbed wire across the Pecos river. Photograph: Courtesy of Scott Carpenter
Water use rights and access vary by region across the country, though the water itself has always been a public resource for people to fish, paddle, wade and float in. Private landowners have long taken unsanctioned steps to keep the public out of waterways, as in the recent case of an Arizona man convicted of shooting at kayakers boating down a river that runs through his land.
But in the last hours of 2015, efforts to bar public access received official sanction, when New Mexico's state government quickly and quietly passed a bill that implies private ownership of public waters that run through private land. It was a response to a statement from New Mexico's then attorney general, Gary King, that the public can wade and fish in streams running through private property, as long as they remain in the stream, which is in line with common doctrine in many states. Landowners and outfitters protested.
The rule remained mostly dormant until late December, when in a special meeting with only 10 days' notice – just a third of the 30-day standard – the state began a process to allow landowners to certify streambeds as private property.
"Prohibiting access from the public is privatizing what has been historically ours, and the way this happened is chilling," says Robert Levin, New Mexico director of the American Canoe Association. "The process was hasty and moved through more quickly than it should have been. From a recreation standpoint on this, you start to worry about an erosion of inclusion."