17 Mar
News and Analyses, A Foreign Perspective
Nearly all of these are English-edition daily newspapers. These sites have interesting editorials and essays, and many have links to other good news sources. We try to limit this list to those sites which are regularly updated, reliable, with a high percentage of "up" time.

Australian lawyers file private case against Myanmar leader over treatment of Rohingya while she attends summit in Sydney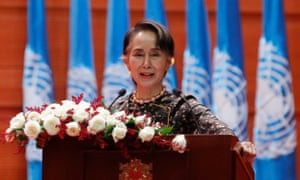 Aung San Suu Kyi: she has 'failed to use her position' to prevent crimes against Rohingya people. Photograph: Hein Htet/EPA
Lawyers in Melbourne have filed a private prosecution application against Myanmar's leader, Aung San Suu Kyi, who is in Australia, on charges of crimes against humanity.
The private prosecution application faces significant barriers to proceeding – a universal jurisdiction prosecution in Australia requires the consent of the attorney general.
Aung San Suu Kyi, who is state counsellor and de facto leader of the Myanmar government, is accused in the application of crimes against humanity for the deportation or forcible transfer of a population in relation to widespread and ongoing human rights abuses inside Myanmar.
More than 650,000 Rohingya have crossed the border to Bangladesh since August, fleeing systemic violence from the country's military including murder, rape, and the deliberate torching of villages.
Ron Merkel QC, a Melbourne barrister and former federal court judge, international lawyers Marion Isobel and Raelene Sharp, and Sydney human rights lawyers Alison Battisson and Daniel Taylor filed the private prosecution application in the Melbourne magistrates court late on Friday.
The application is being assessed by the court and a response is expected next week. A formal request has also been sent to the office of the attorney general, Christian Porter, asking him to consider consenting to the prosecution proceeding.
A statement from the legal team said there were "widespread and credible eyewitness reports … of extensive and systematic crimes against the Muslim Rohingyan population by the Myanmar security forces, including extra-judicial killings, disappearances, violence, rape, unlawful detention, and destruction of property and whole villages. Ms Suu Kyi has denied these events have occurred.
"It is alleged that Ms Suu Kyi has failed to use her position of authority and power, and, as such, has permitted the Myanmar security forces to deport and forcibly remove Rohingya from their homes."
Aung San Suu Kyi – the 1991 Nobel peace laureate whose public image has been tarnished by her unwillingness to publicly condemn military atrocities against the Rohingya – is visiting Australia as part of the Asean Australia special summit, hosted by the federal government in Sydney.
She has spoken little about the Rohingya crisis in Myanmar's western Rakhine state – and pointedly refused to use the word Rohingya. In a speech last September she said the latest violence in Rakhine was sparked by attacks on military outposts.
"It is not the intention of the Myanmar government to apportion blame or to abnegate responsibility. We condemn all human rights violations and unlawful violence."
Australia formally recognises the principle of universal jurisdiction, giving Australian courts jurisdiction to hear allegations of the most serious criminal offences under international law, such as genocide, war crimes, and crimes against humanity, regardless of the nationality of the alleged offender, or the place of the commission of the offences.
There is an international precedent. The former Chilean dictator, Augusto Pinochet, was arrested in London under universal jurisdiction. He was placed under house arrest but did not face trial.
But there are diplomatic considerations with the prosecution of foreign leaders. As well, a universal jurisdiction prosecution requires the consent of the attorney general to proceed in Australia. It appears unlikely that the government that invited Aung San Suu Kyi to the country would then consent to her prosecution. A spokesman for the attorney general told the Guardian: "We haven't been notified of any such action and if we were, wouldn't comment on a matter that is before a court."
There would also, almost certainly, be dispute over whether Aung San Suu Kyi, by virtue of her position as state counsellor, enjoys immunity from prosecution.
Aung San Suu Kyi is the not the head of state of Myanmar – that position is held by president Htin Kyaw – but Aung San Suu Kyi is the de facto, if not de jure, leader of the government. She is also foreign minister, a position that usually attracts immunity.
The UN said this week that the systematic persecution of the Rohingya ethnic and religious minority in the western Rakhine state bore "the hallmarks of genocide".
Despite approving billions in funds to fight the problem, Los Angeles has seen its homeless population continue to grow. Is there anything politicians can do?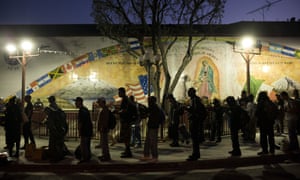 Homeless people wait in line for a meal served by a community organization outside Our Lady Queen of Angels Catholic church in Los Angeles. Photograph: Jae C Hong/AP
I

n Los Angeles, the more the politicians push to solve the city's festering homelessness crisis, the worse it seems to get.
The city leadership has taken one bold step after another: restructuring the budget to free more than $100m a year in homelessness funding, sponsoring one voter-approved initiative to raise more than $1bn for housing and backing another regional proposal to raise the sales tax and generate an estimated $3.5bn for support services over the next decade. And yet the tent cities continue to proliferate, in rich neighborhoods and poor, by the beach, the airport, the Hollywood Walk of Fame and within view of City Hall itself.
It's the sorriest urban scene anywhere in America, and the same voters who not so long ago opened their hearts and their wallets to put an end to it are growing increasingly impatient. As the numbers of homeless people continue to rise – the latest figures put the countywide number at 58,000, up more than 20% in a single year – and new encampments spring up on sidewalks, under freeways, and along stretches of river and rail lines, the politicians who not so long ago were earning praise for their courage are facing the beginnings of an angry backlash.
"How many people have we housed?" the Los Angeles Times asked impatiently in a blistering series of editorials late last month. "How many are we on track toward housing? Is Los Angeles setting the national standard for rapid and effective response to a vexing problem? Or are its leaders merely mastering the art of appearances while passing the buck and hoping things turn around? … Who's in charge here?"
Most infuriating, to the Times and to many others, has been the reluctance of many LA city council members to move forward on supportive-housing projects. More than a year after the money became available, just two of the first 10 sites identified as easiest to build quickly have broken ground, leaving the others hostage to neighborhood groups anxious about having people with addiction and mental health problems move in next door.
The politicians are clearly feeling the heat from the Times series. Two city council members responded by announcing they were pushing ahead with housing projects they'd previously blocked.
It's not clear, though, whether the politicians entirely deserve the opprobrium, or if it just seems that progress has stalled because the problem continues to grow for reasons beyond their control.
Greg Spiegel, who served as Mayor Eric Garcetti's homelessness coordinator and now works for a not-for-profit organization providing legal services to the poor and homeless, sees the crisis as so complex and intractable – the result of decades of national and local housing policies, as well as broader macroeconomic trends – that he called it America's new Vietnam, and tackling it an act of moral bravery but, perhaps, of political folly.
Despite appearances, recent efforts utilizing existing housing stock have in fact made a big difference. "We saw 14 or 15,000 people permanently housed last year," Spiegel said. "That's a lot of people, more than ever before, triple what it was three or four years ago."
And since a sales-tax boost went into effect, the number of social workers, mental health specialists and others working directly with people on the streets has quadrupled across the county, according to Alisa Orduna, the homelessness coordinator for Santa Monica.
"When you see someone yelling outside a 7-Eleven in your neighborhood, you can have a much higher degree of confidence now that that person is on someone's radar, which is the first step toward getting them off the street," she said.
Orduna likened the region's response to homelessness to the national response to the Aids crisis in the 1980s. The effort entails building a whole new infrastructure from scratch – one that involves churches, private businesses, not-for-profit groups and individual volunteers as well as government agencies……………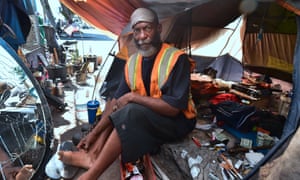 Kendrick Bailey, a homeless veteran, inside his tent on a street corner near Skid Row in downtown Los Angeles. Photograph: Frederic J. Brown/AFP/Getty Images
The crisis, however, is galloping ahead of such initiatives. Los Angeles has a 2% vacancy rate, which is causing rents to soar and creating a whole new pool of people who are just one medical emergency or job loss away from becoming homeless themselves.
World Politics
United States
We need to hear from struggling Americans whose stories are rarely told in newspapers or television. Until they are, we must tell these stories elsewhere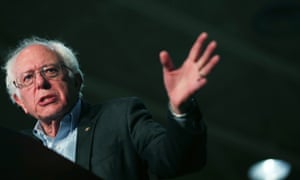 'We need to raise political consciousness in America and help us move forward with a progressive agenda.' Photograph: Kelsey Kremer/AP
The rapid rise of oligarchy and wealth and income inequality is the great moral, economic, and political issue of our time. Yet, it gets almost no coverage from the corporate media.
How often do network newscasts report on the 40 million Americans living in poverty, or that we have the highest rate of childhood poverty of almost any major nation on earth? How often does the media discuss the reality that our society today is more unequal than at any time since the 1920s with the top 0.1% now owning almost as much wealth as the bottom 90%? How often have you heard the media report the stories of millions of people who today are working longer hours for lower wages than was the case some 40 years ago?
How often has ABC, CBS or NBC discussed the role that the Koch brothers and other billionaires play in creating a political system which allows the rich and the powerful to significantly control elections and the legislative process in Congress?
We need to ask the hard questions that the corporate media fails to ask
Sadly, the answer to these questions is: almost never. The corporate media has failed to let the American people fully understand the economic forces shaping their lives and causing many of them to work two or three jobs, while CEOs make hundreds of times more than they do. Instead, day after day, 24/7, we're inundated with the relentless dramas of the Trump White House, Stormy Daniels, and the latest piece of political gossip.
We urgently need to discuss the reality of today's economy and political system, and fight to create an economy that works for everyone and not just the one percent.
We need to ask the hard questions that the corporate media fails to ask: who owns America, and who has the political power? Why, in the richest country in the history of the world are so many Americans living in poverty? What are the forces that have caused the American middle class, once the envy of the world, to decline precipitously? What can we learn from countries that have succeeded in reducing income and wealth inequality, creating a strong and vibrant middle class, and providing basic human services to everyone?
We need to hear from struggling Americans whose stories are rarely told in newspapers or television. Unless we understand the reality of life in America for working families, we're never going to change that reality.
Until we understand that the rightwing Koch brothers are more politically powerful than the Republican National Committee, and that big banks, pharmaceutical companies, and multinational corporations are spending unlimited sums of money to rig the political process, we won't be able to overturn the disastrous US supreme court decision on Citizens United, move to the public funding of elections and end corporate greed.
Until we understand that the US federal minimum wage of $7.25 an hour is a starvation wage and that people cannot make it on $9 or $10 an hour, we're not going to be able to pass a living wage of at least $15 an hour.
Until we understand that multinational corporations have been writing our trade and tax policies for the past 40 years to allow them to throw American workers out on the street and move to low-wage countries, we're not going to be able to enact fair laws ending the race to the bottom and making the wealthy and the powerful pay their fair share.
Until we understand that we live in a highly competitive global economy and that it is counterproductive that millions of our people cannot afford a higher education or leave school deeply in debt, we will not be able to make public colleges and universities tuition free.
Until we understand that we are the only major country on earth not to guarantee healthcare to all and that we spend far more per capita on healthcare than does any other country, we're not going to be able to pass a Medicare for all, single-payer program.
Until we understand that the US pays, by far, the highest prices in the world for prescription drugs because pharmaceutical companies can charge whatever price they want for life-saving medicine, we're not going to be able to lower the outrageous price of these drugs.
If the US Senate has a single shred of respect left for the law, it should not confirm her appointment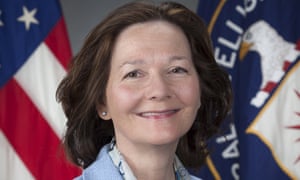 'The very last thing we need is a CIA chief who dutifully implements everything that this president authorizes.' Photograph: AP
W

e're on the brink of a full-throttled return to officially sanctioned US torture. Our impulsive president has said he wants to bring back waterboarding "and a hell of a lot worse" and has now named Gina Haspel as the new CIA chief. Haspel personally oversaw torture at a CIA black site in Thailand, and she even seemed to relish the role.
Haspel also oversaw George W Bush's rendition to torture program and, unsurprisingly, many in the intelligence community that are connected to the US torture program are now leaping to her defense, saying that she shouldn't be penalized now for just following orders back then.
Former CIA Director John Brennan, who supported rendition to torture and famously said, "we do have to take the gloves off in some areas," this week vouched for Haspel's "integrity" and told an interviewer, "don't forget that the detention-interrogation program was authorized by the president of the United States and deemed lawful by the Department of Justice."
Former CIA chief General Michael Hayden said in defense of Haspel, that she did "simply everything that the agency, the agency's directors and the nation asked her to do."
While it is certainly not unusual for people who've overseen and participated in crimes against humanity like torture and genocide to be recast by their supporters as dutiful public servants, there are, in addition, two deeply disturbing trends – one old, one new – embedded both in the naming of Haspel to the position and her defenders' characterizations of her.
Torture is illegal under US and international law in all circumstances, and human rights organizations like mine have been strongly pushing for those who ordered or committed torture after 9/11 – including the president – to be held accountable in US and international courts.
Yet Haspel's defenders are loathe to admit that the practice she participated in was concerning, much less illegal. So defending Haspel as a duty-bound functionary when it comes to torture but a vibrant leader with great integrity when it comes to everything else seeks to erase the illegality and the depravity of the practice of torture as well as the well-deserved disgrace that must always travel with those who have practiced it.
But beyond that, there is another, more current problem, and that is the president himself. Trump, who is lining up with authoritarian rulers and tin-pot dictators around the world, has no use for the rule of law. He is impulsive, reckless, and astonishingly self-focused. A very healthy subset of high-level White House staff have been running for the exits when he's not looking, precisely because they recognize that he demands fealty to whim rather than to the national good.
He is known for firing people because they contradict his social media exhortations. Given that our nation is being run by Donald J Trump, at least for the time being, the very last thing we need is a CIA chief who dutifully implements everything that this president authorizes. In fact, we need the exact opposite. Someone who opposes torture, doesn't have running a torture program on their resume, and who will say no to the president when, as seems to be the case daily, he gets an urge to make his mark on the news cycle.
It is true that people who say no to Donald Trump don't stay in their jobs for long regardless of whether they're seen as enablers or stabilizing forces in his administration. But when it comes to dutiful public servants in the Trump administration, history will look kindly upon those who said no and were fired and those who said no and left under their own steam.
The unsung heroes of the age will be those who said no to a Trump administration job offer in the first place. But Gina Haspel will not be in that number because of her horrific record. The Center for Constitutional Rights recently submitted a filing with the International Criminal Court that brought Haspel to their attention. We wanted to highlight her impunity for torture and the heightened risk for a return to torture given her position as deputy CIA director.