18 Mar
News and Analyses, A Foreign Perspective
Nearly all of these are English-edition daily newspapers. These sites have interesting editorials and essays, and many have links to other good news sources. We try to limit this list to those sites which are regularly updated, reliable, with a high percentage of "up" time.
This week is Francophonie week. A government-backed initiave here in France to celebrate the French language. More than seventy teenagers are spending a week just outside Paris.
Ornella Lamberti, AFP | Protesters gather on the Place de la Republique in Mamoutzou, on the French Indian Ocean island of Mayotte, on March 13, 2018.
A month-long campaign of strikes and protests on the French Indian Ocean island of Mayotte has shone a light on the simmering resentment in some of France's tropical outposts over perceived neglect by the state.
Supplies of fuel, drugs and other essentials are running dangerously low on the island of 250,000 people off southeast Africa as protesters dig in for more funding – and empathy – from Paris.
The spice island in the Comoros archipelago, which has been governed by France since the mid-1800s, is the fourth overseas territory to be paralysed by strikes over living conditions in the past decade.
An attack by a gang on a school lit the fuse on frustration over mass migration and growing lawlessness in France's poorest department, which many link to the influx of arrivals by sea from neighbouring non-French Comoran islands.
Visiting minister for overseas territories Annick Girardin failed to convince the demonstrators to abandon the barricades this week, despite a promise of police reinforcements to combat crime and a clampdown on illegal migration.
"They made the same promises to our parents and grandparents," Toto Amachebane, head of a striking transport company, said dismissively.
France's collection of overseas territories stretch from the islands of Wallis and Futuna in the South Pacific to Saint Pierre and Miquelon in the northwest Atlantic to Reunion Island off Madagascar.
Attachment to the former colonial mothership is generally strong, particularly in the five overseas departments of Martinique, Guadeloupe, French Guiana, Mayotte and Reunion Island.
But many in the scattered parts of overseas France complain of being made to feel like an afterthought.
The development gap with the mainland is particularly striking in Mayotte, which broke ranks with the three other Comoros islands in voting against independence in the 1970s but was only fully integrated into France in 2011.
Unemployment of 25.9 percent is over double that in France as a whole and public services are woefully deficient: Mayotte had 18 doctors per 100,000 inhabitants in 2012, compared to an average of 201 in the rest of France.
"There is a lot of impatience in Mayotte. Some people expected things would be settled in six months, but it's going to take a generation or two," Olivier Sudrie, an economist at BDE consultancy on governance told AFP.
While poor in French terms, Mayotte is a beacon of prosperity for residents of the severely impoverished, coup-prone Comoros.
In scenes reminiscent of the Mediterranean, thousands of Comorans pile into rickety boats to make the 70-kilometre (44-mile) crossing to Mayotte each year, including large numbers of pregnant women.

UK foreign secretary says Kremlin has been investigating the use of nerve agents for assassination purposes
Boris Johnson: 'We have evidence that Russia has been creating and stockpiling novichok' – video
Boris Johnson has said the government has evidence that Russia has been creating and stockpiling the deadly nerve agent novichok within the last decade.
In remarks on Sunday morning that significantly escalated the row over the use of a lethal nerve agent in Salisbury two weeks ago, the foreign secretary said: "We actually have evidence within the last 10 years that Russia has not only been investigating the delivery of nerve agents for the purpose of assassination, but has also been creating and stockpiling novichok."
The claims on the BBC's Andrew Marr Show were made in rebuttal of a counterclaim on the same programme from the Russian ambassador to the EU, Vladimir Chizhov, that British agents might have used stockpiles from the chemical weapons facility at Porton Down, which is about eight miles from Salisbury. Chizhov said Russia had nothing to do with the incident.
Johnson described the Porton Down claim as "satirical". He continued: "It was not the the response of a country that really believes it's innocent, that really wants to engage in getting to the bottom of this matter."
Johnson also dismissed as "inappropriate" the ambassador's demand for Russian involvement in the investigation. He said scientists from the UN-backed Organisation for the Prohibition of Chemical Weapons would arrive in the UK tomorrow to analyse samples of the agent used to poison Sergei Skripal and his daughter Yulia that have also left a police officer, DS Nick Bailey, seriously ill.
The government's national security coouncil will meet this week to consider further measures. But the foreign secretary confirmed there would be a new clause, giving the government powers similar to those the Magnitsky Act gives US authorities, in the sanctions bill when it comes back to the Commons after Easter. It will allow those who have been responsible for a gross violation of human rights to be prosecuted.
He also pledged to use existing sanctions under the Criminal Finances Act passed last year to crack down on unexplained wealth that may have been obtained by corruption, or where there was evidence of a link with the Kremlin and Vladimir Putin.
Johnson admitted he had taken part in a £160,000 tennis match with Lyubov Chernukhin, wife of a former Putin finance minister, who won the match at a Conservative party fundraiser. She has donated a further £30,000 to sit beside the defence secretary, Gavin Williamson, at another fundraiser. Johnson said there were many ordinary Russians who had made their homes in Britain and were in no way to blame for the actions of Putin's government.
All the same, the admission fuelled Labour attacks on Tory connections with Russian oligarchs. John McDonnell, the shadow chancellor, confirmed that a Labour government would introduce a levy on properties owned by foreign companies registered in tax havens.
Speaking to Robert Peston on ITV, McDonnell also defended Jeremy Corbyn's apparent reluctance to avoid blaming the Russian state or Putin for the poisonings, insisting it was right that the leader of the opposition held the government to account. He added, in remarks more hostile than any made by Corbyn: "But there's a pattern of people being murdered here, so therefore it leads you to the conclusion that Putin has questions to answer, because it is highly likely this could be a state execution."
Corbyn has not made any similar allegations. In an article in the Guardian on Friday, he warned against rushing ahead of the evidence. "I have seen clear thinking in an international crisis overwhelmed by emotion and hasty judgments too many times," he said.
Meanwhile, there appeared to be a coordinated attempt to close down a party row that has severely threatened party unity for the first time since last June's general election. The shadow attorney general, Shami Chakrabarti, who is close to Corbyn, and Yvette Cooper, chair of the home affairs committee, whose intervention in the Commons last week was clearly critical of her party leader, both backed the party position over the weekend.

Underwater sea walls and artificial islands among projects urgently required to avoid devastation of global flooding, say scientists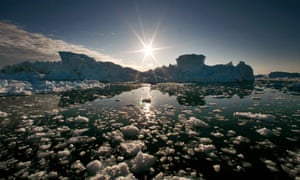 The Jakobshavn fjord in western Greenland. One proposal is to build a 100-metre high wall across the fjord's entrance. Photograph: Bob Strong/REUTERS
Scientists have outlined plans to build a series of mammoth engineering projects in Greenland and Antarctica to help slow down the disintegration of the planet's main glaciers. The controversial proposals include underwater walls, artificial islands and huge pumping stations that would channel cold water into the bases of glaciers to stop them from melting and sliding into the sea.
The researchers say the work – costing tens of billions of dollars a time – is urgently needed to prevent polar glaciers melting and raising sea levels. That would lead to major inundations of low-lying, densely populated areas, such as parts of Bangladesh, Japan and the Netherlands.
Flooding in these areas is likely to cost tens of trillions of dollars a year if global warming continues at its present rate, and vast sea-wall defences will need to be built to limit the devastation. Such costs make glacier engineering in polar regions a competitive alternative, according to the team, which is led by John Moore, professor of climate change at the University of Lapland.
"We think that geoengineering of glaciers could delay much of Greenland and Antarctica's grounded ice from reaching the sea for centuries, buying time to address global warming," the scientists write in the current issue of Nature. "Geoengineering of glaciers has received little attention in journals. Most people assume that it is unfeasible and environmentally undesirable. We disagree."
Ideas put forward by the group specifically target the ice sheets in Greenland and Antarctic because these will contribute more to sea rise this century than any other source, they say. Their proposals include:
•

Building a 100-metre high wall on the seabed across a 5km wide fjord at the end of the Jakobshavn glacier in western Greenland. This would reduce influxes of warming sea water which are eroding the glacier's base;
•

Constructing artificial islands in front of glaciers in Antarctica in order to buttress them and limit their collapse as their ice melts due to global warming;
•

Circulating cooled brine underneath glaciers such as the Pine Island glacier in Antarctica – in order to prevent their bases from melting and sliding towards the sea.
In each case, the team – which includes scientists in Finland and the US – acknowledges that costs would be in the billions. Construction is also likely to cause considerable disruption. For example, building a dam across the Jakobshavn fjord could affect ecology, fisheries and tourism, and large numbers of workers would have to be shipped in to complete the project.
Similarly, building artificial islands in front of glaciers would mean importing about six cubic kilometres of material, a task that would be immensely difficult in stormy Antarctic waters. And drilling through ice that is kilometres thick to pump down cooled water would also stretch the capabilities of engineers…………."Potential risks, especially to local ecosystems, need careful analysis," they conclude. "In our view, however, the greatest risk is doing nothing."

World Politics
Russia
Re-election of president a foregone conclusion while opposition calls for boycott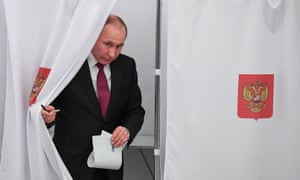 Vladimir Putin at a polling station in Moscow on Sunday. Photograph: POOL/Reuters
Russians have gone to the polls in presidential elections that can only have one outcome: the re-election of Vladimir Putin to a fourth term in office.
The Kremlin is seeking legitimacy in Sunday's vote by boosting turnout at the polls, while the opposition has called for a boycott and sent observers across the country to monitor for fraud.
Russians have a choice of eight candidates on Sunday, including the Communist Pavel Grudinin, whose title to a former state fruit farm has made him a millionaire, and Ksenia Sobchak, the daughter of Putin's political mentor, who has presented a liberal programme. Polls suggest none besides Putin will receive more than 7% of the vote.
Sunday will be the culmination of a broad get-out-the-vote campaign, which has seen enticements from iPhones to ice cream to fight voter apathy. Dozens of local municipalities are holding selfie contests to attract young voters.
At a polling station in central Moscow, there was a festival-like atmosphere. Voters were greeted by singing and dancing teenage girls, while there were sports games for children. Inside the polling station, cutprice fruit, vegetables and tinned fish were on sale. "I voted for Putin, because there is no other real choice," said Natasha. "Of course, I realise these aren't real elections, but why change anything. Putin as president suits me just fine."
The Kremlin is also expected to rely on a deep bench of budzhetniki, millions of workers from state factories to the army to schoolteachers, who receive their salaries from the government.
Government employees, as well as workers as private companies, have reported coming under pressure to vote.
"Colleagues, we ask you all to fulfill your civic duty by 16:30, and also to involve your relatives and friends. We expect vote coordinators to provide information every 90 minutes in order to allow time for reports to be drawn up," read one email seen by the Guardian.
The Moscow-based company also said it would provide free theatre tickets to any employees who voted, as well as their friends and family. "Please be tactful when speaking to relatives and do not disclose the contents of this message."
Reports in Russian media and political consultants to the government have said the Kremlin wants at least a turnout of 65% to show Putin has a broad mandate to lead.
"My understanding is that the administration wants to pull, not push, people to these elections," Valery Fyodorov, the head of a leading state-owned polling agency, VCIOM, told the Guardian during the campaign.
Putin delivered his vote early on Sunday morning at a polling station in central Moscow.
"What percentage of the vote would you consider for yourself successful?" a journalist asked Putin in a sign of the day's major drama. Putin hesitated for a moment. "Any amount of votes that gives me the right to perform the role of the president."
The re-election will set Putin up for a fourth term in office ending in 2024, making him the first Kremlin leader to serve two decades as the country's leader since Stalin.

For many growing up in Russia today, Putin is the only leader they have known. They aren't about to turn against him now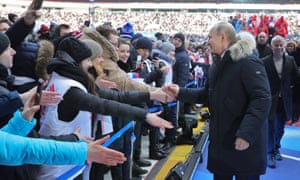 Putin on the campaign trail earlier this month. Photograph: Mikhail Klimentyev/EPA
Ten years ago the words "Putin generation" evoked images of Kremlin-backed youth supporters, teenage shock troops hounding Estonian diplomats in Moscow and holding summer camps immersed in ideology at the picturesque Lake Seliger.
Fast-forward a decade and it's more likely to look like Marina Konovalova, a smiling, 19-year-old fine arts student from Tver, a city of 400,000 north-west of Moscow, who can't remember any other leader than Vladimir Putin. She plans to vote for him in Sunday'stoday's presidential elections.
That will put Putin in power at least through Konovalova's mid-20s, a time when she expects that she'll be starting a family and opening her own visual design studio in Moscow, if she can cobble together the money.
Konovalova is not a dyed-in-the-wool supporter of the president. But she is emblematic of a generation that sees him as an immovable part of the political landscape. And until someone much better comes along, she said, she does not see a reason to rebel.
"Why replace him? I see loads of progress," said Konovalova, sitting in a Starbucks on Moscow's White Square. Across Tverskaya Street, a statue to Maxim Gorky, the writer and revolutionary, has been restored after a 30-year absence. "I think people focus too much on Putin. What does Putin mean for me in my everyday life? He's not setting the prices or telling me who to see or what to wear. And I just try to think every day: if I want to be happy, I have to make myself happy."
Once or twice a month, Konovalova takes a shabby commuter train to Tver, where her mother works at a medical clinic. She'll listen to music on the way on her iPhone, mostly foreign pop. She likes Lorde, and will sometimes opt for 1980s dance hits. Then with a flash of faux-guilt, she added: "OK, I'll put some Russian pop on sometimes, too. It reminds me of being a kid."
"Change takes time and I know everything's not perfect," she said. "But I just get so mad when people say they want to move away and leave Russia. It kills me. It's such a lazy response. OK, something's awful. Let's fix it."
The Putin generation does not have a single political position. Membership is not optional. All young Russians, those who support Putin or oppose Putin, have been influenced by his long-term merger with the state.
"Putin is the only myth that they have and they have no idea what Russia would be without him," said Konstantin Gaaze, a reporter and political commentator at the Carnegie Moscow Centre.
We expect youth to bring rebellion, as it did in the 1960s, and that young people will reject the values of their parents. A popular international relations theory says that as a country becomes more wealthy, and in their lifetimes the children of the Putin generation have done, they shed authoritarianism and seek freedom.
But the statistics say otherwise. Russians aged 18-24 are more likely to support Putin than their parents or any other previous generation, more likely to think the country is going in the right direction, and more likely to think the current Russian system of government is superior to western alternatives (or the Soviet Union).
"They are more supportive of the system, although just by a bit," said Denis Volkov, a sociologist and expert at the Levada Centre, which collected the data. Like young people elsewhere, they are also less likely to vote.
But unlike during the Soviet Union, young Russians don't take the current political system to also mean isolation. Brought up with the internet, they are steeped from a young age in foreign popular films and music, while maintaining strong cultural ties to traditional Russian media. To a certain degree, young Russians can leave Russia without travelling abroad.
"Children of the millennial generation, in Russia and in other countries, have seen economic improvement in their life, and that's really the key," said Evgeniya Shamis, the founder and coordinator of the RuGenerations project.
To Shamis, millennials from Russia and abroad are the "most pro-government generation" because of their high expectations for the state to address their needs. In Putin, she said, young people looking for purpose could find a baby-boomer extolling big ideas.

United States

Gentoo penguins, an albatross chick and spring crocuses are among this week's pick of images from the natural world