19 Mar
News and Analyses, A Foreign Perspective
Nearly all of these are English-edition daily newspapers. These sites have interesting editorials and essays, and many have links to other good news sources. We try to limit this list to those sites which are regularly updated, reliable, with a high percentage of "up" time.

*
Footage from a documentary about the first polar bear cub to be born in the UK in the past 25 years has been released. The cub was born at the RZSS Highland Wildlife Park in Kincraig, Scotland. Before the first sighting this month, the birth – which took place a week before Christmas – had only been confirmed by high-pitched noises from the den

World Politics
Russia
Putin wins 76.6% of vote with 67% turnout amid accusations of vote rigging and monitor abuse
Russian election footage appears to show vote rigging – video
Vladimir Putin is set for another six years in power after winning a record victory in Russia's presidential election, despite opposition activists highlighting a number of cases of vote rigging.
Final results released on Monday morning showed Putin had won his fourth presidential term with 76.6% of the vote, his highest score ever.
The total number of ballots cast on Sunday for Putin, who has spent 18 years as Russia's most powerful politician, exceeded 56.2m in overnight counting. That was a record total, even discounting the nearly 1m votes he gained as a result of the 2014 annexation of Crimea.
Speaking at an event to mark the anniversary of the annexation on Sunday night, Putin told crowds in Manezhnaya Square, just under the Kremlin walls: "Thank you for your support … Everyone who voted today is part of our big, national team."
Putin's most serious rival, the opposition leader Alexei Navalny, was barred from the race. The Central Election Commission said on Monday that the communist candidate, Pavel Grudinin, came second with 11.8% of the vote, and third was the ultranationalist Vladimir Zhirinovsky (5.6%). The only candidate to openly criticise Putin during the campaign, the liberal TV star Ksenia Sobchak, won 1.6%.
Putin has never faced a serious threat to his rule since he came to power on the eve of the new millennium. He won 53% of the vote in the 2000 presidential election, 71% in 2004 and 63% in 2012.
Turnout at the elections on Sunday was more than 67%, the commission reported. The Kremlin had initially sought a 70% share of the vote with 70% turnout, but was said to have lowered its expectations as the election drew closer.
About 10 million more Russians voted for Putin on Sunday than in 2012, when he appeared on the defensive after mass voter fraud at parliamentary elections sparked protests in Moscow and other large cities.
Perhaps the most surprising result came from Moscow itself, where Putin won just 47% of the vote in the 2012 elections. On Sunday, he took 70% of the capital city, one of the main bastions of the opposition.
The opposition pointed to video evidence of voter irregularities at a number of polling stations across Russia. They included ballot stuffing and attacks on some vote observers, as well as reports of ballots being cast by "dead souls", people who have died but remain on the electoral rolls.
In one video shared online from the Siberian region of Yakutia, voters patiently queued behind a man shoving ballots into the ballot box.
Turnout is usually highest in the North Caucasus, where a machine of administrative support regularly pushes turnout, and vote share for Putin, above 90%. In Dagestan, an election monitor said he was beaten by a crowd of several dozen men. During the encounter, turnout at his polling site jumped significantly.
One polling place in Chechnya, where observers managed to remain until the end of voting, showed just 35% turnout. In others, it was close to 100%.
The Kremlin had pushed a broad get-out-the-vote campaign before the elections, apparently concerned that Putin's popularity might not be enough to get voters to the polls. Incentives included raffles for prizes including iPhone Xs and cars, as well as festivals scheduled on 18 March to mark the anniversary of the Crimean annexation (last year the Duma changed the 2018 election day to coincide with the date).
On Sunday night, Putin's campaign chairman declared turnout to be high, and needled London by suggesting that it may have been a rally-round-the-flag response by voters to the accusations of Russian involvement in the nerve agent attack on a former spy in the UK.
"Right now the turnout numbers are higher than we expected. We need to thank Great Britain for that because once again they did not consider the Russian mentality," the chairman said. "Once again we were subject to pressure at just the moment when we needed to mobilise."

United States
Construction applications falsely claimed no rent-controlled tenants protected by rules to prevent developers from pushing them out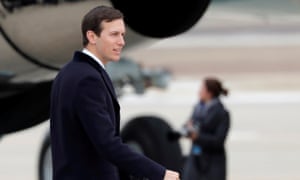 Jared Kushner's company made a nearly 50% profit when it sold three buildings for $60m after submitting inaccurate documents. 'It's bare-faced greed,' said a tenants' watchdog. Photograph: Carlos Barria/Reuters
When the Kushner Companies bought three apartment buildings in Queens in 2015, most tenants were protected by rules that prevent developers from pushing them out, raising rents and turning a profit.
But that was exactly what the company then run by Jared Kushner did, with remarkable speed. Two years later, it sold the buildings for $60m, nearly 50% more than it paid.
Now a clue has emerged as to how Donald Trump's son-in-law's firm was able to move so fast: it routinely filed false paperwork with the city, declaring it had no rent-regulated tenants in dozens of buildings when in fact it had hundreds.
While none of the documents during a three-year period when Kushner was chief executive bore his signature, they provide a window into the ethics of the empire he ran before he became one of the most trusted presidential advisers.
"It's bare-faced greed," said Aaron Carr, founder of Housing Rights Initiative, a tenants' rights watchdog that compiled the work permit application documents and shared them with the Associated Press. "The fact that the company was falsifying all these applications with the government shows a sordid attempt to avert accountability and get a rapid return on its investment."
The Kushner Companies said in a statement that it outsources such documents to third parties that are reviewed by independent counsel, and "if mistakes or violations are identified, corrective action is taken immediately".
"Kushner would never deny any tenant their due-process rights," it said, adding that the company "has renovated thousands of apartments and developments with minimal complaints over the past 30 years".
For the three buildings in Queens, the Kushner Companies checked a box on construction permit applications that indicated the buildings had no rent-regulated tenants. Tax records filed a few months later showed the company inherited as many as 94 rent-regulated units.
Housing Rights Initiative found the Kushner Companies filed at least 80 false applications for construction permits in 34 buildings across New York City from 2013 to 2016, all indicating there were no rent-regulated tenants. Tax documents show there were more than 300 rent-regulated units. Nearly all the permit applications were signed by a Kushner employee, sometimes the chief operating officer.
Had the Kushner Companies disclosed those rent-regulated tenants, it could have triggered stricter oversight by the city, including possibly unscheduled "sweeps" on site by inspectors to keep the company from harassing tenants.
Instead, current and former tenants of the Queens buildings said they were subjected to extensive construction work they believe was part of targeted harassment to get them to leave.
"It was noisy, there were complaints, I got mice," said mailman Rudolph Romano, adding that the Kushner Companies tried to increase his rent by 60%. "They cleaned the place out. I watched the whole building leave."
Tax records show rent-regulated units that numbered as many as 94 when Kushner took over fell to 25 by 2016.
In Kushner buildings across the city, records show frequent complaints about construction early in the morning or late at night, improper or illegal construction, and work without a permit.
At a six-story walk-up in Manhattan's East Village that was once home to the Beat poet Allen Ginsberg, the Kushner Companies filed an application to begin construction in late 2013 that, again, listed zero rent-regulated tenants. Tax records a few months later showed seven rent-regulated units.
Conflict and civilisational threats likely unless action is taken to reduce the stress on rivers, lakes, aquifers, wetlands and reservoirs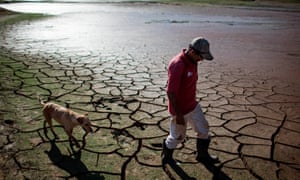 A resident walks with a dog across the drying bottom of the Paraibuna dam, part of the Cantareira water system that provides greater Sao Paulo with most of its water, in August 2014. Photograph: Roosevelt Cassio / Reuters/Reuters
More than 5 billion people could suffer water shortages by 2050 due to climate change, increased demand and polluted supplies, according to a UN report on the state of the world's water.
The comprehensive annual study warns of conflict and civilisational threats unless actions are taken to reduce the stress on rivers, lakes, aquifers, wetlands and reservoirs.
The World Water Development Report – released in drought-hit Brasília – says positive change is possible, particularly in the key agricultural sector, but only if there is a move towards nature-based solutions that rely more on soil and trees than steel and concrete.
"For too long, the world has turned first to human-built, or 'grey', infrastructure to improve water management. In doing so, it has often brushed aside traditional and indigenous knowledge that embraces greener approaches," says Gilbert Houngbo, the chair of UN Water, in the preface of the 100-page assessment. "In the face of accelerated consumption, increasing environmental degradation and the multi-faceted impacts of climate change, we clearly need new ways of manage competing demands on our freshwater resources."
Humans use about 4,600 cubic km of water every year, of which 70% goes to agriculture, 20% to industry and 10% to households, says the report, which was launched at the start of the triennial World Water Forum. Global demand has increased sixfold over the past 100 years and continues to grow at the rate of 1% each year.
This is already creating strains that will grow by 2050, when the world population is forecast to reach between 9.4 billion and 10.2 billion (up from 7.7 billion today), with two in every three people living in cities.
Demand for water is projected to rise fastest in developing countries. Meanwhile, climate change will put an added stress on supplies because it will make wet regions wetter and dry regions drier.
Drought and soil degradation are already the biggest risk of natural disaster, say the authors, and this trend is likely to worsen. "Droughts are arguably the greatest single threat from climate change," it notes. The challenge has been most apparent this year in Cape Town, where residents face severe restrictions as the result of a once-in-384-year drought. In Brasília, the host of the forum, close to 2m people have their taps turned off once in every five days due to a unusually protracted dry period.
By 2050, the report predicts, between 4.8 billion and 5.7 billion people will live in areas that are water-scarce for at least one month each year, up from 3.6 billion today, while the number of people at risk of floods will increase to 1.6 billion, from 1.2 billion.
In drought belts encompassing Mexico, western South America, southern Europe, China, Australia and South Africa, rainfall is likely to decline. The shortage cannot be offset by groundwater supplies, a third of which are already in distress. Nor is the construction of more dams and reservoirs likely to be a solution, because such options are limited by silting, runoff and the fact that most cost-effective and viable sites in developed countries have been identified.
Water quality is also deteriorating. Since the 1990s, pollution has worsened in almost every river in Africa, Asia and Latin America, and it is expected to deteriorate further in the coming two decades, mainly due to agriculture runoffs of fertiliser and other agrochemicals that load freshwater supplies with nutrients that lead to the growth of pathogens and choking algae blooms. Industry and cities are also a significant problem. About 80% of industrial and municipal wastewater is discharged without treatment.
Crucially, the report emphasises a shift away from watershed management towards a wider geographic approach that takes in land use in distant areas, particularly forests. Although farmers have long seen trees as a drain on water supplies, the authors recognise more recent studies that show vegetation helps to recycle and distribute water. This was apparent in the São Paulo drought of 2014-15, which the city's water authorities and scientists have linked to Amazon deforestation.
The key for change will be agriculture, the biggest source of water consumption and pollution. The report calls for "conservation agriculture", which would make greater use of rainwater rather than irrigation and regularise crop rotation to maintain soil cover. This would also be crucial to reverse erosion and degradation, which currently affects a third of the planet's land, a different UN study found last year.
Perhaps the most positive message of the report is that the potential savings of such practices exceed the projected increase in global demand for water, which would ease the dangers of conflict and provide better livelihoods for family farmers and poverty reduction.
Nature-based solutions can be personal – such as dry toilets – or broad landscape-level shifts in agricultural practices. The report contains several positive case studies that show how environments and supplies can improve as a result of policy changes. In Rajasthan, more than 1,000 drought-stricken villages were supported by small-scale water harvesting structures, while a shift back towards traditional soil preservation practices in the Zarqa basin in Jordan are credited with a recovery of water quality in local springs.
The authors stress the goal is not to replace all grey infrastructure, because there are situations where there is no other choice, for example in building reservoirs to supply cities with water. But they urge greater take-up of green solutions, which are often more cost-effective as well as sustainable. They also encourage more use of "green bonds" (a form of financing that aims to reward long-term sustainable investments) and more payments for ecosystem services (cash for communities that conserve forests, rivers and wetlands that have a wider benefit to the the environment and society).
Audrey Azoulay, the director-general of Unesco, which commissioned the report, noted two-thirds of the world's forests and wetlands have been lost since the turn of the 20th century – a trend that needs to be addressed.
"We all know that water scarcity can lead to civil unrest, mass migration and even to conflict within and between countries," she said. "Ensuring the sustainable use of the planet's resources is vital for ensuring long-term peace and prosperity."

The photography of Art Wolfe covers the globe, capturing landscapes, wildlife, and cultures from every continent. Here he talks us through a selection of his favourite images