22 Mar
News and Analyses, A Foreign Perspective
Nearly all of these are English-edition daily newspapers. These sites have interesting editorials and essays, and many have links to other good news sources. We try to limit this list to those sites which are regularly updated, reliable, with a high percentage of "up" time.

Courtroom showdown in San Francisco pitted liberal cities against oil corporations, and saw judge host unusual climate 'tutorial'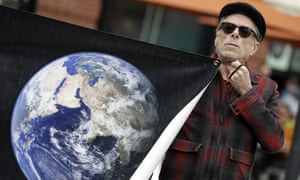 Scientists rally in San Francisco to draw attention to attacks on climate science by the Trump administration in 2016. Photograph: Marcio Jose Sanchez/AP
The science of climate change was on trial Wednesday when leading experts testified about the threats of global warming in a US court while a fossil fuel industry lawyer fighting a high-profile lawsuit sought to deflect blame for rising sea levels.
The hearing was part of a courtroom showdown between liberal California cities and powerful oil corporations, including Chevron, ExxonMobil, Shell and BP. San Francisco and Oakland have sued the world's biggest fossil fuel companies, arguing that they are responsible for damages related to global warming.
While climate change-related cases have entered courtrooms throughout the US, the judge in the California case, William Alsup, took the unusual step of convening a formal "tutorial" on the subject "so that the poor judge can learn some science", allowing renowned experts and some of the biggest oil companies to answer key questions.
"From Chevron's perspective, there's no debate about climate science," said Theodore Boutrous Jr, the attorney for the US oil giant, which chose not to have scientists or experts testify on its behalf. While he repeatedly referred to the Intergovernmental Panel on Climate Change (IPCC) conclusion that it is "extremely likely" humans have been the dominant cause of warming since the mid-20th century, he also worked to paint the problem as an international one for which individual corporations are not liable.
"Climate change is a global issue that requires global engagement and global action," he said, later saying "production and extraction" are not responsible for increases in emissions, but rather "economic and population growth" are, adding: "It's the way people are living their lives."
The attorney spoke for hours in a packed San Francisco courtroom of attorneys, journalists and activists who lined up early in the dark of morning to get a seat, with dozens forced into a crowded overflow room and many live-tweeting fact-checks and commentary.
The Chevron attorney also presented a graph showing that China is burning more coal than the US, saying: "It really goes to the global nature of this."
Environmentalists, however, pointed out that the assessment ignored cumulative emissions and that the US is the biggest carbon polluter in history.
Don Wuebbles, who helped lead the 2013 IPCC assessment of climate science and 2014 US National Climate Assessment, testified for the cities and noted that Chevron was relying on outdated reports: "The science does not stop at 2012 … There's a lot we have learned over the last five years."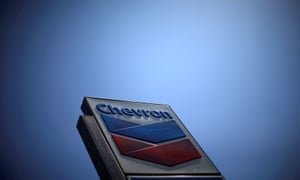 Chevron sought to paint climate change as a product of 'the way people are living their lives', not the fault individual corporations. Photograph: Lucy Nicholson/Reuters
He talked about severe weather incidents becoming more intense and noted that 2014 was "the warmest year on record", adding: "2015 was warmer. 2016 was warmer yet." Seventeen of the last 18 years were the warmest on record, he said.
Chevron did not present any science from climate deniers, but climate change contrarians with ties to Donald Trump's administration have also gotten involved in the litigation, offering to contribute a presentation.
William Happer, a Princeton University physicist, rumored last year to be a frontrunner for Trump's science adviser, co-authored a recent motion in the case that said: "It is not possible to tell how much of the modest recent warming can be ascribed to human influences." He has previously described climate scientists as "a glassy-eyed cult".
Alsup, known as an unorthodox judge, who famously learned to code for a Silicon Valley intellectual property lawsuit, said he had read headlines comparing his hearing to the famous Scopes "monkey trial" on evolution in the US and urged reporters in the room not to blow the event out of proportion.

World Politics
Russia
Companies withdraw staff after MP is cleared over alleged advances towards reporters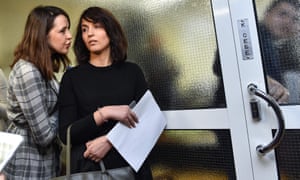 Russia's independent Dozhd channel producer Daria Zhuk and BBC journalist Farida Rustamova, who made the allegations against Leonid Slutsky, at the Duma's ethics commission meeting. Photograph: Vasily Maximov/AFP/Getty Images
As many as 20 Russian-language media outlets have withdrawn their journalists from covering Russia's lower house of parliament or limited their coverage in protest at a sexual harassment scandal involving an MP.
RBC, TV Rain, RTVI and Echo of Moscow have withdrawn their journalists from the Duma in the past 24 hours after an ethics committee cleared Leonid Slutsky of any wrongdoing over a series of alleged unwanted sexual advances towards reporters.
The boycott is an unusual show of solidarity over sexual harassment, a problem that is often laughed off in Russia and recently has been painted as a pet issue of western liberals at odds with traditional Russian values.
RBC announced on Wednesday it would recall its journalists. "This decision by the ethics committee, in fact, admits the norm of the possibility of sexual harassment toward journalists by newsmakers," it said in a statement. "We do not agree with this approach and refuse to consider the Duma's position in this question to be adequate."
Two popular business dailies, Kommersant and Vedomosti, said they would limit their correspondents' interactions with Slutsky.
Three female journalists have publicly accused Slutsky, the head of the Duma's foreign affairs committee, of making unwanted sexual advances towards them while they negotiated with him over interviews. One said she had an audio recording of the encounter.
Leonid Slutsky. Photograph: Yuri Kochetkov/EPA
In one case, Slutsky was accused of asking a journalist to become his mistress and touching her inappropriately. In another, a journalist said Slutsky locked her in his office and tried to kiss her.
"He asked me to come without a camera," said the journalist, Ekaterina Kotrikadze, in a live broadcast on the RTVI television station, where she is now a deputy editor. "He brought me into his office, locked the door and tried to pin me against the wall and somehow kiss and touch me. I got away and ran."
Otari Ashiba, the head of the Duma ethics committee, said it had found no "violations by Slutsky of behavioural norms" and suggested the accusations were a provocation.
"The members of the commission have noted that the accusers announced their accusations of Slutsky nearly simultaneously, during the presidential election campaign, and after a significant amount of time (from one to three years) after the supposed incidents took place," she said.

United States
At a high-level talking shop for the global water industry in Brazil, river defenders and community activists – who are often murdered or criminalised for trying to protect their resources – have set up an alternative forum to share their stories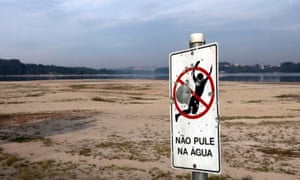 A bullet-ridden sign warning people not to jump into the water in the dried-up Guarapiranga reservoir. Photograph: Paulo Whitaker/REUTERS
While presidents, royalty and corporate dignitaries gave speeches at a global conference in Brasil's federal capital this week on the need to protect water sources, river defender Ageu Lobo Pereira was running for his life through the Amazon forest.
The head of the riverine communities of Montanha e Mangbal had been tipped off that assassins were preparing an ambush. They wanted to end his resistance to mines, deforestation and dams that threaten the Tapajós river.
It was not the first narrow escape. Two of his friends, Francisco Firmino da Silva and Pedro Braga da Silva, have also been on the hitlist of a notorious local businessman since they allied with indigenous groups to demarcate their territory.
The authorities have been notified of the attacks. Police know the name of the mafia-like boss who wants them dead. The community leaders have requested guards from a federal protection programme. But so far, the law has been absent, leaving the villagers vulnerable to more violent, economically powerful and environmentally destructive forces.
The case – which was related to the Guardian ahead of World Water Day on Thursday – highlights one of the biggest problems facing conservation: impunity and a lack of protection for water defenders in traditional communities.
The subject has received little attention at this week's World Water Forum, the pre-eminent global talking shop for management of sanitation, drinking supplies, hydropower, irrigation, watershed management and a host of other related issues.
Tens of thousands of statesmen, corporate executives, investors, government officials, engineers, academics and NGO representatives have gathered in Brasilia for this triannual event, which aims to push forward the UN goal of providing clean water and sanitation to everyone on the planet by 2030.

Brazilian president, Michel Temer, at the opening ceremony of the World Water Forum in Brasilia. Photograph: Evaristo Sa/AFP/Getty Images
There is a growing sense of urgency. A UN report on Monday warned that 5 billion people could face water stresses in the coming decades as a result climate change, pollution and rising demand.
At the an opening of the conference, Brazil's president, Michel Temer, said the world must race to avert disastrous loss of water supplies. "There is simply no time to lose," he said.
Yet in Brazil, the world's most water-rich country, hundreds of cities face drought and many more communities are afflicted by contamination of supplies, while those that try to defend these resources are often murdered or criminalised.
These concerns are raised at an alternative forum in the park outside the main conference hall, where representatives of riverine and indigenous communities have joined workshop and discussions with anti-fracking campaigners, anti-dam groups and opponents of water privatisation.
The assaults on Brazil's rivers are far more evident here than in the main forum.
Activists from the Krenak indigenous group describe how livelihoods have been destroyed along the Rio Doce in the wake of the 2015 collapse of a tailings dam owned by a subsidiary of Brazilian mining giant Vale and the Anglo-Australian multinational BHP Billiton.
Nineteen people died in that accident – Brazil's worst environmental disaster – but many more are still suffering because the river is contaminated. They cannot fish and have to rely on water truck for drinking supplies. "When the river died, we died with it," said Daniel Krenak.

Members of the Munduruku indigenous tribe walk down to the Tapajós river during a protest by indigenous groups. Photograph: Mario Tama/Getty Images
From the Xingu river, campaigner Antonia Melo described how traditional residents are struggling to cope with environmental and social damage caused by the huge Belo Monte dam, which has been followed by Brazil's worst levels of deforestation and crime.
From the Tapajós, Francisco Firmino described his own narrow escape from hitmen hired by the same boss who targeted the village chief, Pereira. "We have been fighting for water, for the forest and for our grandchildren for many years," he said. "But things have got worse because even the states seems to be against us."
His life, he said, was saved not by police but by allies from the Munduruku indigenous group, which is campaigning against dams, mines and a series of soya ports, which would add to the river traffic and pollution.
Tongass is the world's largest intact temperate rainforest, with trees more than 1,000 years old. But a pro-logging effort could uproot them
A

t south-east Alaska's last industrial-scale sawmill, wheel loaders stack debarked logs two storeys high on the frozen ground. A bumper sticker on a battered Ford in the parking lot reads "Cut Kill Dig Drill", a mantra that many in the 49th state appreciate repeating.
Viking Lumber Company employs 34 people and sustains itself primarily on old growth trees harvested from the Tongass, the largest intact temperate rainforest in the world. Many of them have been around longer than the United States – some for 1,000 years.
Under the Trump administration, the future of these ancient trees is uncertain. The Alaskan senator Lisa Murkowski is pushing for more old-growth logging, and has sought to attach pro-logging provisions to the omnibus bill on US government spending that is being negotiated this week in Congress. If such efforts are successful, the country stands at risk of losing some of its last remaining coniferous old growth in order to sustain south-east Alaska's last industrial-scale sawmill.
Bryce Dahlstrom, the Viking vice-president, who declined to comment for this article, has said elsewhere that his mill cannot afford to modernize equipment dating from the 1940s to accommodate smaller-radius young and second growth. If he runs out of old growth, his mill will shut down. Meanwhile, conservationists – joined by a growing number of fisherman and tourism representatives – insist that the Tongass, and the region, cannot afford to cut more old growth trees.
"Six decades of predatory logging has imperiled the ecosystem," said Larry Edwards, who first came to Alaska in 1976 to work as an engineer for a pulp mill. "The forest can't take anymore."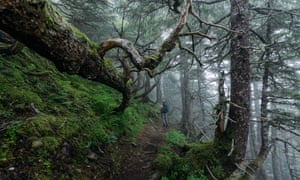 A trail through the Tongass national forest, home to some of the country's last remaining coniferous old growth. Photograph: Rafe Hanson
Encompassing the majority of south-east Alaska's panhandle, the Tongass is made up of a dense network of islands inhabited continually for the past 10,000 years by Tlingit and Haida cultures, as well as more recent Russian and North American arrivals. Fog weaves itself among the treetops, giving the forest an otherwordly feel. The vast web of rock, ice and forest provides habitat for some of America's most emblematic creatures, including brown bear, moose, and the largest concentration of nesting bald eagles in the world.
While so many of America's public lands in the contiguous United States – or "The Outside", as Alaskans call it – have been fragmented into campgrounds and tree farms, the Tongass remains largely untamed. Cleaved into existence by glaciers receding in the last ice age, the rivers today are nurseries for the five species of Pacific salmon, fish that fuel one of the globe's most prolific fisheries. Wolves, mink, voles and blacktail deer take refuge among the fjords, caves, and dense groves of spruce, hemlock, and cedar that cover about two thirds of the 17m acres of the forest.
Six decades of predatory logging has imperiled the ecosystem. The forest can't take anymore
Until the 1940s, most of the logging in the Tongass was done by hand. Following the second world war, the United States granted 50-year contracts to pulp companies, inaugurating an era of industrial-scale logging. Despite their venerable age and size, the trees were felled and pulped to make the raw material for rayon, cellophane, and "fluff-puff" – a key ingredient for disposable diapers. Ancient cedars were brought down and left to rot to allow crews access to large-diameter spruce and hemlock.
Today the wood goes towards the fabrication of doorjambs, crown moulding, sound boards for pianos, and other uses. About 30% of Vikings logs are exported for processing, some to China.
In 2014 a motley group of timber executives, conservationists, fishermen, and Native shareholders came together at the behest of the US Forest Service to examine the sustainability of the practice. In 2016, after hundreds of hours in conference rooms examining maps and modeling timber stands, and much bad coffee, they settled on a plan that set aside units of old growth for logging but ultimately phased out the large-scale cuts over the course of two decades.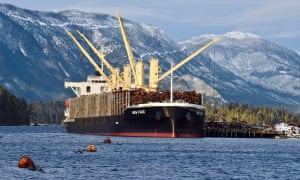 A ship being loaded with logs just north of the Viking mill. The timber is bound for China. Photograph: Dave Beebe
Senator Murkowski has proposed scrapping this plan, reasoning that it takes too much old growth off the table too quickly. Her hesitancy to support the move away from old growth is consistent with her efforts to unlock Alaska for gold, timber, and oil extraction. She recently spearheaded the successful push to open the Arctic for oil drilling. Born in the logging town of Ketchikan, she has long been in the thrall of the old growth timber industry.
Her latest attempt to boost logging involved adding two provisions to the omnibus bill on US government spending – one would exempt the Tongass from a rule banning the creation of new logging roads, the other would scuttle a plan to transition from logging older trees to younger ones. The initial text of the bill, released Wednesday, did not contain these provisions, but the language is not final, and in any event there is no indication that Murkowski will stop here.
Owen Graham, who directs the Alaska Forest Association, called Murkowski "an ally", and was thankful for her continued support in the face of great odds. While recognizing timber's heyday has passed, he still believes more old growth can be cut, and cut responsibly.
"The industry is never going to be dominant again. All we're asking for is a small section of forest. Viking needs to continue on with old growth until the young growth can sustain us, and the 2016 plan doesn't allow for this. "