23 Mar
News and Analyses, A Foreign Perspective
Nearly all of these are English-edition daily newspapers. These sites have interesting editorials and essays, and many have links to other good news sources. We try to limit this list to those sites which are regularly updated, reliable, with a high percentage of "up" time.
Robert Mercer and his daughter were key players in Trump's victory. But they will find a repeat performance difficult, writes Bette Browne
A US Supreme Court ruling that allowed corporations to pour unlimited cash into American elections was a key factor in the perfect Cambridge Analytica storm that propelled Donald Trump to the White House.
The Supreme Court's Citizens United ruling in 2010 declared that corporations could spend as much as they wanted to support candidates running for Congress or president as long as the contributions were not made directly to candidates.
The ruling overturned major portions of the 2002 McCain-Feingold political spending restrictions and rolled back centuries-old law on corporate spending in political campaigning.
In a key dissenting opinion, Justice Paul Stevens warned that the court made an error in treating corporate free speech the same as individual speech free and that opening the door to unlimited cooperate spending increased the chances of corruption in the political system.
It was exactly the ruling that hedge fund billionaire Robert Mercer and his daughter Rebekah had been hoping for and they set about exploiting it in full by ploughing millions into the new super PACs (political action committees) that sprung up.

Steve Bannon persuaded the Mercers to back Trump in the presidential election, but he's since been pushed out of the White House and Breitbart News. Picture: Mary Schwalm/AP
They particularly liked the political work being done by the billionaire Koch brothers, Charles, 83, and David, 78, and pulled out all the stops to back Republican Mitt Romney in his bid to defeat President Barack Obama in 2012.
When that bid failed, despite Romney outspending Obama by $100m, the Mercers were irate at what they saw as the ineffectiveness of the likes of the Koch brothers and began to look for better vehicles for their political
ambitions. Enter Steve Bannon and Cambridge Analytica.
Mercer was a major investor in Cambridge Analytica and was backing Republican Ted Cruz in the 2016 election. But Bannon had his eye on someone else.
He believed Trump would be the perfect vehicle to carry his and the Mercers' rightist political philosophy into the White House.
He then went on to persuade Mercer to ditch Cruz and marry the Mercer money with Cambridge Analytica's tactics and row in behind Trump.
The Mercers didn't need that much persuading. They were already big investors in Bannon's own far-right Breitbart News online network, which had spent much of its time supporting Trump.
In June 2016, according to US Federal Election Commission records, Trump's campaign hired Cambridge Analytica and paid it over $6.2m. By then, according to whistleblower Christopher Wylie, the company had created psychological profiles of some 230m Americans.
Thus, for all of them — Mercer, Bannon, and Cambridge Analytica — Trump was the perfect vehicle to test their theories that if someone could be branded as a populist outsider on the side of voters abandoned by the "Washington swamp", that candidate could sweep to victory by tapping into anger and resentment, and even racism and xenophobia, and it wouldn't matter that much if he had no political experience.
In fact, that would be a bonus.

A thirsty wolf, an albatross chick and a family of capybaras are among this week's pick of images from the natural world
Our manifesto to fix America's gun laws
After the massacre at our high school, our lives have changed forever – so we're proposing these changes to halt mass shootings
by The editorial staff of the Eagle Eye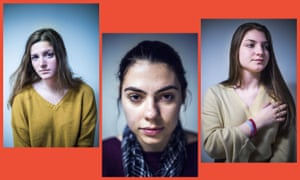 A

s a student publication, the Eagle Eye works to tell the stories of those who do not have a voice. Today, we are the ones who feel our voice must be elevated.
In the wake of the tragedy that occurred at our school on February 14 at Marjory Stoneman Douglas, our lives have changed beyond what we ever imagined. We, along with our publication, have been transformed. We will remain so for the rest of our lives.
We have a unique platform not only as student journalists, but also as survivors of a mass shooting. We are firsthand witnesses to the kind of devastation that gross incompetence and political inaction can produce. We cannot stand idly by as the country continues to be infected by a plague of gun violence that seeps into community after community, and does irreparable damage to the hearts and minds of the American people.
That's why the Eagle Eye has come together and proposed these following changes to gun policy. We believe federal and state governments must put these in place to ensure that mass shootings and gun violence cease to be a staple of American culture.
We will be marching this Saturday, 24 March, for those that we loved and lost, and we write this in the hope that no other community or publication will ever have to do the same.
The changes we propose:
Ban semi-automatic weapons that fire high-velocity rounds
Civilians shouldn't have access to the same weapons that soldiers do. That's a gross misuse of the second amendment.
These weapons were designed for dealing death: not to animals or targets, but to other human beings. The fact that they can be bought by the public does not promote domestic tranquility. Rather, their availability puts us into the kind of danger faced by men and women trapped in war zones.
This situation reflects a failure of our government. It must be corrected to ensure the safety of those guaranteed the rights to life, liberty and the pursuit of happiness.
Ban accessories that simulate automatic weapons
High-capacity magazines played a huge role in the shooting at our school. In only 10 minutes, 17 people were killed, and 17 others were injured. This is unacceptable.
That's why we believe that bump stocks, high-capacity magazines and similar accessories that simulate the effect of military-grade automatic weapons should be banned.
In the 2017 shooting in Las Vegas, 58 people were killed and 851 others were injured. The gunman's use of bump stocks enabled vast numbers of people to be hurt while gathered in one of the most iconic cities in America. If it can happen there, it can happen anywhere. That's why action must be taken to take these accessories off the market.
Establish a database of gun sales and universal background checks
We believe that there should be a database recording which guns are sold in the United States, to whom, and of what caliber and capacity they are.
Just as the Department of Motor Vehicles has a database of license plates and car owners, the Department of Defense should have a database of gun serial numbers and gun owners. This data should be paired with infractions of gun laws, past criminal offenses, and the status of the gun owner's mental health and physical capability.
Together with universal background checks, this system would help law enforcement stop a potentially dangerous person before they commit a gun crime.
Change privacy laws to allow mental healthcare providers to communicate with law enforcement
As seen in the tragedy at our school, poor communication between mental healthcare providers and law enforcement may have contributed to a disturbed person with murderous tendencies and intentions entering a school and gunning down 17 people in cold blood.
We must improve this channel of communication. To do so, privacy laws should be amended. That will allow us to prevent people who are a danger to themselves or to others from purchasing firearms. That could help prevent tragedies such as the Parkland massacre.

World Politics
United States
Rebecca Schneid and Dara Rosen, two student journalists from the Florida high school where 17 people were shot dead, interview the Vermont senator Bernie Sanders and ask him whether he thinks Donald Trump has the courage to take on the NRA.
Students from the the Eagle Eye, Stoneman Douglas high school's newspaper, are guest-editing the Guardian's US site before a protest against gun violence on Saturday

President cites lack of immigration measures in $1.3tn budget

White House said on Thursday Trump would sign the bill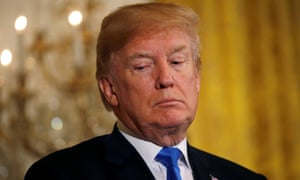 'I am considering a VETO of the Omnibus Spending Bill,' Trump tweeted Friday morning. Photograph: Leah Millis/Reuters
Donald Trump has threatened to veto the omnibus spending bill that was passed by Congress on Thursday, raising the spectre of another government shutdown.
In a Friday morning tweet, the president cited the lack of immigration measures in the $1.3tn budget, which passed the House and Senate on Thursday hours after the 2,232-page text was released to lawmakers and despite opposition from groups on the right and left.
Without new funding the federal government would be partially shut down, a third such closure in months.
Trump's move was a total reversal from White House statements issued on Thursday.
A White House press release trumpeted the bill as "a win for border security" and said: "President Donald J Trump has succeeded in securing funding for priorities that protect and support all Americans."
Greeting the budget's boost for military spending, Trump was quoted as saying: "We must work across party lines to give our heroic troops the equipment, resources, and support that they have earned a thousand times over."
Speaking to reporters in the White House briefing room, Mick Mulvaney, the head of Office of Management and Budget, insisted Trump would sign the bill into law.
"Is the president going to sign the bill? The answer is yes," Mulvaney told reporters.
The top Trump aide did note that the White House did not consider the omnibus bill to be ideal, as it contained compromises.
"This is what it looks like when you don't have 60 votes in the Senate and Democrats get to take their pound of flesh," Mulvaney said.
The bill takes some actions on gun control and the opioids crisis but does not include protections for young undocumented migrants brought to the country as children, known as Dreamers and previously protected under an Obama-era executive order, Deferred Action for Childhood Arrivals or Daca.
The budget does include $1.6bn for barriers on the southern border but it is not authorized to be used on the wall prototypes Trump recently viewed in California. Trump's presidential campaign made building a wall on the US-Mexico border a signature issue, the candidate repeatedly promising that Mexico would pay for it.
"I am considering a VETO of the Omnibus Spending Bill," Trump wrote on Friday morning, "based on the fact that the 800,000 plus DACA recipients have been totally abandoned by the Democrats (not even mentioned in Bill) and the BORDER WALL, which is desperately needed for our National Defense, is not fully funded."
The DACA program was canceled by Trump in September 2017. However, ongoing litigation has kept protection for many Dreamers in place.
Trump previously rejected a deal with Democrats that would have protected Dreamers in exchange for $25bn for a border wall.
"DACA was abandoned by the Democrats," Trump tweeted. "Very unfair to them! Would have been tied to desperately needed Wall."
Secretary of Defense James Mattis – with his relatively moderate views on war – now could be the only one standing between America and the abyss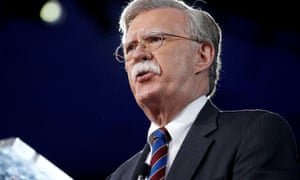 'This is not only a time for concern, but also for action. Every American needs to speak out against this appointment.' Photograph: Joshua Roberts/Reuters
U

S President Donald Trump is assembling his war cabinet. The appointment of John Bolton as National Security Advisor – following the nomination of CIA Director Mike Pompeo as Secretary of State – could be the beginning of Trump's march to war. Or wars.
The timing is not coincidental. In May, Trump will likely rip up the diplomatic agreement that has prevented Iran from getting a nuclear weapon, sparking a period of heightened tensions with Iran and removing one of the final barriers to escalating military conflict with Iran across the Middle East.
If Trump's upcoming summit meeting with North Korean leader Kim Jong-un fails – as is highly likely – the next step could be preventive military action.
Two wars, on two fronts, with incalculable costs.
If you're not scared yet, you should be. John Bolton has been thinking about this for a long time.
In 1998, Bolton signed a letter encouraging then-President Bill Clinton to invade Iraq. As Undersecretary of State for Arms Control and International Security Affairs from 2001 to 2005, Bolton was a senior George W Bush administration official helping orchestrate the invasion of Iraq.
As one career State Department official who worked with Bolton wrote, "John Bolton was a key player in the early machinations toward war of the George W Bush administration" who "knew very well how the administration was misrepresenting" the intelligence about the existence of Iraqi weapons of mass destruction (WMD). Not even years of catastrophe in Iraq after the invasion sobered Bolton's views: he said in 2015: "I still think the decision to overthrow Saddam was correct."
That Trump – who claimed (falsely) to have opposed the Iraq War – named Bolton his national security advisor just days after the 15th anniversary of the beginning of the invasion of Iraq is some very sick irony.
Today, John Bolton has new targets.
Iran is in Bolton's sights. In 2015, Bolton wrote an op-ed advocating military strikes on Iran, claiming that: "The inconvenient truth is that only military action like Israel's 1981 attack on Saddam Hussein's Osirak reactor in Iraq or its 2007 destruction of a Syrian reactor, designed and built by North Korea, can accomplish what is required."
And just when one thought that Trump's embrace of diplomacy with North Korea might have indicated a new, more peaceful direction in US policy, Bolton's entrance to the White House should disabuse everyone of that notion.
Bolton supports preventive military strikes against North Korea: "it is perfectly legitimate for the United States to respond to the current 'necessity' posed by North Korea's nuclear weapons by striking first." In a recent appearance on Fox News, Bolton appeared to hint that if Kim doesn't come to the table ready to hand over his nukes, military action could follow.
Some may claim that this is yet another chaotic staff change in a White House where all staff is eventually discarded, and the only opinion that matters is that of Trump. And that may very well be true. But with such a reckless, impulsive president, all that stands between Trump and disastrous wars is a short meeting with his advisors to place the orders.
The appointment of John Bolton just moved America one very large step closer to that disastrous moment. Bolton may be a radical, but he's not incompetent. He's a weekly feature on Fox News, practically providing Trump his Presidential Daily Briefing. He is a highly skilled bureaucratic fighter. It doesn't take much to imagine Bolton in the Oval Office telling Trump to bomb Iran and North Korea; that Obama didn't have the guts to do it; that it will cement his place in history.
The job of the national security advisor is to work with the relevant US government agencies to compile policy options for the president. There's no reason to believe that Bolton will push anything but his own radical views, as illustrated by his cherry-picking of Iraq intelligence while at the State Department. With Mike Pompeo – a hawk on Iran and North Korea, and a true Trump enabler – likely headed to State, the internal obstacles to catastrophic military decisions are being removed.
Secretary of Defense James Mattis – with his relatively moderate views on matters of war and peace – now could be the last man standing between America and the abyss.

Charges over last year's referendum and subsequent declaration of independence carry a maximum sentence of 30 years in jail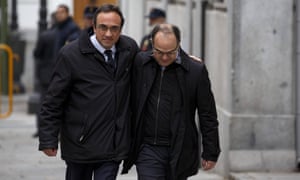 Catalan leaders Jordi Turull and Josep Rull arrive at the supreme court in Madrid. Photograph: Pablo Blazquez Dominguez/Getty Images
A Spanish supreme court judge has charged 13 senior Catalan leaders, including the region's deposed president and the candidate chosen to succeed him, with rebellion over their roles in last year's unilateral referendum and subsequent declaration of independence.
The charges, announced on Friday morning by Judge Pablo Llarena, carry a maximum sentence of 30 years' imprisonment and were brought against both Carles Puigdemont, the former president now in exile in Belgium, and Jordi Turull, who faces a vote on Saturday to take up the post.
Llarena said Catalan separatist politicians and civil society groups had "colluded" for the past six years to draw up a plan for regional independence in defiance of Spain's legal and constitutional order.
Among those also charged with the same offence are the former Catalan vice-president, Oriol Junqueras, the former speaker of the Catalan parliament, Carme Forcadell, and the senior civil society group figures Jordi Cuixart and Jordi Sànchez.
Marta Rovira, the general secretary of Junqueras' Catalan Republican Left party, failed to appear in court Madrid, explaining in a letter that she was fleeing Spain. She was also charged with rebellion.
The judge ruled that a total of 25 Catalan leaders will be tried for rebellion, misuse of public funds or disobeying the state.
In a 70-page ruling, Llarena noted that from 2012 onwards, the Catalan government had been "drawing up a route map for Catalonia's transition process towards becoming an independent country" and co-ordinating the campaign with Cuixart and Sànchez's influential grassroots groups.
"Despite repeated warnings that these parliamentary initiatives were unconstitutional and invalid … and despite the suspension and invalidation of the referendum decrees, the executive organs of the Catalan government pressed on with a permanent and obsessive agenda," said the judge.
Llarena also cast doubt on whether the former Catalan government had abandoned its independence drive, saying it appeared to be "latent and awaiting reactivation".
The announcement of the charges followed Thursday night's investiture debate in the Catalan parliament, in which Turull's first attempt to be elected was scuppered by the region's most hardline pro-independence party.
Turull, Puigdemont's former chief of staff and the third candidate to be proposed for the presidency since the elections last December, failed to win the support of the regional parliament after the far-left, anti-capitalist Popular Unity Candidacy (Cup) announced that it would no longer work in coalition with the two larger pro-independence parties.
A second investiture debate is due to be held on Saturday morning.
The debate on Thursday has started the constitutional and electoral clock ticking. Parties have two months to propose and elect a presidential candidate. If none is successful within that time, fresh Catalan elections will be held in mid-July.
Catalonia has been under direct rule from Madrid since the end of October, when Spain's prime minister, Mariano Rajoy, responded to the unilateral independence declaration by sacking Puigdemont and his government and calling snap