24 Mar
News and Analyses, A Foreign Perspective
Nearly all of these are English-edition daily newspapers. These sites have interesting editorials and essays, and many have links to other good news sources. We try to limit this list to those sites which are regularly updated, reliable, with a high percentage of "up" time.
The mother said her son would have told her, "'I'm doing my job Mom, that's all.'"
A French police officer who offered himself up to an extremist gunman in exchange for a hostage during a deadly supermarket siege in southwestern France has died of his injuries, the interior minister said Saturday.
France24 screengrab | Col. Arnaud Beltrame succumbed to his injuries Saturday, March 24, 2018.
Col. Arnaud Beltrame was among the first officers to respond to the attack on the supermarket in the south of France on Friday. His death, announced by French Interior Minister Gerard Collomb, raises the toll to four. The gunman was also killed, and 15 people were injured in the attack.
The gendarme, or policeman, had been left fighting for his life after being hit by gunfire inside the Super U supermarket in the town of Trèbes before elite police raided the premises and killed the attacker, who had burst into the store yelling "Allahu Akbar".
"Dead for his country. France will never forget his heroism, bravery and sacrifice," Collomb said in a Twitter message posted early Saturday.
Responding to the news of Beltrame's demise, French President Emmanuel Macron paid tribute to "a fallen hero" who has earned "the admiration of the nation".
Surreptitiously leaving cellphone on
The four-hour drama began at 10.30am local time on Friday morning, when the gunman first hijacked a car, killing one person in the southwestern citadel town of Carcassonne. He then opened fire on policemen on a morning jog, injuring one officer. He then drove to Trèbes and took hostages inside a supermarket.
Beltrame offered to trade places with a female hostage the attacker was holding as a human shield, after which he took her place and left his cellphone on, enabling security officials around the site to hear exactly what was going on inside the supermarket.
Officials said the decision was made to storm the building when they heard shots fired.
The 44-year-old gendarme, who once served in Iraq, was part of a team of security officials who were among the first to arrive at the supermarket scene. Most of the shoppers escaped after hiding in a cold storage room and then fleeing through an emergency exit.
In an interview with French radio station RTL Friday night, before the announcement of his death, Beltrame's mother, who was not named, said she was not surprised that her son had volunteered to be a hostage. "I knew it had to be him. He has always been like that. He's someone, since he was born, who gives everything for his homeland," she said.
Asked if she was proud of him, she said he would have told her, "'I'm doing my job Mom, that's all.'"

World Politics
United States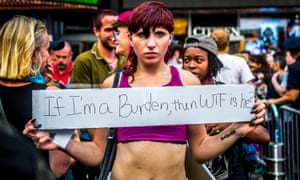 A series of tweets by Donald Trump in 2017 called for a ban on transgender people in the military, sparking widespread protests. Photograph: Michael N/Pacific/BarcroftImages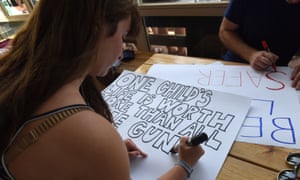 American students make signs calling for stricter gun control before a solidarity rally with March For Our Lives in front of the US embassy in Tel Aviv, Israel Friday. Photograph: UPI / Barcroft Images