25 Mar
News and Analyses, A Foreign Perspective
Nearly all of these are English-edition daily newspapers. These sites have interesting editorials and essays, and many have links to other good news sources. We try to limit this list to those sites which are regularly updated, reliable, with a high percentage of "up" time.
The Two Women at the Top
Never before in German history have two governing parties been led by women. The country's political stability will now hinge on the relationship between Andrea Nahles and Angela Merkel.
By DER SPIEGEL Staff
Not long after German Chancellor Angela Merkel's third term began, she buttonholed Andrea Nahles following a cabinet meeting in the Chancellery. Nahles was labor minister at the time, part of the coalition government pairing Merkel's conservative Christian Democrats (CDU) and Nahles' center-left Social Democrats (SPD) that had been in office for just a few months, and Merkel wanted to do Nahles a favor. Pope Francis was preparing to canonize two of his papal predecessors and the chancellor asked Nahles if she wanted to represent the German government at the ceremony. It would be good, Merkel said, if a Catholic were to attend the event rather than a Protestant such as herself.
Nahles was surprised by the offer, but pleased. As a child, she had been an altar girl and when she became a teenager, turned into a devotee of Pope John Paul II. Some SPD members are suspicious of Nahles' faith, but Merkel, the daughter of a Protestant pastor, respects her religious beliefs. A few days later, Nahles found herself listening to Pope Francis on St. Peter's Square as Merkel's ambassador, surrounded by dignitaries from around the world, with a large cross around her neck.
The episode took place four years ago, but it says a lot about the relationship between the two women — one that has become crucial for the new governing coalition that Merkel now leads. Nahles, after all, is no longer a cabinet member. In April, she will become head of the SPD — and it will be up to her and Merkel to make this coalition work.
It won't be easy: Many in the SPD were opposed to joining the conservatives in a new government and would prefer to be in the opposition. Many within Merkel's Christian Democrats (CDU), meanwhile, have begun looking past the chancellor to the post-Merkel era. And there is a widespread view in the country at large that the alliance has become outmoded before it has really even got started. But it is up to the two of them to make sure this coalition, which was assembled with such great difficulty over the course of the past several weeks, doesn't immediately come tumbling down.
Over the years, Merkel and Nahles have developed a close, if not always harmonious relationship. It's something of a miracle they can stand each other at all, given that they seem to come from two, completely different planets. Merkel, the control freak, and Nahles, the impulsive politician. Merkel cut her political teeth under the dour Helmut Kohl, while Nahles was once called a "gift from God" by Oskar Lafontaine, the narcissistic leftist who once led the SPD.
Thrown Together
As is so often the case in Berlin, the two were thrown together by political calculation. Years ago, Nahles realized that a closer bond with Merkel would help her shed the reputation she had acquired as a leftist ideologue. And Merkel recognized early on that Nahles could help solidify her hold on power. All the way back in 2008, she even said that she should call Nahles instead of Kurt Beck, the embattled SPD leader at the time, if she wanted to arrange something with the party.
From now on, it will be up to Merkel and Nahles to iron out differences between the two parties. Sigmar Gabriel, who was Merkel's vice chancellor for the past several years, has been relegated to the role of backbencher by Nahles. And the new vice chancellor, Finance Minister Olaf Scholz, doesn't have nearly as much support within the SPD as she does.

Hundreds of thousands of people have gathered in Washington to call for tighter gun laws following the massacre at a high school in Parkland, Florida, last month.

The rally was led by young activists from Parkland and across the country, in an array of powerful and composed speeches from young people from diverse backgrounds.

The White House praised the demonstrators for exercising their right to free speech, but Donald Trump himself was silent at the time of writing, seeming to spend much of the day at his golf club in Florida.

Barack Obama tweeted: "Michelle and I are so inspired by all the young people who made today's marches happen. Keep at it. You're leading us forward."

Protesters in Washington formed a sea of people along Pennsylvania Avenue, while demonstrators also gathered in Parkland, New York City, San Francisco, and in cities around the world.

Students from the school newspaper at Marjory Stoneman Douglas, where the February massacre took place, attended the march as special correspondents for the Guardian and have been guest-editing the Guardian US website since yesterday.

The rallies are aiming to persuade Congress to tighten the US's notoriously lax firearm laws, which have made gun massacres a regular part of American life.

Emma Gonzalez, one of the best-known Parkland student activists, led the crowd in 6min 20secs of silence to symbolise the amount of time it took the gunman, Nikolas Cruz, to commit the 17 murders.

Source: Reuters
Parkland shooting survivor Emma Gonzalez – who had been a leading voice immediately after the attack on her school – took to the stage in Washington DC for six minutes and 20 seconds, much of that in silence. She says it was the amount of time it took a shooter to kill 17 people at her school in Florida last month

Source: Reuters
Yolanda Renee King, granddaughter of Martin Luther King, told the crowd at the  March for Our Lives rally in Washington DC: "I have a dream that enough is enough. And that this should be a gun-free world, period."
She then asked the crowd to repeat back her words: "Spread the word, have you heard? All across the nation. We are going to be a great generation."
She led the chant three times, encouraging the crowd to repeat her words "so the whole world can hear".

Instead of tolerance, a grotesque group of inquisitors are alienating the faithful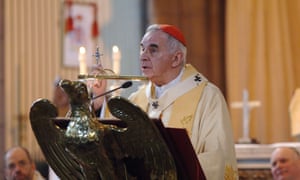 Cardinal Keith O'Brien saying mass at St Mary's Cathedral, Edinburgh, before the revelations about his relationships with young priests came to light. Photograph: Angus Blackburn/REX/Shutterstock
T

he most human response to the death of Scotland's shamed cardinal came from the journalist whose articles forced his resignation. Catherine Deveney spoke with compassion and pity as she expressed the hope that Cardinal Keith Patrick O'Brien had found peace and forgiveness at the end. Deveney's articles for the Observer in 2013 revealed that O'Brien had, for many years, conducted a series of inappropriate relationships with young priests under his jurisdiction.
Like others, she had been aware of a whiff of scandal surrounding this widely admired man who, unlike many of his predecessors and contemporaries, seemed to possess something that endeared him to people. It was only when O'Brien began to front an ill-advised and nasty campaign against same-sex marriage that three priests who had been in sexual relationships with him felt they had to speak out and subsequently approached Deveney with their stories.
A few months before this, I was informed by the editor of the Catholic Observer that O'Brien had chided her for publishing an article of mine in which I had criticised his attitude to gay people and the use of the word "grotesque" in describing their sexuality. Yet I didn't derive any delight at his public outing, only a sense of deep sadness that a man with great qualities of leadership and compassion had been brought low by a lie that had probably stalked half his adult life. What misery and self-loathing must he have endured as he preached his fables about human sexuality. And yet what damage had he caused to the faith of thousands not by being revealed as a sinner but as a hypocrite.
Ironically, the term "grotesque" can be more accurately applied to a bitter and vile band of ultramontane Scottish Catholics who have been permitted to roam the country, spreading fear and hatred within the Catholic church. These haters barely deserve to be called human, such is their contempt for those who do not adhere to their distorted form of Christianity. They have conducted a reign of terror among priests they suspect of being gay by threatening to "out" them lest they recant and repent. On other occasions, they have stalked successful young single women in the church and asked inappropriate questions about the status of their relationships.
In some corners of Catholic Scotland a special level of suspicion is still reserved for Catholic women who have reached their 30s "without a man". If Dante had existed today he would have reserved a special circle of pain and torment for this band of latterday inquisitors and social misfits.
Catholic leaders are in denial about sexuality and especially the "grotesque" form of it that they fear more than anything else. Latterly in his ministry, something caused O'Brien suddenly to begin deploying more militant and unpleasant language in describing gay people.
This would all be hilarious if it weren't so tragic. The Catholic church is absolutely hoaching with gay priests and bishops. There are so many residing within the Vatican that they could probably form their very own order. I've been contacted by several in Scotland over the past few years, simply for highlighting the hypocritical oath that holds sway in the Catholic church and that has made their lives miserable.
The bishop knew about the abuse for years yet chose to park the issue by moving him on
It's not difficult to understand why so many gay Catholics are attracted to the priesthood. In many traditional Catholic households, homosexuality is simply not allowed to be mentioned. In such an environment, a Catholic adolescent male who is encountering issues around his sexual identity might be told to take some headache pills and go for a lie down until the feeling goes away. Indeed, that pretty much sums up the entirety of Catholic teaching on this matter. These young men, already hating a part of themselves, are then drawn to the priesthood that offers them a state where they can embrace celibacy and subjugate their sexuality. It is an ecclesiastical and bizarre set-up with disastrous consequences.
Some of this has been evident in the decades of sex abuse by Catholic clergy in Scotland. Sadly, too, it has been evident in the lamentable response of the hierarchy and the reactionary praetorian guard of lay civil servants that surrounds it. The week before O'Brien's death, Father Paul Moore, an 82-year-old retired priest, was convicted of sexually abusing three children and a student priest over a period spanning more than 20 years. Without going into the details, the abuse was as bad as it gets. His bishop knew about this many years before, yet chose to park the issue by moving him on. He was only doing what other bishops are told to do.
The principal victim who gave eight days of evidence has fought for many years to bring his violator to justice. During this time, he has been treated with a level of contempt and disdain by his own church which was astonishing to behold and utterly callous. There are thousands like him, stretching back decades, and yet the church now boasts of having the right safeguards in place to prevent future abuse. I'd be interested in examining these safeguards and asking why they were constructed without talking to any of the groups of people who survived widespread clerical sexual abuse.

World Politics
United States
McDougal tells CNN she had sex with Donald Trump 'dozens of times' during a year-long affair, including at his family home in Trump Tower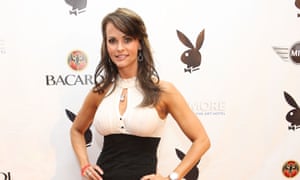 Karen McDougal says she began an affair with Donald Trump in 2006. Photograph: Bennett Raglin/Getty Images
A former Playboy model has given her first televised account of the affair that she alleges she sustained with Donald Trump for almost a year, beginning just three months after the birth of his and Melania's son Barron.
By going public, Karen McDougal disregarded legal risks relating to a $150,000 deal she had signed shortly before the November 2016 election that in effect bought her silence. In an hour-long interview with Anderson Cooper on CNN, she gave intimate details of the alleged affair that involved her having sex with the then New York businessman "many dozens of times".
In details that could prove especially discomforting for Trump and the First Lady, McDougal said that in the course of the relationship he took her into the couple's Manhattan home in Trump Tower. Trump pointed out a room which he described as "Melania's room", saying "she likes to have her alone time" there.
The rights to McDougal's story were bought in August 2016, just three months before the election, by American Media Inc (AMI), owner of the National Enquirer, though no article was ever published. AMI's chairman David Pecker and Trump are longstanding friends, and McDougal said she thought that the deal had been a "catch and kill" – in other words an attempt to protect the then Republican presidential candidate by burying the tale.
Earlier this week AMI contacted CNN denying that there had been any attempt to silence McDougal. "She has been free to respond to press inquiries about her relationship with President Trump since 2016," the company claimed.
Trump has denied the alleged affair.
McDougal's appearance on CNN is something of a test run for what is expected to be a more incendiary broadcast on Sunday when the adult film actor Stormy Daniels – real name Stephanie Clifford – is scheduled to be interviewed, also by Cooper, on CBS's 60 Minutes. She was paid $130,000 to keep her silence about an alleged affair with Trump by his personal lawyer Michael Cohen, who says he made the payment out of his own funds.
Three women – Daniels, McDougal, and Summer Zervos, an Apprentice contestant who says she was sexually harassed by Trump – are all suing the president.