27 Mar
News and Analyses, A Foreign Perspective
Nearly all of these are English-edition daily newspapers. These sites have interesting editorials and essays, and many have links to other good news sources. We try to limit this list to those sites which are regularly updated, reliable, with a high percentage of "up" time.

Gun Control
Days after the March for Our Lives, the movement continues to see successful efforts – here are six victories since the Florida shooting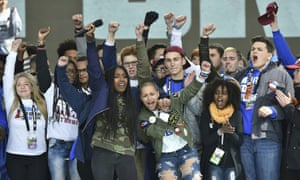 Students rally onstage for gun control at March for Our Lives on 24 March in Washington DC. Photograph: Nicholas Kamm/AFP/Getty Images
Two days after the largest demonstration against gun violence in the US, the movement to prevent gun violence continues to build momentum – this time in New Jersey, where lawmakers are voting on a stack of stricter gun control laws on Monday.
Teenagers at Marjory Stoneman Douglas high school have reinvigorated the movement after 17 people were killed at their school last month.
On Monday, New Jersey's governor, Phil Murphy, vowed to sign into law six pieces of gun control legislation, including a ban on armour-piercing bullets and a bill to make it tougher to obtain a handgun permit, if they are passed by the state legislature.
"Today we marched in memory of Parkland," Murphy said on Saturday. "But we will act in the name of every family and every community in our state that has been touched by gun violence, and the many more who wish to remain safe."
Here is a look at other successful efforts to curb gun violence since the shooting in Parkland, Florida, on 14 February.

States have strengthened laws and missing mental health records have been added to the background check system, among other steps aimed at saving lives
N

early five years after a mass shooter murdered 20 children and six adults at Sandy Hook elementary school, Republican politicians are still blocking any attempt to pass tougher federal gun control laws.
The lack of congressional action has prompted outrage, despair and a sense that the gun debate is intractable.
But outside Washington, at the state and local level, the fight to prevent gun violence is anything but over. Here are 10 victories since 2013 in the fight to prevent gun deaths and save lives – including a major effort led by the gun industry itself.
1. At least 25 states have passed tougher domestic violence gun laws
Laws designed to keep guns away from domestic abusers have advanced across the country since 2013, including in conservative states such as Alabama, Louisiana, Utah, North Dakota and South Carolina. In some cases, the National Rifle Association has quietly supported the legislation, marking a rare point of bipartisan agreement on laws that multiple studies have found prevent murders and save lives.

John Paul Stevens says repeal would weaken the NRA's ability to 'block constructive gun control legislation'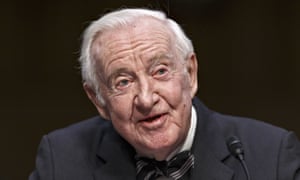 John Paul Stevens retired from the court in 2010, after more than 35 years. Photograph: AP
Retired supreme court justice John Paul Stevens is calling for the repeal of the second amendment to allow for significant gun control legislation.
The 97-year-old Stevens says in an essay on the New York Times website that repeal would weaken the NRA's ability to "block constructive gun control legislation".
Stevens was on the losing end of a 2008 ruling in which the high court held that the second amendment gives individuals the right to own a gun for self-defense. He had previously called for changing the second amendment to permit gun control.
Stevens says the decision in that case, District of Columbia v Heller, "has provided the NRA with a propaganda weapon of immense power". Stevens retired from the court in 2010, after more than 35 years.

Court declined to hear a challenge to a 2013 state ban enacted in Maryland, and also a Florida man's challenge to state ban on openly carrying a firearm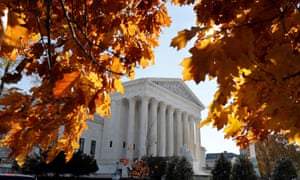 The US supreme court turned away an appeal by Maryland residents and the NRA, who said an assault weapon ban violated the second amendment. Photograph: Yuri Gripas/Reuters
The US supreme court, which has avoided major gun cases for seven years, on Monday declined to hear a National Rifle Association-backed challenge to a 2013 state ban on assault weapons enacted in Maryland after the Connecticut elementary school massacre.
The court also declined to hear a second gun-related case in which a Florida man convicted of openly carrying a firearm on the street sought to challenge that state's ban on such activity.
In the Maryland case, the court turned away an appeal by several residents, firearms dealers and the state NRA, who argued that the ban violated their right to keep and bear arms under the second amendment. In doing so, the justices sidestepped the roiling national debate over the availability of military style guns.
The case focused on weapons that have become a recurring feature in mass shootings, including the 5 November attack at a Texas church that killed 25 people, the 1 October attack at a Las Vegas concert that killed 58 and the 2012 attack that killed 20 children and six adults at Sandy Hook elementary school in Newtown, Connecticut, which prompted Maryland's law.

Survivors' activism held up as an inspiration for young people around the world
Australian students and politicians have rallied in Sydney in solidarity with the survivors of the Parkland school shooting, as part of a global protest to end gun violence.
On Saturday survivors of last month's shooting, their families and supporters will rally in Washington DC as part of the March for Our Lives, which calls on US lawmakers to do more on gun control.
Labor's deputy leader, Tanya Plibersek, said during Friday's rally in Sydney's Martin Place that US lawmakers needed to grant students the same protection their Australian counterparts received through strengthened gun laws after the 1996 Port Arthur massacre.
"No Australian student has gone to school fearing for their life because of yet another mass shooting," she said. "It's not because our kids are so different, it's because our laws are so different.
"We absolutely need to preserve and protect that, and to support the fight of those young people in the United States who are asking for the same protections in their schools and their homes as our young people have in our homes."

A young, unarmed black man was shot 20 times in his grandmother's backyard. Now his brother is fighting through grief to demand justice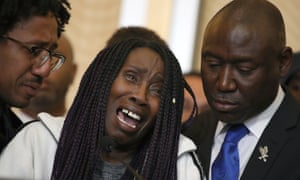 Sequita Thompson, the grandmother of Stephon Clark, during a news conference in Sacramento, California. Photograph: Justin Sullivan/Getty Images
"They gunned him down like a dog," Stevante Clark said of the police shooting of his brother, Stephon. "They executed him."
Stevante was in the backseat of a car, his voice quivering. He stomped his feet 20 times – one for each bullet that police fired at his unarmed brother.
"Twenty times. That's like stepping on a roach … And then stepping, stepping, stepping, stepping, stepping, stepping, stepping."
The fatal shooting of Stephon Clark on 18 March by Sacramento police has sparked outrage and massive protests in the California capital, drawing comparisons with other cases of law enforcement killing unarmed black people, such as Oscar Grant, Michael Brown and Eric Garner.
Stephon, an unarmed 22-year-old father of two, was standing in his grandmother's backyard, holding only his iPhone when officers, who did not announce they were police, appeared in the dark, shouted at him to reveal his hands and quickly fired a round of bullets at him before he could respond.
His brother, Stevante, 25, has been thrust into the national spotlight and forced to navigate media, protests, lawyers and donations while struggling through his own grief and anger.
"I shouldn't have to defend my brother. They should be proving their innocence," Stevante told the Guardian on Sunday night, during an interview in his friend's car. "I'm exhausted. I hate this. I hate my life."
Stevante Clark speaks to the crowd during a vigil to protest the police shooting of his brother, Stephon Clark. Photograph: Bob Strong/Reuters
For those mourning Stephon, police gun violence must not be forgotten. "Who polices the police?" said Darron Powe, a longtime family friend. "We need a voice."
Sacramento police have said that officers were responding to calls of someone breaking into vehicles when they located Stephon in a backyard. Body-camera footage showed police running in, shouting "Show me your hands!" and "Gun!" before shooting a rapid-fire succession of bullets at him less than 20 seconds after they arrived.
For five minutes, no officers approached Stephon or offered him medical aid, instead continuing to shout at him to show his hands. He was not moving. Officers eventually handcuffed his lifeless body. No weapon was in sight. Officers then muted the audio on their cameras.
Sequita Thompson, Stephon's grandmother, was sitting in her dining room when she heard the "boom boom boom", she said on Monday. Afraid of the bullets, she grabbed her seven-year-old granddaughter and they crawled to a bedroom.
Stephon, who went by the nickname Zoe, cared more about his two young sons, ages one and three, than anything in the world, his brother said. He also loved sneakers, dancing and making people smile. Stevante and Powe laughed Sunday night remembering some of Stephon's favorite movie impressions – Chris Tucker in Rush Hour and Kevin Hart in Soul Plane.
Stevante said he was tired of summarizing his brother's worth in a soundbite for the news. He also said he was fed up with reporters mentioning his brother's previous run-ins with the law and jail time, as if his past challenges justified his killing.
Stephon Clark with his two sons. Photograph: Courtesy of the family
"Why aren't we talking about the police's mistakes?" he said. "My city is scared of police … I'm scared to live here. I don't feel safe."
"It doesn't matter who he was or what he did," added Luke Tailor, a 24-year-old friend of Stephon. "He's a human. That in itself is enough to fight for."
Like police forces in liberal states across the country, Sacramento's department has previously adopted reforms in the wake of controversy. In 2016, officers tried to run over a homeless man with a police car before shooting him dead.
The Sacramento mayor Darrell Steinberg initially released a statement saying he would not "second guess" the officers, prompting swift backlash. In an interview Monday, he said the videos made him feel "really sick" and that the outcome was "wrong". "I really feel like this can be a moment for Sacramento and the country that shows another way is possible."
He declined, however, to say whether he felt charges were warranted.
To some, Stephon's killing suggests little progress has been made. And despite the undisputed disturbing facts of the case, experts have suggested that police could easily avoid convictions since they would only have to prove that they felt they were in danger.

World Politics
United States