28 Mar
News and Analyses, A Foreign Perspective
Nearly all of these are English-edition daily newspapers. These sites have interesting editorials and essays, and many have links to other good news sources. We try to limit this list to those sites which are regularly updated, reliable, with a high percentage of "up" time.

Source: Wildlife Conservation Society
Footage of an elephant blowing ash has baffled wildlife experts, who say they've never seen behaviour like it before. The video released by the Wildlife Conservation Society may be an example of zoopharmacognosy, animal self-medication

Arnaud Beltrame's coffin escorted through Paris on national day of mourning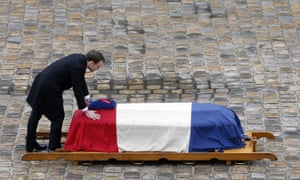 Emmanuel Macron touches the flag-draped coffin of Arnaud Beltrame, the gendarme who was killed after trading places with a woman during a hostage situation in Trèbes. Photograph: Chesnot/Getty Images
France has honoured its heroic gendarme Arnaud Beltrame, who died saving hostages' lives at a supermarket siege last week, with all the respect, gratitude and emotion the grieving country could muster.
In a state ceremony that conveyed France's pride and profound sadness, President Emmanuel Macron paid tribute on Wednesday to the officer who he said had the "gratitude, admiration and affection of the whole country".
It was the first time Macron had been called upon to deliver a state funeral homage since his election in May 2017. He stood grim-faced as the Marseillaise was played. His speech made reference to Joan of Arc, members of the French resistance and others who had died for the country.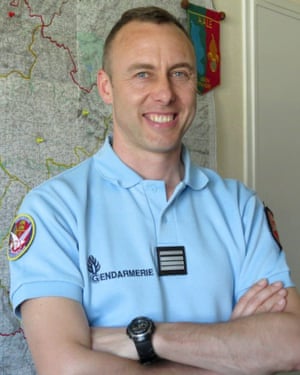 Arnaud Beltrame. Photograph: AFP/Getty Images
Before hundreds of people, including former presidents, government ministers, military officers and members of the public, Beltrame's coffin was carried into the cour d'honneur at Les Invalides by 10 gendarmes who had known him. Hundreds more gathered outside.
Beltrame's képi, the gendarmerie's headgear, in which he kept a photograph of himself with his wife, Marielle, and his decorations were carried by two officers. He was posthumously promoted to colonel and made a commander of the Légion d'Honneur.
Beltrame was hailed a hero after volunteering on Friday to take the place of a female hostage being held by the suspected Islamist gunman Radouane Lakdim, 25, who had already killed three people.
Lakdim hijacked a car, gunning down a passenger, then stormed a busy supermarket in the town of Trèbes near Carcassonne, killing a member of staff and a customer and declaring his allegiance to Islamic State. He was holding a 40-year-old woman hostage as police and special forces surrounded the building.
Beltrame gave up his weapon and offered to take the place of the woman, named only as Julie, the mother of a two-year-old girl who worked on the checkout.
After a three-hour siege, the gendarme was stabbed several times as he tried to disarm Lakdim. The gravely injured officer was flown by helicopter to hospital where he died a few hours later, his wife at his bedside.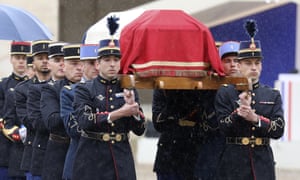 Arnaud Beltrame's coffin is carried during the ceremony at the Hôtel des Invalides in Paris. Photograph: Ludovic Marin/AP
Macron spoke of the long minutes that passed as Beltrame's colleagues watched as he "put down his weapon and walked alone to join the terrorist".
"With all his experience … he surely knew he had a rendezvous with death," the president said. "He took this decision which was not just a sacrifice but was first of all being true to himself, true to his values and true to what he was and what he wanted to be.
"He would not have allowed anyone to take his place, because he knew the example has to be set from the top… the light he has lit in us has not gone out."
Wednesday's ceremony also honoured the terrorist's three other victims: Christian Medvès, 50, who worked as a butcher at the Super-U in Trèbes; Hervé Sosna, 65, who was shopping when Lakdim shot him, and Jean Mazières, 61, a passenger in the hijacked car. The driver of the vehicle, Renato Silva, 26, was shot in the head and is in a critical condition in hospital.
The funeral procession crossed Paris, stopping outside the Panthéon. The words engraved on the facade of the 18th-century former church where France's great and good are buried had never seemed more appropriate: "To great men, a grateful country."

Parisians wait for the hearse transporting the coffin containing the body of Arnaud Beltrame. Photograph: Stephane de Sakutin/AFP/Getty Images
Before his tribute, Macron spoke briefly to Beltrame's widow, Marielle, and the officer's mother, Nicolle Nicolic-Beltrame.
Beltrame and his wife were married in a civil ceremony in 2016 and were due to redeclare their vows in a church ceremony in June. The priest who was to have officiated at the wedding was called to Beltrame's bedside where Marielle was keeping vigil on Friday evening to give him the last rites.
Afterwards, his widow, a veterinarian, told La Vie newspaper he was an "ideal husband" and a devoted gendarme.

A cozy relationship with governor Doug Ducey enabled an autonomous program with limited expert oversight – one that ultimately led to a fatal crash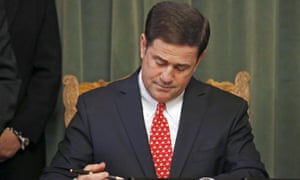 Doug Ducey, the Republican governor of Arizona, was courted by Uber, and welcomed the company's controversial self-driving plans with open arms. Photograph: Ross D. Franklin/AP
A

rizona's Republican governor repeatedly encouraged Uber's controversial experiment with autonomous cars in the state, enabling a secret testing program for self-driving vehicles with limited oversight from experts, according to hundreds of emails obtained by the Guardian.
The previously unseen emails between Uber and the office of governor Doug Ducey reveal how Uber began quietly testing self-driving cars in Phoenix in August 2016 without informing the public.
On Monday, 10 days after one of Uber's self-driving vehicles killed a pedestrian in a Phoenix suburb, Ducey suspended the company's right to operate autonomous cars on public roads in Arizona. It was a major about-face for the governor, who has spent years embracing the Silicon Valley startup.
Uber's behind-the-scenes efforts to court Ducey, and the governor's apparent willingness to satisfy the company, is made clear in the emails, which were sent between 2015 and 2007 and obtained by the Guardian through public records requests.
They reveal how Uber offered workspace for Ducey's staff in San Francisco, praised the governor lavishly, and promised to bring money and jobs to his state. Ducey, meanwhile, helped Uber deal with other officials in Arizona, issued decrees that were friendly to the company, tweeted out an advert at the company's request, and even seems to have been open to wearing an Uber T-shirt at an official event.
There is no way to know whether tougher regulations would have prevented the death of 49-year-old Elaine Herzberg, who was struck by an Uber-owned Volvo while it was in self-driving mode on 19 March. Uber immediately suspended its self-driving vehicle testing in Arizona, Pittsburgh, San Francisco and Toronto.
The first fatal crash involving a self-driving vehicle and a pedestrian in the US has sparked a national discussion about the safety of a technology, which tech companies claim will dramatically improve road safety.
However the correspondence between Ducey and Uber will now throw a spotlight on the Arizona governor's office – and raise questions about his apparently laissez-faire approach to safety. While Arizona's neighbour California has some of the toughest self-driving regulations in America, other states, such as Michigan and Florida, are at least as permissive as Arizona, with few restrictions and little oversight of highly automated vehicles.
'A real thought leader'
Arizona was not always a friendly state for Uber. In April 2014, then-governor Jan Brewer vetoed legislation that would have exempted taxi-hailing companies from insurance regulations imposed on traditional taxis.
Uber and Lyft continued to operate in the state, however, risking fines for their drivers. In late 2014, Brewer was replaced by Ducey, a fellow Republican, and Uber almost immediately began its charm offensive. A month after being sworn in, Ducey met with David Plouffe, Barack Obama's former campaign manager, who had been hired by Uber as a senior vice-president, and another Uber executive named Justin Kintz.
The following week, Kintz wrote to Ducey: "I know [Plouffe] and [Uber founder] Travis [Kalanick] are as excited as I am to expand our footprint in Arizona, and we are encouraged that the state legislature is interested in codifying a permanent regulatory structure for ridesharing."
One of Ducey's first acts as governor was to instruct officials not to pursue ride-share drivers over taxi licensing rules. Uber seemed to have secured a political ally in Ducey who signed a bill legalizing ride-sharing at a high-profile ceremony in April 2015, flanked by Uber and Lyft drivers and executives…………….Remarkably, the public appears to have been kept in the dark. Because of Arizona's regulatory vacuum, neither Uber nor Ducey were obliged to inform the public that Uber's cars would now be driving themselves on public roads. Neither, it seems, did they believe they had an ethical duty to do so.
Uber says that it did not make a public announcement because its efforts were focused on launching the Pittsburgh pilot. Uber did, however, at least suggest keeping someone in local law enforcement in the loop over that Uber's self-driving vehicles would be on state roads. Chhabra wrote to Seiden, saying Uber wanted to give Phoenix police department "a heads up" about the secret program, and asking if he would recommend someone "discreet" to contact.
Contacted by the Guardian, Ducey declined to explain why the governor's office chose to keep the program secret. However the emails make clear the links between his office and Uber were getting closer all the time.
When Seiden took a trip to San Francisco that August, Uber offered him the use of its offices. "I'm happy to host you here at Uber and set you up with a work space and any meetings, etc." wrote a public affairs manager……………..But Ducey still has sleeves to roll up. Two weeks before the fatal crash, he issued a new executive order explicitly allowing fully driverless vehicles on Arizona's roads, as long as companies claim that their vehicles comply with federal safety standards.
In a statement he wrote 17 days before Herzberg was killed, Ducey said: "This executive order embraces new technologies by creating an environment that supports autonomous vehicle innovation and maintains a focus on public safety."

Sharp rise globally in the dirtiest fossil fuel investments reverses progress made after the Paris agreement, with tar sands holdings more than doubling in Trump's first year in office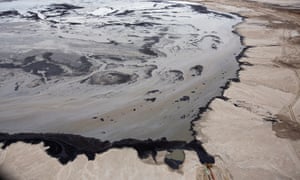 A Shell tailings pond at a tar sands operation near Fort McMurray, Alberta, Canada. Photograph: Todd Korol/Reuters
Bank holdings in "extreme" fossil fuels skyrocketed globally to $115bn during Donald Trump's first year as US president, with holdings in tar sands oil more than doubling, a new report has found.
A sharp flight from fossil fuels investments after the Paris agreement was reversed last year with a return to energy sources dubbed "extreme" because of their contribution to global emissions. This included an 11% hike in funding for carbon-heavy tar sands, as well as Arctic and ultra-deepwater oil and coal.
US and Canadian banks led a race back into the unconventional energy sector following Trump's promise to withdraw from Paris, with JPMorgan Chase increasing its coal funding by a factor of 21, and quadrupling its tar sands assets.
Chase's $5.6bn surge in tar sands holdings added to nearly $47bn of gains for the industry last year, according to the report by NGOs including BankTrack, the Sierra Club and Rainforest Action Network (RAN).
RAN spokeswoman, Alison Kirsch, accused banks such as JPMorgan Chase of "moving backwards in lockstep with their wrongheaded political leaders".
"If we are to have any chance of halting catastrophic climate change, there must be an end of expansion and complete phase-out of these dangerous energy sources," she said. "Banks need to be accountable and implement policies guarding against extreme fossil fuel funding."
JPMorgan Chase has asked the US securities and exchanges commission for support in its bid to block a shareholder resolution calling for a bank report on financial and climate risks associated with tar sands projects.
Royal Bank of Canada and Toronto Dominion remain the biggest tar sands backers, with $38bn of holdings between them.
Kelly Martin, a campaign director at Sierra Club, said: "Tar sands and other fossil fuel projects threaten our climate, public health, and communities, and until they stop supporting them financially, major banks … are complicit in this destruction."
Bank funding for tar sands production and pipelines more than doubled last year – compared to the 2015-16 period, when then-US president Barack Obama nixed the Keystone pipeline project, which Trump subsequently reapproved.
Support for coal among the 36 banks surveyed was also up by 6% in 2017 after a 38% plunge in 2016. Large Chinese banks actually reduced these investments last year and in Europe, BNP Paribas and ING moved to limit their exposure to fossil fuel assets.
However, 14 European banks collectively increased their coal financing by more than $2bn last year, with HSBC the worst performer by far.
"Europe's top banks have got to stop their coal-focused assault on the Paris agreement," said Johan Frijns, the director of BankTrack. "It is now vital that they move to stamp out their financial support for companies developing new coal-fired power plants around the world."

World Politics
United States
Documents also state that Gates had admitted knowing the associate was a former officer with Russian military intelligence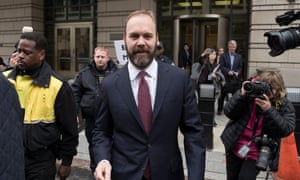 Rick Gates, who was Paul Manafort's right-hand man in the Trump campaign, has struck a plea deal admitting conspiracy and lying to the FBI. Photograph: Michael Reynolds/EPA
Donald Trump's former campaign manager, Paul Manafort, and his deputy, Rick Gates, were in contact during the 2016 presidential campaign with a business associate known to have ties to Russian military intelligence, according to court documents.
The documents, filed late on Tuesday night by the special prosecutor Robert Mueller, also state that Gates had admitted knowing that the associate was a former officer with Russian military intelligence, the GRU.
The description of the associate, referred to as Person A in the court papers, closely matches the Russian manager of the Ukraine offices of Manafort's former lobbying business, Konstantin Kilimnik.
Previous court documents filed by Mueller's team have described Person A as "a longtime Russian colleague … who is currently based in Russia and assessed to have ties to a Russian intelligence service". These court papers go further, explicitly naming the GRU, and stating closely that the ties remained active during the 2016 US presidential campaign.
Kilimnik has denied ties with Russian intelligence, but served in the army and attended a military foreign language university which is widely viewed as a training ground for GRU officers. Manafort was in touch with Kilimnik during the 2016 campaign, offering to provide briefings to Oleg Deripaska, a Kremlin-backed Russian oligarch.
Manafort has pleaded not guilty to money-laundering and fraud charges related to work his business did for Moscow-backed politicians.
Gates, who was Manafort's right-hand man in the Trump campaign and in the lobbying business, has struck a plea deal, admitting conspiracy and lying to the FBI, and agreeing to cooperate with Mueller's investigation into Trump campaign links with the Kremlin.
The court documents are a sentencing memorandum in the case against Alex van der Zwaan, a London-based lawyer who carried out work on behalf of Manafort's lobbying efforts in Ukraine. He has pleaded guilty to lying about his contacts in 2016 with Gates and Person A.
The Mueller memorandum states: "That Gates and Person A were directly communicating in September and October 2016 was pertinent to the investigation. Federal Bureau of Investigation special agents assisting the special counsel's office assess that Person A has ties to Russian intelligence service and had such ties in 2016."
The document adds: "During his first interview with the special counsel's office, Van der Zwaan admitted that he knew of that connection, stating that Gates told him Person A was a former Russian intelligence officer with GRU."
Father Amaro Lopes is follower of Dorothy Stang, killed in 2005

Extortion, land invasion and sexual harassment charges considered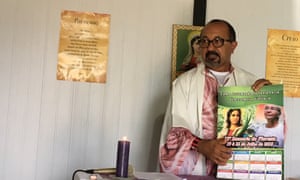 Father Amaro Lopes at his church in the jungle city of Anapu. 'It's the landowners and the gangsters,' said a nun who works with him. 'They are trying to criminalise their opponents.' Photograph: Jonathan Watts
Brazilian police have arrested a priest in the Amazon who championed the rights of smallholders against powerful agricultural interests.
Father Amaro Lopes is the best-known follower of the American-born nun, Dorothy Stang, who was murdered in 2005 in a killing orchestrated by landowners during a dispute that continues today.
Police in the jungle city of Anapu accuse Lopes of extortion and sexual harassment, but in denying the charges, his followers say they have been trumped up to silence an influential opponent of plans to clear forests and small farms.
"It's the landowners and the gangsters," said Jane Dwyer, a nun in Anapu. "They are trying to criminalise their opponents. This always happens."
In an interview with the Guardian two weeks before his arrest, Lopes said he had been warned he was a target.
"We're all threatened for protecting the rights of the poor against people in power," he said. "They're working on a plan to get rid of me. It won't be a shooting because I am a priest – and they don't want the same fuss that followed the assassination of Dorothy. But they'll arrange an accident or something."
The police operation to arrest Lopes involved 15 officers, a large number for a single priest – and a sharp contrast to the resources devoted to investigating the 10 killings carried out in Anapu since 2015.
The small municipality of 27,076 people has one of the highest murder rates in the country.
Anapu's police chief, Rubens Mattoso Ribeiro, said Lopes had been under investigation for a year and could face charges of "extortion, intimidation, sexual harassment and leadership of land invasions".
He said the evidence against Lopes included depositions from local landowners who claim they were extorted, bank records and an audio recording of a man allegedly forced to have sex with the priest in the parish house.
Lopes and the two nuns who worked with him – Dwyer and Katia Webster – had recently urged the authorities to investigate the murder of Valdemir Resplandes, a land activist who was shot on 10 January after receiving threats over a land dispute with a local businessman.
Like Stang – whose community leadership role he adopted after her death – Lopes advocated forest protection, tree-planting, and sustainable use of land by small farmers rather than clearance by agribusiness or miners. This put him and his congregation up against powerful interests.
Tensions over land have never been far from the surface in this frontier community – and they have grown as a result of the influx of workers and businesses that followed the construction of the nearby Belo Monte dam.
The violence ebbed after Stang's death, which prompted an international outcry and spurred the then Workers Party government to fill local justice positions with officials who were more sympathetic to the Landless Workers Movement.
But activists say the pendulum has swung against them since Michel Temer, who is more closely aligned with the ruralista agribusiness lobby, assumed the presidency.