31 Mar
News and Analyses, A Foreign Perspective
Nearly all of these are English-edition daily newspapers. These sites have interesting editorials and essays, and many have links to other good news sources. We try to limit this list to those sites which are regularly updated, reliable, with a high percentage of "up" time.

A family of brown bears, a whale shark and a new species of frog are among this week's pick of images from the natural world
 
A rabbit in front of almond tree blossoms at Akdamar island in Lake Van, Turkey
Photograph: Anadolu Agency/Getty Images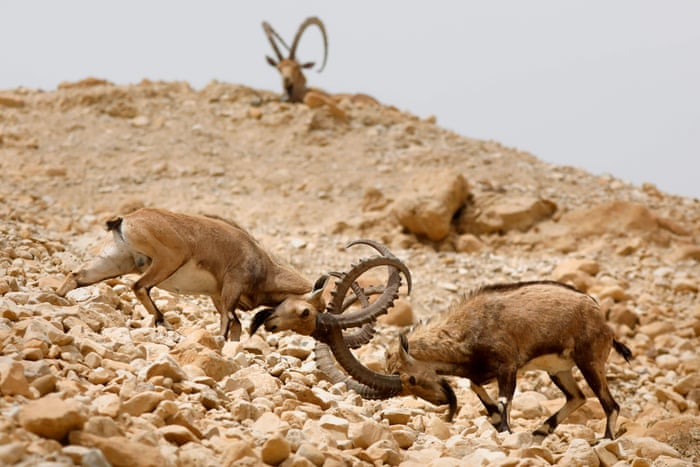 Ibexes fight during the species' oestrus cycle in the Ein Gedi nature reserve along the Dead Sea in Israel
Photograph: Menahem Kahana/AFP/Getty Images

Family attorney says independent autopsy contradicts police claims the unarmed man was charging at them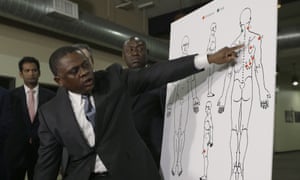 Bennet Omalu gestures to a diagram showing the gunshot wounds he found on the body of Stephon Clark. Photograph: Rich Pedroncelli/AP
Stephon Clark, the unarmed California man killed by police in his grandmother's backyard, was facing away from the officers when they fired and hit him seven times from behind, the family's attorney announced Friday, saying an independent autopsy revealed falsehoods in law enforcement's narrative.
The 22-year-old father of two also did not die instantly and was alive for about three to 10 minutes while police failed to provide him medical aid and instead yelled commands at him and handcuffed him, according to the doctor who conducted an autopsy for Clark's loved ones.
The news conference in Sacramento is likely to spark further outrage across the country after a week of national scrutiny surrounding the police killing of an unarmed black father in his family's home on 18 March.
"It contradicts the narrative that has been put forth by the police … that they had to open fire because he was charging at them," said Benjamin Crump, the family's attorney. "The bullets were from behind."
Sacramento police have said the officers were responding to calls about someone breaking into cars when they located Clark in the backyard. Body-camera footage revealed that two officers ran in and shouted "show me your hands!" and "gun!" and fired a rapid succession of bullets at the unarmed man less than 20 seconds after they arrived.
Police officials said the officers fired a total of 20 bullets and that they later discovered Clark was only holding his cellphone in his hands.
"Prior to the shooting, the involved officers saw the suspect facing them, advance forward with his arms extended, and holding an object in his hands," police wrote in an initial press release.
"The proposition that has been presented that … he was facing the officers, is inconsistent with the prevailing forensic evidence," Omalu told reporters, adding, "It was not an instantaneous death."
Asked if Clark could have survived if he had received medical attention directly after the shooting, Omalu said he could not speculate, but noted that the US congresswoman Gabrielle Giffords survived a gunshot wound to the head after receiving immediate help.
Clark was hit six times in the middle of his back, one time on the back side of his body and once in the front in his thigh "when he was either on the ground or falling close to the ground", Omalu said. Each bullet wound could have been fatal, he added.
The question of whether Clark was facing the officers or running toward the officers could be key in terms of whether prosecutors file charges or secure a conviction, though the law broadly allows officers to avoid consequences for killings if they argue they feared for their lives.
Regardless of Clark's exact movements, his supporters have pointed out that the officers did not announce they were police and immediately started firing at him while on his family's property.
Earlier in the week, Stevante Clark, Stephon's older brother, told the Guardian that he was not confident that his family would find resolution in the criminal justice system.
"The chances of cops going to jail are very rare," he said in a wide-ranging interview about the family's fight to defend Clark while struggling through immense grief. "We're not going to get justice, because my brother's not coming back."

At least 15 killed when Israeli soldiers open fire during mass demonstrations in Gaza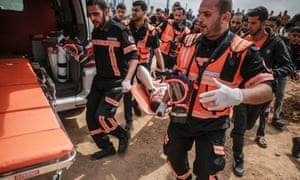 A wounded Palestinian is evacuated during the clashes between demonstrators and Israeli troops. Photograph: Xinhua / Barcroft Images
Gaza hospitals, running low on blood and overstretched by the huge number of wounded, were reeling after one of the enclave's bloodiest days outside of open war, in which Israeli soldiers shot 773 people with live ammunition, according to the ministry of health.
Fifteen of the wounded died, said the ministry spokesperson Dr Ashraf al-Qidra. "Most of the dead were aged between 17 and 35 years old," he said. "The injuries were on the upper part of the body." He added that the remainder of the wounded, some of whom were in a critical condition, had been "shot with live ammunition".
The violence erupted on Friday after mass demonstrations took place demanding the right of return for Palestinian refugees and their descendants to land in Israel.
Tens of thousands of people, including women and children, had planned to camp several hundred metres from the Israeli frontier, which surrounds the 140-square-mile Gaza strip on two sides, on the first day of a peaceful, six-week protest.
But from the main camps, groups of mostly young men approached the border at several locations and started throwing stones and burning tyres. Soldiers responded by opening fire throughout the day.
More than 1,400 people were wounded, mostly by bullets but also rubber-coated rounds and tear-gas inhalation, the health ministry said. The Guardian was unable to independently verify the ministry's figures.
On Friday, in less than 30 minutes, reporters saw 10 people with bullet wounds carried away on stretchers at one of the demonstrations.
The Palestinian president, Mahmoud Abbas, declared Saturday a national day of mourning. More demonstrations are planned.
Israel said it has positioned snipers and responded to "rioting" Palestinians with "dispersal means" and "firing towards main instigators". It said the movement was a Hamas-orchestrated ploy and it was identifying "terror attacks under the camouflage of riots".
The military pointed to what it said was an "attempted shooting attack by a terror cell" in the northern part of the Gaza strip on Friday. It added that it had responded with gunfire and by targeting three nearby Hamas sites with tanks and fighter jets. The military sent a video to journalists showing men appearing to tamper with the separation fence and said that Hamas had earlier sent a seven-year-old girl across the border, whom Israeli soldiers returned to her parents.
Palestinians killed by Israeli forces in Gaza protest – video report
The Israeli ambassador to the UN, Danny Danon, said: "The international community must not be deceived" by what he called "a well-organised and violent terror gathering".
Hamas, which backed the protest, has fought three wars with Israel since 2008. In the past few weeks, Israeli forces say they have caught people attempting to cut through the frontier to launch attacks.
The UN security council held emergency talks to discuss the risks of further escalation but failed to agree on a statement. "There is fear that the situation might deteriorate in the coming days," said the assistant UN secretary general for political affairs, Tayé-Brook Zerihoun.
The Palestinian ambassador to the UN, Riyad Mansour, said what happened in Gaza was a "heinous massacre". He said Palestinians "expect the security council to shoulder its responsibility" and "defuse this volatile situation, which clearly constitutes a threat to international peace and security".

Nobel peace prize laureate visited Pakistani town of Mingora, where she was shot by militants in 2012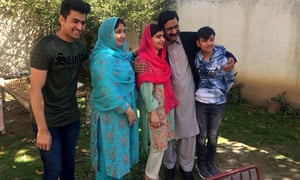 Malala Yousafzai (centre) poses with family members at her childhood home in Mingora, north-west Pakistan. Photograph: Abdullah Sherin/AP
Malala Yousafzai has visited her hometown Mingora for the first time since she was shot on a school bus by a Taliban militant in 2012.
Yousafzai and her parents landed in an army helicopter at a cadet school near the Swat Valley town in north-west Pakistan on Saturday morning.
Her uncle, Mahmoodul Hassan, told the Associated Press that the Nobel peace prize laureate had visited her home and also planned to reunite with friends and relatives. "We are grateful to the government and the army for facilitating this visit," he said.
According to Pakistani broadcaster Geo TV, Yousafzai visited a local park in her town and addressed students at the cadet school, telling them she was delighted to be back in the valley. "Swat is a piece of heaven," she said.
The visit to Mingora was not officially scheduled but had been expected after security in the area was noticeably beefed up in recent days. Roads into the town were also blocked off early Saturday morning.
Yousafzai, 20, was already a prominent advocate for girls' education in October 2012 when a Taliban gunman boarded her school bus in Mingora, asked "Who is Malala?" and shot her, along with two others.
All three survived, but a bullet grazed Yousafzai's brain and lodged in her neck. She received emergency care at army hospitals in Pakistan band was flown to Birmingham for further treatment, including skull reconstruction.
On Friday, Yousafzai told Geo TV she would not have survived without the quick response of Pakistani army surgeons and that she planned to return to the country after finishing her education.
She is a student at Oxford University and said on Friday that the other two victims, Shazia Ramzan and Kainat Riaz, had finished their schooling in Wales and are studying at Edinburgh University.
The Swat Valley intermittently fell under Taliban control during Yousafzai's early school years resulting in frequent interruptions to classes as the hardline Islamist group banned girls' education. It was a policy they reportedly enforced by blowing up hundreds of girls' schools.
Despite the danger, she continued her activism, blogging under a pseudonym for BBC Urdu and appearing in several videos for the New York Times before she was shot.
Her attempted murder sparked a wave of revulsion in Pakistan and she said returning to the country on Thursday had been "the happiest day of my life". Her surprise visit to the country has been widely celebrated but it also attracted criticism from fundamentalists who view her as an agent of western influence.
She told Pakistani media that the majority of Pakistanis supported her activism. "Those who do criticise have an absurd kind of criticism that doesn't make any sense," she said in an interview with The News outlet.

World Politics
United States
'I can't wait for the episode where John Goodman blows the vacation money paying off a porn star,' Colbert said
Late-night hosts on Thursday discussed Donald Trump's appointment of White House physician Ronny Jackson as secretary of veterans affairs and Trump's comments on the success of the Roseanne reboot.
Stephen Colbert
"Today, the president was in Ohio talking about infrastructure," began Stephen Colbert. "Check your calendars: it is always infrastructure week."
Colbert showed a clip of Trump extolling "his favorite part of building": the smell of a construction site. "I love it, it's the smell of loans from my daddy and looming bankruptcy," the host joked. "But again, this was an infrastructure rally, so naturally he talked about Roseanne."
In more footage from the speech, Trump praised the new season of Roseanne, in which Roseanne's character is a Trump supporter. "Look at her ratings!" Trump yelled, referencing the 18 million people who tuned into the premiere. "And it was about us!"
"I haven't seen it yet, but Roseanne is about the Trumps?" said Colbert. "I can't wait for the episode where John Goodman blows the vacation money paying off a porn star."
"Trump, at the same rally, bragged about the changes he made in the veterans affairs," explained the host, noting the dismissal of David Shulkin and appointment of Ronny Jackson.
"One of the reasons that Shulkin lost his job is that he abused his travel privileges and was accused of lying about it," Colbert said, before examining Jackson's credentials for the job. "Now, I'm sure he's a good doctor. No reason to believe he's not. He was Obama's doctor, too. The VA is the second largest agency in our government, serving 22 million veterans. And Jackson is just some guy he met wearing a paper robe."
"Evidently, Trump just hires people he sees around him," he concluded. "We are one delivery away from having defense secretary Dominos guy."
Republicans have been using the Constitution's flaws to wage a one-sided war against their political opponents. It's time for Democrats to respond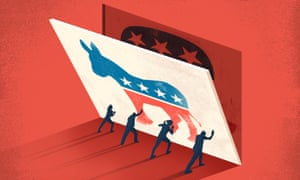 Can the Democrats lead a democratic revival? Illustration: Rob Dobi
D

onald Trump wasn't elected because Democrats lost a policy fight in 2016. What Democrats did was lose a procedural fight that has been going on since the early 1990s, when Republicans began waging a relentless, brutal, and completely one-sided war, systematically using their lawmaking power to disadvantage their adversaries in elections and political mobilization.
Gerrymandering, the Citizens United atrocity that declared money is speech, blocking US supreme court nominations and obstructing legislation are some of the Republican party's tactics. Depraved, racist voter ID laws that obviously target people who are likely to vote Democratic, and the cruel way that many states prevent current or former felons from voting are others.
Standing in the way of reforms to our nonsensical, undemocratic Electoral College system for electing the president helps the Republicans too, as does ensuring the United States remains the only country in the entire world that holds its critical national elections on a regular working Tuesday as if we literally couldn't care less who is able take off work to cast a ballot.
Indeed, one has to grudgingly respect the single-mindedness with which the Republican party has pursued its advantage, even as we condemn the damage it has wreaked on our democracy.
Democrats, now that they are in the minority for the foreseeable future, must pay homage to their Republican overlords and use what little power they have to slow down legislation, turn the public against the Republican Congress, and then retake total power in 2018 and 2020. Then, what they must do with that power is to fundamentally alter key aspects of our political system that we take for granted but that are not, contrary to popular belief, outlined in the US constitution.
Ingenious for its time, if deeply morally deficient, the constitution saddles the country with a series of difficult political problems. Some are explicit design flaws, such as the way that every state in the United States, whether it has 38 million or 600,000 residents, gets two and only two US senators, or how the entire 435-member House of Representatives is put up for re-election every two years, the shortest election calendar in the entire world. Others are crimes of omission, like the document's relative silence about voting rights.
But the biggest problem is that it is underspecified. It doesn't adequately describe the powers granted to the supreme court it created, or explain what a militia is in the Second Amendment, or outline what happens if the Senate decides it simply can't be bothered to carry out its constitutional obligations by approving appointments made by the president. It contains no information about how elections should be funded. And the thing is well nigh impossible to amend.
Beginning with the Gingrich radicals who took over the House in 1994, the modern Republican party has been willing to exploit the constitution's design flaws and the constitutional order's reliance on informal understandings between political actors to sabotage the functioning of Congress, destroy the Obama presidency, and seize vastly more power than the American people would otherwise have granted them.
When they retake power, Democrats should use those same flaws to revive not the party, but our democracy.
First, they should grant statehood to Washington, DC and Puerto Rico – long-suffering territories whose citizens are utterly deprived of voting rights and representation in federal elections. This can help rectify the Democrats' structural imbalance in the US Senate. Breaking the deep-blue state of California into seven states can finish the job, by finally creating about as many blue-leaning as red-leaning states and delivering lasting power (or at least parity) to Senate Democrats and their allies.
The theft of Merrick Garland's seat by Republicans and the deepening intensity of congressional battles over federal judicial appointments should lead the next Democratic administration to pack the supreme court, by adding liberal justices until progressives finally have their first majority in a long generation, as well as creating hundreds of new judgeships in the federal judiciary.
The constitution does not stipulate the number of justices either on the supreme court or the lower courts, and Democrats should use the threat of court-packing to press for a constitutional amendment to end lifetime tenure in the federal judiciary as well as enacting other reforms that would finally remove destructive, ugly battles over the courts from our political landscape.
Progressives should also get behind a change in how we elect our representatives to the House, a enacting proportional representation reforms that would not only eliminate the grotesque chicanery of gerrymandering, but also make it possible for smaller parties to finally win a seat at the governing table. And they should double the size of the House to bring the constituent-to-legislator ratio more in line with what the Founders envisioned.
Finally, any serious progressive governing coalition must immediately address our litany of voting problems, from the disenfranchisement of felons to the racist voter- ID laws implemented by cynical Republicans across the country, by passing a comprehensive new voting rights act.
Step one in bringing this vision to fruition is to stop bringing pistols to the nuclear war. Democrats must be prepared to mimic their tormentors by intentionally destroying the Trump administration and then unleashing this dizzying array of electoral and institutional reforms when they recapture total power.