02 Apr
News and Analyses, A Foreign Perspective
Nearly all of these are English-edition daily newspapers. These sites have interesting editorials and essays, and many have links to other good news sources. We try to limit this list to those sites which are regularly updated, reliable, with a high percentage of "up" time.

The March for Our Lives, Black Lives Matter and the Kemerovo disaster – the week captured by the world's best photojournalists
World Politics
Egypt
Early results show president winning more than 90% of vote having silenced opponents
France
SNCF workers to stage first walkout in biggest wave of industrial unrest since election
Costa Rica
 Carlos Alvarado Quesada promises 'government for everybody' after run-off where he trounced conservative who threatened to wind back tolerance
United States
Large group, mostly Honduran, is travelling through Mexico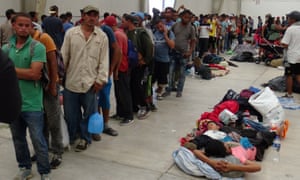 Central American migrants gather before continuing their journey to the US in Ixtepec, Mexico. Photograph: Stringer/Reuters
Donald Trump returned to the offensive on immigration on Monday, repeating a claim that "caravans" of migrants from Central America are threatening to enter the US via Mexico and demanding: "Act now Congress, our country is being stolen!"
"Mexico has the absolute power not to let these large 'Caravans' of people enter their country," the president tweeted. "They must stop them at their Northern Border, which they can do because their border laws work, not allow them to pass through into our country, which has no effective border laws.
"Congress must immediately pass Border Legislation, use Nuclear Option if necessary, to stop the massive inflow of Drugs and People. Border Patrol Agents (and ICE) are GREAT, but the weak Dem laws don't allow them to do their job. Act now Congress, our country is being stolen!"
Trump's use of the term "caravans" – also made in a sequence of tweets on Easter Sunday – was a reference to a large group of people who are heading through Mexico, hoping to reach the US border. A reporter from Buzzfeed has been with them.
"For five days now," Adolfo Flores reported on Friday, "hundreds of Central Americans – children, women, and men, most of them from Honduras – have boldly crossed immigration checkpoints, military bases, and police in a desperate, sometimes chaotic march toward the United States. Despite their being in Mexico without authorization, no one has made any effort to stop them."
The "caravan" has been reported on by Fox News, Trump's preferred cable network.
The "nuclear option" would be a reform of Senate rules to allow major legislation to pass with 51 votes rather than the current 60. The Republican majority leader, Mitch McConnell, has shown no sign of acceding to Trump's repeated demand.
On Monday, Trump widened his attack, tweeting: "DACA is dead because the Democrats didn't care or act, and now everyone wants to get onto the DACA bandwagon … No longer works. Must build Wall and secure our borders with proper Border legislation. Democrats want No Borders, hence drugs and crime!"
Deferred Action for Childhood Arrivals, or Daca, was an Obama-era programme which shielded undocumented migrants brought to the US as children, known as Dreamers, from the threat of deportation.
Trump announced the cancellation of Daca last year. No replacement has been instituted but court orders have maintained protections for recipients.
Trump claimed on Sunday that "a lot of people are coming in because they want to take advantage of Daca, and we're going to have to really see".
In fact, to be eligible for Daca, applicants must have lived in the US continually since 15 June 2007 and come to the country before their 16th birthday. Applicants must also either be in school, or have graduated high school, or have been honourably discharged from the US military or coast guard.
Trump's decision to quash any remaining hopes of a Daca deal drew criticism on Sunday. John Kasich, the Republican governor of Ohio who is seen as a possible primary challenger to Trump in 2020, tweeted: "A true leader preserves & offers hope, doesn't take hope from innocent children who call America home. Remember, today is Easter Sunday."
Trump rejected one deal with Democrats which would have funded a border wall, which he promised throughout his campaign for the White House would be paid for by Mexico. He has recently suggested the military could pay for the wall, a prospect experts said was extremely unlikely.
Regarding possible motives for Trump's latest outburst, news outlets reported White House sources as saying Trump has been told his base thinks he has softened on immigration.
The president has also been beset by damaging stories, from developments in special counsel Robert Mueller's investigation of Russian election interference and alleged collusion between Trump aides and Moscow, to adult film actor Stormy Daniels' claim that she had an affair with the billionaire in 2006.
Controversies over ethics and spending are affecting members of the Trump administration, including housing and urban development secretary Ben Carson and Environmental Protection Agency administrator Scott Pruitt.\

Defence minister says soldiers 'did what had to be done' after protests turned violent
Israel's defence minister has rejected United Nations and European Union calls for an investigation into the killing of more than a dozen Palestinians by the military during demonstrations on the Gaza frontier.
Gaza's coastal enclave has been shaken by the bloodiest episode in years after protests advertised as peaceful sit-ins turned violent, with Israeli troops firing rounds of live ammunition at crowds of stone-throwers.
Hospitals in Gaza have recorded hundreds of emergency admissions from the protest, and doctors have said most were for gunshot wounds.
The UN secretary general, António Guterres, and the EU's top diplomat, Federica Mogherini, called for independent inquiries into the bloodshed, which left 16 people dead.
But the Israeli defence minister, Avigdor Lieberman, told Israel's public radio on Sunday that there will not be an inquiry. "From the standpoint of the [Israeli Defence Force] soldiers, they did what had to be done," he said. "I think that all of our troops deserve a commendation."
Israel has accused Gaza's rulers, Hamas, of using "violent riots to camouflage terror". It also pointed to an attempted gun attack on Friday against soldiers along the border.
Israeli army spokespeople have said claims by the Gaza health ministry that more than 750 people were wounded by live fire are exaggerated.
At the Gaza Strip's main Shifa hospital, the digital registry of A&E admissions on Friday, seen by the Guardian, showed that from 8.45am until the end of the day, 275 people from the protest arrived. It did not specify injuries, but doctors said most had gunshot wounds to the legs.
A clerk said a further eight patients were transferred from surrounding clinics to Shifa's operating theatres. Surgeons said many patients had large exit wounds.
On Sunday a 23-year-old man, Adam Abu Ghanima, said he had just driven to the hospital from a demonstration, which was smaller than Friday's. His kneecap had been pierced and blood soaked the sheets of the bed where he lay.
He said he had planned to place a Palestinian flag near the frontier. "I was right next to the Israeli soldiers. Before they shot me, they fired warning shots in the air," he said. But he kept going, he added, "to bring Jerusalem back".
Another man said he had been shot trying to lift a Palestinian flag that had fallen over on the Gazan side.
Doctors said most of those admitted since Friday had been discharged, but some awaiting surgery lay in beds surrounded by friends and families.
Ibrahim Fathi Hasna, 22, said he and another man who had wire cutters and a Molotov cocktail had managed to cut through a fence at a protest on Saturday to breach an Israeli-controlled area. They were both shot.
Hasna said he crawled back, eyes filled with teargas, until he was hoisted into an ambulance. The other man was hit in the back, he said, and he was unsure of his condition. Asked why he had wanted to cross the fence, he replied: "I just wanted to be there."
The Great March of Return is a planned six-week demonstration calling for refugees and their descendants to be allowed back to their family homes in Israel. Backed by Hamas and other militant and political Palestinian factions, larger gatherings are expected every Friday, the holy day for Muslims.
Israel did not specify exact orders to troops, but a spokesperson said anyone approaching the "hostile border" was a potential threat. "People coming towards the fence, attempting to penetrate and break into the fence, damaging the infrastructure or using that area as a staging ground could potentially be shot," said Lt Col Peter Lerner, of the Israel Defense Forces.
On Sunday Turkey's president, Recep Tayyip Erdo?an, called Israel's prime minister, Benjamin Netanyahu, a "terrorist". Netanyahu tweeted that the Israeli army "will not be lectured by those who have indiscriminately bombed civilian populations for years", referring to Turkey.
Gaza has been blockaded for a decade by Israel and Egypt, which tightly control goods and people entering the 140 sq mile area.

Benjamin Netanyahu's office says it has agreed with UN to settle people in western countries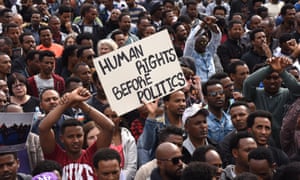 People from Sudan and Eritrea protest outside the Rwandan embassy in Herzliya, Israel. Photograph: Debbie Hill/UPI/Barcroft Images
Israel has said it has agreed with the UN to scrap plans to deport African asylum seekers, and will instead resettle many in western countries.
On Monday, Benjamin Netanyahu's office said it had reached "unprecedented understandings" with the UN refugee agency, UNHCR, under which Israel would send more than 16,000 migrants to countries willing to accept them.
The deal removes the threat of forced expulsion to an unspecified destination in Africa.
The Africans, nearly all from dictatorial Eritrea and war-torn Sudan, say they fled for their lives and faced renewed danger if they returned.
Israel considers the vast majority of the nearly 40,000 migrants to be jobseekers and said it has no legal obligation to accommodate them. Critics called the deportation plan unethical and a stain on Israel's image as a refuge for Jewish migrants.
Israel said the agreement would be implemented over five years.
The issue has struck a raw nerve in Israel and its image as a refuge for Jewish migrants.
The optics of black asylum seekers accusing the country of racism has turned into a public relations liability for Israel, and groups of Israeli doctors, academics, poets, Holocaust survivors, rabbis and pilots have all appealed to halt the plan.
The Africans started moving toward Israel in 2005, after neighbouring Egypt violently quashed a refugee demonstration and word spread of safety and job opportunities in Israel. Tens of thousands crossed the porous desert border before Israel completed a barrier in 2012 that stopped the influx.
Thousands of the migrants concentrated in neighbourhoods in south Tel Aviv, where ethnic food shops and phone card stalls line the streets, and the area has become known as "Little Africa." This has sparked tension with the working-class Jewish residents who have been putting pressure on the government to find a solution.

Deirdre McCormack says Catholic church covered up claims by Oxford academic later detailed in acclaimed book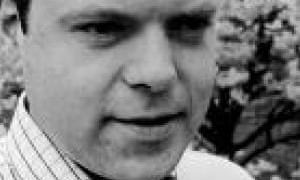 Stephen Bernard, whose acclaimed book, Paper Cuts, was published in February and detailed his alleged abuse by Canon Fogarty which started when he was 11. Photograph: University of Oxford
The next of kin of a senior Catholic priest who was accused of sexual abuse before his death wants the headstone she paid for to be removed and destroyed.
Deirdre McCormack said she was "outraged and disgusted" at the allegations made by an Oxford academic against Canon Dermod Fogarty, and said the church had tried to sweep the disclosures "under the carpet". She is seeking the urgent removal of the headstone.
The allegations were made by Stephen Bernard in an acclaimed book, Paper Cuts, published in February, which details more than 300 assaults over a four-year period starting in 1987 when Bernard was 11.
The disclosures came as a shock to McCormack, who was Fogarty's closest living relative and inherited his personal effects.
Bernard reported his alleged abuse to the diocese of Arundel and Brighton, where Fogarty was based, in September 2012. The case was not passed on to the police and McCormack was not informed.
A month later Fogarty died at the age of 92. He was given a lavish funeral, attended by the then leader of the Catholic church in England and Wales, Cardinal Cormac Murphy O'Connor, and at least 80 priests.
Murphy O'Connor, who died last year, told the congregation that Fogarty "had fulfilled what every priest has to do – to teach and preach the faith from Jesus Christ, and that he did admirably with knowledge and with care".
As next of kin, McCormack had Fogarty's ashes interred at St John's seminary at Wonersh in Surrey. She commissioned and paid for a headstone with the words: "A wise priest much loved by his family and all who knew him."
But since reading Bernard's book, McCormack – who was also abused by a priest when she was a child – has demanded the removal and destruction of the headstone. Fogarty "misused his power and position of trust as a priest, and a very highly respected one, in a most appalling way", she said.
She believed that "information was withheld from me over the period of Fogarty's death and funeral and so I became unknowingly complicit with the diocese's decision to sweep Stephen's disclosure under the carpet".
She said: "I find their treatment of him very shocking, and a pattern of events we see far too frequently in the way the church responds to survivors."
In an email to the rector of St John's seminary demanding the removal of the headstone, she wrote: "My hope is that this action might provide Stephen with some sense that justice is finally being done, and that may help him to move on with his life, secure in the knowledge that both Canon Fogarty's family and the church, having learnt the wrongs Canon Fogarty perpetrated, fully acknowledge them and want to do whatever is in our power to support Stephen and ease his suffering."
McCormack is due to meet Richard Moth, the bishop of Arundel and Brighton, next week to discuss the matter.
The diocese confirmed it had received Bernard's allegation of abuse on 6 September 2012 and had "responded in accordance with the church's national procedures". A member of the diocesan safeguarding team met Bernard four days later but "the matter was not referred to the police or to any third parties in 2012".