04 Apr
News and Analyses, A Foreign Perspective
Nearly all of these are English-edition daily newspapers. These sites have interesting editorials and essays, and many have links to other good news sources. We try to limit this list to those sites which are regularly updated, reliable, with a high percentage of "up" time.
Wednesday, April 04, 2018 – 12:00 AM
As riots erupted and smoke billowed from black neighbourhoods in the wake of Martin Luther King's assassination, Robert F Kennedy met with black activists, politicians, and celebrities in a hotel suite 'to tamp things down and divine what should come next,' writes David Margolick in 'The Promise and the Dream: The Untold Story of Martin Luther King, Jr and Robert F Kennedy'. In this excerpt, Margolick examines Kennedy's response to the killing — and his belief that he, too, would die by an assassin's hand.

Martin Luther King, addressing crowds during the March On Washington at the Lincoln Memorial, where he gave his 'I Have A Dream' speech in August 1963. Picture: Central Press/Getty Images
The American Electra jet that Robert Kennedy arranged for Coretta Scott King lifted off in Atlanta at 9:15am on April 5.
It landed in Memphis an hour later. Scott King did not get off the aircraft. She kept her composure as the casket carrying her husband was removed from the hearse, but collapsed on the shoulder of a companion when it was lifted up for Martin Luther King's final journey home.
An unidentified Southern Christian Leadership Conference (SCLC) official in Atlanta was asked who King's pallbearers would be. "Every black man in this country," he replied.
While Coretta King made her way to Tennessee, Kennedy sat down with his old friend, Jack Paar, in a television studio in Indianapolis. Back when the wall between television personalities and politics was lower, Paar was available for partisan purposes — in this instance, for the kind of question-and-answer session in which Kennedy was thought to be most appealing.
His admen would edit the conversation into small bits and use them in commercials. Calibrating his message to conservative Indiana, Kennedy talked more with Paar about law and order than civil rights, and more about national security than either.
Asked to identify his greatest accomplishment as attorney general, Kennedy veered off into the Cuba missile crisis and how he'd helped save the planet. Whenever Paar tried to talk about King, Kennedy put him off. Even with King gone, Kennedy was keeping his distance.
Kennedy then headed to Cleveland, for his previously scheduled lunchtime speech to the Cleveland City Club. Both en route and afterwards, he avoided any appearance of politicking: the hundreds of people chanting 'We want Kennedy!', who outside the hotel where he was to speak, had to content themselves with a wave from an upstairs window.
Kennedy's speechwriters must have understood that no-one would want anything long-winded; he spoke only a couple of minutes longer than he just had in Indianapolis.
In the aftermath of both the shooting and the violence that followed, he made another plea for brotherhood and a denunciation of violence, which he defined far more broadly than usual.
Brutality, he said, came not just from snipers, mobs, and gangs, but from lawless law enforcement, Hollywood, armies killing innocent civilians in far-off lands, and apathetic and indifferent bureaucracies.
There is another kind of violence, slower but just as deadly, destructive as the shot or the bomb in the night. This is the violence of institutions, indifference and inaction, and slow decay.
This is the violence that afflicts the poor, that poisons relations between men because their skin is of a different colour. This violence is the slow destruction of a child by hunger, schools without books, and homes without heat in the winter. This is the breaking of a man's spirit by denying him the chance to stand as a father and as a man. And this, too, afflicts us all.
Three times, Kennedy remarked on how short life was, a theme he had never dwelt on before. He also made the appealing, but ridiculous, claim that assassinations were futile.
"No martyr's cause has ever been stilled by his assassin's bullet," he said.
Walinsky [a former Kennedy aide] later called it more "Sunday school sermon" than an appraisal of human history. And William F Buckley later described it as a plea from Kennedy to his own assassin, "whose name neither he nor anyone else knew, but whose existence he had frequently conjectured."
At a time when the name of Martin Luther King was on everyone's lips, Kennedy never mentioned it that day. It's no doubt true that, as the Village Voice's Jack Newfield was to write, King's death gave Kennedy the purpose his candidacy had lost with Lyndon Johnson's withdrawal.
His would be a broadened version of King's own fight for the disenfranchised. But King's name would rarely be invoked in the process, a process that began, strangely, even before he'd been buried.
Thus, the students in Mrs Zelda Garfinkel's American history class at Julia Richman High School, in Manhattan, who'd reminded Kennedy that laws helping the poor and oppressed would be a fitting memorial to King, heard more from him on the subject than voters over the next couple of months. "Martin Luther King Jr represented the best in our nation," he wrote them back. "Dr King lived and died not only for the negro, but for all Americans — and, in particular, for the youth of our nation."
The few comments Kennedy did make about King were private and were more about the FBI.

Robert Kennedy
"It's very interesting that they can't find the killer of Martin Luther King, but they can track down some 22-year-old who might have burned his draft card," he told Pete Hamill.
Others, though, connected the two men in ways that weren't always apparent. It was on a Wednesday — trash-collection day in Pasadena — shortly after King was killed, that a sanitation man named Alvin Clark encountered Sirhan Bishara Sirhan, a young Palestinian-born man whose house was on Clark's route.
Over the past three years, the pair had become friendly; Sirhan would sometimes bring Clark coffee or a soft drink, and something to eat, during pick-ups.
"He was upset about the death of Martin Luther King," Clark later testified. "He says, 'What do you think the Negro people are going to do about it?' and I says, 'What can we do about it? There wasn't but one person involved'."
Sirhan then asked him about the California primary, now only a couple of months away. "I told him I was going to vote for Kennedy," Clark recalled, "and Sirhan said, 'What are you going to vote for that son of a bitch for? Because I'm planning on shooting him'."
"You'd be killing one of the best men in the country," Clark replied, noting how Kennedy had arranged to have King's body brought back to Atlanta………………….And, as various SCLC officials — Andrew Young, James Bevel, and Hosea Williams among them — and members of the King family sat on the bed or the floor, Kennedy stopped by to see Daddy King in his room at the Hyatt Hotel, where the family later received people.
"Robert Kennedy came in by himself," Andrew Young recalled. "And he really just poured his heart out about his brother and our brother. He even mentioned that he lost his first brother. It was not like he knew what he was saying, he just started kind of like he wasn't even talking to us, knowing what we were going through, and remembering what he went through.
"It wasn't what he said; it was the fact that he was there, saying anything, and his being there, and his total identification. And it made us identify with him."
Young recalled Daddy King, in his robe and pyjamas, sitting up in bed and declaring again and again, "Hate is too great a burden to bear. I will not let anybody make me hate."
At another point
That evening, John Lewis accompanied Robert and Ethel Kennedy to see the body of Martin Luther King, lying in an open casket by the pulpit of Ebenezer Baptist Church. Kennedy crossed himself, and said nothing.
Well into the night, Kennedy held a series of meetings with black activists, politicians, and celebrities in the suite next door to his hotel room, attempting to tamp things down and divine what should come next.

Teachers began a 110-mile march from Tulsa to Oklahoma City after rejecting a $6,000 pay increase, following strike in Kentucky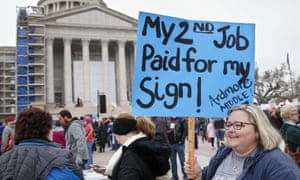 In some schools, teachers don't assign homework because their budget for books is so small that they can't afford to risk a student losing a $200 textbook. Photograph: Sue Ogrocki/AP
Leaning over the overpass going under the Oklahoma State Capitol Complex, a group of a dozen women in rain jackets hold signs as oil tankers pass under, honking their horns in support for the striking teachers.
"It's like the Arab spring, but it's a teacher spring," geography teacher Toni Henson said, smiling as thousands of teachers march past picketing the Oklahoma state capitol and calling for higher wages and funding for schools.
The protest takes to the street Wednesday as hundreds of teachers will begin a 110-mile march from Tulsa to Oklahoma City stopping a closed down schools along the route to rest. Teachers in Kentucky have gone out on strike too and Arizona may be next.
Teachers and students across the United States have been invigorated in recent months by a series of high-profile protests. With student walkouts protesting Trump's immigration policies and gun violence and teachers calling for the reversal of decades of education cuts and higher wages, it's a movement that has reignited a debate about the role of activism in the classroom.
Oklahoma's strike began Monday when teachers in over 100 school districts walked out, rejecting a $6,000 pay increase offered by the state and demanding a $10,000 raise as well increased funding for books, curriculum and staffing.
The school system has reached breaking point after decades of neglect, said the teachers. In some schools, teachers don't assign homework because their budget for books is so small that they can't afford to risk a student losing a $200 textbook. Teachers have been posting pictures of their crumbling textbooks online.
"Honestly, students feel like [education] is not important," said Kelsey Laster, a fourth-grade teacher a Rollingwood elementary school in Putnam City, Oklahoma. "People don't look at them like they are important so they don't look at it like it's important."
The cuts came after the state lost more than a quarter of the its operating budget due to a series of cuts to the state's oil and natural gas production tax and personal income taxes initiated in the mid-2000s. While neighboring Texas has an effective taxation rate of 8% on oil and natural gas, Oklahoma's tax rate sits at a mere 3.2%.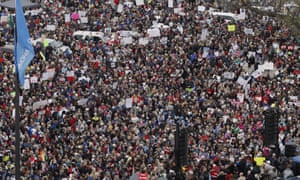 A crowd listens to speakers on a stage during a teacher rally to protest low student funding at the state Capitol in Oklahoma City on 2 April. Photograph: Sue Ogrocki/AP
If it were not for the tax cuts on natural gas and oil as well as personal income taxes, the Oklahoma Policy Institute estimates that the state would have an additional $356m to spend on K-12 (primary and high school) education as well as an additional $238m to spend on higher education.
Neighboring Texas, with its higher natural and oil gas production tax, has a minimum starting teacher salary of $50,000. While across the border in Oklahoma, the starting salary for teachers is only $32,000, or less than $15 an hour when you factor in the cost of healthcare premiums. Unsurprisingly Oklahoma is currently experiencing a massive brain drain of talent to Texas.
"Almost all of our family members tell us that they want us to live here, but they are worried about our wellbeing and tell us to move elsewhere for work," said aspiring English teacher Maggie Slogan of Enid, Oklahoma, a student at Southwestern Oklahoma State University.
Many teachers say that they are often forced to work second or third jobs just to stay in the state where they are born.

World Politics
United States
If King were alive today, his words would threaten most of those who now sing his praises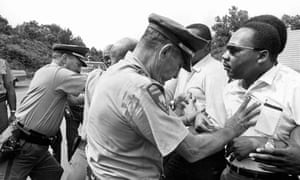 Martin Luther King is shoved back by Mississippi patrolmen during the 220-mile 'March Against Fear' from Memphis, Tennessee to Jackson, Mississippi. Photograph: Underwood Archives/UIG/REX/Shutterstock
T

he major threat of Martin Luther King Jr to us is a spiritual and moral one. King's courageous and compassionate example shatters the dominant neoliberal soul-craft of smartness, money and bombs. His grand fight against poverty, militarism, materialism and racism undercuts the superficial lip service and pretentious posturing of so-called progressives as well as the candid contempt and proud prejudices of genuine reactionaries. King was neither perfect nor pure in his prophetic witness – but he was the real thing in sharp contrast to the market-driven semblances and simulacra of our day.
In this brief celebratory moment of King's life and death we should be highly suspicious of those who sing his praises yet refuse to pay the cost of embodying King's strong indictment of the US empire, capitalism and racism in their own lives.
We now expect the depressing spectacle every January of King's "fans" giving us the sanitized versions of his life. We now come to the 50th anniversary of his assassination, and we once again are met with sterilized versions of his legacy. A radical man deeply hated and held in contempt is recast as if he was a universally loved moderate.
'I've been to the mountaintop': an excerpt from Martin Luther King's final speech – video
These neoliberal revisionists thrive on the spectacle of their smartness and the visibility of their mainstream status – yet rarely, if ever, have they said a mumbling word about what would have concerned King, such as US drone strikes, house raids, and torture sites, or raised their voices about escalating inequality, poverty or Wall Street domination under neoliberal administrations – be the president white or black.
The police killing of Stephon Clark in Sacramento may stir them but the imperial massacres in Yemen, Libya or Gaza leave them cold. Why? Because so many of King's "fans" are afraid. Yet one of King's favorite sayings was "I would rather be dead than afraid." Why are they afraid? Because they fear for their careers in and acceptance by the neoliberal establishment. Yet King said angrily: "What you're saying may get you a foundation grant, but it won't get you into the Kingdom of Truth."
The neoliberal soul craft of our day shuns integrity, honesty and courage, and rewards venality, hypocrisy and cowardice. To be successful is to forge a non-threatening image, sustain one's brand, expand one's pecuniary network – and maintain a distance from critiques of Wall Street, neoliberal leaders and especially the Israeli occupation of Palestinian lands and peoples.
King said angrily, 'What you're saying may get you a foundation grant, but it won't get you into the Kingdom of Truth'
Martin Luther King Jr turned away from popularity in his quest for spiritual and moral greatness – a greatness measured by what he was willing to give up and sacrifice due to his deep love of everyday people, especially vulnerable and precious black people. Neoliberal soul craft avoids risk and evades the cost of prophetic witness, even as it poses as "progressive".
The killing of Martin Luther King Jr was the ultimate result of the fusion of ugly white supremacist elites in the US government and citizenry and cowardly liberal careerists who feared King's radical moves against empire, capitalism and white supremacy. If King were alive today, his words and witness against drone strikes, invasions, occupations, police murders, caste in Asia, Roma oppression in Europe, as well as capitalist wealth inequality and poverty, would threaten most of those who now sing his praises. As he rightly predicted: "I am nevertheless greatly saddened … that the inquirers have not really known me, my commitment or my calling."
If we really want to know King in all of his fallible prophetic witness, we must shed any neoliberal soul craft and take seriously – in our words and deeds – his critiques and resistances to US empire, capitalism and xenophobia. Needless to say, his relentless condemnation of Trump's escalating neo-fascist rule would be unequivocal – but not to be viewed as an excuse to downplay some of the repressive continuities of the two Bush, Clinton and Obama administrations.
In fact, in a low moment, when the American nightmare crushed his dream, King noted: "I don't have any faith in the whites in power responding in the right way … they'll treat us like they did our Japanese brothers and sisters in World War II. They'll throw us into concentration camps. The Wallaces and the Birchites will take over. The sick people and the fascists will be strengthened. They'll cordon off the ghetto and issue passes for us to get in and out."
These words may sound like those of Malcolm X, but they are those of Martin Luther King Jr – with undeniable relevance to the neo-fascist stirrings in our day.
King's last sermon was entitled Why America May Go to Hell. His personal loneliness and political isolation loomed large. J Edgar Hoover said he was "the most dangerous man in America". President Johnson called him "a nigger preacher". Fellow Christian ministers, white and black, closed their pulpits to him. Young revolutionaries dismissed and tried to humiliate him with walkouts, booing and heckling. Life magazine – echoing Time magazine, the New York Times, and the Washington Post (all bastions of the liberal establishment) – trashed King's anti-war stance as "demagogic slander that sounded like a script for Radio Hanoi".
And the leading black journalist of the day, Carl Rowan, wrote in the Reader's Digest that King's "exaggerated appraisal of his own self-importance" and the communist influence on his thinking made King "persona non-grata to Lyndon Johnson" and "has alienated many of the Negro's friends and armed the Negro's foes".

Friends of the Earth demands the oil firm move away from fossil fuels to comply with Paris deal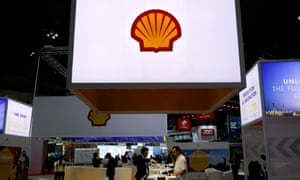 The Royal Dutch Shell stand at Gastech, the world's biggest expo for the gas industry, in Chiba, Japan. Photograph: Toru Hanai/Reuters
The global flurry of legal campaigns against "big oil" has widened, with Royal Dutch Shell being threatened with legal action unless it steps up efforts to comply with the Paris climate agreement.
Friends of the Earth Netherlands on Wednesday demanded the Anglo-Dutch company revise plans to invest only 5% in sustainable energy and 95% in greenhouse-gas emitting oil and gas.
The environmental group said this business strategy would increase the impact of climate change, especially on the world's poorest people and those most prone to flooding. It has given Shell eight weeks to shift to a cleaner tack, after which it says it is prepared to invoke international obligations, human rights treaties and laws on hazardous negligence.
Heading the group's legal team is Roger Cox, who led and won a landmark climate case in 2015 that insisted the Dutch government should set more ambitious emissions targets.
"This is the first case we know of in the world that seeks preventive action from a company over climate change," Cox told the Guardian. "We are not asking for damages. We want Shell to steer away from its current course and to get in line with the Paris agreement."
Shell is one of the world's 10 biggest carbon emitters. In its annual report last year, the company publicly declared support for the Paris climate deal. It has also outlined "decarbonisation pathways" to move away from dependency on fossil fuels, but environmentalists are frustrated at the glacial pace of change and the weak investment in renewables and carbon capture technology.
Friends of the Earth says the company should be held to account for the approximately 2% of the historical emissions of carbon dioxide and methane it has added to the atmosphere between 1854 and 2010. It has previously taken the company to court for the damage it caused around oil fields in Nigeria.
"Currently Shell and companies like it are acting like big tobacco in decades past by failing to take responsibility for the harm that they cause," said Craig Bennett, chief executive of Friends of the Earth England, Wales and Northern Ireland. "Shell must now move on from its history of Earth-damaging fossil fuel extraction and play a major part in the transition to a sustainable future, to keep temperature rises to near 1.5C."
A spokesperson for Shell said the company strongly supported the Paris agreement, "but we believe climate change is a complex societal challenge that should be addressed through sound government policy and cultural change to drive low-carbon choices for businesses and consumers, not by the courts."
Given the vast discrepancy in financial resources, any legal battle between Friends of the Earth and Shell would be a challenge of David and Goliath proportions.
But Dutch courts have produced surprises. Arguably the biggest victory for climate litigators anywhere in the world was the 2015 ruling that the Dutch government's plans to cut emissions by just 14-17% compared to 1990 levels by 2020 were unlawful, given the scale of the threat posed by climate change. The court in The Hague ordered the government to raise targets to at least 25% within five years, although the government is appealing against the decision.
If the Friends of the Earth case goes ahead, Cox said it will depend on the legal duty of everyone in the Netherlands to prevent harm to others when it is reasonably preventable. The duty of public care was easier to prove against the government. It will be tougher against a private company, but Cox said the plaintiffs will emphasises that Shell has specific responsibilities because it has contributed to greatly to the problem of climate change.
According to the Sabin Center for Climate Change Law at Columbia law school in New York, there are now more than 1,000 cases in the world. Most are claims for damages in the US.