05 Apr
News and Analyses, A Foreign Perspective
Nearly all of these are English-edition daily newspapers. These sites have interesting editorials and essays, and many have links to other good news sources. We try to limit this list to those sites which are regularly updated, reliable, with a high percentage of "up" time.
Yulia Skripal made her first public comment on Thursday since being poisoned in Britain last month along with her ex-Russian agent father Sergei, saying the "entire episode is somewhat disorientating".
The Skripals were found slumped on a bench in the southern English city of Salisbury on March 4 in a nerve agent attack that the British government has blamed on Russia, although Moscow denies any involvement.
"I woke up over a week ago now and am glad to say my strength is growing daily. I am grateful for the interest in me and for the many messages of goodwill that I have received," Yulia Skripal, 33, said in a statement issued by London police.
"I am sure you appreciate that the entire episode is somewhat disorientating, and I hope that you'll respect my privacy and that of my family during the period of my
convalescence."
She said she wanted to thank the hospital staff treating her and the people who came to her help when "when my father and I were incapacitated".
The attack left the Skripals in a critical condition, but on March 29 the hospital where they are being treated said Yulia was getting better. Hospital bosses said her father was still in a critical but stable condition in an intensive care unit.
Earlier on Thursday, Russian state TV and Interfax reported that Yulia had phoned her cousin Viktoria Skripal in Russia, saying she and her father were both recovering and that she expected to leave hospital soon. "Everything is fine, everything is fixable, everyone is getting better, everyone is alive," they
quoted her as saying in the call.
When asked about her father's health, Yulia was cited by them as saying: "Everything is fine, he is resting right now, sleeping. Everyone's health is fine, nobody has any problems that can't be put right. I will soon be discharging myself (from hospital)."
Russian state TV said it could not vouch for the authenticity of the quotes.
Viktoria Skripal, Sergei's niece, has said she plans to travel to England and try to bring Yulia back to Russia.

For her book Perfect Imperfection, the Australian pet photographer Alex Cearns set out to capture the personalities of animals who adapt to their damaged or different bodies without complaint. 'They push on, wanting to be included and involved in everything as much as they can,' the Perth-based photographer says. 'These are the creatures who have lost a leg, been born without eyes, or are still showing the scars of former abuse.' Part of the proceeds from sales of Perfect Imperfection go to the Australian Animal Cancer Foundation

White gangs are less covered by the media, and less punished – even though 53% of gang members in Mississippi are white
W

hen he was 13, three white teenage boys beat Benny Ivey. They aimed for his chest as his back pressed against the wall of his friend's house in Florence, Mississippi. The skinny blond adolescent had to show he was tough enough to become a Black Gangster Disciple.
It was 1989, the height of the crack era, and many white kids wanted to join black gangs that did not welcome them, so they initiated each other into home-grown copycat versions.
Ivey lived in a trailer park, and the thought of wearing the gang's colors – black and blue – made him excited to be part of something beyond his chaotic family.
None of them knew the first thing about being in a gang, and yet many kids lusted after it, even some who "lived in nice homes with their families", Ivey says now. Others grew up like he did: the child of poor crack and opioid addicts, ripe to be ensnared by a world promising brotherhood, loyalty and respect.
Ivey's future was not in a black organization, however – it was in one of the oldest and largest white gangs in the US, the Simon City Royals.
"A lot of us were raised in the pits, and that's where almost all gang life begins," he says.
Ivey, now 41, is muscular and likes to keep fit, even though he only weighs 160 pounds. He sports a buzz cut and has tattoos over much of his body. He proudly calls himself a "redneck".
Gesticulating passionately during a driving tour of Jackson houses he broke into over the years, Ivey explains the absurdity of the media fixating on "inner-city" gangs. "The world should know there are whites struggling in hoods as well as any other race, and more often than not those kids become gang members or drug addicts," he says.
Ivey was 12 when he began sniffing Scotchgard. He soon followed his adoptive parents and two uncles – all school dropouts – into addiction. His dad made $20 an hour as a carpenter, but most of it paid for their habits.
By 15, Ivey had dropped out of school and broken into probably 200 houses, robbed a crack dealer, had a cop kick his face into the pavement, and started selling meth to support his own addiction. He went in and out of juvenile detention and Mississippi's notorious "training schools" that, before being reformed, were near-torture chambers for mostly African American and poor white delinquents.
At 21, Ivey was living with other drug users who helped run dope out of a small rental house. One day, Ivey walked in and found his best friend Jimmy writing a letter to his young son, whose mother had said he couldn't see any more.
"What ya doin, bruh?" Ivey asked him.
"I'm writing Jordan a letter."
"You think he can read it?"
"He will one day, man."
As Ivey walked toward the kitchen, Jimmy told him: "Man, I'm gonna go lay down on your bed."
Ivey went to set up the grill, but something felt weird, so he went back to his room. Jimmy was sitting at the front of the bed with a pistol to his head, the letter on the floor beside him. It was the gun Ivey kept under his pillow.
Sheetrock dust busted out of the ceiling when the bullet hit it. Jimmy's head slumped to the side, blood seeping into the mattress. Ivey jumped into the bed with him, yelling to the others: "Go call the cops, go call somebody!"
After Jimmy's death, Ivey bottomed out. "I didn't give a shit about nothing, I guess. After he killed himself, I went running wild," he says.
He soon pleaded guilty to an aggravated assault charge for "pumpkin-heading" a man at a party, breaking his jaw. With a one-year suspended sentence, he stayed free, but he kept robbing until he got caught and was sent to back to jail.
There, Ivey met a Simon City Royal who called himself "True Love"……………
The Almighty Gaylords are one of the oldest street gangs in Chicago. This card is a particularly heavy version depicting two klansmen preparing to execute a Simon City Royal rabbit – another white gang. Photograph: Brandon Johnson
The Royals were one of the biggest and most violent street gangs in Chicago by the 1970s, when they joined the Folk Nation alliance with the Black Gangster Disciples, began admitting Hispanics and, later, women and black members.
But by the 1980s, the gang had weakened after its leadership got locked up or killed.
Strength shifted to prisons, and the brand spread to midwestern and southern states like Mississippi, where the Royals are now one of the largest and most violent gangs in the state.
Surveys of young Americans have shown that 40% identifying as gang members are white, but police tend to undercount them at 10% to 14% and overcount black and Hispanic members, says Babe Howell, a criminal law professor at City University of New York who focuses on crime and race.
"Police see groups of young white people as individuals, each responsible for his or her own conduct, and hold young people of color in street gangs criminally liable for the conduct of their peers," she says.

World Politics
France
United States
After China proposed tit-for-tat import taxes and stock markets fell, there are fears Trump's aggressive tariffs could cause a slowdown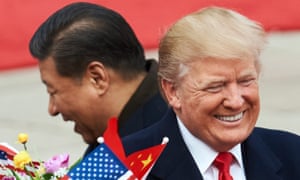 Donald Trump and China's president, Xi Jinping, during a meeting in Beijing on 9 November 2017. Photograph: Artyom Ivanov/TASS
Fears that Donald Trump is embroiling America in a global trade war intensified on Wednesday after China imposed tit-for-tat import taxes on the US and stock markets plunged.
The Dow Jones industrial average dropped and then rallied after markets fell in Europe and Asia on worries of an intensifying trade conflict between the world's two biggest economies – the latest example of Trump taking his appetite for disruption to the global stage.
After Washington unveiled plans to impose tariffs on $50bn in Chinese imports Tuesday, China hit back with plans to tax a matching $50bn of US products, including beef, cars, planes, soybeans and whiskey.
The US president has worn stock market success as a badge of honour and proof that, despite myriad controversies, the economy is booming under his presidency. But there are concerns that his aggressive tariffs and "America first" instincts could undermine confidence and cause a slowdown.
Trump claimed last month that "trade wars are good, and easy to win".
China is the biggest market for US soy. The American Soybean Association, a lobbying group representing 21,000 producers, warned that China's proposed 25% tariff on soybeans would be "devastating" to American farmers. It estimated that farmers lost an estimated $1.72bn on Wednesday morning alone as soybean futures tumbled.
John Heisdorffer, an Iowa farmer and the president of the association, said: "That's real money lost for farmers, and it is entirely preventable." He called on the White House to scrap its proposed tariffs. The car makers Ford and General Motors also issued statements calling for continued dialogue to resolve the escalating trade tensions.
On Wednesday, Trump moved to play down concerns over a damaging trade war. He protested on Twitter: "We are not in a trade war with China, that war was lost many years ago by the foolish, or incompetent, people who represented the U.S. Now we have a Trade Deficit of $500 Billion a year, with Intellectual Property Theft of another $300 Billion. We cannot let this continue!"
The president added: "When you're already $500 Billion DOWN, you can't lose!"
The US commerce secretary, Wilbur Ross, also urged calm. In an interview with CNBC, Ross said the tariffs announced by China amounted to a mere 0.3% of America's gross domestic product. "So it's hardly a life-threatening activity," he said.
Ross added that some US punitive action against Beijing has been "coming for a while" over China's predatory behaviour involving technology. "What we're talking about on both sides is a fraction of 1% of both economies," Ross said.
The tariffs will not take effect immediately. The US government is inviting public comment on its trade sanctions through 11 May and will hold a hearing on the plan on 15 May. China set no date for its 25% duties to take effect, saying it was waiting to see what Trump did.
Speaking at the White House on Wednesday, the spokeswoman Sarah Sanders said: "We're going through the review period – we're very lucky that we have the best negotiator at the table in the president."
She added: "China created this problem, not President Trump" and insisted: "We may have a little bit of short-term pain, but we're going to have long-term success."
The departure of Gary Cohn, a former Goldman Sachs banker and so-called "globalist", as Trump's top economic adviser, and the appointment of Larry Kudlow as his successor, has been interpreted by analysts as indicating a shift towards protectionist policies.
Asked whether the US tariffs against China were a negotiating ploy, Kudlow told reporters: "Potentially. It's part of the process. I would take the president seriously on this tariff issue. There are carrots and sticks in life … Both sides benefit by positive solutions that lower barriers."
Kudlow said China should take Trump "seriously" on tariffs but that ultimately the president was a "free-trader". He added: "Sometimes the path to this kind of growth is a little rocky. That's the way the world works."
China ran a $375bn goods trade surplus with the US in 2017. Trump has demanded that the China cut the trade gap by $100bn. Beijing said it has made a "request for consultations" at the World Trade Organization (WTO) in response to the US tariffs, triggering that body's dispute settlement mechanism.
Geng Shuang, a Chinese foreign ministry spokesman, told reporters in Beijing that China's door to dialogue with Washington remained open "but the US has missed the opportunity time and time again". He said talks between the two countries required "mutual respect and equal treatment, instead of being coerced by one party unilaterally and condescendingly".
Economists have expressed concern that global economic activity might stall if other governments are prompted to raise their own import barriers.

Now there's a handbook for that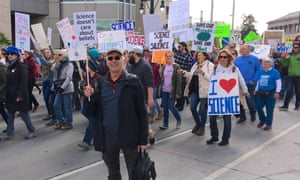 Climate scientist Dr. Kevin Trenberth at the March for Science on 22 April 2017 in Denver, Colorado. Photograph: Kevin Trenberth
Gallup released its annual survey on American perceptions about global warming last week, and the results were a bit discouraging. While 85–90% of Democrats are worried about global warming, realize humans are causing it, and are aware that most scientists agree on this, independents and Republicans are a different story. Only 35% of Republicans and 62% of independents realize humans are causing global warming (down from 40% and 70% last year, respectively), a similar number are worried about it, and only 42% of Republicans and 65% of independents are aware of the scientific consensus – also significantly down from last year's Gallup poll.
The Trump administration's polarizing stance on climate change is probably the main contributor to this decline in conservative acceptance of climate change realities. A recent study found evidence that "Americans may have formed their attitudes [on climate change] by using party elite cues" delivered via the media. In particular, the study found that Fox News "is consistently more partisan than other [news] outlets" and has incorporated politicians into the majority of its climate segments.
Americans are gradually becoming better-informed
Nevertheless, public awareness about climate change realities has improved over the long-term. For example, about two-thirds of Americans now realize that most scientists agree global warming is occurring, up from less than half in 1997.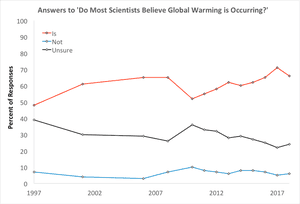 Responses to Gallup survey question asking whether most scientists believe global warming is occurring. Illustration: Dana Nuccitelli
There's also a strong correlation between awareness of the expert consensus, that humans are causing global warming, and concern about the issue. This suggests that when people are aware that experts agree, they accept the consensus and realize we need to address the problem. This is consistent with research finding that the expert consensus is a 'gateway belief' leading to public support for climate action.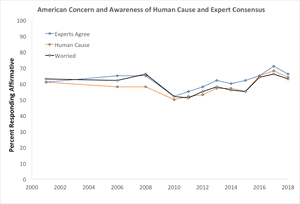 Responses to Gallup survey questions asking whether scientists agree global warming is occurring (blue), whether humans are responsible (orange), and whether respondents are worried about it (black). Illustration: Dana Nuccitelli
There's a handbook for that
John Cook and Stephan Lewandowsky, who previously published The Debunking Handbook, teamed up with Sander van der Linden and Edward Maibach to write The Consensus Handbook. It's a concise and definitive summary of everything related to the expert climate consensus, including how we know 90–100% of climate scientists agree on human-caused global warming, efforts to manufacture doubt about the consensus, its role as a gateway belief, its neutralizing effect on political ideology, and how to inoculate people against misinformation.
Those last points are particularly important in light of the Gallup survey data. There's an intense battle over public opinion on climate change, with cues from political elites having a polarizing effect that's largely offset when people become aware of the expert consensus.