06 Apr
News and Analyses, A Foreign Perspective
Nearly all of these are English-edition daily newspapers. These sites have interesting editorials and essays, and many have links to other good news sources. We try to limit this list to those sites which are regularly updated, reliable, with a high percentage of "up" time.
Sharing his own experiences, and writing anonymously, the father of a raped teenager decries an environment that reduces rape to a court verdict and so induces silence, hiding and shame amongst survivors.

Generic imagery
MY daughter didn't tell me when she was raped. I found out only when she could no longer hide the signs of her pregnancy. When I asked her why she hadn't told me earlier, she replied that she hadn't wanted 'to let me down.'
I wept, her mother wept. I held her – I just held her – my incredible, astonishing daughter. She was seventeen years old.
I wept too at the social services office when I went to report it; I wept when I went to speak with her school headteacher. When my boss rang to check on how I was coping I couldn't speak. No words would come.
In the days after my daughter's disclosure sleep vanished and time changed shape. Awake or dreaming I experienced an odd and strangely recurring motif – sea crashing on rocks and receding… endlessly. I think I was in shock.
Maybe three days on my entire body began uncontrollably shaking in the kitchen of my home; I clutched a chair to steady me; I thought, I could go down here and never get up again. I choose not to go down.
It was a week before I told any of my brothers or sisters. Like my daughter, I didn't want to pass on this pain, this terrible burden. I felt so strongly the horror of telling them; I felt so sorry for them having to receive it.
For a little time nothing changed – we attempted to carry on as normal.
On what was to be her final day of school I collected her at lunch to take her to be examined at the regional rape and sexual abuse clinic.
I thought then, and still often think now, of how horrific that is – how other young people finish their high school with parties and selfies – and how my daughter finished hers in the silence of a rape and sexual abuse clinic. It strikes me still as the stuff of nightmares.
Other things, teenage rites of passage, were lost too. My daughter had booked to attend the school leavers' formal only a couple of weeks later – despite my wife's best effort to find a dress that would conceal her bump – it couldn't be managed. She sat at home with us instead.
No one, beyond immediate family and professionals, was allowed to know. My daughter wanted it that way. How could she explain the pregnancy, the rape; how could she process the decision she would have to make in a few weeks' time to either keep and love and cherish the child, or give it up for adoption. How could any of us?
So, for her eighteenth we had a family birthday party – all my family came, but none of my daughter's friends – she wanted it that way. We made as much fun as we could, but, in truth, like so much else at this time, it was a parody of jollity; a show of unity and resilience in the face of the trauma behind and the terror of the decision ahead.
The rest of the story you might think is easy – was the child born healthy, did my daughter keep it? Yes, on both counts. And today she has a wonderful young child, and she is a wonderful young mother. But there has been nothing easy to this. Nothing easy for her.
The police investigation, desultory at first, began properly after the birth. The rapist was a stranger – statements were taken, and the few witnesses available interviewed. Nothing came of it. The rapist remains unknown, though with his DNA in the system it is likely only a matter of time until he is discovered.
Then what? A trial? A rapist becoming aware he is a father? And when? Tomorrow, next year, ten years time? What are the implications? There are no answers to these questions.
I went to see a solicitor. We spent an hour talking, he noted down whatever material facts I could give him, and then spoke honestly and devastatingly. Without CCTV evidence or a confession there is zero chance of a conviction. What am I to make of that?

Campaigners at a recent march in support of rape victims
Last week my daughter and I discussed the verdict of the Belfast rape trial. She said she wondered should she withdraw her charges. I told her that my understanding is that as rape is a statutory crime, she cannot. Then we both gloomily imagined what the outcome of any legal proceedings would be; and we both hoped there would never be any.

World Politics
United States
The president threw out his script at West Virginia event, speaking of voter 'conspiracy theory' and referencing his infamous 2015 remarks
'Women are raped at levels that have never been seen before' says Trump – video
Palestinian paramedics carry a protester injured during clashes with Israeli forces at the Israel-Gaza border, 2 April 2018. Photograph: Said Khatib/AFP/Getty Images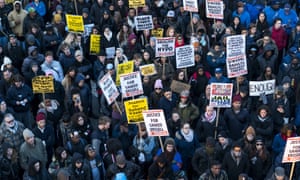 Hundreds gather in Crown Heights, Brooklyn, to condemn the police shooting of unarmed black man Saheed Vassell. Photograph: Craig Ruttle/AP