08 Apr
News and Analyses, A Foreign Perspective
Nearly all of these are English-edition daily newspapers. These sites have interesting editorials and essays, and many have links to other good news sources. We try to limit this list to those sites which are regularly updated, reliable, with a high percentage of "up" time.

World leaders urged to act as anger over inequality reaches a 'tipping point'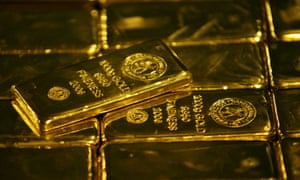 Gold bars are displayed at South Africa's Rand Refinery in Germiston. Photograph: Siphiwe Sibeko/Reuters
The world's richest 1% are on course to control as much as two-thirds of the world's wealth by 2030, according to a shocking analysis that has lead to a cross-party call for action.
World leaders are being warned that the continued accumulation of wealth at the top will fuel growing distrust and anger over the coming decade unless action is taken to restore the balance.
An alarming projection produced by the House of Commons library suggests that if trends seen since the 2008 financial crash were to continue, then the top 1% will hold 64% of the world's wealth by 2030. Even taking the financial crash into account, and measuring their assets over a longer period, they would still hold more than half of all wealth.
Since 2008, the wealth of the richest 1% has been growing at an average of 6% a year – much faster than the 3% growth in wealth of the remaining 99% of the world's population. Should that continue, the top 1% would hold wealth equating to $305tn (£216.5tn) – up from $140tn today.
Analysts suggest wealth has become concentrated at the top because of recent income inequality, higher rates of saving among the wealthy, and the accumulation of assets. The wealthy also invested a large amount of equity in businesses, stocks and other financial assets, which have handed them disproportionate benefits.
New polling by Opinium suggests that voters perceive a major problem with the influence exerted by the very wealthy. Asked to select a group that would have the most power in 2030, most (34%) said the super-rich, while 28% opted for national governments. In a sign of falling levels of trust, those surveyed said they feared the consequences of wealth inequality would be rising levels of corruption (41%) or the "super-rich enjoying unfair influence on government policy" (43%).
The research was commissioned by Liam Byrne, the former Labour cabinet minister, as part of a gathering of MPs, academics, business leaders, trade unions and civil society leaders focused on addressing the problem.
The actor Michael Sheen, who has opted to scale back his Hollywood career to campaign against high-interest credit providers, was among those supporting the calls.
The hope is to create pressure for global action when leaders of the G20 group of nations gather for a summit in Buenos Aires in November. Byrne, who organised the first OECD global parliamentary conference on inclusive growth, said he believed global inequality was "now at a tipping point".
"If we don't take steps to rewrite the rules of how our economies work, then we condemn ourselves to a future that remains unequal for good," he said. "That's morally bad, and economically disastrous, risking a new explosion in instability, corruption and poverty."
In a sign of the concern about the accumulation of wealth in the hands of so few, the move has gained support from across the political divide.
George Freeman, the Tory MP and former head of the prime minister's policy board, said: "While mankind has never seen such income inequality, it is also true that mankind has never experienced such rapid increases in living standards. Around the world billions of people are being lifted out of poverty at a pace never seen before. But the extraordinary concentration of global wealth today – fuelled by the pace of technological innovation and globalisation – poses serious challenges.
"If the system of capitalist liberal democracy which has triumphed in the west is to pass the big test of globalisation – and the assault from radical Islam as well as its own internal pressures from post-crash austerity – we need some new thinking on ways to widen opportunity, share ownership and philanthropy. Fast."

Barack Obama sent 1,200 members of the National Guard to the frontier in 2010, following George W Bush's decision four years earlier to boost the military presence there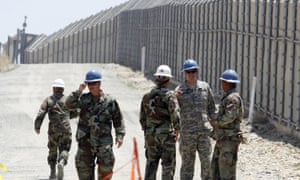 Members of the California National Guard at the U.S.-Mexico border in 2006. Donald Trump said on Tuesday he wants to use the military to secure the border until his promised border wall is built. Photograph: Denis Poroy/AP
Despite his claim on Tuesday that he is taking an almost unprecedented step, Donald Trump is not the first commander in chief to deploy troops to the US-Mexico border.
Barack Obama sent 1,200 members of the National Guard to the frontier in 2010, following on from George W Bush's decision four years earlier to boost the military presence there.
"The United States is not going to militarize the southern border. Mexico is our neighbour, and our friend," Bush insisted in 2006 in a speech on immigration reform that nonetheless announced a large increase in the number of border patrol agents and the deployment of up to 6,000 National Guard members in a two-year operation dubbed Jump Start.
They built infrastructure such as roads and fences and conducted surveillance on the ground and in the air, but left it to the border patrol to make arrests – because of the troops' lack of expertise in border enforcement and limits on the tasks that active duty military forces can perform domestically.
Obama's move came at a moment of heightened political tension over border security, with prominent Republicans including John McCain, the Arizona senator, worried about drug cartel violence and demanding enhanced measures, as tighter security in California increasingly led migrants to find entry points to the east.
Several hundred National Guard troops were already on the border to combat the cartels.
Like Bush, the Democratic president hoped, in vain, that a greater military commitment would help bring Republicans to the table for negotiations that would lead to comprehensive immigration reform, including a path to citizenship for many of the estimated 11 million undocumented immigrants in the US.
The National Border Patrol Council, a union, welcomed the help of the National Guard in conducting aerial surveillance. But a 2012 report by the Government Accountability Office questioned the usefulness of the Bush and Obama operations, which together cost about $1.35bn.
The report found that there were some benefits from the cooperation, such as a deterrent effect on criminals, and building relationships between various law enforcement branches, but the military's border assistance was "ad hoc" and lacking a precise role in a clearly-defined strategy.
Also – not that this is likely to disturb the White House in the current political climate – there were worries that the perception of a militarised border could damage relations with Mexico.
Many migrant advocate groups argue that given the scale of the armed law enforcement presence, the extensive surveillance infrastructure, fencing and numerous checkpoints, the border is, in effect, already militarised.
Texas has spent hundreds of millions of dollars to supplement federal border enforcement programmes. In 2014, amid a surge of Central American families and unaccompanied children crossing the border, Rick Perry – then the Texas governor, now federal energy secretary – ordered state law enforcement officers and the National Guard to the frontier.
The state purchased six high-powered gunboats and Perry toured the border with Sean Hannity, the Fox News host.
In 2015, Perry's successor as governor, Greg Abbott, signed into a law a bill directing the state to lay out $800m on border security over two years.

World Politics
Hungary
United States
The former FBI director's book tour to promote A Higher Loyalty is likely to fuel claims that the president obstructed justice but will also put his own actions under scrutiny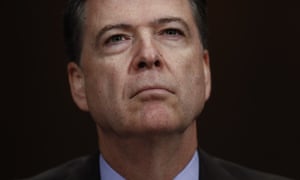 James Comey to his defenders is the model of a principled public servant but some of his critics discern in his painstakingly upright posture an untoward love of the spotlight. Photograph: Carolyn Kaster/AP
At 6ft 8in tall, James Comey is hard to miss. But two days after the inauguration of Donald Trump, Comey, then director of the Federal Bureau of Investigation, tried to hide from the president at a White House reception, by standing in front of blue drapery that matched his blazer, he later told a friend.
Comey was anxious not to appear chummy with Trump as accusations rippled that he had handed the Republican the election by keeping Hillary Clinton's email habits in the public eye, he explained.
Inspired as it was, however, the camouflaging tactic failed. Trump spotted Comey, opened his arms, called him across the room, grabbed his hand, pulled him in for an awkward hug and, according to Comey, whispered in his ear: "I really look forward to working with you."
Less than four months later, Trump fired him. And now, Comey is about to step out from the curtains for good, with the release of a memoir that seems destined to set up a dramatic and very public clash with the president, and trigger another cycle of alarm and discomfort in the United States over the direction of Trump's leadership.
Comey's book, A Higher Loyalty: Truth, Lies and Leadership, which promises "never-before-told experiences from some of the highest-stakes situations of his career", has already demonstrated huge popular appeal, shooting to the top of Amazon's bestseller list in the weeks before its publication on 17 April.
Tickets to a Comey appearance in New York City later this month are being offered online for as much as $1,000, rivalling resale prices for the best-selling show five streets north, Springsteen on Broadway, and the first bookstore he will visit has hatched a wristband scheme to deal with the anticipated crowds.
Comey has done his part to stoke interest by framing the book as a showdown with Trump, whose presidency appears more at risk every day of being swallowed by the investigation led by special counsel Robert Mueller into alleged collusion between the Trump campaign and Russia.
"Mr President, the American people will hear my story very soon," Comey tweeted in March. "And they can judge for themselves who is honorable and who is not."
Given all this intrigue, A Higher Loyalty could land with an even greater splash than the previous insider account to spill from the Trump White House, journalist Michael Wolff's controversial Fire and Fury.
But as Comey prepares to embark on a coast-to-coast book tour, he also risks playing into the hands of critics, some of whom discern in his painstakingly upright posture an untoward love of the spotlight, and who warn that his joining in a mudslinging match with Trump could further politicize the FBI, whose independence he has vowed to defend.
"I think he has to be careful," said Julian Zelizer, a professor of history at Princeton University specializing in American politics. "For him, and for the publicity of the book, obviously all that attention is terrific. But I do think he has to be careful, because it's not hard to imagine how President Trump will caricature that, if Comey's out there selling really expensive tickets for people to see him on kind of a celebrity interview book tour."
Many people connected with the FBI, whose reputation Trump has attacked as "worst in History!", are rooting for the former director, said Asha Rangappa, a former FBI special agent and a lecturer at Yale University.
"I think that people took it very hard when he left, and to the extent that he is a voice speaking on behalf of the bureau – I do think that that is a function of the book, and I do think that most agents will be grateful for that, because they can't comment, they can't fight back when the president is slamming them," Rangappa said. There were exceptions, though, she said.
For every two people with their hopes riding on Comey, it seems one skeptic can be found.
Trump may have branded Comey a "showboat" and a "grandstander", in a preview of attacks sure to come, but Comey has been just as unpopular with supporters of Hillary Clinton, many of whom are convinced his interventions in the closing stages of the last election helped cost her the White House.
The former Democratic candidate herself told an interviewer last year that Comey had "forever changed history" with his public statements about the investigation into her use of a private email server.

……………..A man was killed and six firefighters injured after an apartment caught fire on the 50th floor of Trump Tower in New York on Saturday. The victim, Todd Brassner, was found unresponsive in his apartment and was pronounced dead in the hospital, police said.
The 67-year-old was an art dealer who was friends with Andy Warhol, according to reports. Officials did not immediately release information about the cause of the fire…………..Fire sprinklers were not required in New York City high-rises when Trump Tower was completed in 1983. Updates to the building code required commercial skyscrapers to install sprinklers, but owners of older residential high-rises are not required to install sprinklers unless the building undergoes major renovations.
Some fire-safety advocates pushed for a requirement that older apartment buildings be fitted with sprinklers when the city passed a law requiring them in new residential high-rises in 1999. Officials under then mayor Rudy Giuliani said that would be too expensive.

Rescuers describe the scramble to help victims of the alleged chemical attack in Douma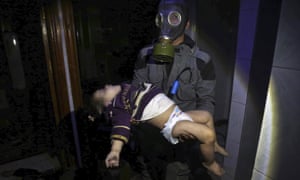 A rescue worker carries a child following the alleged chemical weapons attack. Photograph: AP
A

id workers and local medics have described apocalyptic scenes in the besieged city of Douma, the site of a chemical attack that has killed at least 42 people, as they scrambled to save the survivors of the latest atrocity in Syria.
Doctors, nurses and rescuers say they found themselves battling to save people who arrived from 7.45pm on Saturday bearing symptoms of a possible toxic gas attack, without medical equipment or supplies to ease their suffering.
Many of those who made it to the hospitals did not live long, they said. Those who could not be pulled out had to stay in their homes for hours as the gas dissipated before they could be retrieved, and some rescue workers also had to be treated for exposure to the alleged chemicals.
The attack, the victims of which exhibited symptoms that doctors say are consistent with exposure to organophosphorus, was only the latest salvo in a massive bombardment that began on Friday night and endured until Sunday morning, to pressure local rebels and the opposition to leave the city, surrounded by forces loyal to Bashar al-Assad.
Aftermath of suspected chemical attack rebel-held Douma in Syria – video
The attack came almost exactly a year after the deadly sarin gas attack in the town of Khan Sheikhun, which prompted the US to launch Tomahawk missile strikes against a Syrian airbase.
"We were 12 people, and before the attack you can imagine, we had been working perhaps 30 hours or more without stopping," said one paramedic who treated the victims. "Then you start getting a lot of people who are suffocating, and they smell of chlorine, and imagine after all that exhaustion you get this huge number of people, around 70, targeted while they were in bomb shelters."
He added: "We gave them whatever we had, which wasn't much, just four oxygen generators and atropine ampoules so they could breathe … Most of them were going to die. You can imagine now our psychological state. It's tragic. I've been working in this hospital for five years and those last two days, I haven't seen anything like it."
Another medic who treated the alleged chemical attack victims said he could no longer find the words to describe the scene. "There is no weapon that has not been used," he said. "All the pillars of life is destroyed, even rescue workers are targeted. It's the targeting of anything that is known to have life."
He added: "We forget the days now, because it doesn't make a difference any more. All the days have the same taste, the taste of death and destruction."
It was the latest in a string of alleged chemical attacks in the enclave of eastern Ghouta, which has in the past been attacked with chlorine and sarin gas. Negotiations for the forced exile of tens of thousands of civilians and fighters from the area had broken down, due to the demands of local rebels that they stay and not be forced into leaving the region, which borders the capital, Damascus.
The negotiations resumed on Sunday after the attack.
Syrian state media denied claims that government forces had launched a chemical attack and said rebels in Douma were in a state of collapse and spreading false news, describing it as "chemical attack fabrications".
Rescue workers said many of the victims remained where they had died because of further shelling, the penetrating odour of the toxic gas and the lack of protective gear. They said victims showed symptoms that included suffocation, central cyanosis – a blueish discolouration of the skin – foaming, corneal burns and the emission of a chlorine-like odour.

The huge national park in the Democratic Republic of Congo is one of the most dangerous conservation projects in the world. But thanks to the efforts of a committed force of rangers, populations of endangered species are recovering and locals say the park offers hope for the whole region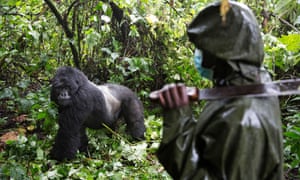 Virunga national park is home to one of the world's largest populations of critically endangered mountain gorillas as well as hundreds of other rare species. Photograph: James Oatway for the Guardian
I

t is dawn on the shores of Lake Edward and the sun is rising over the volcanoes on the eastern skyline. Mist lies over the still water. In the forest there are elephant, hippopotamus and buffalo. Guarding them are 26 rangers in a single fortified post.
Then the silence is rudely broken. There are shouts, scattered shots, volleys from automatic weapons. Waves of attackers rush through the brush and trees. Some are close enough to hurl spears and fire arrows.
Later, the rangers will tell their commanders that their assailants numbered more than a hundred. For 45 minutes the unequal battle continues. Then the guards, ammunition running low, withdraw. They take with them the bodies of three of their comrades. At least a dozen of their enemy lie on the ground.
"This is not an easy profession. Losing your friends and colleagues is very painful. But we chose to do this, and we know the risks," said Innocent Mburanumwe, the deputy director of Virunga national park, an enormous stretch of more than 5,000 square miles of woodland, savannah and mountains on the eastern border of the Democratic Republic of Congo (DRC).
The clash last August was the bloodiest in the park for many years. There was little elation when the post was retaken four hours after the rangers' initial retreat. The steady attrition of what Mburanumwe calls "a low intensity war" in the Virunga has claimed the lives of more than 170 rangers over the last 20 years, a toll earning the park a reputation as one of the most dangerous conservation projects in the world…………..
In 2007 came what Kambale called "a great change". A partnership was established between a charity funded by private donors, the European Union, the Howard G Buffett foundation, and the Congolese wildlife service. Emmanuel de Merode, a Belgian aristocrat, was appointed director and implemented wide-ranging reforms.
The rangers got better equipment and training, and are now paid a monthly salary of $250, a sizeable sum locally. Others initiatives have focused on local communities, with micro loans and hydroelectric power projects to boost the local economy and, it is hoped, thus reduce recruitment to the rebel groups or criminal gangs among the 6 million living within a day's walk of the park's borders.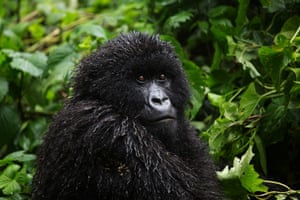 The mountain gorilla population now stands at more than 1,000. Photograph: James Oatway for the Guardian
The mountain gorilla population now stands at more than 1,000, while the numbers of other animals, such as forest elephants, is also rising, and tourists are returning in significant numbers.
Local administrators say the park offers hope to the whole region, one of the poorest in Africa.
"Imagine what would happen here if we had 10,000 tourists coming every year," said Julien Paluku, the governor of North Kivu province.
But the local economy is dependent on the security situation. When a rebel group swept into Goma, the provincial capital, in 2012, the park shut down. On the rutted road to the Virunga are military checkpoints. Rusty AK47s over a shoulder, eyes hidden by dark shades, troops from the DRC's demoralised and poorly equipped army make desultory checks for illicit charcoal or bushmeat.