09 Apr
News and Analyses, A Foreign Perspective
Nearly all of these are English-edition daily newspapers. These sites have interesting editorials and essays, and many have links to other good news sources. We try to limit this list to those sites which are regularly updated, reliable, with a high percentage of "up" time.
April 10 marks the 20th anniversary of the Good Friday Agreement that brought tentative peace to Northern Ireland. In an interview, Gerry Adams, the deal's co-architect, discusses the ongoing conflict and why Brexit could become a curse — or a blessing — for the region.
With more than 3,600 dead and around 50,000 injured, the conflict in Northern Ireland, commonly referred to as The Troubles, was one of the bloodiest civil wars in recent European history. It officially ended 20 years ago on April 10, 1998, with the signing of the Good Friday Agreement in Belfast. Predominantly Catholic republicans, who were pushing for reunification with Ireland, and largely Protestant unionists, who viewed Northern Ireland as a legitimate part of the United Kingdom, reached out their hands and agreed to peace for the first time.
The Irish Republican Army (IRA), which, depending on one's views, could be seen either as a terrorist group or as freedom fighters, agreed to disarm at the time. Republicans and unionists then built a joint regional government that has since collapsed several times — most recently in 2017. There are still armed groups on both sides today seeking to torpedo the peace process.
Gerry Adams, 69, was one of the architects of the Good Friday Agreement. He headed the Sinn Féin political party, which was considered the political arm of the IRA. Adams still represents the party in the Irish parliament in Dublin. British authorities continue to maintain that he was a commander in the IRA, a claim which Adams denies.
DER SPIEGEL: Mr. Adams, 20 years after the Good Friday Agreement, republican and unionist parties are fiercely divided, and violence is increasing on Northern Irish streets. Is that what peace looks like in Northern Ireland?
Adams: I wouldn't exaggerate the situation. There's probably more violence in any German city at this time than there is in the north.
DER SPIEGEL: Paramilitary-style acts of revenge in Germany are very rare. In Northern Ireland, however, they have increased by 60 percent in the last four years.
Adams: That's residual. There are small, non-representative groups. They don't have any real capacity. They certainly don't have any popular support. The IRA had a great deal of popular support when it was in its ascendency and the capacity to conduct a war against the British. Thankfully, that's over. The IRA is gone.
DER SPIEGEL: A group is involved in the current conflict that calls itself the "New IRA." Who are they?
Adams: I'm not here to explain any of these groups. I think most of them are criminals without any political support. There is now a democratic way, a popular, peaceful way to bring about Irish unity.
DER SPIEGEL: But there are clearly still a lot of weapons around in the north. And now Brexit is coming. Does it have the potential to torpedo the whole peace process?
Adams: The British government conducted a referendum on Brexit totally ignoring, perhaps oblivious to, the damage it would do to Ireland. The north voted against Brexit. If the English Tories have their way, there will be a hard economic border. That's going to be totally and absolutely disastrous.
DER SPIEGEL: Would that bring back the violence?
Adams: Your questions suggest that there is a volcano ready to explode. No. The vast, vast majority of people value the peace process. It is in my opinion not under threat. And the way to go forward in the first instance about Brexit is for designated special status for the north. It's to keep the north within the European Union to avoid economic hardships.
DER SPIEGEL: That would infuriate the Northern Irish unionists upon whose support Prime Minister Theresa May's minority government depends. And a hard border between the north and the south would be intolerable for the republicans. It's a Catch 22.
Adams: More important than the republicans or the loyalists is that if the economy is fractured, the ordinary folks are the ones who are going to suffer. In the north and in the south. It won't affect Theresa May.

"Horses can be hilarious!" says German photographer Wiebke Haas. "It's my greatest passion to tease out nearly human expressions from them." She has turned this passion into a delightful series called Horsestyle (shortlisted for a 2018 Sony World Photography award) featuring stallion Pauli with his lovely Elvis lip-curl, and Linus with a big, bouncy mane to rival Farrah Fawcett's.
Haas grew up around animals, which perhaps explains why her horses look so at ease. "The most difficult part was to keep them straight to the camera," she says. Her secret? Horse goodies and the occasional "tickle in the ear".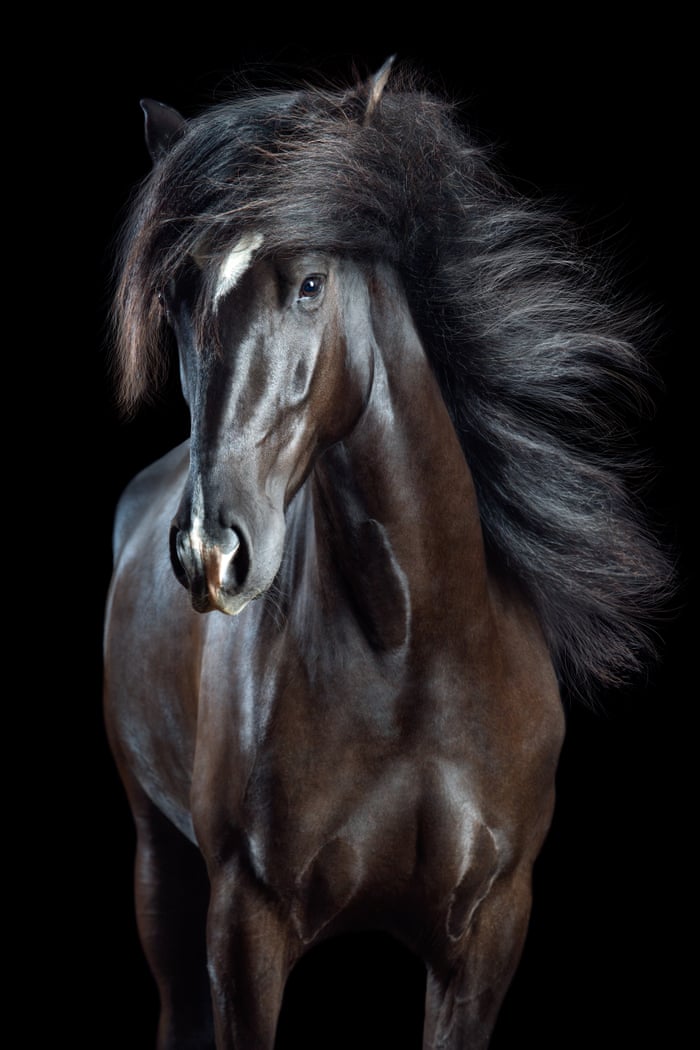 Mr Perfect
'Allaus learned how to shake on hand-sign within minutes before the photo session. He was so motivated to perform this trick that we got this marvellous hair really fast.'

Eagle Eye supervisor says writers of profiles of 17 teens and teachers who died 'wanted to capture the essence of who each person was'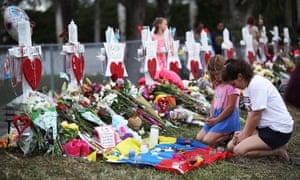 People visit a makeshift memorial in front of Marjory Stoneman Douglas high school, five days after the February shooting. Photograph: Joe Raedle/Getty Images
Jaime Guttenberg dancing. Swim captain Nicholas Dworet mid-stroke in the pool. Peter Wang in his JROTC uniform, standing proud in front of the American flag.
The latest issue of the Eagle Eye, the Marjory Stoneman Douglas high school news magazine, is a memorial to the 17 students and teachers who were killed less than two months ago in one of the deadliest school shootings in US history.
Teenage survivors of the shooting in Parkland, Florida have galvanized the national movement for gun control reform, giving advocates hope politicians might finally pay a price for a vicious cycle of inaction.
The Eagle Eye's student journalists took over Guardian US last month during the March for Our Lives, which drew hundreds of thousands to rallies in Washington DC and around the world. Eagle Eye staffers assigned stories and reported from the Washington rally for the Guardian.
But the student writers have also continued to mourn their classmates and teachers, a process that has turned ordinary school activities – like publishing a student magazine – into acts of remembrance.
"They really wanted to capture the essence of who each person was," Eagle Eye adviser Melissa Falkowski said of the memorial issue. "That was the mission of the issue. They were just really determined, even if it was going to be hard, they were determined to do it right.
"For some students, especially the ones who knew the people they were writing about, it was cathartic because it was a place for them to put their grief."
The Eagle Eye staff decided to produce a memorial issue just days after the shooting, Falkowski said. Many students assigned to write profiles knew the teenagers and teachers who died. Writing was often emotional.
The student who profiled Dworet interviewed both of his parents in their home, in Nicholas's bedroom. The student journalist was crying by the end of the interview, Falkowski said. So were his parents.
"We left it for people to choose what they wanted to do," Falkowski said. "Some kids weren't ready to write any stories at all. When someone was having a particularly hard time, or they weren't feeling comfortable, another editor would step in: 'I'm going to do this interview for you.' The kids leaned on each other a lot. The [profiles] were really hard to write."
Even the process of editing the profiles was "overwhelming", Falkowski said. Reading them brought home the enormity of the loss. She remembered crying as she tried to copy-edit the issue.
I didn't have to think about the fact that Carmen passed away. I could just think about all the great things about her

Nikhita Nookala
At times, the student journalists had to step away from working to process their emotions, even as they worked around the clock to meet their deadline, the evening before leaving to cover the March for Our Lives in Washington.
Nikhita Nookala, 17, a copy editor, wrote the profile of Meadow Pollack, 18, and helped write another.
"When you profile them," she said, "you learn their whole personality and what they were like, and what they liked to do with their time. It makes you think, 'If I knew this person, we could have been friends.'"
Nookala lost her friend Carmen Schentrup, 16. Reading her profile, she said, "was something that I could appreciate. It was something that I didn't have to think about the fact that she passed away. I could just think about all the great things about her. It wasn't as hard as I thought it would be to copy-edit."
The Eagle Eye distributed the magazine at the high school on Friday, the end of the first week back from spring break.
"This was our way of saying goodbye to them," Nookala said. "Just making the issue and seeing it printed and published was therapeutic in a way. It was our way of moving on from it, as much as we can at this point. This is our way of finally put that chapter to some kind of end, even though it will obviously never really be over."
Among readers, Falkowski said, the response to the memorial issue was positive.

Maryam Mombeini, whose husband died in custody in mysterious circumstances, must be allowed to join her family in Canada, son says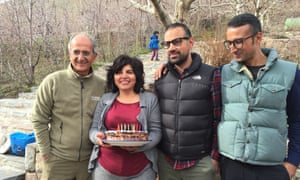 Iranian environmentalist Kavous Seyed-Emami (left), his wife Maryam Mombeini and their sons Ramin and Mehran. Photograph: Picasa/Courtesy of Kavous Seyed-Emami
The son of an Iranian-Canadian environmentalist who died in a Tehran prison under mysterious circumstances has called on Iran to allow his grieving mother to leave the country.
Maryam Mombeini, 55, was stopped last month by the security guards at Tehran's international airport just before boarding a flight to Canada with her two sons after the death in custody of her husband, Kavous Seyed-Emami.
The Iranian-Canadian widow remains barred from leaving the country despite calls by the Canadian prime minister, Justin Trudeau, who has urged Tehran leaders to provide answers about Seyed-Emami's death and let his wife join the rest of her family.

In January, Seyed-Emami, the 63-year-old founder of the Persian Wildlife Heritage Foundation, was taken to the notorious Evin prison as part of a crackdown on a group of environmental activists, many of whom worked for his organisation.
Two weeks later, the authorities told his family that Seyed-Emami had killed himself, but that claim has been met widespread scepticism, especially as it comes after similar deaths in custody of a number of other prisoners in recent months that have remained unexplained.
"A widow of 37 years, a mother of two, someone who has gone through so much, does not deserve to be treated this way," Mehran Seyed-Emami, one of the environmentalist's two sons, told the Guardian.
"No belief, ideology, or political faction promotes this kind of treatment against a mother, especially one who's already suffered so much. She deserves the right to grieve in peace in a calm and relaxed state, together with her immediate family."
The son recalled the day his mother was prevented by the authorities from boarding the flight. "We had gone to airport along with 10 of our friends and were all waiting in the [business] lounge. We had checked in our 10 bags and three dogs, and were not expecting any surprises."
"Right around 1:45am when we approached the last security gate, some guy in plain clothes came up running and shouting my mom's name. We knew something was up immediately. He notified us that 'your mum cannot board the flight and me and Raam [his brother, Ramin] need to decide whether to stay or leave immediately' (we were the last passengers to board). My mum unselfishly told us to go."
Seyed-Emami's foundation sought to protect Iran's rare animals, including the Asiatic cheetah – one of the world's most endangered species, with only 50 remaining.
Iran's judiciary has described him as an agent of the CIA and Mossad who had used the wildlife foundation as a cover to collect information about the country's missile bases. Little if any evidence has been provided in public to back that allegation, or the claims that he took his life in jail.
His son Ramin, who watched a CCTV video showing him in his prison cell in the hours before his death, said it did not justify claims that he took his life.
In the days after news broke about Seyed-Emami's death the Iranian president, Hassan Rouhani, set up a four-member committee to investigate the deaths in custody of prisoners.

World Politics
Hungary
United States
Ralph Norman says: 'I'm not going to be a Gabby Giffords'

Giffords' husband decries 'intimidation tactics and perpetuating fear'
A .380 caliber handgun. Photograph: Richard Ruggieri/AP
A South Carolina Republican pulled out a loaded handgun during a meeting with constituents on Friday, in an attempt to make a point that guns are dangerous only in the hands of criminals.
One campaigner for gun reform who was present at the "coffee with constituents" meeting called the US representative Ralph Norman's actions "a far cry from what responsible gun ownership looks like".
According to local news reports, Norman placed the .38-caliber gun on a table and said: "I'm not going to be a Gabby Giffords." He was referring to a former Democratic Arizona congresswoman who was shot outside a grocery store during a constituent gathering in 2011.
Giffords' husband, retired Nasa astronaut Mark Kelly, said in a statement that Norman was "no Gabby Giffords" and noted that his wife has dedicated her life to ending gun violence.
"Americans are increasingly faced with a stark choice: leaders like Gabby, who work hard together to find solutions to problems, or extremists like the [National Rifle Association] and congressman Norman, who rely on intimidation tactics and perpetuating fear," Kelly said.
Senator Jeff Flake, Republican of Arizona, addressed Norman on Twitter. "I sincerely hope you never have to experience what my friend [Giffords] experienced," he wrote. "But to suggest that she might have avoided being shot had she carried a weapon as she spoke to constituents that morning is inappropriate and inconsiderate."
Norman said he would display his gun again. "I'm tired of these liberals jumping on the guns themselves as if they are the cause of the problem," he told the Post and Courier. "Guns are not the problem."
I'm tired of these liberals jumping on the guns as if they are the cause of the problem. Guns are not the problem

Ralph Norman
Lori Carter, a schoolteacher from Charlotte, North Carolina, said she thought Norman's actions were contradictory because Norman did not know if someone at the meeting had mental health issues.
"What was to prevent me from leaning across the table to take that gun?" she asked.
Lori Freemon, a volunteer with the South Carolina chapter of the pressure group Moms Demand Action for Gun Sense in America, was at the meeting.
In a statement, she said Norman's "behavior today was a far cry from what responsible gun ownership looks like. I had looked forward to a respectful dialogue with my representative about common-sense gun violence prevention policies. Instead, I felt unsafe when he insisted on showing us his loaded gun and keeping it out on the table for much of our conversation."
Three Republican South Carolina state lawmakers, meanwhile, introduced a bill on Thursday that would allow the state legislature to debate secession from the US if the federal government confiscated legally purchased firearms in the state.
The measure has no real chance of passage in the current session. The deadline for bills to move from one chamber to the other is 10 April.
South Carolina was the first state to secede from the union over slavery in the run-up to the civil war, withdrawing in December 1860. The first shots of the war were fired on Fort Sumter in Charleston harbor in January 1861.
The A'I Cofan in the Amazon are using camera traps, GPS, film, photography and their own law to stop people invading their land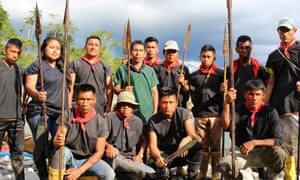 Members of Sinangoe's guardia indigena established last year to protect their territory from miners and others. Photograph: Nicolas Mainville/Amazon Frontlines
Three A'I Cofan men were staring down at a pit of rocks, dead foliage and filthy water where two gold-panners were working. Beyond was a sluice and hoses running down to the rushing, green waters of the River Aguarico. To the right, there was mud, more rocks, more equipment, a makeshift tent and camp. Behind, to the left, a Hyundai excavator and a track running downriver.
No more than two weeks before, no track had existed and all this had been primary forest. Now that was gone. Only an area about 110 x 50 metres, you might say, but this is how gold rushes start.
Down below, several other A'I Cofan men – most wearing tunics, kerchiefs and life-jackets after a rocky canoe ride – were standing with one of the miners. He said his name was "Joselito" and he wore a yellow hardhat and pique shirt suggesting he was from the nearest village, Puerto Libre. Minutes before, the miners had been pumping water through the sluice and the excavator had been filling in the pit, but all that stopped with the arrival of the A'I Cofan – most immediately concerned if the miners were using mercury and the potentially catastrophic impacts on their village, Sinangoe, less than an hour downriver.
Joselito told the Guardian and others standing there that wasn't the case. No mercury. "Eight years in prison [if you do that]," he said at least twice.
The new mining site is in a concession awarded to one Celso Amable Ureno Quezada in January 2018, according to the Ministry of Mines, in Sucumbíos province in a stunning part of the Ecuadorian Amazon. Joselito claimed it was his first day working there and he didn't know who the concession belonged to, although he identified one of the others, a woman he called Alejandra Cortes, as the "boss." Asked if the concession had obtained its licence from the Ministry of Environment, as is required by Ecuadorian law, Joselito almost laughed and said he didn't know anything about that.
The miners had been spotted and filmed by drone the previous day, but Sinangoe's president, Mario Criollo, had been warned they might soon be there when earlier in the week he had visited operations on a large beach slightly downriver, purportedly within the same concession. Accompanied by representatives from the Defensoría del Pueblo and government water agency SENAGUA, Criollo saw the same excavator and noticed a track recently cleared through the forest along the riverbank. According to Criollo, he had been told the plan is for the track – or rather, a road – to run all the way up to the northernmost tip of the concession towards the confluence of the River Cofanes and River Chingual, where form the River Aguarico.
Prior to that, in late February, Criollo had visited the same beach with a representative of the Sucumbíos province's public prosecutors' office, environmental police, other A'I Cofan and two NGOs supporting Sinangoe: the indigenous-run Alianza Ceibo, based in Sucumbíos, and the international Amazon Frontlines. The prosecutors' office had been informed that allegedly the miners were operating illegally, without a licence, just outside the concession, and impacting the Cayambe Coca National Park. No arrests were made.
Criollo is shocked at how quickly the miners are moving. "We did a reccy two months ago and there was nothing like this there then," he told the Guardian. "In two months they've made major advances. Maybe in four years they'd clear the entire riverbank. We don't want it to get to that. That's why we're monitoring what's happening."
Criollo seems most concerned about the potential impacts on the River Aguarico. A major tributary of the River Napo, which in turn is a major tributary of the River Amazon, it is a crucial source of water for the A'I Cofan in Sinangoe – not to mention 1000s of other people even further downriver. Another concern is the colonisation that a concession and road might encourage, making it easier for miners and others to cross to the other side of the river to the national park and Sinangoe's own land.
Criollo emphasises that his community doesn't want to take control of the concession area, although he acknowledges that it is considered to be ancestral Cofan territory. Sinangoe already has an agreement dating from 1998 to use 13,700 hectares within the park – but no legal title – and in total it claims land rights over more than 55,000 hectares stretching westwards.
"Our interest in [the concession upriver from Sinangoe] isn't about obtaining more land," Criollo says. "It's not that we want to cut that forest down ourselves, or mine for gold, or exploit oil. It's just that we don't want the water to be contaminated."
Concern about the water is echoed by Nixon Narvaez, a 20 year old A'I Cofan man receiving communications training from the Alianza Ceibo who photographed the recent visit to the new site. He calls what they found "a little horrific", saying the riverbank is "literally" being destroyed and the river risks being contaminated.

Members of Sinangoe's guardia indigena look down at the recently-discovered mining site upriver from their community. Photograph: David Hill
"We live along the banks of the river," Narvaez told the Guardian. "It is fundamental to our lives. We drink the water, we bathe in it, we fish. Maybe the fish are being contaminated and our health will be endangered. It'd be better if the concession was cancelled."