10 Apr
News and Analyses, A Foreign Perspective
Nearly all of these are English-edition daily newspapers. These sites have interesting editorials and essays, and many have links to other good news sources. We try to limit this list to those sites which are regularly updated, reliable, with a high percentage of "up" time.
I came to realize many tears ago that Israel is not a homeland for Jewish people to live in Peace (what they always deserved for all their sufferings throughout history) But a fascist right wing Zionist state bent on expansion at other people's suffering.
This murder is absolutely despicable action. This Israeli team needs to be removed immediately and indicted for murder. But it will not happen. Who the fuck celebrates after killing anyone.

The McGlynn
Footage has emerged which appears to show an Israeli sniper shooting a Palestinian to the sound of cheers. The Israel Defense Forces (IDF) says it will investigate the incident.
In the video, which the IDF believes was recorded several months ago, a man is heard asking "Do you have another bullet in the barrel?" and "Is it on him?"
Another voice then says "I can't see because of the wire" and "There's a little boy there."
The sniper then shoots the Palestinian, who appears to have been entirely peaceful. The shot knocks him to the ground. Enthusiastic cheers can be heard in the background, along with a voice that says "Of course I filmed it." Someone also says "What a legendary video."
Likud MK Oren Hazan, who has been suspended from the Knesset over sexual harassment and stalking incidents, had a different view. "What's all the fuss about? It was noted in advance: anyone who approaches the fence, armed or not, is gonna get hit. As it should be!" he tweeted.
Hazan continued to state that he was proud of the soldiers defending Israel, and that he hopes the footage sends "a clearer message to the other side."
According to IDF protocol, any live fire directed at protests requires approval by the most senior leadership in the field.
Meanwhile, a sniper is permitted to fire towards anyone who approaches the border fence with the intention of penetrating Israeli territory, with the permitted distance being 100 meters (328 feet).
There is a separate fence in front of the border fence, and rules allow for shooting only in the lower body of anyone entering the territory between the two fences.
Protests as part of the 'Great Return March' have been taking place at the border since March 30, and are scheduled to continue until 'Nakba' on May 15 – the day in which Israel, 70 years ago was established following the ethnic cleansing of the Palestinian people.

The best pictures of the day chosen by our picture editors, including mountain farm work in China and frolicking wild boars
Manila, Philippines
Children play in a makeshift pool. The state weather bureau issued warnings as temperatures started to climb.
Photograph: Francis R Malasig/EPA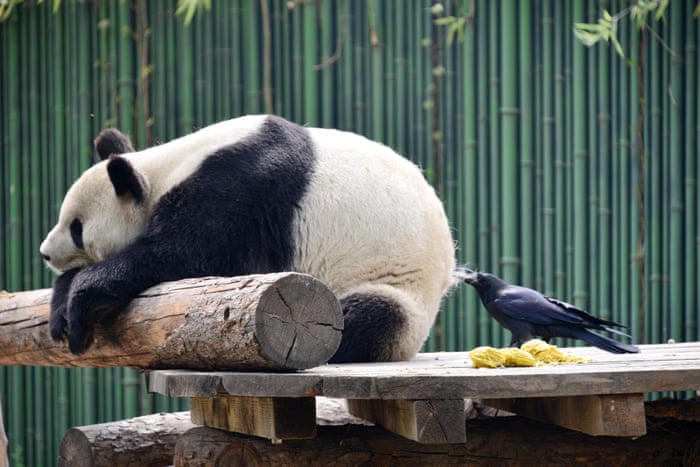 Beijing, China
A crow plucks fur off a panda's back for its nest in a zoo
Photograph: Feature China/Barcroft Images
Palestinian photographer Yasser Murtaja's final images eerily prescient as he documented the rising violence in Gaza before he was shot dead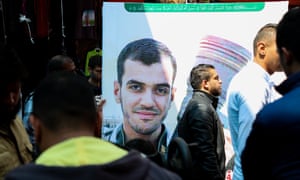 The funeral of Palestinian journalist Yasser Murtaja, who was killed by Israeli forces while filming protests in Gaza on 6 April. Photograph: Samar Abu Elouf/Zuma/Wire/Rex/Shutterstock
The drone floats above the farmland at the east of Gaza's narrow coastal strip where beyond the fence – the transition is almost invisible – Israel's border communities begin.
The video is among the last footage filmed by Palestinian photographer Yasser Murtaja in Gaza before he was shot dead by Israeli troops last Friday – and it eerily foreshadows his own fate.
Palestinian demonstrators walk through the flat fields, hold signs or sit in the shade of tents in the five border protest camps that dot the landscape from east of Jabaliya in the north to Khuza'a, a short drive from the southern city of Khan Yunis.
Murtaja died on the second of a series of mass Friday protests called the "Great March of Return", which will culminate on "Nakba" Day (catastrophe in Arabic) on 15 May, which will commemorate the events of 1948 when, following the creation of the state of Israel, more than 700,000 Palestinians were expelled from their homes.
Despite wearing body armour clearly marked with a press sign, Murtaja was shot in the stomach while covering the protests and died later of his wounds. He was one of nine Palestinian men killed in a space of a few hours.
Murtaja's video footage – provided to the Guardian by the Norwegian Refugee Council (NRC) – shows an injured man being rushed away on a stretcher. Burning tyres billow black smoke close to the fence. A zoomed shot shows a grainy image of Israeli soldiers, one raising his rifle.
Commenting on the killing of Murtaja, Israel's defence minister Avigdor Lieberman suggested the journalist, a father of one, was responsible for his own death – despite the fact that Israel was warned that its shooting of civilians could amount to a war crime by the International Criminal Court.
"I don't know who he is, a photographer, not a photographer. Whoever operates drones above [Israeli] soldiers needs to understand that he is endangering himself," said Lieberman.
An Israeli military statement was more circumspect, announcing an investigation into his killing. "The IDF [Israeli Defence Forces] does not intentionally fire on journalists. The circumstances in which journalists were hit, allegedly by IDF fire, are unknown to us and are being examined."
Commissioned by NRC to document the human suffering, Murtaja, a 30-year-old photographer well known for his drone footage, never got to complete his project.
"I talked to Yasser on Wednesday evening by phone, after he came back from the Access Restricted Zone in Gaza where Palestinians were demonstrating," said NRC's media adviser in the Middle East, Karl Schembri.
"We talked about the stories we wanted to cover – families affected by violence, as well as children again exposed to trauma and their ensuing nightmares.
"Two days later, he was killed by an Israeli sniper while peacefully observing the demonstrations. He was killed doing his job: recording his people's right to protest for their human rights."
Jan Egeland, NRC's secretary-general, added: "Yasser Murtaja was a civilian and a journalist who was wearing clear press identification while he was filming the demonstrations at the Gaza fence with Israel. He was there because he wanted to document civilians exercising their right to peacefully protest."
The stories that NRC and Murtaja were working on focus on the impact of persistent violenceon the mental health and wellbeing of children in Gaza.
One of the cases documented by NRC is that of 14-year-old Reham. She was attending the Return March in Gaza with her mother, father, sister and two brothers on 30 March when her father was shot in the leg. Reham's father may now need to have his leg amputated.
"The ongoing and unjustifiable border closure and extreme economic deprivation of civilians in Gaza amounts to nothing short of collective punishment," said Egeland.
"And now the indiscriminate shooting at peaceful protesters on their land – while running away, while waving flags, while praying, while reporting, while giving first aid and while working on their land – is abominable. This cannot be allowed to continue, and those responsible must be held to account."
World Politics
Great Britain
Hungary
Spain
United States
Donald Trump's new national security adviser has a reputation for his bellicose approach to international affairs and his fiery rhetoric. As he takes up his new position, here he is what John Bolton has had to say in the past about Iran, Iraq, North Korea, China and the UN
Agents seize records and communication between Michael Cohen and president, prompting extraordinary scene at White House
Donald Trump declared an "attack on our country in a true sense" was under way after FBI agents conducted a raid on the office of his longtime personal attorney, Michael Cohen, on Monday.
The raid was carried out after a referral from the special counsel, Robert Mueller, to New York-based federal prosecutors, a lawyer for Cohen said. It was not clear that the raid related to Mueller's investigation of alleged collusion between the Trump campaign and Russia.
Yet in an extraordinary scene inside the White House late Monday, Trump connected those dots and more, saying the raid represented part of an ongoing attack on him engineered, he said, by "the most biased group of people" with "the biggest conflicts of interest I've ever seen".
He called it "an attack on our country in a true sense. It's an attack on what we all stand for."
Unusually affronted by the move against a member of his inner circle, it seemed, Trump described the raid as an extension of a conspiracy against him that had "started right after I won the nomination".
"It's a disgraceful situation, it's a total witch hunt, I've been saying it for a long time," Trump said. Mueller's investigation so far has produced 19 indictments or guilty pleas.
Monday's raid led to the seizure of records including communications between Cohen and Trump, Cohen's lawyer said in a statement.
Also seized were documents relating to a $130,000 payment Cohen has admitted making to the porn actor Stormy Daniels, according to the New York Times, which first reported the raid. Daniels is in a protracted legal battle with Trump to tell the story of their alleged relationship.
Agents also raided a home and hotel room used by Cohen, the Wall Street Journal reported.
Stephen Ryan, a lawyer for Cohen, released a statement that said: "Today the US Attorney's Office for the Southern District of New York executed a series of search warrants and seized the privileged communications between my client, Michael Cohen, and his clients." He did not name Trump.
A message left Monday afternoon at Ryan's firm was not returned.
Trump said the raid on Cohen "really is now in a whole new level of unfairness", but he did not respond directly to questions of whether he would seek to have Mueller dismissed.
"I think it's a disgrace what's going on," Trump said. "We'll see what happens … Many people have said you should fire him."
Mueller's referral may indicate his team's inquiry uncovered evidence of potential crimes falling outside the focus of their investigation into alleged collusion between the Trump campaign and Russia. Or the referral may have been made simply because the New York prosecutors were better positioned to carry out the raid, explained Neal Katyal, a supreme court lawyer who wrote the special counsel regulations, on Twitter.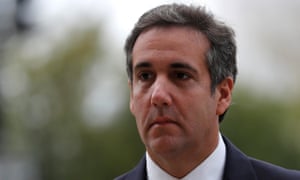 Michael Cohen. Donald Trump said the raid on his longtime lawyer was 'a whole new level of unfairness'. Photograph: Jonathan Ernst/Reuters
The recommendation for prosecutors in Manhattan to handle the raid – as opposed to Mueller – was made by the deputy attorney general, Rod Rosenstein, who oversees the special counsel investigation, Bloomberg reported. Rosenstein has occasionally attracted Trump's ire for his handling of the investigation.
The president was following news coverage of the raid closely, CNN reported. Cohen is closer to Trump's inner circle than anyone previously to have such a sharp brush with prosecutors, although Trump's son-in-law, Jared Kushner, has been interviewed by Mueller's team, and Trump's eldest son, Donald Trump Jr, has been interviewed by congressional investigators.
Cohen said the payment to Daniels was "facilitated" by him personally and was not made on behalf of the Trump campaign. A watchdog group has brought a lawsuit alleging that the payment to Daniels was in fact an illegal campaign contribution.
"The decision by the US attorney's office in New York to conduct their investigation using search warrants is completely inappropriate and unnecessary," said Ryan in his statement. He said Cohen had cooperated fully with government prosecutors.