11 Apr
News and Analyses, A Foreign Perspective
Nearly all of these are English-edition daily newspapers. These sites have interesting editorials and essays, and many have links to other good news sources. We try to limit this list to those sites which are regularly updated, reliable, with a high percentage of "up" time.
(teleSUR, PC, Social Media)
The family of Ahed Tamimi Monday released footage of her interrogation by two Israeli officers on Dec. 26, in which she can be seen silent, appearing calm despite intimidation attempts.
In the video, then 16-year-old Ahed can be seen interrogated by two men without the presence of a female officer or a legal guardian, a policy required by law. The men take an intimidating stance on Ahed and one of them speaks to her in broken Arabic, threatening her with arresting more members of her family and village Nabi Saleh.
"If you don't give us what we want we will arrest everyone in this video. You know Nour, Marwan, Osama, Marah… we will take them all if you don't cooperate. It's in your hands… they will talk if you don't" one of the interrogators, apparently a member of the Israeli military intelligence agency (Aman), tells Ahed as he demands her to identify people in videos shown to her.
But as interrogators sit close to her with their legs open, using an intimidating tone and threatening her, Ahed only breaks her silence to remind her interrogators she has the right to remain silent.
"Who is she?" says the police interrogator referring to a person in a video, only to get "I choose to remain silent" as an answer from Ahed.
"The single purpose of this interrogation was to break the symbolism of defiance that she represents by trying to have her let go of her right to remain silent. She did not," said Bassem Tamimi, Ahed's father, in a press conference in Ramallah Monday.
According to Bassem, Ahed was interrogated for about 10 days straight after her detention. When the video was taken at the Shaar Binyamin police station, Ahed had been detained for one week, including days of solitary confinement and sleep deprivation.
"My little sister is blonde and her eyes are like yours…," the Aman officer tells Ahed in an odd way, who then yells at her that she's too white to go to the beach. "How are you in the sun? Like my sister? Red, red, red?"
Israeli authorities are obliged to hand in excerpts of interrogation videos, when the suspect is a minor, if requested by the family. The video was then handed to media outlets, days after another internet news site published an exclusive report on it.
Tamimi's lawyer Gaby Lasky had complained to the attorney general multiple times about the improper behavior of one of the interrogators, accusing him of sexual harassment, but the state proved unwilling to investigate the Israeli military actions against the teen.
"You have eyes like an angel," one of the interrogators tells Ahed, according to The Daily Beast report on the full footage, to which she responded with a cold stare and silence. He also keeps comparing her with his sister, saying she spends "all his money on clothes," just as revealed by the partial video released Monday.
Lasky called the sexual harassment of Ahed "a gross violation of the law," and complained about the fact that her client, a minor girl, was interrogated by two men, without the presence of a female officer or an interrogator specialized in questioning minors.

Insecurity among Jewish people worsened by rise of racist right and anti-Israeli left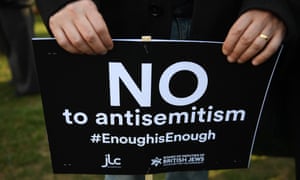 A placard at a protest outside parliament in London on 26 March. Photograph: Andy Rain/EPA
Feelings of insecurity are widespread among European Jews as a result of the resurgence of the extreme right, a heated anti-Zionist discourse on the left and radical Islam, according to a global study of antisemitism.
Last year the number of recorded violent antisemitic incidents fell by about 9% compared to 2016 – and by almost 50% compared with the 2006-14 average – but there was a notable increase in harassment and abuse, according to a survey published by the Kantor Center.
The report highlights a strengthening of the extreme right in some European counties, "accompanied by slogans and symbols reminiscent of the 1930s" and "the intensity of the anti-Jewish sentiments expressed in a variety of ways […] especially on street demonstrations". It says this may explain a discrepancy between the levels of fear among European Jews and the actual number of incidents.
"Expressions of classic traditional antisemitism are back and, for example, the term 'Jew' has become a swear word," it says.
The 105-page report examines the prevalence of antisemitism in Europe, the post-Soviet region, the US, Canada, Australia, South America and South Africa. It records 327 major incidents of violence, vandalism and desecration in 2017, compared with a peak of 1,118 in 2009 and a low of 78 in 1989, the year the study began. It found 30% of attacks were directed at individuals, 20% at cemeteries and memorial sites, and 17% at synagogues.
It attributes the decrease to better security and intelligence, more government spending, fewer Jews identifying themselves as such on the street, and the attention of rightwingers diverted to rising immigration.
It adds: "But – and this is a major point – this situation is not necessarily perceived in Jewish communities as a sufficient positive development, because the presence of security measures means that they are a necessity, and mainly because it is overshadowed by the many verbal and visual expressions, some on the verge of violence, such as direct threats, harassments, hateful expressions and insults. These take place in working places, schools, universities, playgrounds, near Jewish homes and institutes, on football/soccer fields, during demonstrations in the streets, and all the more so in the social networks."
In the last weeks of 2017 and the first months of 2018 a number of demonstrations took place in different countries after Donald Trump's controversial announcement that the US would henceforth consider Jerusalem the capital of Israel, the report notes.
Reactions to the move included attacks on Jews, antisemitic slogans, including calls for murder, and the burning of the Israeli flag. "These incidents do not necessarily originate in Muslim and Arab circles and countries, but rather come from a variety of groups and circles, from most of the political spectrum, leftwing groups included."
The report says: "The rise of leftist antisemitism that supports radical Muslim anti-Israeli attitudes expressed in antisemitic terms such as in the BDS [boycott, divestment and sanctions] and Antifa [militant anti-fascist] movements, and certainly in the UK Labour party led by Jeremy Corbyn." Many Jews in the UK were "losing their traditional political home" as a result of feeling betrayed by Labour, it adds.
As result of insecurity, an increasing number of Jews were no longer wearing identifying items in public or attending synagogues on Jewish holidays.
"Once some Jews do not participate in Jewish traditional gatherings, do not appear in the public sphere identified as Jews, avoid mentioning their real name on the internet, do not openly support Israel, if communities run out of the financial resources given heavy security costs and not much is left for culture and education activities – the ability to live a full Jewish communal and individual life is jeopardised, and so is Jewish identity," the report says.

Large numbers of pharmaceuticals found at levels dangerous for wildlife and the environment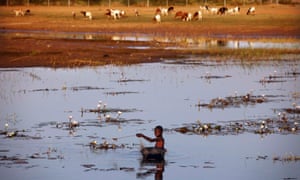 A boy fishes in the Niger river in the Mali region of Gao. Drug pollution levels are higher in much of Latin America, Africa and Asia. Photograph: Joe Penney/Reuters
River systems around the world are coursing with over-the-counter and prescription drugs waste which harms the environment, researchers have found.
If trends persist, the amount of pharmaceutical effluence leaching into waterways could increase by two-thirds before 2050, scientists told the European Geosciences Union conference in Vienna on Tuesday.
"A large part of the freshwater ecosystems is potentially endangered by the high concentration of pharmaceuticals," said Francesco Bregoli, a researcher at the Delft institute for water education in the Netherlands, and leader of an international team that developed a method for tracking drug pollution "hotspots".
A large number of drugs – analgesics, antibiotics, anti-platelet agents, hormones, psychiatric drugs, antihistamines – have been found at levels dangerous for wildlife.
Endocrine disruptors, for example, have induced sex changes in fish and amphibians.
Bregoli and his team used a common anti-inflammation drug, diclofenac, as a proxy to estimate the presence and spread of other medications in freshwater ecosystems.
Both the European Union and the US Environmental Protection Agency have identified diclofenac as an environmental threat. Veterinary use of it has driven a sub-species of vultures on the Indian subcontinent to the brink of extinction.
More than 10,000km of rivers around the world have concentrations of diclofenac above the EU "watch list" limit of 100 nanograms a litre, the new research found.
"Diclofenac emissions are similar to any of thousands of pharmaceuticals and personal care products," said Bregoli.
Global consumption of diclofenac tops 2,400 tonnes a year. Several hundred tonnes remain in human waste, and only a small fraction – about 7% – of that is filtered out by treatment plants.
Another 20% is absorbed by ecosystems, and the rest go into oceans.
Bregoli and his team developed a computer model to predict current and future pharma pollution based on criteria such as population densities, sewage systems and drugs sales.
They compared the results to data gathered from 1,400 spot measurements of diclofenac toxicity taken from around the world. Most of the data points were in Europe and North America.
Pollution levels are likely to be substantially higher in much of Latin America, Africa and Asia where less than a quarter of waste water is treated, and with technology unable to filter out most pharmaceuticals.
Technology alone cannot solve the problem, said Bregoli.
"We need a substantial reduction in consumption," he said.
In other research presented at the conference, scientists found that the rapid expansion of sewage systems in large urban areas has sharply raised river pollution because much of it is not adequately treated.

World Politics
Russia
United States
World Health Organization condemns attack on rebel-held town outside Syrian capital at weekend
The World Health Organization has said an estimated 500 people went to health facilities with "signs and symptoms consistent with exposure to toxic chemicals" after the attack on the rebel-held town of Douma in Syria at the weekend.
"WHO demands immediate unhindered access to the area to provide care to those affected, to assess the health impacts and to deliver a comprehensive public health response," Peter Salama, the agency's deputy director general for emergency preparedness and response, said in a statement issued in Geneva.
UN aid agencies do not have access to most of the enclave of eastern Ghouta, including Douma where the alleged attack occurred. The Syrian government has denied responsibility for the attack.
The WHO report adds to mounting evidence of the use of toxic gas in the attack, which killed at least 42 people and has raised the prospect of American airstrikes against forces loyal to the regime of Bashar al-Assad.
Medics on the ground in Douma – the last besieged town that was under opposition control in the enclave of eastern Ghouta, near Damascus – reported that hundreds of patients arrived on Saturday night with symptoms of exposure to toxic chemicals.
They said the symptoms, which included frothing at the mouth, suffocation, dilated and constricted pupils, corneal burns, central cyanosis – a blue tinge to the skin – and a chlorine-like odour, were consistent with exposure to an organophosphorus compound. Sarin gas is such a chemical.
The attack appears to have prompted a surrender deal the following day by local rebels. Jaish al-Islam, the dominant opposition group in Douma, agreed to leave the town along with thousands of civilians for northern Syria, after weeks of saying they had no intention of agreeing to a deal that would lead to their forcible exile.
Since then, thousands of the estimated 100,000 people still living in Douma have left on buses heading north. More were expected to leave on Wednesday.

A man and child sit on a road as buses carrying Jaish al-Islam fighters and their families stop at a checkpoint. Photograph: Nazeer a-Khatib/AFP/Getty Images
Douma was the last holdout in eastern Ghouta after other rebel groups agreed to leave other parts of the region, which has been under siege for years and was subjected to multiple chemical attacks in the past.
The worst incident was in 2013 when more than 1,000 people died after the Syrian government launched attacks using nerve agents, which nearly prompted a US intervention in the war.
The possibility of western intervention against Assad was heightened on Tuesday after Russia and its western opponents, the US, UK and France, respectively vetoed duelling resolutions at the UN security council over the latest atrocity.
The UN high commissioner for human rights said the world must react to the use of chemical weapons or risk dire consequences. "After decades when we thought we had successfully outlawed the use of chemical and biological weapons, the world is sitting idly by while their use is becoming normalised in Syria," said Zeid Ra'ad al-Hussein. "This collective shrug to yet another possible use of one of the most ghastly weapons ever devised by man is incredibly dangerous."

Wa Lone and Kyaw Soe Oo to be tried over report on atrocity the army admits took place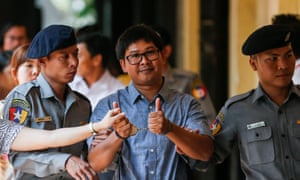 Reuters journalist Wa Lone is escorted to court in Yangon. Photograph: Lynn Bo Bo/EPA
Two Reuters journalists arrested while investigating a massacre of Rohingya Muslims will face trial in Myanmar after a court rejected a motion to drop the case against them.
Reporters Wa Lone, 32, and Kyaw Soe Oo, 27, were detained in December and accused of violating the country's Official Secrets Act for possessing material relating to security operations in Rakhine state that was handed to them by the police.
Myanmar has faced global condemnation and accusations of extrajudicial killings, ethnic cleansing and genocide as about 700,000 Rohingya Muslims fled Rakhine for Bangladesh after a military crackdown on insurgents.
The government rejects the allegations and says it was defending itself against attacks from the Arakan Rohingya Salvation Army that took place in August.
The two reporters have been held in Insein prison in Yangon since their arrest while facing hearings to determine whether the case will go to trial, with 17 out of 25 witnesses having given testimony.
Their lawyers asked the court to dismiss the case last week, citing in part troubling discrepancies in witness statements, but the motion was swiftly rejected in a Yangon courtroom packed with supporters, family and media.
"The court decided that the proposal from the defendants' lawyer to release the defendants before all the witnesses were cross-examined has been rejected," the judge, Ye Lwin, said.
The pair had been investigating a massacre of 10 Rohingya men on 2 September in the Rakhine village of Inn Din that was carried out by security forces and local residents.
The military admitted the atrocity took place and Reuters later published the story while the reporters were in prison.
In a rare punishment in a country where the military has long operated with impunity, seven soldiers were sentenced to jail with hard labour for their part in the killings on Tuesday.
The army has claimed the Rohingya men were terrorists, but has not presented any evidence to back up the claim.
Wa Lone referred to the sentencing of the soldiers as he was being directed back into the police van after the hearing.
"Those who killed people in the mass killing were given a sentence of 10 years. We were simply trying to find out the news and report this and we are facing a trial that could result in us going to prison for 14 years," he said.
One of his lawyers, Than Zaw Aung, also compared the cases: "My question is why are the journalists still in detention in prison if their report is true."