13 Apr
News and Analyses, A Foreign Perspective
Nearly all of these are English-edition daily newspapers. These sites have interesting editorials and essays, and many have links to other good news sources. We try to limit this list to those sites which are regularly updated, reliable, with a high percentage of "up" time.
Report by François Rihouay. A Keep In News production with teams from France 24, Radio Canada, and RCN (Colombia).
Canada has become the new El Dorado for many African migrants, who have seen Europe and the United States close their borders. But they face a dangerous journey across South and North America. Every year, some of them die on their way to a better life, amid widespread indifference to their plight. For five months, our reporters followed Rosette and her family from DR Congo on this long, dangerous odyssey across ten countries.
In the space of five months, Rosette and her family have travelled more than 20,000 kilometres – risking their lives. First, they fled DR Congo for Brazil. Then, from Sao Paulo, where they arrived on a tourist visa, they crossed South America – including the perilous Colombian jungle – before reaching the United States and finally their Canadian El Dorado. They traversed ten countries in total, in the hands of powerful clandestine networks of people smugglers and cartels, and corrupt policemen or soldiers who control the borders. They often crossed paths with cocaine smugglers heading for North America.
During the five months that we spent with Rosette, her husband Godet and their daughters Maria and Pauline, we saw many other migrants heading north to Canada. On this route, where a human life is worth just a few handfuls of dollars, Congolese, Malians, Senegalese, Nepalese and Bangladeshis try to blend in with the flow of South American and Caribbean migrants. But some will never reach their destination.
We spent longer on the most dangerous stage of the journey: a vast stretch of jungle called the Darien Gap, the only way of getting from Colombia to Panama. Finally, we reached the Canadian border, which is seeing an unprecedented wave of illegal migrants crossing daily to seek asylum, all of them desperate for better lives.


A new book published by the Natural History Museum showcases some of the most memorable underwater photographs taken over the last few decades in its annual wildlife photographer of the year competition. The stories behind the pictures – about both the behaviour and the photographers' experiences – are often as interesting as the pictures themselves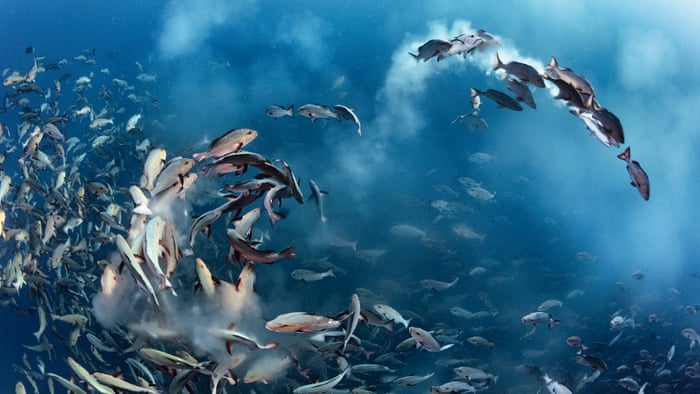 Snapper party by Tony Wu 'Sperm and eggs cloud the sea as a multitude of two-spot red snappers swirl in a fast-moving frenzy of synchronised spawning. It's a drama that takes place over a few days each month off the Pacific island nation of Palau, coinciding with the full moon, when tidal currents are strong. These reef-dwelling snappers gather together to engage in an oceanic orgy that gives the normally solitary fish the best chance of successfully exchanging genes at a spot and time that gives the fertilised eggs the greatest probability of being swept into the open ocean.'
Photograph: Tony Wu/Unforgettable Underwater Photography/NHM

Karen state activists mourning community leader Saw O Moo, who campaigned to protect a local forest and for residents' land rights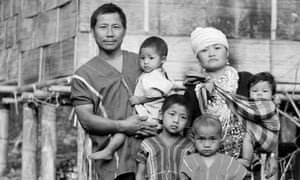 Saw O Moo, the Karen land rights defender, indigenous knowledge holder and peace advocate who was killed, with his family. Photograph: Doh Doh/Karen Environmental and Social Action Network (KESAN)
Indigenous activists in Myanmar's Karen state are mourning the killing of a community leader who campaigned for a peace park to protect a local forest and its residents' land rights.
Saw O Moo was ambushed by government troops on 5 April as he was riding a motorbike with a soldier from the Karen National Liberation Army (KNLA), a rebel group that is fighting for autonomy.
The military has claimed both men were pain-clothes rebels "suspected of sabotage" who were armed with grenades at the time of the shooting, according to the Irrawaddy newspaper.
But colleagues who worked with Saw O Moo say he was a peaceful campaigner who had simply given a ride to the KNLA soldier.
"He was a civilian, and the allegations by the Tatmadaw (Myanmar military) that he was a plain clothes soldier are blatant lies," said Hsa Moo, media coordinator for the Karen Environmental and Social Action Network, which works for indigenous rights in the region.
Saw O Moo worked for the network for 12 years and was involved in the campaign to create a "Salween Peace Park". This is a bottom-up initiative by the Karen people to protect their culture, land and wildlife. Spanning 5,400sq km in the Salween river basin, it covers the habitats of Asiatic black bear and Sunda pangolin, which are threatened by mercury pollution from goldmines and the Hat Gyi hydroelectric project.
The government has never recognised the peace park, which is near an area of skirmishes between the state military and the KLNA. More than 2,000 people have recently been forced from their homes by the upsurge in conflict, which locals say has been driven by government offensives.
On the day of his death, Saw O Moo had reportedly been organising humanitarian aid for the displaced people. Fellow activists say the KLNA soldier he took for a ride – Hser Blut Doh – had been on guard duty at the village. He escaped unharmed during the shooting, but the area remains so tense that the dead man's family have reportedly been unable to reclaim his body.
In a tribute, fellow campaigners remembered Saw O Moo "for his life-long passion and commitment to preserving indigenous Karen cultural traditions, promoting customary land stewardship, and leading local community forest conservation activities".

World Politics
United States
Ex-FBI director's book A Higher Loyalty – seen by the Guardian – calls president 'unethical' and compares presidency to a 'forest fire'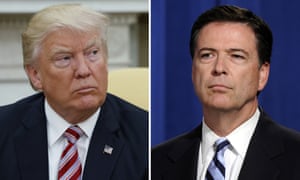 Donald Trump's 'face appeared slightly orange, with bright white half-moons under his eyes where I assume he placed small tanning goggles', James Comey writes. Photograph: AP
The former FBI director James Comey denounces Donald Trump as "untethered to truth" and likens the president to a mafia boss in an explosive new book expected to bring fresh turmoil to the White House.
Comey's book, A Higher Loyalty, out next Tuesday, is published 11 months after he was fired by Trump, who allegedly tried to lean on him to shut down an investigation into his former national security adviser Michael Flynn.
Comey's dismissal triggered the appointment of Robert Mueller as special counsel to oversee the investigation into Russian election meddling and alleged collusion between Moscow and Trump aides. Trump has denied collusion and called the investigation a "witch-hunt".
In Comey's book, obtained by the Guardian from a bookseller in New York, the former FBI chief describes his first trip to Trump Tower in January 2017, to brief the president-elect about the dossier on his links to Russia compiled by the former British spy Christopher Steele.
Comey writes that Trump "appeared shorter than he seemed on a debate stage with Hillary Clinton". He adds: "His face appeared slightly orange, with bright white half-moons under his eyes where I assume he placed small tanning goggles, and impressively coiffed, bright blond hair, which on close inspection looked to be all his. I remember wondering how long it must take him in the morning to get that done."
Comey then describes discussions by Trump's team of the political implications of the dossier and possible strategies when it made the news media, all while intelligence community leaders remained in the room.
I suddenly had the feeling that … the president-elect was trying to make us all part of the same family

James Comey
"Holy crap," Comey writes, "they are trying to make each of us an 'amica nostra' – a friend of ours. To draw us in. As crazy as it sounds, I suddenly had the feeling that, in the blink of an eye, the president-elect was trying to make us all part of the same family."
Comey, who likens Trump's presidency to a "forest fire", repeatedly in the 304-page book paints Trump as a mafia-style boss.
For example, in a discussion of a White House meeting with Trump and then chief of staff Reince Priebus in February 2017, Comey says that "because he never stops talking", Trump "pulls all those present into a silent circle of assent".
"The encounter left me shaken," he writes. "I had never seen anything like it in the Oval Office. As I found myself thrust into the Trump orbit, I once again was having flashbacks to my earlier career as a prosecutor against the mob. The silent circle of assent. The boss in complete control. The loyalty oaths. The us-versus-them worldview. The lying about all things, large and small, in service to some code of loyalty that put the organization above morality and the truth."
Of Trump's now famous demand over dinner at the White House in January 2017, "I need loyalty", Comey writes: "To my mind, the demand was like Sammy the Bull's Cosa Nostra induction ceremony – with Trump in the role of the family boss, asking me if I have what it takes to be a 'made man'."
Comey also considers his experiences as acting attorney general under George W Bush, his appointment as FBI director by Barack Obama and his investigation of Hillary Clinton's use of private email while secretary of state. He recounts a one-on-one interview with Obama, after the 2016 election, in which he is moved "almost to the verge of tears" and tells the 44th president: "I dread the next four years."
Comey writes that he told Trump during that first meeting at Trump Tower he was not under investigation personally, despite the FBI general counsel, Jim Baker, having "argued powerfully" such an assurance could be "misleadingly narrow", given the scope of the investigation into whether the Trump campaign had coordinated with Russia. Trump has repeatedly referred to that assurance.
Describing a visit to the FBI's Manhattan office after the Trump Tower session, Comey writes: "After the uncomfortable conversation I'd just had, it was like taking a shower."
Comey also writes that Trump fixated upon an allegation that he invited prostitutes to his hotel room in Moscow during the Miss Universe event in 2013. In a later call, Comey writes, Trump denied the most lurid allegation, insisting: "I'm a germaphobe. There's no way I would let people pee on each other around me."
"I actually let out an audible laugh," Comey writes, adding: "I imagined the presidential suite of the Ritz-Carlton in Moscow was large enough for a germaphobe to be at a safe distance from the activity."