14 Apr
News and Analyses, A Foreign Perspective
Nearly all of these are English-edition daily newspapers. These sites have interesting editorials and essays, and many have links to other good news sources. We try to limit this list to those sites which are regularly updated, reliable, with a high percentage of "up" time.

Orphaned baby elephants and mating hamlets are among this week's pick of images from the natural world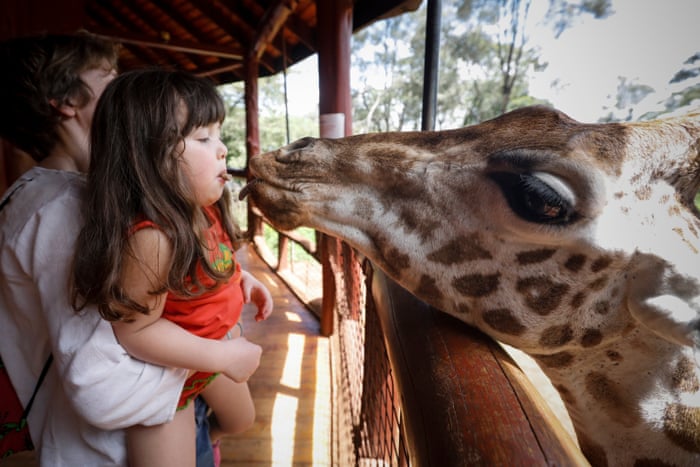 A young girl feeds a Rothschild giraffe with her mouth at the Giraffe Centre in Lang'ata, outside Nairobi, Kenya.
Photograph: Dai Kurokawa/EPA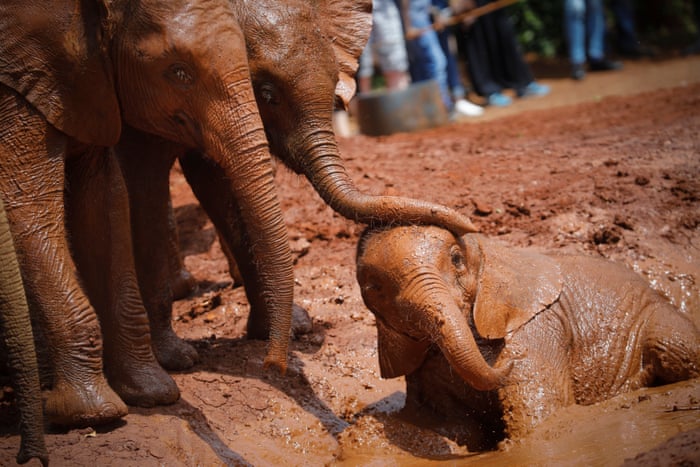 Orphaned baby elephants take a mud bath at the David Sheldrick Wildlife Trust Elephant Orphanage in Nairobi, Kenya.
Photograph: Dai Kurokawa/EPA

Witnesses report loud bangs moments after Trump said he had ordered retaliatory strikes
'A strong deterrent': Trump announces strikes on Syria – video
The US, UK and France have launched more than 100 missiles against what they say were Syrian chemical weapons facilities in response to a chemical weapons attack in a Damascus suburb a week ago.
The Pentagon said the strikes, which began at 4am Syrian time (0200 GMT), involved planes and ship-launched missiles and identified three targets: a scientific research centre in Damascus, a chemical weapons storage facility west of Homs, and another storage site and command post nearby.
Announcing the launching of the action in a seven-minute speech, President Donald Trump said the US was prepared to sustain economic, diplomatic and military pressure on Syria's president, Bashar al-Assad, until he ends what he called the criminal pattern of killing his own people with chemical weapons.
"The evil and the despicable attack left mothers and fathers, infants and children, thrashing in pain and gasping for air. These are not the actions of a man; they are crimes of a monster instead," Trump said.
The Russian president, Vladimir Putin, condemned the airstrikes, saying they would add to the humanitarian catastrophe in Syria, adding that Moscow was calling for an emergency session of the UN security council to debate the military action.
He called the strikes an "act of aggression" that had a "destructive influence on the entire system of international relations".
Highlighting the limited nature of the raids – and the desire to avoid a dangerous escalation – the US defence secretary, James Mattis, said: "Right now this is a one-time shot". The French defence minister, Florence Parly, said Moscow had been warned by France and its allies about the strikes beforehand.
The UN secretary general, António Guterres, said he was closely watching reports of the attack and told the countries involved that they were obliged to act within the guidelines of the charter of the United Nations and "international law in general".
The Russian military claimed Syrian air defences had shot down some of the incoming missiles, including 12 aimed at an airbase, claims that could not be verified. Russia said it had not engaged its own air defences at its air and naval bases in Syria.
As large detonations were visible in several parts of the war-torn country, Syrians crowded on to the streets in noisy demonstrations of defiance and their Russian ally denounced the attack.
After Trump finished his seven-minute address, Theresa May and Emmanuel Macron made separate announcements of British and French participation, stressing that the strikes were limited to Syrian regime chemical facilities, and had no wider goals.
May said there was no alternative to the action the three countries were taking.
Explosions were reported in Damascus moments after Trump's address. Later, a Syrian official said all sites had been evacuated days ago after a warning from Russia.
The Russian ambassador to Washington, Anatoly Antonov, issued a statement threatening "consequences". "A pre-designed scenario is being implemented," the statement said. "Again, we are being threatened. We warned that such actions will not be left without consequences. All responsibility for them rests with Washington, London and Paris."
None of the strikes hit zones where Russian air defence systems protect the Russian bases of Tartus and Hmeimim, Russian news agencies cited the Ministry of Defence as saying.
The Pentagon said in the immediate aftermath of the strikes that while there had been some Syrian air defence fire, it was not clear whether Russian air defences in Syria had responded.

World Politics
United States
As Donald Trump's pardon of Dick Cheney's former chief of staff 'Scooter' Libby makes headlines, we review other contentious pardons and commutations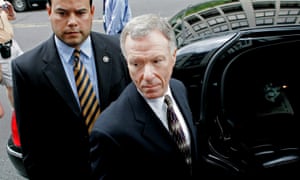 Lewis 'Scooter' Libby, former chief of staff to Dick Cheney, departs federal court in 2006. Photograph: Stefan Zaklin/EPA
Lewis 'Scooter' Libby, pardoned in 2018
The former chief of staff to Vice-President Dick Cheney was convicted of perjury and obstruction for lying about his conversations with reporters about the outed CIA operative Valerie Plame. President George W Bush commuted his 30-month prison term but not his $250,000 fine. According to the New York Times, Bush and Cheney spent their final hours in office arguing over whether Libby should receive a pardon; Bush refused to grant one. Donald Trump pardoned him in 2018, saying: "I don't know Mr Libby but for years I have heard that he has been treated unfairly."
Richard Nixon, pardoned in 1974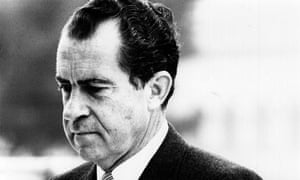 President Richard Nixon was pardoned by his successor, Gerald Ford, after the Watergate scandal. Photograph: Mondadori/Mondadori via Getty Images
In the wake of the Watergate scandal, Nixon became the only US president in history to resign. His successor, Gerald Ford, had barely been in office for a month when he decided to pardon Nixon to avoid a protracted legal process. But, the New York Times reported: "At the White House, switchboard operators said, 'angry calls, heavy and constant', began jamming their boards soon after Mr Ford's announcement."
Ford said in a 1984 interview: "The political fallout was far more serious than I contemplated."

The White House press secretary, Sarah Sanders, gave scathing remarks about the former FBI director James Comey on Friday. Sanders said that firing him was "one of the president's greatest achievements". She was speaking after Comey's book A Higher Loyalty gave a unique insight into working under Donald Trump

Key credits
Directors, producers and cinematographers: Chloe White and Will Davies

Editors: Chloe White, Will Davies and Nina Rac

Executive producers for the Guardian: Charlie Phillips and Lindsay Poulton
An internal battle is simmering among US Christians over whether climate change is a call to protect the Earth, the work of God to be welcomed, or does not exist at all.
Evangelicals have traditionally been the bedrock of conservative politics in the US, including on climate change. But a heated debate is taking pace across the country, with some Christians protesting in the name of protecting the Earth, seeing it as a duty to be done in God's name. ?One group has even built a chapel in the way of a pipeline and a radical pastor has encouraged his congregation to put themselves in the way of the diggers. Meanwhile, a firm supporter of Donald Trump criss-crosses the country promoting solar power.
But there is still the traditional resistance – a climate scientist who denies the world is warming and a preacher in Florida who sees the fact he was flooded as a good sign of divine presence. With stories from across the country featuring pastors and churchgoers, and showing conflict between generations, races and classes, could it be a surprising section of Christian Americans who could provide hope for the country's attitude to climate change?