15 Apr
News and Analyses, A Foreign Perspective
Nearly all of these are English-edition daily newspapers. These sites have interesting editorials and essays, and many have links to other good news sources. We try to limit this list to those sites which are regularly updated, reliable, with a high percentage of "up" time.

Tens of thousands attend emotional service for veteran anti-apartheid activist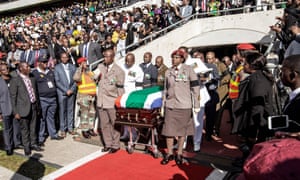 South African military personnel bring in the coffin at Orlando Stadium in Soweto for the funeral ceremony of Winnie Madikizela-Mandela. Photograph: Gianluigi Guercia/AFP/Getty Images
Tens of thousands of South Africans have filled a stadium in Soweto for the funeral service of Winnie Madikizela-Mandela, a heroine of the anti-apartheid struggle in South Africa but also one of its most controversial figures.
Shouts of "Long live Comrade Winnie", "the struggle continues" and "power to the people" rang out around the stadium on Saturday throughout a powerful and emotional service to the activist, politician and former wife of Nelson Mandela.
A joyful and tearful crowd listened, sang and danced to prayers, tributes and the anthems that sustained those fighting for freedom in South Africa through decades of repression.
President Cyril Ramaphosa, dignitaries from around the continent and many of South Africa's most famous political and cultural figures joined rank and file members of the ruling African National Congress and well-wishers from around the country.
In his eulogy, Ramaphosa called Madikizela-Mandela proud, strong, brave and articulate. "Winnie's life was of service to her people, it was a life of compassion … Like many of the great leaders of her generation she understood that the suffering she endured defined society," he said.
"She felt compelled to join a struggle that was as noble in its purpose as perilous in its execution. Loudly and without apology, she spoke truth to power.
"We are a nation hurt by our past, numbed our present, hesitant about the future … she has united us in sorrow. She was our conscience."
Entire stands were packed with red-shirted activists of the populist leftwing opposition Economic Freedom Fighters party, which sees itself as continuing of Madikizela-Mandela's efforts to bring about a radical economic transformation in South Africa.
The stadium is little more than a mile from where Madikizela-Mandela lived during the darkest days of apartheid and until her death.
Thousands have signed a condolence book outside her home on a modest street in the Orlando West neighbourhood, where overcrowded single-storey homes with tin roofs still line the slopes of rocky outcrops.
Among the bouquets piled outside its gate, a new memorial bears the legend "I am the product of the masses, of my country and the product of my enemy", a 1996 quote attributed to Madikizela-Mandela.
Her death has prompted a fierce debate in South Africa between her many admirers and a smaller number of detractors.
"Some praise 'Winnie' because she was a fearless fighter for justice and a feminist icon; others excoriate her because she was a violent egomaniac. The contest has been shrill and depressing in equal measure," wrote Palesa Morudu, a publisher and writer, last week.
During the funeral service, her daughter Zenani Mandela-Dlamini said recent days had shown "South Africa and the world hold men and women to different standards of morality".
"My mother was one of many women who rose up against a nuclear-armed state to bring us the peace and democracy we enjoy today. The battle for our freedom was not some polite picnic to which you arrive with your best behaviour," she said to cheers.
Born in the poor Eastern Cape province, Madikizela-Mandela's childhood was "a blistering inferno of racial hatred", in the words of her British biographer Emma Gilbey.
The young hospital social worker married Mandela shortly before the ANC leader was sentenced to life imprisonment for treason in 1962.
During her husband's 27-year incarceration, Madikizela-Mandela campaigned tirelessly for his release and for the rights of black South Africans. Her courage and defiance brought her a huge personal following.
Tortured and subjected to repeated house arrest, she was kept under surveillance and, in 1977, banished to a remote town in another province.
As the violence of the apartheid authorities reached new intensity, Madikizela-Mandela was drawn into a world of internecine betrayal, reprisals and atrocity.
Within a year, she gave the clenched-fist salute of black power as she walked hand-in-hand with Mandela out of Cape Town's Victor Verster prison on 11 February 1990.
The end of apartheid marked the start of a string of legal and political troubles.

Human rights groups slam move as publicity stunt while Bangladesh distances itself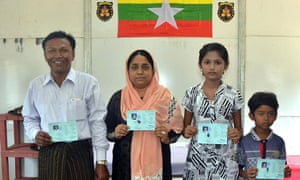 Members of a Rohingya family show their ID cards. Photograph: Ministry of Information
Myanmar says it has repatriated the first Rohingya refugees from among nearly 700,000 who fled a crackdown in the country last year despite warnings from the United Nations that it is not yet safe to return.
Rights groups have criticised the announcement as a publicity stunt and Bangladesh has distanced itself, saying the repatriation was not part of the return process the two countries have been trying to start.
The stateless Muslim minority have been massing in squalid refugee camps across the border in Bangladesh since the Myanmar army launched a brutal campaign against the community in northern Rakhine state in August.
The Myanmar government announced late on Saturday that a family of refugees had become the first to be processed in newly built repatriation centres earlier that day.
"The five members of a family … came back to Taungpyoletwei town repatriation camp in Rakhine state this morning," said a statement posted to the Facebook page of the government's information committee.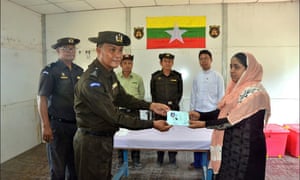 A member of a Rohingya family is issued with her ID card. Photograph: Ministry of Information
Bangladesh's refugee commissioner, Mohammad Abul Kalam, told Agence France-Presse the family had been living in a camp erected on a patch of "no man's land" between the two countries.
Several thousand Rohingya have been living in the zone since August, crammed into a cluster of tents beyond a barbed-wire fence that roughly demarcates the border zone between the two countries.
"They were not under our jurisdiction, therefore we cannot confirm whether there would be more people waiting to go back [to Myanmar]," he told AFP.
Bangladesh and Myanmar agreed a repatriation plan in January but its start has been repeatedly delayed as both sides blame the other for lack of preparation.
According to the Myanmar statement, immigration authorities provided the family with national verification cards, a form of ID that falls short of citizenship and has been rejected by Rohingya leaders who want full rights.
The family members were scrutinised by immigration and health ministry officials and the social welfare, relief and resettlement ministry provided them with "materials such as rice, mosquito netting, blankets, t-shirt, longyis [Burmese sarong] and kitchen utensils", the government said.
Myanmar officials could not be reached for further details and the post did not say whether any more returns were expected soon.
The move comes despite warnings from the UN and other rights groups that a mass repatriation of Rohingya would be premature, as Myanmar has yet to address the systematic legal discrimination and persecution the minority has faced for decades.
The UN has said the military-led operations that started last August amount to ethnic cleansing, but Myanmar has denied the charge, saying its troops targeted Rohingya militants.
Andrea Giorgetta from the International Federation for Human Rights (FIDH) criticised the repatriation announcement as "a public relations exercise in an attempt to deflect attention from the need for accountability for crimes committed in Rakhine state".
Last week, the most senior UN official to visit Myanmar this year, the assistant secretary general for humanitarian affairs, Ursula Mueller, said conditions in Myanmar were not conducive to the return of the refugees.

World Politics
Hungary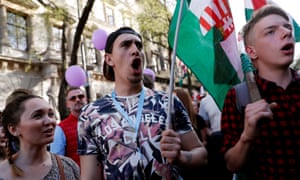 Great Britain
 Britain has been accused of "caving in" to pressure from the governments of Commonwealth states which criminalise homosexuality after doubts emerged over a planned UK effort to promote gay rights at the bloc's upcoming summit in London.
United States
Out of money and out of options, the families camped outside Indonesia's Kalideres detention centre are feeling the pressure
Hazara asylum seeker Sharmila Attaie, 10, in a makeshift shelter outside the Kalideres immigration detention centre in Java. She lives on the street with her brother Farid and their family. Photograph: Kate Lamb
It has been 58 days.
That's how long Farid Attaie has been sleeping on the footpath outside an immigration detention centre in Kalideres, West Jakarta, with his parents, five siblings, and another Hazara family of three.
Less than 20 metres from where they sleep the gates of the full-to-the-brim detention facility are topped with spirals of barbed wire designed to stop people from getting out.
But Farid and more than 300 homeless asylum seekers and refugees camped out on the street in makeshift tents of tarpaulin and bamboo are trying to do the opposite. They want to get in.
After years in limbo in Indonesia this is the end of the line – their money has run out and they have nowhere to go.
In the past asylum seekers would arrive in Indonesia from countries such as Afghanistan, Pakistan, Somalia and Iraq, hoping to board a boat to Australia.
But only a handful of boats have made it to Australian shores in the past three and a half years, and the few asylum seekers who have reached Australia have found themselves exiled – again – to languish indefinitely in Nauru and Papua New Guinea……………….With the support of an Indonesian philanthropist, Badavi assists those needing medical treatment.
Abdul Fatah, a 21-year-old with a rare genetic skin disease, was found living rough
This past month he has helped asylum seekers suffering appendicitis, diabetes, tuberculosis and influenza, and intervened in the extreme case of Abdul Fatah, a young Yemeni man with a rare genetic skin disease called epidermolysis bullosa. The emaciated 21-year-old was found on the streets with blisters, scabs and lesions covering his body.
"I was shocked that with his condition he was staying outside on the street," Hussain says. "That same day we took him to the hospital because it really was an emergency."
In recent weeks things have gone from bad to worse.
The Australian Department for Immigration and Border Protection, part of the new home affairs department, has pulled funding to the International Organisation for Migration to support any new arrivals in Indonesia.
The DIBP is the IOM's principal funder in Indonesia – on 2016 figures US$40m of the organisation US$49m in costs in the country were funded by Australia – so Canberra's diktat means the organisation can no longer support any new asylum seekers, despite their continuing arrival.
"In an attempt to stem the flow of these new irregular migrants to Indonesia, IOM's Australian Government donor (DIBP) has decided, as of 15 March 2018, to cease the previous automatic funding to support any new migrants who were not part of the organisation's caseload effective that date," IOM confirmed in a statement.