16 Apr
News and Analyses, A Foreign Perspective
Nearly all of these are English-edition daily newspapers. These sites have interesting editorials and essays, and many have links to other good news sources. We try to limit this list to those sites which are regularly updated, reliable, with a high percentage of "up" time.

Biodiversity concerns prompt emergency plan to use ferrets to round up the few rabbits left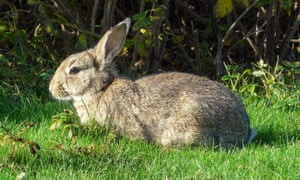 Rabbits play a vital role on Schiermonnikoog, nibbling away at the invasive American black cherry plant.
It is not a pastime for which rabbits usually require much encouragement. But a mystery depletion in numbers on the Dutch island of Schiermonnikoog has led to an emergency effort to coax the local population into breeding … well, like rabbits.
Ferrets are being deployed to chase the reluctant remaining animals out of their warrens and into the hands of conservationists, who are bringing them together, safe from the stress of predators, in the hope that romance will blossom.
It is believed that the number of rabbits on Schiermonnikoog, or Grey Monk island, has been declining for the last three years, although conservationists are only working from the memory of the 947 people who live there.
The concern is that the unexplained decrease could have a negative effect on the biodiversity of Schiermonnikoog, a 9.9-mile-long nature reserve off the northern coastline, which attracts 300,000 visitors a year.
The rabbits play a vital role in nibbling away at the invasive American black cherry, a variety of the woody plant Prunus serotina that gets in the way of other species. Birds on the island are also known to use the rabbit warrens to lay eggs.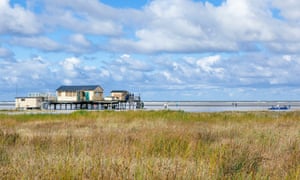 Schiermonnikoog is a 9.9 mile-long nature reserve off the northern coastline that attracts 300,000 visitors a year. Photograph: Getty Images/Robert Harding World Imagery
Jan Willem Zwart, a forester on Schiemonnikoog who is working on the project, said the fall in the rabbit population was already noticeable. "Rabbits eat grasses and saplings that have just come up. That prevents the landscape from becoming closed. We do not know exactly how many rabbits are still here, but we clearly see that the vegetation on the island is increasing," he said. "It has been very difficult to find the rabbits. And that is what we are doing at the moment. It is just the beginning".
The rabbit population has traditionally gone up and down, he said, often due to outbreaks of infectious diseases, such as myxomatosis, a virus introduced into Europe in the 1950s as an agent to control numbers. But the consistently low number of baby rabbits in recent years remains a mystery. Those surviving on the island have largely congregated around the village, Zwart added.
"It might be the wild cats in the dunes that are keeping the numbers down," he said. "We don't know. But we are going to catch a number of rabbits on the island. In the village there are still enough, they like to dig under the houses. In the long run, we want to expand them elsewhere on the island, where they are needed.
"We want to do that in an animal-friendly way. That is why we are going to use … ferreting. The ferret goes into the rabbit hole and chases them out. We will catch them there and put them in a paddock, a safe place away from predators."
It is hoped that in a secure area nature will follow its course, albeit with a little human help.
The project, aided by the Dutch national heritage organisation, the Natuurmonumenten, considered importing rabbits but the paperwork was deemed overwhelming because a permit is required for every animal.

Maksim Borodin was known for reports on private military firm and prison investigations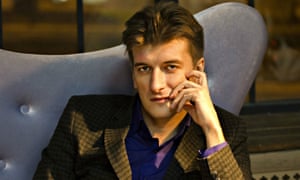 Max Borodin – Facebook profile photo Photograph: Max Borodin/Facebook
A Russian investigative journalist who confirmed the deaths of Russian mercenaries in Syria has died after falling from his fifth-floor balcony in the city of Yekaterinburg.
Maksim Borodin, 32, was a reporter for the Yekaterinburg's Novy Den website, gaining national attention for his reports on the Russian private military company Wagner, and local repute for his investigations into prisons and corrupt officials in his native Sverdlovsk region.
He told journalists in 2017 that he had been hit on the head with a metal pipe shortly after giving an interview on the controversial historical romantic drama, Matilda.
"His work was very dangerous," Vyacheslav Bashkov, a local civil rights activist, told the Guardian by telephone on Monday. "He was one of the best."
Police have not opened a criminal case into Borodin's death, indicating they are treating it as a suicide or accident. But the editor-in-chief of Novy Den said its journalists would need access to Borodin's apartment to assess if there had been foul play.
Polina Rumyantseva told the Guardian reporters from the paper had been in the apartment and did not see any signs of a struggle. It appeared to investigators, she said, that Borodin had gone on the balcony to smoke and had fallen.
"If there's even a hint of something criminal, we will make it public," Rumyantseva told Radio Svoboda.
Borodin's death on Sunday has raised questions in Russia, where 38 journalists have been murdered since 1992, according to the Committee to Protect Journalists. Most of those cases remain unsolved.
"[The] death of journalist Maxim Borodin in #Russia is of serious concern. I call on the authorities for a swift and thorough investigation," Harlem Désir, the representative on freedom of the media for the Organisation for Security and Co-operation in Europe, posted on Twitter. His office said it would be releasing a statement on the case on Monday.
Bashkov, who said he'd worked with Borodin for more than a decade, said Borodin had called him two nights before his death at 5am saying there were men in camouflage and masks outside his building.
After trying to find a lawyer, Bashkov said Borodin called him back to say that the men had left and he must have been mistaken.

World Politics
United States
Sarah Sanders issued a begrudging clarification after being accused of posting a misleading photograph on Twitter of the president directing missile strikes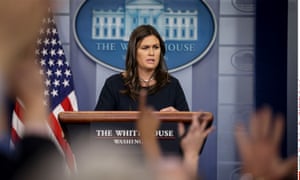 The White House press secretary, Sarah Sanders: 'The photo was taken Thursday in the Situation Room during Syria briefing.' Photograph: Oliver Contreras/Sipa USA/REX/Shutterstock
Donald Trump's press secretary issued a begrudging clarification on Sunday after being accused of posting a misleading photograph of the president online.
Sarah Sanders was criticised for a tweet on Saturday that appeared to show Trump busily directing missile strikes against Syria from the White House situation room, with Vice-President Mike Pence at his right hand.
"Last night the President put our adversaries on notice: when he draws a red line he enforces it," Sanders wrote as a caption.

Keen observers promptly noted that the photograph could not have been taken on Friday as the attacks were mounted – because by then Pence had arrived in Peru to deliver remarks at the Summit of the Americas.
"Fascinating tweet in which Sarah Sanders reveals that Mike Pence was simultaneously in Peru and Washington," said Walter Shaub, the former director of the office of government ethics. "If this new capability doesn't scare our enemies, nothing will."
Sanders on Sunday responded with a new installment from the Trump administration's series of prickly statements in which an inaccurate remark is simultaneously defended and amended.
It said: "As I said, the President put our adversaries on notice that he enforces red lines with the strike on Syria Friday night. The photo was taken Thursday in the Situation Room during Syria briefing."
Trump, who frequently makes untrue statements, last month posted misleading photographs of his own. Pictures supposedly showing the start of work on his much-vaunted border wall in fact showed repairs to an existing fence in California.
The festival takes over the Andalusian capital from 15 April to 21 April attracting thousands of visitors each year. Sevilla society parades around the town in mantillas, in carriages and on horseback