17 Apr
News and Analyses, A Foreign Perspective
Nearly all of these are English-edition daily newspapers. These sites have interesting editorials and essays, and many have links to other good news sources. We try to limit this list to those sites which are regularly updated, reliable, with a high percentage of "up" time.

After Sandy Hook, gun reform collapsed in Congress. Today, the momentum is with young activists: 'These kids are the ones we've been waiting for'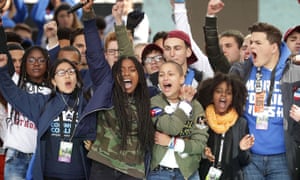 Students from Marjory Stoneman Douglas high school stand on stage with other young victims of gun violence at the end of the March for Our Lives rally in Washington. Photograph: Chip Somodevilla/Getty Images
H

ours after a gunman shot and killed 20 children and six educators at the Sandy Hook elementary school, Barack Obama was visibly struggling with how he would respond to the unspeakable tragedy while huddling with his aides inside the Oval Office.
It was 14 December 2012, the day Obama would later deem the most difficult of his presidency. And although he had largely avoided invoking the issue of guns while addressing the nation on mass shootings before, this time was different – and the president wished to make it known.
As he prepared to address the nation from the White House podium, Obama handed his edits to his speechwriters, Cody Keenan and Jon Favreau, and told them: "So we let the NRA know we're coming after them."
The president was referring to a line he had added to his prepared remarks to signal that thoughts and prayers would no longer be sufficient: "And we're going to have to come together and take meaningful action to prevent more tragedies like this, regardless of the politics," he would say.
The signal quickly evolved into a full-scale campaign by the Obama administration to reform America's gun laws. But five months later, Obama would again appear at the White House to declare a "shameful day" in Washington.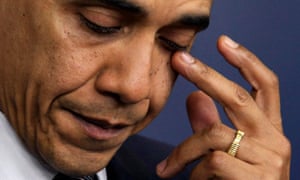 Barack Obama wipes a tear as he speaks about the shooting at Sandy Hook elementary school. Photograph: Yuri Gripas/Reuters
The Sandy Hook massacre in Newtown, Connecticut, shook the the conscience of the nation, but the outcry over the deaths of so many small children was still not enought to move lawmakers to act.
As the US on Tuesday marks the fifth anniversary of the failed push for universal background checks after Newtown, the country finds itself on the verge of another moment of reckoning in the aftermath of yet another school shooting.
Fourteen students and three educators were killed in the 14 February massacre at the Marjory Stoneman Douglas high school in Parkland, Florida, prompting a new wave of activism in favor of gun restrictions.
Advocates believe the renewed campaign, led by the student survivors from Parkland, could prove a watershed moment in their decades-long struggle to counter the powerful National Rifle Association.
But they are also haunted by the familiar political obstacles that undermined, and ultimately killed, the debate following Sandy Hook. In the five years since, the silence in Washington has been overwhelming, despite at least 1,625 mass shootings and more than 1,862 people killed.
On the morning of 14 December 2012, a 21-year-old gunman shot and killed his mother before heading toward the Sandy Hook elementary school with a semi-automatic .223-caliber Bushmaster rifle and two handguns. He fired 154 rounds in five minutes, claiming 26 victims before turning the gun on himself. Details swiftly emerged of the fallen children, aged six and seven, and the six teachers and assistants who died while trying to protect their students.
Hours after the rampage, Obama wiped away tears at the White House podium as he spoke of the "overwhelming grief" felt by parents across America.
"The majority of those who died today were children," the president said. "They had their entire lives ahead of them – birthdays, graduations, weddings, kids of their own."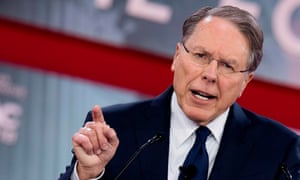 The NRA executive vice-president and CEO, Wayne LaPierre. Photograph: Jim Watson/AFP/Getty Images
In the aftermath, support for stricter gun laws rose sharply. Lawmakers on Capitol Hill, ever reluctant to grapple with the politically contentious issue of gun control, signaled they would consider new restrictions on firearms.
The NRA went silent for a week after the shooting, even taking down its Facebook page amid backlash from the public. The group was not heard from until 21 December, when the executive vice-president, Wayne LaPierre, held a news conference in Washington and struck a defiant tone – blaming liberals, the media and a violent culture, but not guns – for the events at Sandy Hook.
It was then that LaPierre introduced what became a primary talking point of the pro-gun movement: "The only thing that stops a bad guy with a gun is a good guy with a gun."
The Obama administration had not planned on gun reform ranking among the top priorities of the president's second term. The White House was instead eyeing a campaign for comprehensive immigration reform as Obama's first act following his 2012 re-election.
But the ritual of comforting the nation after a mass shooting had become all too familiar for a president who in four short years had already borne witness to several tragedies: Fort Hood in November 2009; Tucson in January 2011; Aurora in July 2012; and Oak Creek in August 2012.
"They all had this terrible rhythm to them," said Keenan, the Obama speechwriter. "You start seeing tweets that there's been a shooting somewhere … The president goes and says something, and the country moves on."
But Newtown marked a turning point for Obama. "It would have been a massive failure of leadership if he didn't even try. And he knew that," Keenan said.
In the subsequent weeks, Obama announced 23 executive actions to curb gun violence, relatively modest in their scope, and called for Congress to pass extensive reforms to the nation's gun laws, including a ban on assault weapons and high-capacity magazines, an expansion of background checks and a crackdown on gun trafficking.
Lawmakers in the Democratic-led Senate began closed-door negotiations, with prospects unlikely that the Republican-controlled House would be the first legislative body to move.
A rare bipartisan breakthrough was established by Senator Joe Manchin, a pro-gun Democrat from West Virginia, and Senator Pat Toomey, a reliably conservative Republican from Pennsylvania. Their bill, known as Manchin-Toomey, would have expanded background checks to cover unlicensed dealers at gun shows and online sales.
The idea of universal background checks had already been gaining momentum. Support for the concept soared to 90% among the American public after Sandy Hook.
The Sandy Hook families traveled to Washington to implore lawmakers to take action. As the Senate voted to begin debate on gun control, Senator Chris Murphy, a Democrat from Connecticut, paid tribute to the victims inside the chamber. Dylan Hockley, a six-year-old victim, beamed in a Superman shirt from a photo displayed behind Murphy and became one of the faces of reform.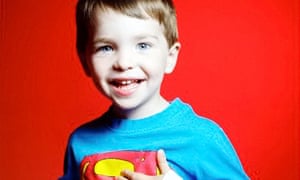 Dylan Hockley. Photograph: Rex/Shutterstock
As the crucial vote came around, Obama handed the task of delivering his weekly presidential address over to Francine Wheeler, whose six-year-old son, Ben, was murdered inside the school.
Elsewhere, the NRA was mounting a campaign of its own. Despite scoring a number of concessions in negotiations around Manchin-Toomey, the group went on to oppose the bill anyway.
In an attempt to pressure lawmakers, the NRA vowed to "score" how senators voted on the bill, in effect warning that going against the gun lobby would spell electoral consequences.
By the time the vote series came around on 17 April, the margins for Manchin-Toomey were razor thin. The nation's attention had already shifted elsewhere: two days prior, a terrorist attack had occurred at the Boston Marathon, leaving three people dead and several injured. An intense manhunt for the two suspects was unfolding.
The Senate commenced a procedural vote on Manchin-Toomey, as the Sandy Hook parents looked on from the gallery. A series of other proposals, such as bans on assault weapons and high-capacity magazines, had already been swatted away.
As silence fell over the chamber, the bill was blocked by a Republican-led filibuster, with four Democrats joining them in opposition.
A visibly angry Obama, flanked by victims' families outside the White House, declared the loss "round one".

World Politics
France
French president calls for defence of European liberal democracy in face of illiberalism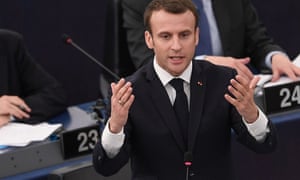 Emmanuel Macron: 'In the future, we must struggle to defend our ideals.' Photograph: Frederick Florin/AFP/Getty Images
Emmanuel Macron has likened the political divisions in Europe to a civil war and warned against growing illiberalism on the continent.
In his first speech to the European parliament, the French president called for the defence of a European liberal democracy that offered protection of the rights of its minorities, and attacked those who took their countries out of the EU to pursue fairytale "adventures".
"I am for the most integrated and closest possible relationship after Brexit, and there's a well-known solution – it's called EU membership," he said.
The vast majority of the speech was, however, about the future without the UK, and the need for the 27 other EU member states to be united in opposition to the emergence of the nationalist authoritarian traits of the past.
Without naming the Hungarian prime minister, Viktor Orbán, who recently won a landslide victory after a campaign that played on voters' fears of immigration, Macron was scathing of politicians who scapegoated migrants.
"There seems to be a certain European civil war: national selfishness and negativity seems to take precedence over what brings us together. There is a fascination with the illiberal, and that is growing all the time," he told MEPs.
"In the future, we must struggle to defend our ideals … This is a democracy that respects individual minority fundamental rights, which used to be called liberal democracy, and I use that term by choice. The deadly tendency which might lead our continent to the abyss, nationalism, giving up of freedom: I reject the idea that European democracy is condemned to impotence.
"I don't want to belong to a generation of sleepwalkers, I don't want to belong to a generation that's forgotten its own past," he said.
Echoing Tony Blair's 2005 appearance at the European parliament, during which he tackled Nigel Farage head-on to rapturous applause, Macron picked out the Front National for comment.
"You were elected to this assembly by the French people, sir," the president said. "Perhaps you shouldn't have come."
Macron also passionately defended the military strikes by the US, the UK and France last weekend against the Syrian regime's chemical weapons infrastructure. "Do we sit back, do we defend [human] rights by saying: rights are for us, principles are for us, and realities are for others? No, no!" he said.
The speech was heartily welcomed by Jean-Claude Juncker, the European commission president, but received a lukewarm response from others, including Manfred Weber, the German MEP who leads the European People's party, within which Orbán's MEPs sit.
Weber told Macron that Europe welcomed his election, but people should not be divided into good and bad Europeans.
"Some people call this the old Europe. I call this the democratic Europe," Weber said, gesturing to the ranks of MEPs representing parties ranging from Communists to the far right.
Macron's address was nevertheless generally well received. In a thinly veiled reference to Russia, Macron said the EU was battling against "authoritarian powers … with a clear strategy to call into question the multilateral system".
"We are seeing authoritarianism all around us and the response is not authoritarian democracy, but the authority of democracy," he added.

United States
The killing of 26-year-old Diante Yarber, who is believed to have been unarmed, is being called a brutal case of excessive police force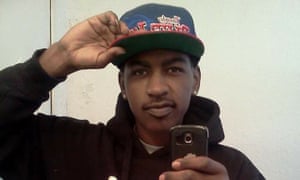 Diante Yarber was driving his cousin and friends to a local Walmart when he was shot and killed by police on 5 April. Photograph: Courtesy Brittany Chandler
California police fired what sounded like more than 30 bullets at a packed car in a shopping store parking lot, killing a black father of three and injuring a young woman in the latest US law enforcement shooting to spark backlash.
Police in Barstow, two hours outside of Los Angeles, killed 26-year-old Diante Yarber, who was believed to be unarmed and was driving his cousin and friends to a local Walmart on the morning of 5 April. Police have alleged that Yarber was "wanted for questioning" in a stolen vehicle case and that he "accelerated" the car towards officers when they tried to stop him, but his family and their attorney argued that the young father posed no threat and should not have been treated as a suspect in the first place.
"The police took him away for no reason," said Brittany Chandler, the mother of Yarber's 19-month-old daughter, Leilani. "The police should be held accountable for this … They are sick people for them to be able to shoot someone down in broad daylight."
The shooting happened weeks after police in northern California killed Stephon Clark, an unarmed father who was standing in his family's back yard. Though Yarber's killing has not prompted massive rallies, both shootings have shone a harsh light on the way police continue to aggressively use lethal force in black communities, even in a liberal state where the Black Lives Matter movement has long protested against police violence and racism.
The San Bernardino county sheriff's department said officers were responding to a "call of a suspicious vehicle" and attempting a "traffic stop" when Yarber, the driver, "suddenly reversed the vehicle" and hit a patrol car and then allegedly accelerated. Blurry footage from a witness captured the sounds of dozens of rounds fired in rapid succession, with one or more officers firing at the car, not far from bystanders and shoppers in the lot.
Lee Merritt, an attorney for the family, said Yarber, who was known by the nickname "Butchie", was not armed and that the car posed no danger to officers when they began spraying him with bullets.
"They saw a car full of black people sitting in front of a Walmart, and they decided that was suspicious," said Merritt. "They just began pouring bullets … It's irresponsible. It's dangerous. It's mind-boggling, the use of force."
A police spokeswoman said "involved officers" were on "paid administrative leave", but declined to disclose the number of bullets shot and officers who fired. Police labeled the incident an "assault" on an officer, but Dale Galipo, an attorney representing the 23-year-old woman hit in the car, said the investigation so far has revealed Yarber was unarmed and that officers were not in the path of the vehicle, which means they should never have discharged their weapons, let alone fire a barrage of bullets.
Galipo said his client was struck by at least two shots and suffered "serious injuries", adding, "She's still in a state of shock."
Yarber was also driving his cousin's car at the time, which was never reported stolen, said Aleta Yarber, Diante's aunt, who said she has since retrieved the car and that it did not appear it had rammed into police vehicles. Police did not respond to inquiries about the claims that Yarber was a car theft suspect.
Aleta's son was in the car at the time of the shooting, but the bullets missed him. In the weeks since, "He has not been able to say much of anything," she said. "It was very traumatizing."
Merritt said he believed Yarber was trying to shield others in the car from bullets when he was hit, adding that the 23-year-old woman in the back was initially placed in a police car and treated like a suspect before officers got her medical attention.
Ruby Hawkins, Yarber's sister, said local police often harassed her brother and that the officers should face criminal charges for killing him. "They are the biggest criminals. They are bullies with badges … I don't know how you can fear for your life with a person that is moving away from you."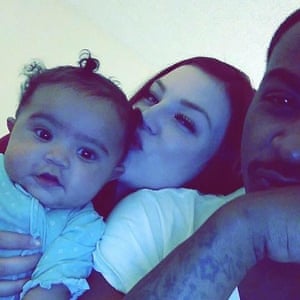 Diante with Brittany Chandler and their daughter Leilani. Photograph: Courtesy Brittany Chandler
Hawkins, 40, said her brother had a job working at a warehouse and that she saw him the night before he was killed. "You see this all the time, but you never in a million years think you'll be the one crying about a loved one killed at the hands of police."
Training and policy dictates that police should not fire at moving vehicles, said Galipo, noting that these kinds of killings are avoidable and particularly dangerous. Last year, undercover police in Hayward, California, attempted to shoot a driver they were trying to arrest and instead killed a 16-year-old girl sitting in the passenger seat.
"It still doesn't even feel real. I wish I could just wake up and it would be a dream," said Chandler, adding it was difficult to imagine her daughter growing up without Yarber. Police probably targeted him because he was black, added Chandler, who is white: "They would've never drawn their guns on me."

Social media video shows arrests of black men at Philadelphia Starbucks – video
Source: Reuters/Melissa Depino


The Guardian's picture editors bring you a selection of photo highlights from around the globe, including pro-Assad demonstrations in Damascus, end of the Gold Coast Commonwealth Games and the Coachella festival in California