18 Apr
News and Analyses, A Foreign Perspective
Nearly all of these are English-edition daily newspapers. These sites have interesting editorials and essays, and many have links to other good news sources. We try to limit this list to those sites which are regularly updated, reliable, with a high percentage of "up" time.
By Olivia Kelleher
The Catholic Communications Office has defended a decision by a Cork church to have a speaker address the congregation about the forthcoming referendum on abortion.
It comes after a woman contacted a local radio station to say that she walked out of an anniversary mass because she didn't want to be at a "rally".
The woman told the Neil Prendeville show, on Cork's Red FM, that she was at an anniversary mass in a church in the diocese of Cork and Ross last Saturday night when the priest decided to read the Bishop's letter about the forthcoming referendum in its entirety.
She said she has great respect for Bishop John Buckley and was quite willing to sit through the letter.

Bishop John Buckley
However, her personal difficulties with the Mass arose when the priest mentioned that a speaker would be coming up to the altar after communion to talk about the abortion referendum.
"What I was taken aback by is that, obviously, we have a very important referendum coming up.
"The priest after the gospel he explained that he had a letter from Bishop Buckley in response to the Repeal the Eighth Referendum and that there was a copy of the letter if anyone wanted to take it with them. I thought 'fair enough'.
"I had every intention of taking a copy of the letter home with me. He then proceeded to read the letter. He read it very well.
"I was in a small Mass with family members I didn't want to disrespect as I was there for a family member's memorial. He said "a member of the Pro-Life campaign will be speaking after communion.
"I thought 'hang on, I have come to Mass. I haven't come to a pro-life rally."
The woman said she was among about eight people who left the Mass at communion.
"I am pro-choice but I am not necessarily pro-abortion.
"I said to my mum 'I am really sorry you know I am here but I can't sit here physically.' I didn't sign up for a pro-life rally. I was just going to Mass. I just felt it was so inappropriate."
In a statement, the Catholic Communications Office said that the Diocese of Cork and Ross from time to time invites and allows experts and experienced speakers to address congregations at Sunday masses and other parish celebrations on important issues.
These topics include "respect for human life," "social justice issues" and the "promotion of the Gospel by missionaries."
They said: "The bishop, in collaboration with the Council of Priests, have agreed that appropriate speakers can be considered by local priests to address a congregation in relation to the forthcoming pro-life referendum.

Arms control experts have signed a statement warning international constraints will expire in 2021 unless a new nuclear deal is reached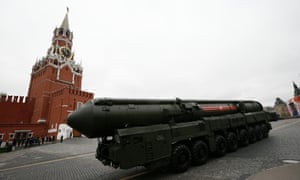 A Russian Topol M intercontinental ballistic missile launcher rolls along Red Square during the 2017 Victory Day military parade in Moscow. Photograph: Alexander Zemlianichenko/AP
The US and Russian nuclear arsenals could soon be unconstrained by any binding arms control agreements for the first time since 1972, triggering an expensive and dangerous new arms race, a group of former officials and experts from the US, Europe and Russia has warned.
In a statement to be published on Wednesday, the signatories point out that the 2010 New Start treaty limiting the deployed strategic warheads and delivery systems of the US and Russia, will expire in February 2021, unless urgent steps are taken to extend it.
Meanwhile, the Intermediate Nuclear Forces (INF) agreement is in danger of collapse, amid US accusations of Russian violations of the pact with the development of a new land-based cruise missile, and the Trump administration's threat to develop a similar weapon in response.
Both Vladimir Putin, in recent statements, and Donald Trump, in his administration's nuclear posture review, have declared plans to modernise and upgrade their arsenals involving new nuclear weapons capabilities.
The threatened return to an arms race between the world's two biggest nuclear powers comes at a time of high tension in relations between Washington and Moscow, when US, Nato and Russian forces are operating in close proximity in eastern Europe and Syria.
"Without a positive decision to extend New Start, and if the INF Treaty comes to an end, there would be no legally-binding limits on the world's two largest nuclear superpowers for the first time since 1972, and the risk of unconstrained US-Russian nuclear competition would grow," the statement warned.
The statement is signed by former senior arms negotiators from the US and Russia, a former Russian chief of staff, Gen Victor Esin, former UK defence minister Des Browne and retired US senator Richard Lugar.
The US and Russia have stuck to the terms of New Start, which was signed eight years ago by their then presidents, Barack Obama and Dmitry Medvedev. It has been an exception to Donald Trump's determination to erase his predecessor's foreign policy record.
By the treaty's deadline of February this year, both countries declared they had met its limits of 1,550 deployed strategic warheads, and 700 fielded delivery platforms such as intercontinental ballistic missiles (ICBMs), submarine-launched ballistic missiles and nuclear-capable bombers.
The treaty allows a five-year extension by mutual consent. Moscow has said it was open to discussion on the issue, and in an interview in March, Putin voiced interest in an extension or even possible further cuts in warhead numbers.
When he called to congratulate Putin on his re-election in March, Trump invited Putin to a summit "in the not too distant future to discuss the arms race, which is getting out of control".
The Trump administration had put off any consideration of extending New Start until its nuclear posture review was complete and Russian met its treaty obligations by the February deadline. With those milestones reached, the top Pentagon official for nuclear and missile policy, Rob Soofer told the Senate on 11 April, "we're going to begin a whole of government review of the pros and cons of extending that treaty."
Trump's new national security adviser, John Bolton, has been a persistent critic of the INF treaty and New Start, which he has derided as "unilateral disarmament". Republican hawks in the Senate, like Tom Cotton, have also declared their intention to pull the US out of the treaties.

World Politics
Chris Riddell on a few home truths from the Kremlin
United States
Republican Senate majority leader says bill is 'not necessary' because Trump will not fire special counsel, despite bipartisan fears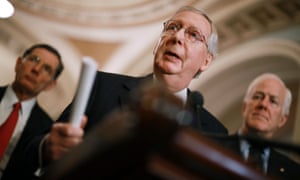 Mitch McConnell's remarks came shortly before the Senate judiciary committee is expected to weigh a bipartisan bill addressing who can fire a special counsel. Photograph: Chip Somodevilla/Getty Images
The Senate majority leader, Mitch McConnell, has said he will not allow a vote on a bill that would protect the special counsel Robert Mueller from being fired by Donald Trump, despite bipartisan concern that the president will act on an impulse to end the Russia investigation.
McConnell said on Tuesday that he did not believe legislative action was necessary because Trump would not fire Mueller, who is overseeing the FBI investigation into possible collusion between Trump associates and Russia.
"I don't think he should fire Mueller and I don't think he is going to," McConnell said during an interview on Fox News on Tuesday. "So this is a piece of legislation that's not necessary, in my judgment.
He continued: "I'm the one who decides what we take to the floor," he said. "That's my responsibility as the majority leader and we will not be having this on the floor of the Senate."
McConnell's comments come days before the Senate judiciary committee is expected to consider the Special Counsel Independence and Integrity Act, a bipartisan bill that is a compromise between two rival plans. The legislation, written by the Republican senators Thom Tillis of North Carolina and Lindsey Graham of South Carolina, and the Democratic senators Cory Booker of New Jersey and Chris Coons of Delaware, would codify regulations limiting who can fire a special counsel.
The bill would also provide the special counsel a 10-day window during which the special counsel could seek an expedited judicial review by a panel of judges to determine if the removal was justified. If the judges determined that it was not and the firing violated the "good-cause requirement", the termination would be reversed.
While the effort has attracted bipartisan support, Republicans remain broadly opposed to the bill, with several members of the caucus questioning the constitutionality of such legislation. The Republicans who support the bill, including Graham and Tillis, say they too don't believe Trump will fire Mueller and have tried to cast the effort as good policy rather than a response to the mounting public tensions between the president and the special counsel.
McConnell added during the interview that Trump would never agree to the legislation, even if Congress passed it.
"Just as a practical matter, even if we pass it, why would he sign it?" McConnell said.
Trump has publicly attacked the Russia investigation as a "witch-hunt" and has reportedly ordered Mueller's firing on at least two occasions. Last week, after a raid to seize documents from his personal lawyer by a separate division of the FBI, Trump lashed out on Twitter, calling the investigation an "attack on our country". He has publicly criticized Mueller and Rod Rosenstein, the Department of Justice official overseeing Mueller's investigation.
 .

Justin Trudeau is bailing out a Texas oil billionaire. He should be bailing out Canada's workers and the climate.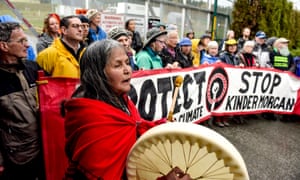 Indigenous leaders and supporters block the entrance to the Kinder Morgan pipeline project terminal work-site in Burnaby, British Columbia, Canada on April 7, 2018. Photograph: Rogue Collective
Last Saturday, Indigenous leaders stood arm-in-arm in front of the gates of Kinder Morgan's pipeline worksite in Burnaby, British Columbia.
For weeks before, hundreds of non-native people – environmentalists, federal parliamentarians Elizabeth May and Kennedy Stewart, even an engineer formerly employed by the Texas oil corporation – had marched to the same place. In each case, police approached, read aloud their violation of a no-go zone, and arrested and shackled them.
Now it was the turn of half of the leadership of the Union of BC Indian Chiefs, including Grand Chief Stewart Phillip. They waited in the rain for hours. But the police never came.

It wasn't an accident. As the push for this pipeline has transfixed the country, there's one image the oil industry and Canadian government desperately want to avoid: that of Indigenous peoples as the unifying front of a rising movement for an alternative.
The media has thus far done them the favour. We've heard little about the Tsleil-Waututh and Squamish, the coastal First Nations who've taken the federal government to court. We've heard even less about the Secwepemc in the interior of BC – whose lands cover almost half of Kinder Morgan's route – who are building solar-panelled tiny houses directly in the pipeline's path. And we've heard nothing about the Lubicon, Athabasca Chipewyan and Beaver Lake Cree downstream of the Alberta mines, who first raised the cry of concern about Canada's future with the tar sands.
They understand what the Alberta and Canadian governments seem to not. To prevent climate breakdown, we must stop oil companies from digging up new deposits of fossil fuels. Government boosters of each pipeline project have instead sent a very clear message: to hell with our climate commitments. So Indigenous peoples have done what our governments will not: they've drawn a line.
At a meeting in Alberta ten years ago, long before the world knew of the tar sands, a young Indigenous activist named Clayton Thomas-Mueller pointed at a map of proposed pipelines, sprawling like tentacles across North America. "This map traces where our allies will emerge," he predicted.
And so we've seen new, diverse coalitions of Indigenous and non-Indigenous people spring forth in the pathway of the Northern Gateway, Keystone XL, and Energy East pipelines. Each has been stalled or halted. Kinder Morgan's TransMountain expansion – tripling its carrying capacity – is the latest. The thousands who've flocked to Burnaby mountain the last weeks now know that real climate leaders aren't found in legislatures. They're found mounting blockades on the ground.