19 Apr
News and Analyses, A Foreign Perspective
Nearly all of these are English-edition daily newspapers. These sites have interesting editorials and essays, and many have links to other good news sources. We try to limit this list to those sites which are regularly updated, reliable, with a high percentage of "up" time.

Irish student nurse, Tara Nic Chormaic has taken to Facebook to post this emotional letter to Minister Simon Harris.
The 28-year-old opened up about her struggle to live on €6.49 a week and describe the hellish conditions student nurses are forced to endure in Irish hospitals.
She talked about nurses who sleep in their cars and new graduates who are not able to afford their rent and mortgages or even dream of ever getting a mortgage without moving away.
Since it lengthy post was published it has been shared over 3,000 times.
Minister Harris has not yet responded to the letter.
Read the post in full below:
Dear Mr Harris,
I don't know of any other undergraduate courses in Ireland outside health-sciences where one day your bringing life into the world, and the next holding the hands of someone leaving this world. Comforting families who've been totally broken apart. Nurses are glue. We hold teams, families, friends and patients together. We try and stop people from taking their own lives, instill hope. Many of us can't do it for ourselves.
Why are student nurses going home crying at the end of a week of 39hours unpaid placements and a further 36 hours of their normal jobs to keep a roof over their heads because student grants are just a drop in the ocean to helping with student debt.
Student Nurses although officially "not counted in the numbers" are being counted in the numbers on wards. To the point without students the wards would collapse at times.
You keep talking about retaining nurses. If we don't get treated well in training why would we think it'll be any better when we qualify. We see the stress qualified nurses are under to feed their families and keep a roof over their head as it is. Nurses sleeping in their cars. New graduates not able to afford their rent and mortgages or even dream of ever getting a mortgage without moving away.
Despite this we go in day after day and care for everyone else when we can't care for ourselves.
This week I had €6.49 to spend on food. More than normal. To keep me going for a week.
Not sure if you know but Nursing is a physically and mentally demanding job. You need energy. Energy comes from food and sleep. Two basics that I just don't get because I choose in the face of adversity to better myself. To do what I've always wanted to do and become a nurse. To help others.
I'm a Children's and General Nursing student. Everyone tells me I'm incredibly lucky to be in such a prestigious course and how it'll stand to me and be worth it in the end. €28768 a year as a staff nurse. €2791 I earn extra a year for having dual qualification.
Four and a half years of studying and doing the same workloads as General Nursing students at the same time as covering the extra work, study, assignments, exams, placements and stress of doing the Children's Nursing aspect for €2791 extra a year when I qualify. That doesn't even cover one years student contribution fee. That doesn't touch the student loans I've had to take out because of the cost of living (and it's far from a fancy life I live).
Student and Staff Nurses are burnout. The conditions and pay we are working under are beyond shocking.
The job we do is worth so much more. We are worth so much more. When will you see that?
Tara
Cubans view shift with indifference, not hope, as current vice-president Miguel Díaz-Canel is expected to replace Raúl Castro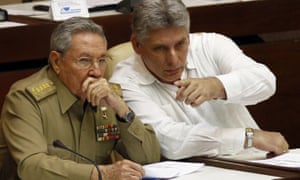 President Raúl Castro of Cuba, left, and Vice-President Miguel Díaz-Canel in 2013. Díaz-Canel is expected to take Castro's place as Cuba's next president this week. Photograph: Ismael Francisco/AP
When Cuba's president stands down this week, it will mark the first time in nearly six decades that the island will be led by somebody whose last name is not Castro.
On Wednesday, the country's national assembly selected the current vice-president, Miguel Díaz-Canel, as the sole candidate to replace Raúl Castro, in a nomination likely to be backed unanimously and officially announced on Thursday.
The handover will mark the end of an era: Cuba without the Castros has been the holy grail for Florida-based Cuban exiles – and a policy vigorously pursued by a dozen successive US presidents. But on the streets of Havana, indifference – not hope – is in the air.
No posters or billboards referring to the changeover are to be seen, the identity of the new leader is hardly a topic of conversation, and nobody doubts that the existing political system will remain intact. As the Cuban saying goes: nobody can fix it, but nobody can knock it down.
"A new president isn't going to change anything so it's not important for me," shrugged María Victoria Esteves, 27, on her way to buy bread. "I think everything's going to stay the same."
Yadiel Sintra, 30, a builder working in Cuba's private sector, said he wasn't even aware the country was about to get a new president. "I've just found out talking to you!" he said.
Díaz-Canel is widely expected to represent continuity, and few Cubans expect any dramatic shift, said Rafael Hernández, a political analyst and member of the Communist party.
There are no direct presidential elections in Cuba. When legislators for the National Assembly were elected this March, 605 candidates stood unopposed. Every one was elected.
"If a new president were to represent a fundamental change in people's lives, Cubans would be very focused on this," he said. "But the fact is they don't see it like this."
Though relieved of the presidency, Castro, 86, will remain a political presence, staying on as first secretary of the Communist party until 2021.
"The new president will have more power in the day-to-day," said Hal Klepak, author of a biography of Raúl Castro. "But whenever there are crises or major problems with the US, foreign policy, or the economy, Raúl's word will remain the last word."
Díaz-Canel, a cautious reformist hand-picked by Raúl Castro, will be expected to walk the tightrope of implementing more market-oriented reforms without sacrificing Cuba's social policies
Health and education remain free at the point of use in Cuba. The country has the most doctors per capita of any country in the Americas, and life expectancy is 79. And while Cubans on state salaries feel the pinch when buying meat and vegetables, essential foodstuffs are guaranteed by the state.
Human rights groups say that the government continues to punish dissent and public criticism.
The number of long-term political prisoners in Cuba dropped significantly under Raúl Castro, as the government shifted from long-term incarceration to short-term arrest and release, which typically lasts hours. But the Cuban Commission for Human Rights and National Reconciliation say that last year more than 5,000 people were arrested for political reasons.

World Politics
United States
Opinion

Donald Trump Vladimir Putin
As Trump threatens to fire Mueller, a journalist who was reporting during Nixon's Saturday Night Massacre reads the warning signs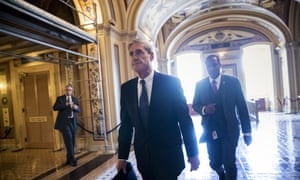 Robert Mueller departs the Capitol after a closed-door meeting with members of the Senate judiciary committee on 21 June 2017. Photograph: J. Scott Applewhite/AP
Ever since the Watergate scandal of the 1970s, the golden rule for presidents under investigation by a special prosecutor or special counsel has been that the president shall not fire the person conducting the investigation. For there – as medieval maps sometimes warned travelers – "be dragons".
Donald Trump has been lectured repeatedly on this score by various advisers and pundits. Yet word keeps leaking out of the White House that Trump would like nothing more than to fire Robert Mueller. So far, Trump has heeded the warnings. But how much longer, one wonders, can a man who famously bragged that he could shoot someone on Fifth Avenue and get away with it be expected to resist temptation to dismiss the special counsel?
Since May 2017, Mueller, dogged as Inspector Javert in Les Misérables, has been investigating assorted misdeeds allegedly committed by Trump and his aides – from "collusion" with Russians meddling in the 2016 presidential election to the payment of large sums of hush money to a porn actor and a former Playboy model.
Mueller has already either indicted or wrung guilty pleas from 19 people, including Trump's former campaign chair. What's more, it appears that Mueller is following a trail left by former FBI director James Comey, whom Trump did fire last year, on a possible obstruction of justice charge against the president.
Clearly, Trump is feeling pinched and would like the cause of his pain to vanish. So let us review the short history of that golden rule everyone keeps warning him about.
The very next day, Nixon ordered his attorney general, Elliot Richardson, who had appointed Cox the previous May, to fire him immediately. Richardson refused and resigned.
His successor in the justice department's chain of command, the deputy attorney general, William Ruckelshaus, likewise refused and resigned.
Next up was the solicitor general (and acting attorney general), Robert Bork, who obeyed the president's order, fired Cox and kept his job. The White House announced the firing – soon dubbed "the Saturday Night Massacre" – at 8.35pm that same night.
As a member of Time magazine's Watergate reporting team, I well remember that night 45 years ago. Normally, by 8.30pm on a Saturday night, the magazine was entering the final stages of its weekly production cycle. But on this Saturday night, Time's Washington bureau was in all-out crisis mode – correspondents, including me, were frantically phoning sources in Congress, in the White House, in the justice department, at the FBI and anywhere else imaginable, trying to learn what precisely had happened and why and what the ramifications were. Until the previous December, I had been on a three-year assignment, covering the Vietnam war. So I was not unfamiliar with what it felt like to report under pressure. But this situation was something completely new to me.
Report chronicles 'mass mortality', the extent and severity of which has shocked scientists
Ben Smee
Great Barrier Reef: 30% of coral died in catastrophic 2016 heatwave – video
Scientists have chronicled the "mass mortality" of corals on the Great Barrier Reef, in a new report that says 30% of the reef's corals died in a catastrophic nine-month marine heatwave.
The study, published in Nature and led by Prof Terry Hughes, the director of the ARC Centre of Excellence for Coral Reef Studies, examined the link between the level of heat exposure, subsequent coral bleaching and ultimately coral death.
The extent and severity of the coral die-off recorded in the Great Barrier Reef surprised even the researchers. Hughes told Guardian Australia the 2016 marine heatwave had been far more harmful than historical bleaching events, where an estimated 5% to 10% of corals died.
"When corals bleach from a heatwave, they can either survive and regain their colour slowly as the temperature drops, or they can die," Hughes said. "Averaged across the whole Great Barrier Reef, we lost 30% of the corals in the nine-month period between March and November 2016."
The scientists set out to map the impact of the 2016 marine heatwave on coral along the 2,300km length of the Great Barrier Reef. They established a close link between the coral die-off and areas where heat exposure was most extreme. The northern third of the reef was the most severely affected.
The study found that 29% of the 3,863 reefs that make up the Great Barrier Reef lost two-thirds or more of their corals.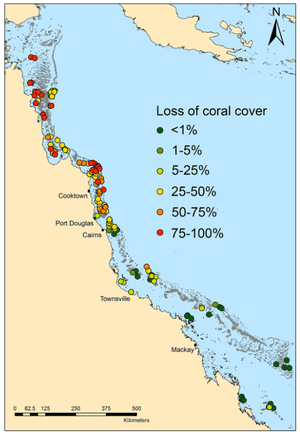 The loss of coral cover along the Great Barrier Reef in 2016. Photograph: Nature/Hughes et al. 2016
Hughes said researchers were also surprised at how quickly some corals died in the extreme marine temperatures.
"The conventional thinking is that after bleaching corals died slowly of … starvation. That's not what we found. We were surprised that about half of the mortality we measured occurred very quickly."
The study found that "initially, at the peak of temperature extremes in March 2016, many millions of corals died quickly in the northern third of the Great Barrier Reef over a period of only two to three weeks".
"These widespread losses were not due to the attrition of corals that slowly starved because they failed to regain their symbionts. Rather, temperature-sensitive species of corals began to die almost immediately in locations that were exposed to heat stress."
The research team observed "markedly divergent responses to heat stress". Some corals, such as staghorn and tabular corals, suffered a "catastrophic die-off". Others proved more resilient.
Report co-author Prof Andrew Baird said the coral die-off had caused "radical changes in the mix of coral species on hundreds of individual reefs".
"Mature and diverse reef communities are being transformed into more degraded systems, with just a few tough species remaining," he said.
The researchers estimate half of the corals in shallow-water habitats in the northern Great Barrier Reef have been lost.
"But, that still leaves a billion or so corals alive, and on average, they are tougher than the ones that died. We need to focus urgently on protecting the glass that's still half full, by helping these survivors to recover," Hughes said.
"The Great Barrier Reef is certainly threatened by climate change, but it is not doomed if we deal very quickly with greenhouse gas emissions. Our study shows that coral reefs are already shifting radically in response to unprecedented heatwaves."
More on the Environment