20 Apr
News and Analyses, A Foreign Perspective
Nearly all of these are English-edition daily newspapers. These sites have interesting editorials and essays, and many have links to other good news sources. We try to limit this list to those sites which are regularly updated, reliable, with a high percentage of "up" time.
The Prince of Wales told me I don't look like I'm from Manchester. If this is how he thinks, he shouldn't be the next head of the Commonwealth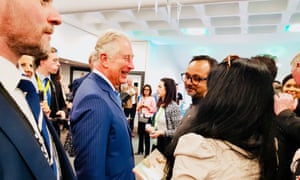 Anita Sethi meeting Prince Charles at the Commonwealth People's Forum in London. 'I feel angry that there could be such casual ignorance in the corridors of power.' Photograph: Vinya Ariyaratne
I

met Prince Charles this week at the Commonwealth People's Forum at which I was a speaker (on a day whose itinerary was entitled Politics of Hope: Taking on Injustice in the Commonwealth). It was part of the buildup to the Commonwealth heads of government meeting, the summit of leaders of 53 countries representing more than 2 billion people.
I shook the prince's hand with my right hand. In my other, I was holding a copy of an anthology, We Mark Your Memory: Writing from the Descendants of Indenture, in which I have an essay published. I told him that my mother was born in Guyana and that the anthology had collected hidden histories of indenture.
"And where are you from?" asked the prince.
"Manchester, UK," I said.
"Well, you don't look like it!" he said, and laughed. He was then ushered on to the next person.
Although I have experienced such off-the-cuff, supposedly humorous, comments before, I was stunned by the gaffe.
Prince Charles was endorsed by the Queen, in her opening speech to the heads of government, to be the future head of the Commonwealth: it's her "sincere wish" that he become so. That the mooted next leader of an organisation that represents one-third of the people on the planet commented that I, a brown woman, did not look as if I was from a city in the UK is shocking.
We need to skip a generation so that Prince Charles does not become king of England or head of the Commonwealth
This is exactly why some people, including the prince, urgently need a history lesson about immigration, the British empire, the Commonwealth and colonialism. Because I do look like I'm from Manchester, actually – a city in which many people of colour have been born and bred. Growing up in Manchester, and going to school in Rusholme, a multicultural area in that city, I remember being taught nothing in history lessons about the Commonwealth (I have four different Commonwealth countries in my heritage). If such vital knowledge was more ingrained there would not be so much racism and ignorance.
Whatever the prince meant or didn't mean in our fleeting encounter, since it happened I have been through all the feelings – from shock to humiliation to rage. Most of all, I feel angry that there could be such casual ignorance in the corridors of power, an ignorance that also permeates society – not least because some British people of colour invited here have been threatened with deportation. They don't look like they are from here, according to some.
So what does a British person look like? A British person can look like me. A British person can have black or brown, not only white, skin and still be just as British (this shouldn't need to be spelled out in black and white). I could have proven that I was born in Manchester and that I am British, as I had my passport in my handbag – I'd needed it to get through the venue's security.
Yet I can't tell Prince Charles exactly where I am from originally – that old chestnut. Why? Because the British destroyed much of the evidence that my ancestors were shipped over from India in the 19th century to toil for the empire as indentured labourers on sugar colonies in the Caribbean.
I have been to the National Archives in Georgetown, Guyana, to search for my ancestral history and stared down a gaping hole where records of lives should have been. The British destroyed so much that could properly explain and evidence our identities.
Of course, allegations of racism are not new for the royal family. The Duke Of Edinburgh has made numerous contentious comments; and only last year Princess Michael of Kent wore a blackamoor brooch while meeting Prince Harry's fiancee, Meghan Markle.

Canada recently passed an amendment to end inequality, but a lack of timeline means a colonial-era act still holds back indigenous women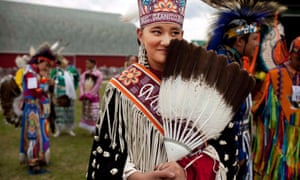 'What I lost was a big piece of me, of who I am and how I was recognised. My people saw me as not one of them,' said Sharon McIvor, who was not entitled to indigenous status. Photograph: Kevin Frayer/AP
As a child, Sharon McIvor spent her days roaming her grandmother's First Nations community deep in British Columbia, learning to fish, harvest sap and pick berries, as the Nlaka'pamux Nation had done for millennia.
When the time came to teach those skills to her grandchildren, however, more than a century of gender discrimination stood in her way.
For nearly 150 years, legislation stipulating who the Canadian government officially recognises as First Nations has discriminated against women, making it more difficult for them to hold status and pass it to their descendants.
"We're the only group in Canada that has got legislated discrimination still active, alive and well," said McIvor.
Early versions of the Indian Act – the 1876 colonial-era legislation that attempts to wrangle Canada's more than 600 First Nations bands into a bureaucratic category – defined First Nations as "a male Indian, the wife of a male Indian or the child of a male Indian".
Campaigners have long challenged this definition, managing to chip away at some of the inequality.
Campaigners say the repercussions of that discrimination range from the denial of services and rights to a crisis in which as many as 4,000 indigenous women in Canada have gone missing or been murdered.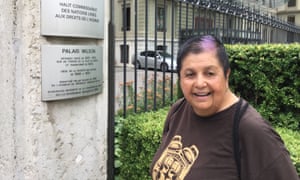 Sharon McIvor at the United Nations in Geneva. Photograph: Shelagh Day
McIvor was not entitled to indigenous status because she had married a non-indigenous man. A 1985 change to the act eventually allowed her and her children to gain status – but prevented her from passing it to her grandchildren.
Without status, McIvor wasn't able to live on reserve land and was excluded from hunting, gathering and fishing as well as traditional marriage, funeral and healing ceremonies.
In contrast, her brother – twice married to non-indigenous women – was able to pass his status to his children and grandchildren.
"What I lost was my community, and what I lost was my ability to feel like I belonged," said McIvor.
She and her descendants also had no claims to the tax breaks, healthcare and education benefits accessed by some First Nations.
She began what a decades-long fight for equality, using her training as a lawyer to pursue the issue in court. Her case joined a string of others that in recent years have sought to tackle the sex discrimination in the legislation.
Last year, it finally seemed that equality was imminent, after Canada's senate unanimously passed a legislative amendment. After initially balking at the idea, the federal government – led by the Canadian prime minister, Justin Trudeau – eventually approved the provisions.
But no timeline has been set for thee changes, and the government now says that it must first consult with First Nations and other indigenous groups.
"There's no way that anybody in the world should be consulting with somebody on whether or not they should continue to discriminate," said McIvor.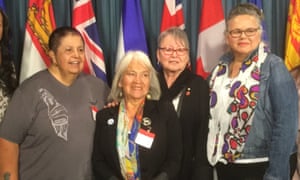 Sharon McIvor, Jeannette Corbiere Lavel, Sandra Lovelace-Nicholas and Lynn Gehl, who led the struggle to end the discrimination. Photograph: Shelagh Day
Campaigners acknowledge that there are legitimate concerns over issues such as access to resources for the country's 1.6 million indigenous peoples, but they express concerns that the consultations are being used to further delay equality.
"What we're getting is words – nice words – but no action," said Shelagh Day of the Canadian Feminist Alliance for International Action. "How could this still be happening with a government that is committed to women's equality and that has said it's interested in a new nation-to-nation relationship?"
Previous comments from the government hint at concerns over the costs involved. A recent report from the country's parliamentary budget officer estimated that around 260,000 people would actually register if equality was granted – which could cost the government more than C$400m a year in health and education benefits.

World Politics
United States
A little history was made in Washington on Thursday – little in the form of a newborn who became the first baby to appear on the floor of the US Senate during a vote. A swaddled 11-day-old Maile Pearl Bowlsbey arrived on the floor of the chamber, carried by her mother, Illinois senator Tammy Duckworth. Oblivious to the momentous occasion, however, little Maile 'slept through the whole thing'.