22 Apr
News and Analyses, A Foreign Perspective
Nearly all of these are English-edition daily newspapers. These sites have interesting editorials and essays, and many have links to other good news sources. We try to limit this list to those sites which are regularly updated, reliable, with a high percentage of "up" time.
The UK is at the centre of global corruption: shell companies that launder dirty money can be set up with ease. But when a whistleblower showed just how easy it is, he faced the full force of the law
O

fficials get fed up with accusations that Britain is a cesspool of dirty money; that they do too little to check the wealth hidden behind shell corporations. They grouse among themselves that their critics overlook the work they're doing to expose the money flows and to drive out the corrupt.
When they do get a win, therefore, they trumpet it. Last month, Companies House successfully prosecuted someone who had lied in setting up a company, the kind of white-collar crime committed by the sophisticated fraudsters who fleece ordinary Brits every day, and the government went large. "This prosecution – the first of its kind in the UK – shows the government will come down hard on people who knowingly break the law and file false information on the company register," crowed business minister, Andrew Griffiths, in a press release.
A Warwickshire businessman called Kevin Brewer had pleaded guilty, paid a fine and the government's costs: a total of more than £12,000. His crime had been to falsely claim that two companies he created belonged, in one case, to the MP Vince Cable, and, in the other, to the MP James Cleverly, Lady Neville-Rolfe and an imaginary Israeli. At first, the public response to the news was everything the press release's authors could have hoped for. The Times splashed with the details of the crime – the government was tough on fraud, tough on the causes of fraud. But the victory was short-lived. Within a month of the triumphant press release, Tory MP John Penrose, the government's anti-corruption champion, was slamming the prosecution as "a bone-headed exercise in shooting the messenger". Brewer may have been, by his own admission, naive, but he was trying to expose a flaw in British regulations that enables frauds totalling hundreds of billions of pounds. His reward was years of being ignored and, finally, a criminal record. "That has to be wrong," said Penrose.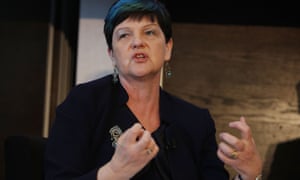 Lady Neville-Rolfe was minister responsible for Companies House when Kevin Brewer set up a company that included her as a director and shareholder. Photograph: Richard Gardner/REX/Shutterstock
The 4m corporate vehicles in the British registry are the building blocks of our economy, crucial to our prosperity. Hidden among them, however, like pickpockets in a crowd, are thousands of fake companies used by fraudsters to commit their crimes. Companies let criminals look legitimate and make their frauds, tax evasion or kleptocracy resemble normal business activity.
These fake companies have tell-tale flaws: invented addresses, offshore ownership, dormant companies acting as other companies' directors. The strange thing about Brewer's companies, however, is that they did not have these flaws. They were registered to Brewer's address; his business acted as their agent; he wrote to the MPs and the peer to tell them he had created companies in their names; and he dissolved the companies after he'd done so.
If he was a criminal, he was a very strange one: a bank robber who took no money, left his business card on the counter and wrote the manager a letter confessing to the crime. Yet, while real bank robbers are getting away with theft all around us, Brewer ended up in court. His is a story that goes to the heart of Britain's ramshackle approach to tackling money laundering and exposes our shameful failure to combat a crime that spreads far beyond our borders.
Brewer, who turned 66 on Saturday, is a company formation agent and reckons he has created half-a-million corporate vehicles since 1984. "It grew into a national enterprise, forming companies for anybody in the country," he told me. "My main clients were solicitors and accountants, professional clients more than the public, because of – I'd like to say – the quality of the service."
Part of that service was a rigorous due diligence process: he checked his client's identity, the source of their funds and the purpose of their company. Often, investigators from the police or the Revenue & Customs would ask to look at his files and he would help them discover who was behind a company that had committed a crime. "I've given witness statements in very large trials. The Serious Fraud Office sent me a thank-you letter," he said.
His problems began in 2011 under the coalition government, when business secretary Vince Cable opened up Companies House's online registration system. As part of a drive to make the country more entrepreneurial, anyone could now register a company via the registry's web portal, rather than doing it on paper or going via an intermediary such as Brewer. You may remember the "Britain Is Great" advertising campaign from bus stops in 2012: one strapline boasted that it took less than 24 hours to incorporate in the UK. Ministers thought this was good; Brewer thought it was awful.
"For the price of some fish and chips, anyone in the world could log in, form a company, put in any name they liked, Mickey Mouse and Donald Duck, somebody else's name, totally fictitious names, get their companies formed and get their certificate," he said. "You could be in Russia, Jamaica, anywhere."
Where Brewer had charged £100 for a company, Companies House charged £18; where he checked his client's intentions and identity, Companies House didn't check anything. This threatened his business, but it also threatened to unleash fraud on a scale never before seen. He felt sure the government hadn't considered the consequences of its policy, so he wrote to Cable. "Not only is the policy misguided and costly, it has created massive opportunity for fraud and deception," Brewer wrote. "To illustrate the point we have created a company in your name without your consent or knowledge and could start trading using your identity." John Vincent Cable Services Ltd had been incorporated on 23 May 2013, with a single shareholder – the business secretary.

The Fox News host is under fire for failing to disclose his relationship to Donald Trump's lawyer – but he remains one of the network's biggest stars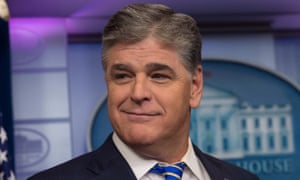 Sean Hannity in the White House briefing room. The Fox News host was named as one of Michael Cohen's clients. Photograph: Nicholas Kamm/AFP/Getty Images
Judge Kimba Wood had run out of patience. Lawyers for Michael Cohen, Donald Trump's consigliere and legal fixer, had tried every trick in the book to avoid disclosing the name of a mystery Cohen client, who they said was desperate to remain anonymous.
"I'm directing you to disclose the name – now," said Wood, a veteran jurist whose CV includes an improbable spell as a trainee bunny at London's Playboy Club to subsidise her graduate studies at the London School of Economics in the 1960s.
Stephen Ryan, Cohen's hangdog lead attorney, got to his feet and cleared his throat. "The client's name that is involved is Sean Hannity," he said. Gasps filled courtroom 21B at the federal courthouse in lower Manhattan.
Hannity, the bloviating primetime star of Fox News and Trump's favorite journalist, had excoriated US prosecutors for their raid on Cohen's office earlier this month. The raid was part of a "an all-hands-on-deck effort to totally malign and, if possible, impeach the president of the United States".
He failed to mention his relationship with Cohen, something even guests on his own show have since criticized and an omission that has thrust him into a media maelstrom.
So what is Hannity's relationship with Cohen, a lawyer most famous for paying off women who allegedly had affairs with the president and one of his billionaire backers? According to Hannity it's "de minimis". The multimillionaire may have handed him "10 bucks" for some real estate advice but he had never formally engaged him and there were "no third parties" involved, said Hannity. The media had gone "absolutely insane" about nothing, he said.
For now, it appears his employer agrees. After a short pause in which management quizzed Hannity about his dealings with Cohen, Fox announced it was "surprised by the announcement" but gave him its "full support".
Fox's support has failed to appease critics inside and outside the Fox hole. Vanity Fair's Gabriel Sherman, author of a biography of Hannity's mentor, the Fox News founder Roger Ailes, wrote this week that fellow Fox staffers were horrified by the news, telling him it "violates every rule of journalism".
But while Trump's TV ratings (if not his poll numbers) are still in the ascendant, the Fox star may currently be too big to fail.
"Hannity's closeness with Trump has given him immense power at the network, and he's not afraid to show it. When he visited Mar-a-Lago earlier this month, Hannity bragged to a guest: 'I'm the only thing holding this network together' (Hannity denies saying this)," wrote Sherman.
Other Fox stars have been cautioned for getting too close to Trump. After Politico revealed that Bret Baier, the network's 6pm news anchor, had played golf with Trump, the network said it had "addressed the matter". Hannity too has been challenged for appearing in a Trump ad ahead of the election and for planning a broadcast from a Tea Party rally.
For Hannity's critics, worse still was his promulgation of the conspiracy theory that Democratic operatives were behind the murder of Seth Rich, a Democratic National Committee staffer, killed in what appears to have been a botched robbery. Hannity continued to push the far-out theory even as Rich's parents begged him to stop.

World Politics
Germany
Combative former labour minister Andrea Nahles is first woman to lead party in 155 years
United States

Former NYC mayor criticises Trump for pulling out of deal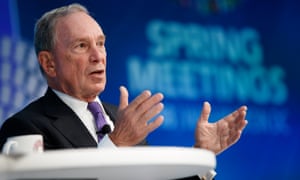 The former New York City mayor Michael Bloomberg. Photograph: Shawn Thew/EPA
The former New York City mayor Michael Bloomberg has said he will write a $4.5m cheque to cover this year's US commitment to the Paris climate agreement.
Donald Trump last year pulled the US out of the deal, which was signed by Barack Obama, making the US the only country opposed. Even Syria, torn by an 11-year civil war, has signed the pact.
Bloomberg, whose net worth Forbes pegs at about $50bn, was speaking to CBS's Face the Nation. He did not commit to provide funds beyond 2018 and said he hoped that by next year Trump would have changed his mind.
"America made a commitment and as an American, if the government's not going to do it, we all have responsibility," he said. "I'm able to do it. So, yes, I'm going to send them a cheque for the monies that America had promised to the organization as though they got it from the federal government."
Trump, he said, should be able to "listen to others and change his mind. A person that doesn't change their mind isn't very smart … And he's been known to change his mind.
"He should change his mind and say look there really is a problem here. America is part of the problem. America is a big part of the solution and we should go in and help the world stop a potential disaster."
Asked if he thought the nonbinding nature of the Paris deal was a problem, in terms of other countries not sticking to its aims for reducing greenhouse gas emissions and other targets aimed at reducing the effect of climate change, Bloomberg said: "Look, it's dangerous to keep doing what we're doing.
"If everybody would do the right thing, yes, it would be better. But if some people or some countries do the right thing we all benefit from that.
"All I know is that America, I believe, will meet its commitment by 2025 to reduce greenhouse gases by an agreed amount, and if we do it hopefully other countries will do it as well."
Asked if he was "filling a leadership gap" on the issue, Bloomberg – who was a Republican mayor of New York and considered a 2016 presidential run as an independent – said: "Well, I think that this is what the American public when you poll them say they want to do."
The odds on him running for the White House in future, he said, were "not very high".