24 Apr
News and Analyses, A Foreign Perspective
Nearly all of these are English-edition daily newspapers. These sites have interesting editorials and essays, and many have links to other good news sources. We try to limit this list to those sites which are regularly updated, reliable, with a high percentage of "up" time.
Yulia Skripal seen here with her father Sergei Skripal has left hospital and is recovering in a secret location
Yulia Skripal has blown away Russian attempts to contact her in a statement issued just after she left hospital in Salisbury recovering from the poisoning incident.
The statement issued via Scotland Yard rejects Russian attempts to contact her as she also says her cousin Viktoria does not speak for her and tells her to stay away.
The Russian Embassy were quick to respond; the statement by Yulia Skripal was issued by through the police at 8pm 11 April and within 3 hours the Russians bounced back virtually accusing the British authorities of kidnapping and manipulating her.
Yulia Skripal's statement:
"I was discharged from Salisbury District Hospital on the 9th April 2018. I was treated there with obvious clinical expertise and with such kindness, that I have found I missed the staff immediately.

"I have left my father in their care, and he is still seriously ill. I too am still suffering with the effects of the nerve agent used against us.

"I find myself in a totally different life than the ordinary one I left just over a month ago, and I am seeking to come to terms with my prospects, whilst also recovering from this attack on me.

"I have specially trained officers available to me, who are helping to take care of me and to explain the investigative processes that are being undertaken. I have access to friends and family, and I have been made aware of my specific contacts at the Russian Embassy who have kindly offered me their assistance in any way they can. At the moment I do not wish to avail myself of their services, but, if I change my mind I know how to contact them.

"Most importantly, I am safe and feeling better as time goes by, but I am not yet strong enough to give a full interview to the media, as I one day hope to do. Until that time, I want to stress that no one speaks for me, or for my father, but ourselves. I thank my cousin Viktoria for her concern for us but ask that she does not visit me or try to contact me for the time being. Her opinions and assertions are not mine and they are not my father's.

"For the moment I do not wish to speak to the press or the media, and ask for their understanding and patience whilst I try to come to terms with my current situation."
Russian Embassy comment in relation to the "Statement issued on behalf of Yulia Skripal" published by the Metropolitan Police
The statement allegedly on behalf of Yulia Skripal published at Scotland Yard website is an interesting read. If everything mentioned there is true we cannot but congratulate our compatriot. However, with no possibility to verify it, the publication by the Metropolitan Police raises new questions rather than gives answers.
As before, we would like to make sure that the statement really belongs to Yulia. So far, we doubt it much. The text has been composed in a special way so as to support official statements made by British authorities and at the same time to exclude every possibility of Yulia's contacts with the outer world – consuls, journalists and even relatives.
We are surprised by the point about the "access to friends and family". Not a single friend or relative quoted by Russian or British media confirms such contacts. As far as we know, the Skripals have no relatives closer than Yulia's cousin Victoria and their grandmother Elena (Sergey's mother), who live together. A question arises: what family is Yulia in contact with?
We have also noticed the apparent contradiction between the phone conversation in which Yulia says to Victoria that "everything is fine" with her and her father, and their health condition as described in today's Met Police statement.
Particularly amazing is the phrase "no one speaks for me" appearing in a statement which, instead of being read on camera by Yulia herself, is published at Scotland Yard website.
To sum up, the document only strengthens suspicions that we are dealing with a forcible isolation of the Russian citizen. If British authorities are interested in assuring the public that this is not the case, they must urgently provide tangible evidence that Yulia is alright and not deprived of her freedom.
Shell company tied to the Fox News host bought homes through Jeff Brock, who was charged in 2016 with fraud and conspiracy for his role in a scheme to rig auctions on foreclosed properties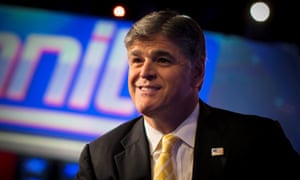 A shell company linked to Sean Hannity bought 11 homes in Georgia through Jeff Brock. Hannity's attorney says he had no knowledge of Brock's wrongdoing. Photograph: Mike Segar/Reuters
Sean Hannity's real estate venture bought houses through a property dealer who was involved in a criminal conspiracy to fraudulently obtain foreclosed homes, according to records reviewed by the Guardian.
In 2012, a shell company linked to the Fox News host bought 11 homes in Georgia that had been purchased by the dealer, Jeff Brock, following foreclosures. Brock transferred the properties to corporate vehicles that sold them on to the Hannity-linked company at a profit.
Brock pleaded guilty in 2016 to federal charges of bank fraud and conspiracy for his role in an operation to rig foreclosure auctions between 2007 and 2012. He was sentenced to six months in prison and had to pay more than $166,000 in fines and restitution.
Some of the houses sold on to the Hannity-linked firm in 2012 had been acquired by Brock from banks later named by prosecutors among his victims. But the justice department declined to identify specific properties sold in the rigged auctions. Hannity has not been accused of any wrongdoing and there is no evidence he was aware that Brock was involved in fraud.
Christopher Reeves, an attorney for Hannity, said the Fox News host was not involved in choosing the houses bought via Brock and "has no knowledge whether these properties were involved in the fraud".
Reeves said neither Hannity nor the company used to buy the properties "had any knowledge regarding Mr Brock's wrongdoing" before being informed by the Guardian on Monday.
An attorney for Brock, Don Samuel, said in an email: "Jeff has nothing to say."
The company linked to Hannity was one of a group identified by the Guardian on Sunday that spent $90m buying more than 870 homes in seven states over the past decade. Hannity was confirmed as the hidden owner behind some of the companies and has not disputed that he is the owner of all of them.
Hannity defended his real estate investments on Monday, stating in a post to his website that he had chosen to invest his personal wealth in "communities that badly need such investment" and that he had limited involvement in the venture's day-to-day operation.
"The fact is, these are investments that I do not individually select, control, or know the details about; except that obviously I believe in putting my money to work in communities that otherwise struggle to receive such support," Hannity wrote.
Hannity-linked company's purchases
In February 2012, the Hannity-linked company spent about $540,000 buying 10 single-family houses in Georgia's Fulton, Cobb, Clayton and DeKalb counties, according to county records. It bought an additional DeKalb county property later that year for about $60,000.
The company was formed in Georgia days before the February purchases by an attorney for Hannity. It was registered to the offices of Henssler Financial, Hannity's wealth managers. As a limited liability company (LLC), it was not required to report its actual owner to Georgia regulators. Hannity is not mentioned in the company's publicly available filings
World Politics
United States
Sabrina Siddiqui Phil Maynard Simon Roberts Josh Toussaint-Strauss Paul Boyd Katie Lamborn Pascal Wyse Joseph Pierce
Political dramas Homeland and Designated Survivor have recently explored how a president could be removed from office using the 25th amendment to the US constitution. It can only be triggered if the president is deemed 'unfit for office'. But how would it work in reality? Who would be needed to trigger it? And why has it never been used before? The Guardian's US political reporter Sabrina Siddiqui explains
Demand lower following recent warm weather, making it easier for gas, renewables and nuclear to cover UK's needs
Drax power station in North Yorkshire said it expected to go without coal on Tuesday. Photograph: Nick Moore/Alamy
The UK has been powered without coal for three days in a row, setting a new record and underlining the polluting fuel's rapid decline.
Coal has historically been at the cornerstone of the UK's electricity mix, but last year saw the first 24-hour period that the the country ran without the fuel since the 19th century.
New records were broken last week when zero power came from coal for nearly 55 consecutive hours.
That milestone in turn was smashed on Monday afternoon and the UK passed the 72-hour mark at 10am on Tuesday. The coal-free run came to an end after 76 hours.
Without the fossil fuel, nearly a third of Britain's electricity was supplied by gas, followed by windfarms and nuclear on around a quarter each.
The rest came from biomass burned at Drax power station in North Yorkshire, imports from France and the Netherlands, and solar power. Drax said it expected to go without coal on Tuesday.
The coal-free records are a reversal from the recent highs that coal plant owners experienced during the so-called "beast from the east" cold snap.
However, overall power demand is now much lower following the recent warm weather, making it easier for gas, renewables and nuclear to cover much of the UK's needs.
National Grid has forecast electricity demand this summer will be lower than last year, with minimum demand at 17GW and peak at 33.7GW. Demand on Tuesday is expected to peak at about 35GW.
Experts said to expect more milestones this year. "Ever rising renewable capacity in the UK will see these records fall more and more frequently, clearly showing progress made over the past decade or two," said Jonathan Marshall, an analyst at the Energy and Climate Intelligence Unit.
However, one observer cautioned that the shift away from coal could be a "false dawn" if it was just replaced by gas.
Andrew Crossland, who tracks electricity generation on the MyGridGB site, said: "Shifting to gas is likely to make our electricity market more volatile as our energy price becomes increasingly locked to international gas markets. That will only hurt consumers."
A carbon tax, the cheaper price of gas and the rise of renewables have all hit coal operators. The government has set a deadline of October 2025 for phasing out coal entirely.
Two coal plant owners have said they will shut this year, which will leave the UK with six coal power stations including Drax, which has hinted it will cease burning coal before the 2025 target.
More on The Environment: