26 Apr
News and Analyses, A Foreign Perspective
Nearly all of these are English-edition daily newspapers. These sites have interesting editorials and essays, and many have links to other good news sources. We try to limit this list to those sites which are regularly updated, reliable, with a high percentage of "up" time.
American Lynchings
The Guardian is in Montgomery, Alabama, to cover the opening of America's first memorial to lynching victims. The legacy of such brutal, racist murders is still largely ignored
What were lynchings?
Historians broadly agree that lynchings were a method of social and racial control meant to terrorize black Americans into submission, and into an inferior racial caste position. They became widely practiced in the US south from roughly 1877, the end of post-civil war reconstruction, through 1950.
A typical lynching would involve criminal accusations, often dubious, against a black American, an arrest, and the assembly of a "lynch mob" intent on subverting the normal constitutional judicial process.
Victims would be seized and subjected to every imaginable manner of physical torment, with the torture usually ending with being hung from a tree and set on fire. More often than not, victims would be dismembered and mob members would take pieces of their flesh and bone as souvenirs.
In a great many cases, the mobs were aided and abetted by law enforcement (indeed, they often were the same people). Officers would routinely leave a black inmate's jail cell unguarded after rumors of a lynching began to circulate to allow for a mob to kill them before any trial or legal defense could take place.
What would trigger a lynching?
One chief among the trespasses (occasionally real, but usually imagined) was any claim of sexual contact between black men and white women. The trope of the hypersexual and lascivious black male, especially vis-a-vis the inviolable chastity of white women, was and remains one of the most durable tropes of white supremacy.
According to the Equal Justice Initiative (EJI), nearly 25% of lynching victims were accused of sexual assault. Nearly 30% were accused of murder.
"The mob wanted the lynching to carry a significance that transcended the specific act of punishment," wrote the historian Howard Smead in Blood Justice: The Lynching of Mack Charles Parker. The mob "turned the act into a symbolic rite in which the black victim became the representative of his race and, as such, was being disciplined for more than a single crime … The deadly act was [a] warning [to] the black population not to challenge the supremacy of the white race."
Left to right: The lynching of George Meadows, 1889. A crowd surrounds two African American lynching victims. A group of African Americans marching near the Capitol building in Washington DC, to protest against the lynching of four African Americans in Georgia. Composite: Library of Congress
How many took place in America?
Because of the nature of lynchings – summary executions that occurred outside the constraints of court documentation – there was no formal, centralized tracking of the phenomenon. Most historians believe this has left the true number of lynchings dramatically underreported.
For decades, the most comprehensive total belonged to the archives at the Tuskegee Institute, which tabulated 4,743 people who died at the hands of US lynch mobs between 1881 and 1968. According to the Tuskegee numbers, 3,446 (nearly three-quarters) of those lynched were black Americans.
The EJI, which relied on the Tuskegee numbers in building its own count, integrated other sources, such as newspaper archives and other historical records, to arrive at a total of 4,084 racial terror lynchings in 12 southern states between the end of Reconstruction in 1877 and 1950, and another 300 in other states.
Unlike the Tuskegee data, EJI's numbers attempt to exclude incidents it considered acts of "mob violence" that followed a legitimate criminal trial process or that "were committed against non-minorities without the threat of terror".
Where did most lynchings take place?
Unsurprisingly, lynching wereas most concentrated in the former Confederate states, and especially in those with large black populations.
According to EJI's data, Mississippi, Florida, Arkansas and Louisiana had the highest statewide rates of lynching in the United States. Mississippi, Georgia and Louisiana had the highest number of lynchings.
Who attended lynchings?
Among the most unsettling realities of lynching is the degree to which white Americans embraced it, not as an uncomfortable necessity or a way of maintaining order, but as a joyous moment of wholesome celebration.
"Whole families came together, mothers and fathers, bringing even their youngest children. It was the show of the countryside – a very popular show," read a 1930 editorial in the Raleigh News and Observer. "Men joked loudly at the sight of the bleeding body … girls giggled as the flies fed on the blood that dripped from the Negro's nose."
Vanessa Croft was driving home after work in Gadsden, Alabama, last month when she noticed something strange in her rear-view mirror. There were two huge flags bearing the starred cross of the Confederacy fluttering angrily behind her from the back of a menacing black pickup truck.
She had seen plenty of Confederate flags ­– almost every day she spots them on car licence plates or in windows in town. But this was different. It was after midnight, and as she drove the flags stayed behind her. She drove some more, they followed.
She turned into a McDonald's, hoping that its surveillance cameras would protect her – they turned too, drawing up alongside her. Inside the truck were two white men who sat and stared at her. Croft, a 57-year-old black woman, stared back.
The truck kept trailing her all the way to her street, then disappeared as suddenly as it had come. But a chill lingered. "Two huge Confederate flags flapping in the night following me home. In Gadsden. In 2018. It still happens."
The incident got her thinking about the secret that lay deep inside her family until just a few years ago. It concerned Uncle Fred, a beloved figure in her childhood who lived in New York. She knew him as her New York uncle, that's all. Until her father told her the story.
It was in the mid-1930s, and Fred was 15. He was out at work one day when a posse of white men turned up at the family home. Where was the boy, they demanded. A little white girl had been pushed off a porch and her father, incensed by such disrespect, had decided it was Fred who did it and had to pay, even though the girl swore it was someone else.
When the men were told that Fred wasn't there, they left a message. Tell the boy we'll be back for him tonight.
There was no doubt what they meant. Fred's father knew, as all black townsfolk in Gadsden knew, what had happened to Bunk Richardson.
The 28-year-old had been seized a few years back by a local mob of white men in relation to the murder of a white woman in which he had played no part. They took him to a railroad bridge over the Coosa river on the edge of town and flung him over, leaving him hanging from a rope for several days for all to see.
Fearful that the same fate awaited him, Fred Croft fled. His father told him to leave town as darkness fell and never come back. And he never did.
At the age of 15 Uncle Fred fled north, never to return.
World Politics
United States
Revelations that candidate Dennis Kucinich was paid $20,000 for a speech in London brings an unusual twist to the gubernatorial race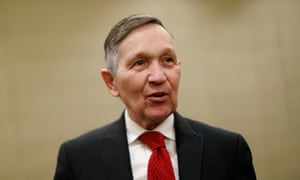 Dennis Kucinich has been hesitant to condemn the Syrian dictator and has met with him on several occasions. Photograph: John Minchillo/AP
Most Democratic primaries in 2018 have focused on bread-and-butter progressive issues like healthcare, education and gun control. In Ohio's gubernatorial primary, however, domestic policy has increasingly been overshadowed by an unexpected figure: Syria's President Bashar al-Assad.
Syria took center stage last week, after the two-time presidential candidate Dennis Kucinich revealed in an amended filing with the state ethics board that he had received $20,000 for a paid speech to a pro-Assad group in London.
The former congressman has long been hesitant to condemn the Syrian dictator and has travelled to Damascus to meet him on several occasions, including for an interview for Fox News where Kucinich once served as a contributor. Kucinich's idiosyncratic foreign policy views have earned him a seat on the advisory board of the Ron Paul Institute.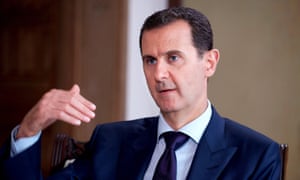 The candidate once interviewed Bashar al-Assad for Fox News. Photograph: Sana/Handout EPA
Only days before his amended disclosure, the editorial board of the Cleveland Plain Dealer endorsed Kucinich, but cautioned "he must never again make nice with Syrian butcher Bashar Assad".
Andy Juniewicz, a spokesman for Kucinich, said that the candidate's position on Syria was "not an issue in Cleveland", adding that "most people don't want to be engaged in foreign wars and it's hard to see advocating peace being negative".
But Kucinich's main opponent and the current frontrunner, Richard Cordray, who is the former head of the Consumer Financial Protection Bureau (CFPB), has used Syria as a sledgehammer.
Last week, his campaign hosted a conference call with the former Democratic governor Ted Strickland, who previously served in Congress alongside Kucinich. "For years Dennis Kucinich has been an outspoken defender of the Assad regime in Syria even as they've killed countless people and used chemical weaponsagainst civilians," said Strickland.
"On the campaign trail Dennis has refused to condemn Assad … What we now know goes further. Dennis wasn't just defending Assad out of conviction, he was also being paid by a group that has been a vocal cheerleader for this murderous dictator."
Cordray spent six years leading the CFPB, the consumer finance watchdog first conceived by Elizabeth Warren, is a comparatively conventional politician. He is a former supreme court clerk who previously served as Ohio's attorney general and treasurer. Warren has endorsed his campaign and stumped with him and Cordray's first television ad highlighted copious praise from Barack Obama.
Kucinich has attacked Cordray for his past support for gun rights. In a statement after Strickland's conference call, the candidate said: "Cordray will do anything to change the subject from his NRA 'A' rating and his support for assault weapons on the streets of America."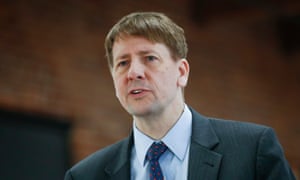 Richard Cordray, who is running against Dennis Kucinich, speaks in Cincinnati. Photograph: John Minchillo/AP
Kucinich also lashed out at Strickland for participating in "unfounded and inflammatory" attacks that "grossly misportrayed" his visits to the Middle East.
Democratic observers unaffiliated with the race said while Assad was probably not a voting issue in Ohio, it did add to a broader narrative of Kucinich being an "unreliable Democrat".
One well-connected state Democrat said "if [Kucinich] was making any progress in getting out of the box of being a little too quirky and a little too fringe this erased a lot of it."
Kyle Kondik, the managing editor of the nonpartisan election website Sabato's Crystal Ball and author of a book on Ohio politics, cautioned that not only is Kucinich better known than Cordray in the state but that his attacks on guns "seem like a more fruitful and topical line of attack than Syria does".
Report builds on evidence that site is unstable after sixth nuclear test and puts Kim Jong-un's pledge to no longer use site in a new light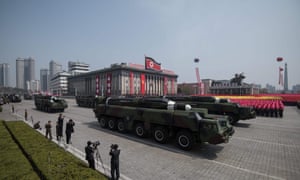 Chinese experts also flagged the need to monitor for radioactive leaks from North Korea's nuclear test site. Photograph: Ed Jones/AFP/Getty Images
North Korea's main nuclear test site has partially collapsed under the stress of multiple explosions, possibly rendering it unsafe for further testing and leaving it vulnerable to radiation leaks, a study by Chinese geologists has shown.
The findings could cast doubt on North Korea's sincerity in announcing last weekend that it would stop testing nuclear weapons at the site ahead of Friday's summit between the country's leader, Kim Jong-un, and the South Korean president, Moon Jae-in.
The test site at Punggye-ri, in a mountainous area in North Korea's north-east, has been the location for all six of the regime's nuclear tests since 2006.
The findings, by scientists at the University of Science and Technology of China, suggest the partial collapse of the mountain that contains the testing tunnels, as well as the risk of radiation leaks, have potentially rendered the site unusable.
The study was published soon after Kim said his country would stop testing nuclear weapons and ballistic missiles, and close down Punggye-ri before his meeting with Moon just south of the countries' heavily armed border.
Nuclear explosions release enormous amounts of heat and energy, and the North's largest test, in September last year, was believed early on to have rendered the site – a network of tunnels beneath Mount Mantap – unstable.
The Chinese scientists collected collected data for their study following the most powerful of the North's six nuclear tests, on 3 September.
The controlled explosion, which caused an initial magnitude-6.3 tremor, is believed to have triggered four more earthquakes over the following weeks. The study concluded that eight-and-a-half minutes after the test, there was "a near-vertical on-site collapse towards the nuclear test centre".
A satellite image from 13 April 2017 shows North Korea's Punggye-ri nuclear test site. Photograph: HO/AFP
The Chinese university paper, written by Tian Dongdong, Yao Jiawen and Wen Lianxing, said that was followed by an "earthquake swarm" in similar locations.
The yield of the bomb was estimated at more than 100 kilotons of TNT, at least 10 times stronger than anything the North had tested previously. The bomb dropped on Hiroshima in 1945 had a yield of about 15 kilotons.