27 Apr
News and Analyses, A Foreign Perspective
Nearly all of these are English-edition daily newspapers. These sites have interesting editorials and essays, and many have links to other good news sources. We try to limit this list to those sites which are regularly updated, reliable, with a high percentage of "up" time.
After the Bill Cosby verdict, Montgomery district attorney Kevin Steele said: 'he used his celebrity. He used his wealth. He used his network of supporters to help him conceal his crimes. And now we really know today who was behind that act, who the real Bill Cosby was. And a jury has spoken with one voice'. Cosby's conviction marks the downfall of a man once celebrated as 'America's Dad' but whose reputation was ruined after some 50 women accused him of sexual assault and harassment going back decades. Cosby was convicted of drugging and sexually assaulting Andrea Constand in 2004.
As the monsoon rains start in Bangladesh, there are grave concerns for refugees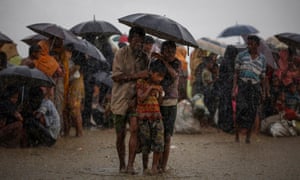 Rohingya refugees shelter from torrential rain after crossing the border into Bangladesh. Photograph: Mohammad Ponir Hossain/Reuters
F

or 14 terrifying days, Nabil Alam, his wife and nine children trudged through the jungles of northern Myanmar to reach the border with Bangladesh. The entire way, Alam looked over his shoulder for soldiers or local militia groups armed with clubs and knives.
That was eight months ago. Now, in the refugee camps of south-east Bangladesh, he is anxiously watching the sky, awaiting the dark clouds that will soon drench the area in months of monsoon rain.
Cox's Bazar is one of the most frequently flooded regions of one of the most flood-prone countries on Earth. Bangladesh's southern tip is fewer than three metres above sea level, with a triangular coast that funnels the ocean together. It makes high tides higher, and puts even major cities such as Chittagong within the water's grasp.
As well as heightening the risk of floods, Bangladesh's geography also makes for extraordinarily deadly storms. A cyclone in 1970 killed 300,000 people. Another in the same area in 1991 left an estimated 10 million people homeless. Cyclone Sidr, a decade ago, killed as many as 10,000 people.
Should cyclones bear down on the region again, as they have in the past two years, they could collide with nearly 700,000 new residents sleeping in tents of bamboo and tarpaulin. Aid agencies fear a second catastrophe is about to strike the Rohingya. "Lives will be lost," says Daphnée Cook, Save the Children's communications manager. "It's just a question of how many."
As many as 200,000 refugees are estimated to be at direct risk from landslides or floods and require urgent evacuation, separate assessments by the Bangladesh government and aid groups have concluded. Most have nowhere to go.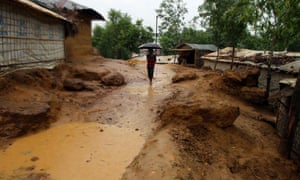 Rainwater collects at a Rohingya refugee camp in Cox's Bazar. Photograph: Daphnée Cook/AFP/Getty Images
'I lost everything I had'
The first intense bursts of rainfall were recorded last week. As a test run for the monsoon, it has left aid agencies worried. Makeshift drains in parts of the vast camp quickly became blocked. Stretches of new dirt roads that serve as arteries for food and fuel turned to mud. The home of Sohina Khatum, 70, is already gone.
"It was raining in our area and my house was destroyed," she says, waiting at a station where aid agencies are distributing bamboo stalks, tools and extra sheets of tarpaulin. "I lost everything I had. Even today I could not have any breakfast. I came straight here."
Alam, 46, says his house has already flooded, spoiling the fortnightly supply of rice he receives as rations. "I had to take a loan from my neighbours to buy more," he says.
Monsoons have battered Khatun's village, Rasidong, in northern Myanmar, his entire life. When he was 18, he helped his father erect the family home on stilts but water would still get in. When he crossed the Naf river in September, contending with the rainy season had been the furthest thing from his mind.
"I didn't even dare hope that we would cross the river, or find food and shelter," he says. "It's by the blessing of Allah that we even have a place to sleep and three meals."
The sudden influx of so many new arrivals on the shores of Cox's Bazar has fundamentally altered its geography. Rohingya settlements have so far chewed through 1,900 hectares of undeveloped forest given up by the Bangladesh government.
Root systems that once held the clay soil together, reducing landslides, have vanished. Major waterways are being dredged. Heavy machinery deployed by the government is levelling whole hillsides, heap by heap.
'Only so much you can do with tarpaulin'
Bitter experience has taught Bangladesh how to manage cyclones and floods. The government has detailed procedures for warning the public and reducing the loss of life. But two responses are key: moving to higher ground and hunkering down in sturdy shelters. Neither are available to the Rohingya.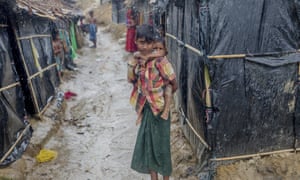 Raine falls at the Balukhali refugee camp. Photograph: Dar Yasin/AP
Cox's Bazar is a safe haven from Burmese government persecution, but it is also an enormous detention centre. At least 27 military checkpoints around the camps restrict the refugees from leaving. Humanitarian agencies have moved at least 15,000 families living in the path of floods or landslides so far, but concede that there is not enough suitable land to relocate all those at risk.
Assisting the Rohingya to build strong homes is also out of the question. Bangladeshi public sentiment is starting to tire of the burden of more than a million displaced people, and it is an election year. Bricks roads and cement drains have been allowed, but not concrete homes. Like the presence of schools, they might suggest the refugees are in Cox's Bazar to stay.
Instead, the Rohingya fortify their tents in any way they can, with sandbags, stronger rope and plastic bottles filled with dirt and hurled on the roofs of shelters.
"The devastation we were anticipating is likely to happen," says Cook. "There's only so much you can do with tarpaulin and bamboo. And only so much earth you can move to stop natural rivers from forming."
Kim Jong-un and Moon Jae-in pledge denuclearisation and end to decades of hostility after summit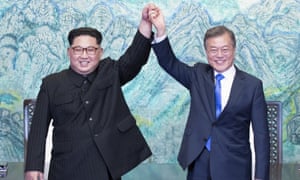 Kim Jong-un and Moon Jae-in in Panmunjom. Their joint statement was a cause for optimism, but short on detail. Photograph: AP
The leaders of North and South Korea have promised after a landmark summit to bring "lasting peace" to the peninsula with a commitment to denuclearisation and to ending decades of hostilities.
Speaking at the end of an extraordinary day that began with a lingering handshake across the demarcation line separating their countries, the North Korean leader, Kim Jong-un, and the South Korean president, Moon Jae-in, issued a joint statement that was short on detail but offered cause for optimism as the world looks ahead to a summit between Kim and Donald Trump.
The US president, in his first comments on the declaration, tweeted: "Good things are happening, but only time will tell!" He later added: "KOREAN WAR TO END!"
The Panmunjom declaration, named after the truce village that hosted the talks on Friday, committed the two Koreas to seek the "complete denuclearisation" of the peninsula.
"South and North Korea confirmed the common goal of realising, through complete denuclearisation, a nuclear-free Korean peninsula," it said. "South and North Korea shared the view that the measures being initiated by North Korea are very meaningful and crucial for the denuclearisation of the Korean peninsula, and agreed to carry out their respective roles and responsibilities in this regard."
The statement did not specify what Pyongyang expected in return for abandoning its nuclear weapons – the regime's best deterrent against what it regards as a hostile US.
Speaking outside the peace house on the southern side of the border that has divided the Korean peninsula for 65 years, the leaders also pledged to push for talks with the US, and possibly China, to formally end the 1950-53 Korean war with a peace treaty to replace the uneasy truce that stopped hostilities.
Noting that more than a decade had passed since the countries' leaders last met, Kim and Moon agreed to talk regularly by phone and meet more often, starting with a summit in Pyongyang in autumn.
They vowed to work more closely on a host of bilateral issues, including reuniting families divided by the Korean war and improving cross-border transport links.
Months after relations between the two countries sank to their lowest level following North Korean missile launches and its sixth nuclear test, Moon said he and Kim were aware that the hopes of 80 million North and South Koreans rested on their shoulders.
"We were able to stand together today and agree that we should denuclearise the Korean peninsula," Moon said, according to a translation provided by South Korea's Arirang TV.
With Kim standing nearby behind a separate podium, he said. "To completely denuclearise, we declare that we will cooperate to bring about an everlasting peace on the peninsula."
World Politics
United States

Records show 61 different residents have received notice to vacate their homes in Perry complex since Hannity took over in 2014
Bluebell woods, two giant tortoises and a golden jackal are among this week's pick of images from the natural world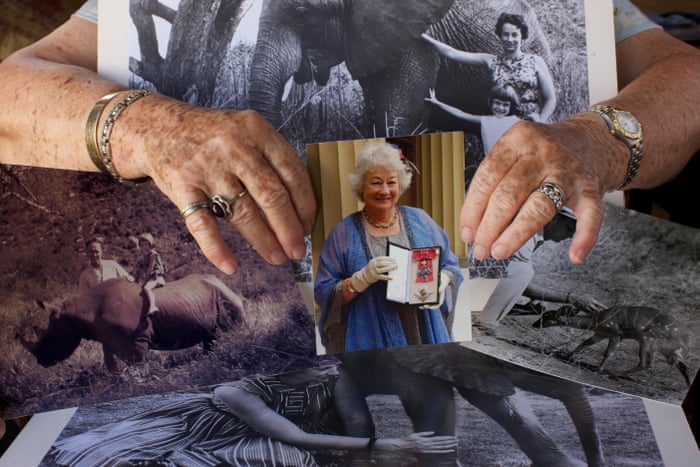 A photograph of renowned elephant conservationist Daphne Sheldrick who died this week, aged 83. Sheldrick devoted most of her life to rescuing young elephants and releasing them back into the wild.
Photograph: Michael Nichols/NG/Alamy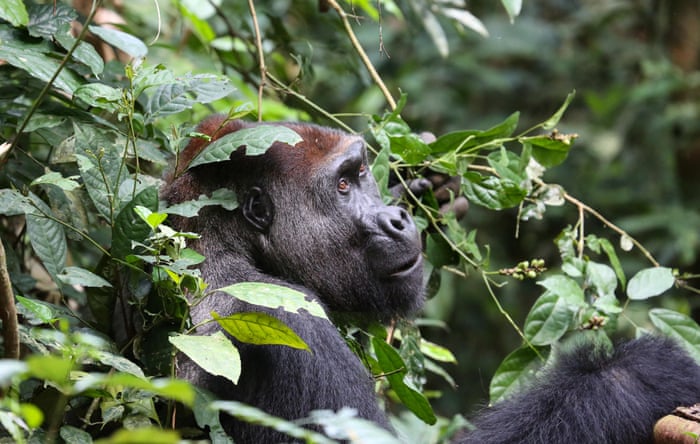 A silverback gorilla in the Republic of Congo's Nouabalé-Ndoki national park. Researchers now estimate that there are more than 360,000 western lowland gorillas in the wild, approximately one-third higher than earlier figures
Photograph: Zanne Labuschagne/WCS



This entry was posted on Friday, April 27th, 2018 at 12:50 pm and is filed under General. You can follow any responses to this entry through the RSS 2.0 feed. Both comments and pings are currently closed.