29 Apr
News and Analyses, A Foreign Perspective
Nearly all of these are English-edition daily newspapers. These sites have interesting editorials and essays, and many have links to other good news sources. We try to limit this list to those sites which are regularly updated, reliable, with a high percentage of "up" time.
World Politics
United States
The comedian was scathing about Trump's press secretary and his daughter Ivanka in a performance dubbed 'disgusting' by Sean Spicer
The comedian Michelle Wolf stunned guests at a prestigious media dinner in Washington with a risque speech that eviscerated members of Donald Trump's administration, some of whom were in the room.
Sean Spicer, the former White House press secretary, told the Guardian he thought the performance was "absolutely disgusting", but others praised Wolf for pulling no punches about the president and his aides.
She drew gasps from some in the 3,000-strong audience at the Hilton hotel on Saturday when she turned her fire on Spicer's secretary, Sarah Sanders, sitting just a few feet away at the head table. "Every time Sarah steps up to the podium, I get excited," the comedian said. "I'm not really sure what we're going to get, you know? A press briefing, a bunch of lies or divided into softball teams. 'It's shirts and skins, and this time don't be such a little bitch, Jim Acosta," – a reference to a CNN correspondent who has clashed with Sanders.
Wolf continued: "I actually really like Sarah. I think she's very resourceful. But she burns facts and then she uses that ash to create a perfect smokey eye. Like maybe she's born with it, maybe it's lies. It's probably lies."
Sanders looked stony faced and there were both laughs and groans. But Wolf was not done: "I'm never really sure what to call Sarah Huckabee Sanders. Is it Sarah Sanders, is it Sarah Huckabee Sanders, is it Cousin Huckabee, is it Aunt Huckabee Sanders? What's Uncle Tom but for white women who disappoint other white women? Ah I Know, Aunt Coulter," – referring to the rightwing pundit Ann Coulter.
The White House Correspondents' Association dinner is held annually but, for the second year running, Trump was absent and using a campaign rally to criticise journalists. Wolf, best known for her HBO standup special Nice Lady and cameos on The Daily Show, is not the first comedian to provoke controversy at the event. Larry Wilmore provoked anger in 2016 when he used the N-word.
Wolf started as she meant to go on in a 20-minute monologue peppered with sexual references. "Like a porn star says when she's about to have sex with a Trump, let's get this over with," she said. Nodding to the case of adult film actor Stormy Daniels, who claims she had a sexual encounter with Trump, she said: "It's 2018 and I am a woman so you cannot shut me up. Unless you have Michael Cohen wire me $130,000." Cohen is Trump's lawyer.
Noting the president's no show, the comedian said: "I would drag him here myself, but it turns out that the president of the United States is the one pussy you're not allowed to grab. He said it first. Yeah, he did. You remember? Good."
Wolf also excoriated Trump's daughter and senior adviser, Ivanka. "She was supposed to be an advocate for women, but it turns out she's about as helpful to women as an empty box of tampons. She's done nothing to satisfy women. So I guess, like father like daughter."
As the audience muttered, Wolf chided: "Oh, you don't think he's good in bed. Come on." She went on: "She does clean up nice, though. Ivanka cleans up nice. She's the diaper genie of the administration. On the outside she looks sleek, but the inside, it's still full of shit."
Campaigners want to reclaim the country's past from 'distorted propaganda'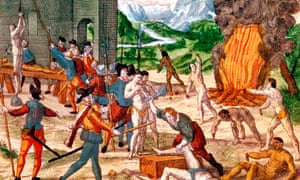 Black propaganda? An engraving depicting conquistadors torturing natives of Florida in their determination to find gold. Photograph: Print Collector/Getty Images
Beyond the cliched vistas of bullfights and beaches, and beneath the stereotypes of sunshine and sangría, fiestas and siestas there lurks a dark view of Spain that some of its people find bitterly and enduringly unfair.
For more than 500 years, they say, the country's past has been disfigured and distorted by the propaganda spread by its former opponents and rivals. The so-called leyenda negra – black legend – was spun by chroniclers in England and the Netherlands who supposedly sought to depict their Roman Catholic enemies as unusually cruel and bloodthirsty and to exaggerate the brutality of the Spanish empire and the Inquisition.
Five centuries on, a newly established group, the Hispanic Civilisation Foundation, is hoping to lay the legend to rest by using feature films, TV programmes, books and mobile exhibitions to lighten Spain's historical image. The foundation, made up of businessmen, diplomats, journalists, lawyers, academics and writers, aims to restore a lost sense of pride in the spread of Spanish culture.
According to the foundation, Spaniards have spent far too long feeling guilty and ashamed of their past and worrying about how they are seen by the rest of the world.
"We need to improve the self-esteem and cohesion of Spaniards when it comes to their shared history and what they have contributed to humanity," says Borja Cardelús, a writer and vice-president of the foundation. "There are various reasons why self-esteem is so low but it's fundamentally because neither Spain nor Hispanic countries have cultivated their images."
Cardelús said that, unlike Spain, the US, the UK and France had used culture and education to foster a favourable international image. "They've done this brilliantly well – but Spain hasn't," he says. "That has meant that others, outside Spain, have been the ones making Spain's image, and that's what's called the leyenda negra."
Although he singles out figures such as the Dutchman Theodor de Bry – whose engravings of Spanish imperial atrocities helped cement the conquistadors' reputation for cruelty – Cardelús lays much of the blame for the black legend at the door of a famous Spaniard.
The 16th-century Dominican friar Bartolomé de las Casas has long been feted for his early and fierce defence of the indigenous people of the Americas, but some historians have criticised him for overstating the barbarism of the Spaniards and getting his figures badly wrong. "It's true that, through his exaggerations and lies, Bartolomé de las Casas managed to get the Spanish crown and the country's politicians to protect the Indians," says Cardelús.
"In that respect, his position was very laudable. But Bartolomé de las Casas also suggested that Indians could be saved by importing slaves from Africa."
Cardelús, who takes a markedly benign view of the conquest of the Americas, argues that Hernán Cortés and Francisco Pizarro brought "a far more humanitarian system" to the Aztec and Inca empires they conquered.
"Cortés and Pizarro went into territories that have been eulogised … but the Aztecs practised human sacrifice," he says. "Cortés had no problem allying himself with those indigenous people who saw the Spanish as liberators from Aztec oppression. Things were even worse with the Incas, whose empire was very totalitarian."
What's more, he says, the black legend has come to eclipse Spain's role in the