01 May
News and Analyses, A Foreign Perspective
Nearly all of these are English-edition daily newspapers. These sites have interesting editorials and essays, and many have links to other good news sources. We try to limit this list to those sites which are regularly updated, reliable, with a high percentage of "up" time.
World Politics
United States
A list of nearly 50 questions has been obtained by the New York Times, and more than half relate to possible obstruction of justice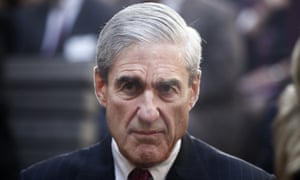 The special counsel Robert Mueller recently supplied Trump's lawyers with 10 pages of questions. Photograph: Charles Dharapak/AP
Robert Mueller, the special counsel investigating Russian interference in the US election, wants to ask Donald Trump about contact between his former election campaign manager Paul Manafort and Russia, the New York Times reported on Monday.
The paper said it had obtained a list of nearly 50 questions that Mueller, investigating Russian meddling in the 2016 presidential election, wants to put to the US president. More than half relate to potential obstruction of justice.
"What knowledge did you have of any outreach by your campaign, including by Paul Manafort, to Russia about potential assistance to the campaign?" is one of the more dramatic questions published by the Times.
The pointed reference to Manafort breaks tantalising new ground, since there was no previous evidence linking him to outreach to Moscow. Benjamin Wittes, a senior fellow at the Brookings Institution thinktank in Washington, tweeted: "This is very interesting – strong evidence that there are still collusion threads that are not yet public."
Manafort and his deputy, Rick Gates, pleaded not guilty last October to a 12-count indictment accusing them of conspiring to defraud the US by laundering $30m from their work for a Russia-friendly political party in Ukraine.
Mueller recently supplied Trump's lawyers with 10 pages of questions. They offer a dramatic insight into the special counsel's mind and make clear that Trump is a subject, not a mere witness, in the investigation. It is not yet known whether the president will agree to be interviewed.
Trump responded by Twitter on Tuesday, complaining about the leaking of the questions and claiming falsely there were "No questions on Collusion". He added: "Oh, I see … you have a made up, phony crime, Collusion, that never existed, and an investigation begun with illegally leaked classified information. Nice!"
He tweeted later: "It would seem very hard to obstruct justice for a crime that never happened! Witch Hunt!"
One batch of questions relates to alleged coordination between the Trump election campaign and Moscow. Donald Trump Jr's June 2016 meeting at Trump Tower in New York with a Russian lawyer who promised damaging information about rival Hillary Clinton is naturally under scrutiny. Mueller wants to ask when Trump became aware of the meeting; Trump Jr claimed his father did not know about it in advance.
Another questions asks: "What involvement did you have in the communication strategy, including the release of Donald Trump Jr's emails?" This relates to whether Trump helped draft a misleading statement in his son's name that did not acknowledge the real reason for the Trump Tower meeting.
The meeting was arranged through the Russian singer Emin Agalarov, his billionaire father, Aras Agalarov, and the British music publicist Rob Goldstone. According to the Times report, Mueller intends to ask: "During a 2013 trip to Russia, what communication and relationships did you have with the Agalarovs and Russian government officials?"
The questions also cover possible meetings with the Russian president, Vladimir Putin, discussions about Russian sanctions and whether Trump had any involvement in Republican party platform changes regarding the arming of Ukraine.
A central question, especially after recent revelations about the Trump-linked political consultancy Cambridge Analytica's use of data harvested from Facebook, is: "During the campaign, what did you know about Russian hacking, use of social media or other acts aimed at the campaign?
Mueller also wants to ask: "What did you know about communication between Roger Stone, his associates, Julian Assange or WikiLeaks?" And: "What did you know during the transition about an attempt to establish back-channel communication to Russia, and Jared Kushner's efforts?"
Most questions relate to obstruction of justice before and during Trump's presidency, diving into Trump's litany of contradictory statements and tweets.
They address a web of interactions with the former national security adviser Michael Flynn ("What efforts were made to reach out to Mr Flynn about seeking immunity or possible pardon?"), the former Russian ambassador Sergey Kislyak, the former acting attorney general Sally Yates, the attorney general, Jeff Sessions, Trump's personal lawyer Michael Cohen and the former FBI director James Comey. "What was the purpose of your Jan 27, 2017, dinner with Mr Comey, and what was said?"
Exclusive: analysis of more than a decade of official data reveals government paid settlements after deaths, alleged assaults and wrongful detention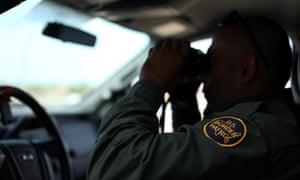 Review of data raises concerns about the agency's history of interactions with civilians, both native-born and immigrant. Photograph: Mike Blake/Reuters
The US government has paid out more than $60m in legal settlements where border agents were involved in deaths, driving injuries, alleged assaults and wrongful detention, an analysis of more than a decade of official data reveals.
Since taking office, Donald Trump has been pushing to expand the patrol force at the southern border, insisting recently on Twitter: "Border Patrol Agents are not allowed to properly do their job at the Border because of ridiculous liberal (Democrat) laws."
But while Trump has ordered national guard troops to be deployed to provide agents with extra support, the review of settlement data and details found in related court records raises concerns about the agency's history of interactions with civilians, both native-born and immigrant.
Cases uncovered by examination of treasury payment records spanning October 2005 to July 2017, court documents and media reports reveal:
The federal government has settled at least 20 wrongful death claims on behalf of CBP, paying more than $9m to the families of people killed since 2003, in incidents including shooting, beating, use of Tasers and collisions with vehicles.
The data also reveals another $6m in settlements stemming from a range of other allegations involving non-deadly force and civil rights violations. Lawsuits were filed by men and women who say they were racially profiled, unreasonably searched, detained for hours on end and in some cases assaulted.
Some describe having guns held to their heads; others alleged they were beaten at checkpoints, land crossings, in the rural desert, at an airport, in front of their children, or, in one instance, in their own home.
The Guardian analysis comes after border agent Lonnie Swartz was last month cleared on a murder charge in connection with the death of 16-year-old José Antonio Elena Rodríguez who died after Swartz fired 16 times across the border from Arizona into Mexico.
According to the American Civil Liberties Union's Chris Rickerd, who monitors CBP nationally, the settlements hint at larger patterns of misconduct that go unchallenged. "There's a whole web of things that make this a particularly hard road," said Rickerd, citing fear among border communities whose livelihoods often rely on crossing checkpoints.
Agencies braced for spike in unwanted children who were conceived as a result of sexual violence by Myanmar soldiers and militiamen

Rohingya refugee Ayesha Akhtar, 34, and her three-month-old son Fayaz inside her shack in a refugee camp in Cox's Bazar, Bangladesh. Photograph: Saiful Sekh for the Guardian
When hundreds of thousands of Rohingya flooded into south-east Bangladesh last year they told of systematic rape and other sexual violence by Myanmar soldiers and militiamen.
May will mark nine months since that exodus started. Aid agencies, especially those who work with women and children, have been bracing for the date. Over the next weeks, babies conceived as a result of sexual assaults committed during the crackdown will be born.
Save the Children says it is expecting the number of babies who are abandoned by their mothers to increase next month in line with the milestone. Médecins Sans Frontières (MSF), which runs hospitals in the sprawling Cox's Bazar camps, is preparing to counsel affected mothers.
"They may feel they cannot care or are not equipped to care for their new baby," says Melissa How, a medical coordinator with the doctors' group. "Many of them are young women under the age of 18. Additionally, how they will be perceived socially due to stigma is an added stress."
Yet they will not be the first children conceived in this way to be born in the camps. About one year ago, Ayesha Akhtar* missed her period. A few weeks earlier, the Rohingya woman says three Burmese soldiers had burst into her home in a village south of Maungdaw town, threatened to shoot her children, then raped her.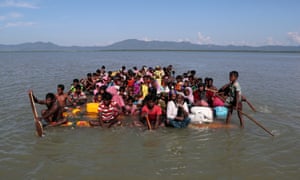 Rohingya refugees cross the Naf river to Bangladesh last year. Photograph: Mohammad Ponir Hossain/Reuters
Similar raids had been taking place for months across Rakhine state as part of a Myanmar army crackdown beginning in November 2016.
Ayesha, a mother of five whose husband died in 2012, says the "dirty act" left her reeling. She tried keeping it from her neighbours, but they quickly guessed.
"Everyone knew the soldiers commit rape when they raid villages," she tells the Guardian inside her tarpaulin shelter on a slope in Balukhali, one of the congested refugee camps that has swollen with new arrivals since last August.