A mother on the tour told authorities the young men were 'creepy' and 'really stand out', causing them to miss the rest of the event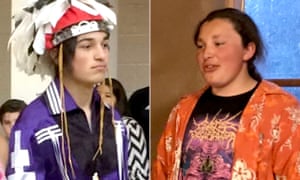 Kanewakeron Thomas Gray, left, and Skanahwati Lloyd Gray, were touring their 'dream' college, their mother said. Photograph: Courtesy Lorraine Kahneratokwas Gray
A mother on a Colorado college tour called the police on two Native American students in the group because they looked like "they don't belong", in the latest episode to ignite outrage over racial profiling and needless calls to law enforcement in the US.
Two teenage brothers had traveled from New Mexico for the tour at Colorado State University (CSU) on Monday when a parent called the authorities on them, saying they were quiet and "creepy" and "really stand out". The call prompted university police to question them, causing the young men to miss the rest of the tour, campus officials said.
"They were shocked. They were trying to figure out what they did wrong," said Lorraine Kahneratokwas Gray, whose sons Kanewakeron Thomas Gray, 19, and Skanahwati Lloyd Gray, 17, were on the tour. Video released by police showed the officers pulling them aside and asking them what was in their pockets while commanding them to keep their "hands out".
"It could have ended so much more tragically. When he reached into his pocket, what if the cop thinks he has a gun and shoots him?" the mother told the Guardian by phone.
The incident, which prompted an apology from the university, comes amid a steady stream of similar accounts across the US, including police responding to calls targeting African American patrons in Starbucks, a golf course, a gym and a Waffle House. A black former White House staffer said he was moving into an apartment building in New York last week when a resident called police on him, reporting an "active burglary".
In two recent California cases, calls to law enforcement led police to fatally shoot unarmed black men – Diante Yarber in a Walmart parking lot and Stephon Clark in his family's backyard.
The 911 caller, who has not been named, told a dispatcher that the students' "behavior is just really odd", according to audio released on Friday. "They're definitely not a part of the tour."
The woman further said the black clothing they were wearing was suspicious, that they appeared to be Hispanic and that one was from Mexico. She later added: "They just really stand out … They're just creepy kids … It actually made me feel sick." The mother, who left the tour to call police, said another man on the tour also "believed they don't belong".
The woman claimed that the teens weren't answering her questions about why they were there and "were lying the whole time".
Lorraine, an indigenous activist in New Mexico, said her sons had saved up money to drive seven hours to CSU, their "dream school". When her 19-year-old called her, frantic, to tell her about the police, she thought he was joking.
"It's ridiculous," she said.
It quickly became clear to her that her sons' lives could have been in danger, she said: "I could hear the fear and disappointment in his voice."
It was obvious that the mother on the tour had "profiled" her sons, Lorraine said, adding that she wished police and the guide had quickly resolved the situation without them missing the rest of the tour.
"We want to make an example of this to protect young men in the future from having to go through something like this or something that could be so much worse," she added.
The brothers got lost and had shown up late, but were signed up for the tour. When police asked them why they were quiet on the tour, one of them said his brother was "shy", according to five-minute body-camera footage of the questioning.
"People were just worried 'cause you guys were just real quiet and didn't answer any of their questions," one officer said.
CSU said in a statement that campus police "confirmed" the students were part of the tour and "allowed them to rejoin the group", but that the tour had already moved on at that point.