Israeli agency told to find incriminating material on Obama diplomats who negotiated deal with Tehran

A Few Thoughts:
Trump the Dump is more set on American hegemony in the Middle East than peace. Bringing Iran to the table won't deliver what the neocon fascists in the White House really want- regime change.
Iran and Syria's "independence" (of American power) is the real reason they are America's enemies in the region, not their despotic dictators. Otherwise Saudi Arabia would face the same sabre rattling that these two have. Nuclear capacity is also a hypocritical standard- considering Reagan helped Pakistan to develop their own nuclear weapons.
The very little that Obama achieved is being undermined by the Dump and Netanyahu. The irony of Israeli secret services being used to dig up dirt is completely lost on them too. Two very pathetic Dictators.
The McGlynn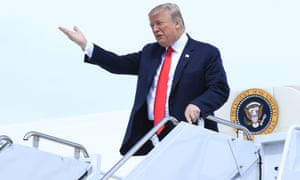 Donald Trump promised the Israeli leader that Iran would never have nuclear weapons. Photograph: Manuel Balce Ceneta/AP
Aides to Donald Trump, the US president, hired an Israeli private intelligence agency to orchestrate a "dirty ops" campaign against key individuals from the Obama administration who helped negotiate the Iran nuclear deal, the Observer can reveal.
People in the Trump camp contacted private investigators in May last year to "get dirt" on Ben Rhodes, who had been one of Barack Obama's top national security advisers, and Colin Kahl, deputy assistant to Obama, as part of an elaborate attempt to discredit the deal.
The extraordinary revelations come days before Trump's 12 May deadline to either scrap or continue to abide by the international deal limiting Iran's nuclear programme.
Jack Straw, who as foreign secretary was involved in earlier efforts to restrict Iranian weapons, said: "These are extraordinary and appalling allegations but which also illustrate a high level of desperation by Trump and [the Israeli prime minister] Benjamin Netanyahu, not so much to discredit the deal but to undermine those around it."
One former high-ranking British diplomat with wide experience of negotiating international peace agreements, requesting anonymity, said: "It's bloody outrageous to do this. The whole point of negotiations is to not play dirty tricks like this."
Sources said that officials linked to Trump's team contacted investigators days after Trump visited Tel Aviv a year ago, his first foreign tour as US president. Trump promised Netanyahu that Iran would never have nuclear weapons and suggested that the Iranians thought they could "do what they want" since negotiating the nuclear deal in 2015. A source with details of the "dirty tricks campaign" said: "The idea was that people acting for Trump would discredit those who were pivotal in selling the deal, making it easier to pull out of it."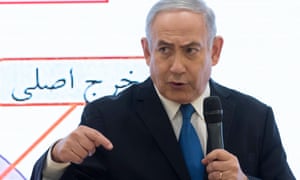 Benjamin Netanyahu on Israeli television, describing how Iran has continued with its plans to make nuclear weapons. Photograph: Jim Hollander/EPA
According to incendiary documents seen by the Observer, investigators contracted by the private intelligence agency were told to dig into the personal lives and political careers of Rhodes, a former deputy national security adviser for strategic communications, and Kahl, a national security adviser to the former vice-president Joe Biden. Among other things they were looking at personal relationships, any involvement with Iran-friendly lobbyists, and if they had benefited personally or politically from the peace deal.
Investigators were also apparently told to contact prominent Iranian Americans as well as pro-deal journalists – from the New York Times, MSNBC television, the Atlantic, Vox website and Haaretz, the Israeli newspaper among others – who had frequent contact with Rhodes and Kahl in an attempt to establish whether they had violated any protocols by sharing sensitive intelligence. They are believed to have looked at comments made by Rhodes in a 2016 New York Times profile in which he admitted relying on inexperienced reporters to create an "echo chamber" that helped sway public opinion to secure the deal. It is also understood that the smear campaign wanted to establish if Rhodes was among those who backed a request by Susan Rice, Obama's final national security adviser, to unmask the identities of Trump transition officials caught up in the surveillance of foreign targets.
Although sources have confirmed that contact and an initial plan of attack was provided to private investigators by representatives of Trump, it is not clear how much work was actually undertaken, for how long or what became of any material unearthed.
Neither is it known if the black ops constituted only a strand of a wider Trump-Netanyahu collaboration to undermine the deal or if investigators targeted other individuals such as John Kerry, the lead American signatory to the deal. Both Rhodes and Kahl said they had no idea of the campaign against them. Rhodes said: "I was not aware, though sadly am not surprised. I would say that digging up dirt on someone for carrying out their professional responsibilities in their positions as White House officials is a chillingly authoritarian thing to do."

Decision to relocate into the disputed city in the same week as Israel's 70th anniversary raises concerns of increased tension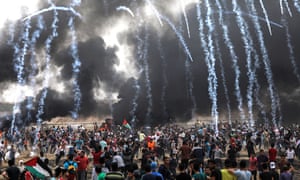 Israeli army fires tear-gas at Palestinian protesters during clashes on Friday 4 May. Photograph: Mohammed Saber/EPA
Police in Israel have started patrols and security sweeps of a southern Jerusalem neighbourhood, anxiously preparing for a US embassy inauguration that Israelis and Palestinians fear may launch a week of violence.
The move on 14 May will mark the start of a potentially volatile week when Israel will celebrate its 70th anniversary and Palestinians mark the "catastrophe", or Nakba, of their displacement on the 15th.
Nakba day has previously seen violence as the Israeli army responds to demonstrations in the occupied territories. This year, tensions are far higher than usual. Six weeks of protests along the Gaza border, during which Israeli soldiers have shot dead nearly 40 people and wounded hundreds, will culminate that week.
There are fears that those attending the rallies may attempt to breach the perimeter, a move that could lead to mass casualties as Israeli snipers are operating under rules of engagement that permit live fire.
"The situation between Israelis and Palestinians could not be more delicate," wrote Ilan Goldenberg, who served as part of the US team during the 2013-14 Israeli-Palestinian negotiations, in an opinion piece for the Israeli paper Haaretz.
The embassy move, he said, may pass without significant violence, pointing to the lack of anticipated instability following Donald Trump's December announcement to relocate the embassy. "Or it could explode – and we could find ourselves in the middle of a new war between Israel and Hamas in Gaza. Nobody knows, but it is irresponsible for the US to be dumping gasoline on this potential fire," he said.
Israel's police spokesman, Micky Rosenfeld, said officers were assessing the level of security needed for theopening, including deploying CCTV cameras and guards in the Jerusalem neighbourhood of Arnona, where the current US consulate is being retrofitted to become the embassy.
"We're still waiting to see if the US president will come here for the opening move. The level of security will be raised accordingly," he said. Trump has hinted he may attend, while Israeli media have speculated he will send his daughter Ivanka Trump and son-in-law Jared Kushner.
Israeli police had not received information of any specific warnings, Rosenfeld said, but security forces were "taking into consideration the period we're going to be in and other events, including Jerusalem celebrations and Nakba day. There are implications around the Gaza strip area, and of course the move with the American embassy as well. We're talking about an intensive week," he said.