14 May
News and Analyses, A Foreign Perspective
Nearly all of these are English-edition daily newspapers. These sites have interesting editorials and essays, and many have links to other good news sources. We try to limit this list to those sites which are regularly updated, reliable, with a high percentage of "up" time.
From The McGlynn
This Tuesday will mark 70 years of the Nakba, or the catastrophe, commemorating the forced displacement of Palestinians by the establishment of the state of Israel in 1948. It has also been 50 years of Israel's occupation of the West Bank, including Jerusalem, and 11 years of its punitive closure of Gaza, whose residents have been shot and killed in nonviolent protests in recent weeks.
Over the past six weeks, Israeli military forces have used excessive force to suppress the Great Return March in Gaza, targeting and killing people participating in demonstrations. Just today, the Israeli military has shot and killed at least 30 Palestinians and 1000 injured. Since the start of mass protests, the Israeli military has fired live ammunition from snipers, used plastic coated steel bullets, and launched tear gas grenades from drones. Human rights organizations have documented that over 40 Palestinians have been killed while participating in these demonstrations, including five children, two journalists, one person on crutches and two people with disabilities. During the same period, 3,979 have been injured, including 732 children, 131 women, 35 paramedics, and 37 journalists—of them 2,186 were hit by live fire.
The U.S. must no longer support Israel's gross human rights violations, and must halt further assistance to Israel in accordance with U.S. law and international law.. Today, we also condemn Trump's move of the U.S. Embassy from Tel Aviv to Jerusalem, in violation of international law.  United States support and encouragement of Israel's occupation and systemic violations must end now.  
Follow latest developments as 41 Palestinians killed and hundreds wounded in protests in Gaza and West Bank over moving US embassy to Jerusalem
Palestinian women wave national flags and chant slogans near the Israeli border fence. Photograph: Adel Hana/AP
Israeli army deploys extra combat battalions and snipers at Gaza frontier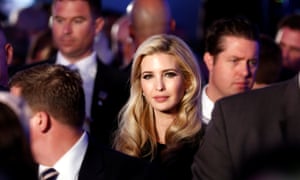 Ivanka Trump is seen during a reception held at the Israeli Ministry of Foreign Affairs in Jerusalem on Sunday ahead of the opening of the new US embassy. Photograph: Amir Cohen/Reuters
Ivanka Trump is in Israel for the inauguration of the US Jerusalem embassy on Monday, as protesters in Gaza prepare for a day of rallies along the frontier that are expected to be met with gunfire.
The US president's daughter said she was returning "with great joy" to Jerusalem, which Donald Trump has recognised as Israel's capital to the dismay of Palestinians, who claim part of the holy city as the capital of a future state.
"We look forward to celebrating Israel's 70th anniversary and the bright future ahead," Ivanka wrote on Instagram ahead of the opening, which will take place on Monday, exactly seven decades since the country declared independence. "We will pray for the boundless potential of the future of the US-Israel alliance, and we will pray for peace."
As the city prepared for the ceremony, its top football team, Beitar Jerusalem, announced that it has renamed itself in honour of the "courageous US president. Henceforth the team will be known as Beitar Trump Jerusalem.
Ivanka, a presidential adviser, and her husband, Jared Kushner, attended a gala dinner on Sunday evening ahead of the event on Monday which is due to start at 4pm local time.
In Gaza, a strip of land Israel has blockaded for a decade, tens of thousands of people are anticipated to gather for protests along the perimeter fence.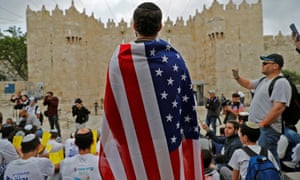 An Israeli man draped in the stars and stripes at Damascus gate in Jerusalem on Sunday. Photograph: Ahmad Gharabli/AFP/Getty Images
Frustration and desperation at Trump's December declaration helped ignite a six-week movement in which residents of the enclave have gathered near the frontier, with groups throwing stones and burning tyres. They have demanded an end to severe restrictions on movement and called for a "right to return" to their ancestral homes.
Israeli snipers have killed dozens and wounded more than 1,700 when firing on demonstrators in past rallies, according to Gazan health officials.
Organisers hope Monday's will be the largest demonstration to date, on the eve of the 70th anniversary commemorating the Palestinian "Nakba", or catastrophe, referring to their mass uprooting in the war surrounding Israel's 1948 creation.
Israel has portrayed the movement as a "terrorist" ploy by Hamas and as a security threat to its civilians, pointing out attempts to damage and breach the fence. No Israeli has been wounded since protests began on 30 March.
Hamas, which rules Gaza and has supported the protests, said it would not stop people from attempting to break through the fence.
The Israeli army said on Sunday that it held Hamas accountable for anything in the Gaza Strip "and its consequences". It added it had increased the deployment of "combat battalions, special units, field intelligence forces and snipers".
In Jerusalem, dozens of foreign diplomats are expected to the attend the opening of the new mission, set on the site of the US consulate, although many ambassadors who oppose the move will skip it.
Israel captured East Jerusalem in 1967 and annexed the hilltop city in a move not recognised internationally. Most countries have kept their embassies in Tel Aviv.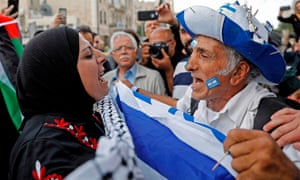 An Israeli man confronts a Palestinian woman at Damascus gate in Jerusalem on Sunday as Israeli settlers celebrate Jerusalem Day in the Old City. Photograph: Menahem Kahana/AFP/Getty Images
The fate of the ancient city has been a critical and unresolved issue in past US-brokered peace talks. The Palestinian leadership rejected Washington's traditional role as a mediator following Trump's Jerusalem decision.
More than 1,000 Israeli police, including special patrol units and undercover officers, will be working near the event on Monday. Security preparations have taken three months.

Robert Jeffress has made offensive remarks on Judaism and Islam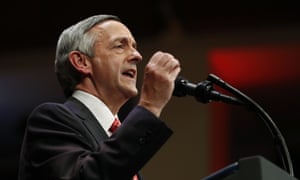 Robert Jeffress has drawn severe criticism for calling Islam and Mormonism 'heresy from the pit of hell' and saying Jews 'can't be saved'. Photograph: Carolyn Kaster/AP
An evangelical pastor who former presidential candidate Mitt Romney denounced as a "religious bigot" delivered a prayer at the opening of the US embassy in Jerusalem on Monday.
Praising Donald Trump's "determination, resolve, courage" in moving the embassy from Tel Aviv despite warnings that the move would provoke violent protest, Robert Jeffress said God had "has given us a president" who "stands on … the right side of you, oh God, when it comes to Israel".
Concurrently in Gaza, health officials said 41 Palestinians were killed when Israeli forces opened fire at protesters rallying against the embassy opening. Officials who spoke to Reuters said at least 900 were injured, about 450 by live bullets.
Romney criticised the choice of a man who has said all Jews will go to hell to deliver a blessing in Israel. Jeffress is the leader of a Dallas-area Baptist church and a spiritual adviser to Trump. He has been criticised for calling Islam and Mormonism "heresy from the pit of hell" and saying Jews "can't be saved". As reported by dallasnews.com, he also said Islam is "a religion that promotes paedophilia".
Romney, a Mormon, wrote on Twitter on Sunday: "Robert Jeffress says 'you can't be saved by being a Jew' and 'Mormonism is a heresy from the pit of hell'. He has said the same about Islam. Such a religious bigot should not be giving the prayer that opens the United States embassy in Jerusalem."
Trump considered Romney to be his first secretary of state. Since then, Romney has been a consistent and strong critic of Trump's behaviour in office.
Jeffress responded to Romney on the same platform, writing: "Historic Christianity has taught for 2,000 years that salvation is through faith in Christ alone. The fact that I, along with tens of millions of evangelical Christians around the world, continue to espouse that belief, is neither bigoted nor newsworthy."
In his prayer on Monday, he said Israel was "a blessing to the entire world, through her innovations in medicine, technology and energy. But most of all Israel has blessed this world by pointing us to you, the one true God, through the message of her prophets, the scriptures and the Messiah."
He added: "We want to thank you, especially today, for the courageous leadership of Prime Minister Benjamin Netanyahu and his determination to do whatever it takes to defend his people at all cost.
"We want to thank you for the tremendous leadership of our great president, Donald J Trump. Without President Trump's determination, resolve, courage, we would not be here today. And I believe father that I speak for every single one of us when I say that every day, we thank you that you have given us a president who boldly stands on the right side of history but more importantly stands on the right side of you, oh God, when it comes to Israel."
Trump tweeted about the ceremony on Monday morning. "US embassy opening in Jerusalem will be covered live on [Fox News] & [Fox Business]," he wrote, advertising his favoured TV network. "Lead up to 9am (eastern) event has already begun. A great day for Israel!"

World Politics
United States
The Democratic field is likely to be swollen but the 75-year-old could represent a likable consensus candidate for both wings of the party
A

mong recent pilgrims to the Arizona ranch of Senator John McCain was Joe Biden. The Republican, who has an aggressive form of brain cancer, urged the former vice-president to "not walk away" from politics, Biden told the New York Times. It did not take much imagination to see this as a metaphorical shove – into the next race for the White House.
Biden has the desire, the pedigree – and the rage. On Friday, incensed by reports that a White House aide had dismissed McCain with the terse comment "he's dying anyway", the 75-year-old Democrat let rip, declaring that decency in the administration had finally hit "rock bottom".
It was just the latest evidence that Biden is spoiling for a fight with Donald Trump. Whereas Barack Obama has maintained a zen-like calm even as his legacy is eviscerated, Biden has taken the gloves off, hammering the president's policies and personal conduct, even suggesting that he would like to "beat the hell out of" Trump over his crude remarks about women.
But in 2020 he would be up against the most competitive and crowded Democratic field in many years. The point will be brought home on Tuesday, when the Center for American Progress in Washington hosts potential contenders including senators Cory Booker, Sherrod Brown, Kirsten Gillibrand, Amy Klobuchar, Chris Murphy, Bernie Sanders and Elizabeth Warren, as well as the former housing secretary Julián Castro and New York mayor Bill de Blasio.
Bill Galston, a former policy adviser to Bill Clinton, said: "There are three lanes to look at. In lane one, there is 'Bernie-lite', which could be Bernie himself. In lane two, there are people who think, for a variety of reasons, that's not the right way for the Democratic party to go and we ought to be 21st-century reformers.
If people are looking for a unifier and don't want to shed internecine blood, the argument for Biden could be potent

Bill Galston, former Clinton adviser
"Lane three is the Biden lane. He's really sui generis. If people are looking for a unifier and don't want to shed internecine blood, the argument for Biden could be potent. On the other hand, he has always underperformed as a presidential candidate in the past."
Biden made unsuccessful bids for the presidency in 1988 and 2008. He did not run in 2016 after the death of his son Beau. But he has repeatedly not ruled out a shot at 2020. He published a book, Promise Me, Dad, and has been travelling the country, a tour extended beyond its original schedule. This week, at an event organised by his own foundation and the Brookings Institution, he expressed indignation at the plight of the middle class, offered a preview of a nascent manifesto and frequently veered off script for dramatic effect.
"I love Bernie but I'm not Bernie Sanders," he said. "I don't think 500 billionaires are the reason why we're in trouble … We have not seen this huge concentration of wealth. The folks at the top aren't bad guys. I get in trouble in my party when I say wealthy Americans are just as patriotic as poor folks. I've found no distinction, I really haven't."
But then, in what some might find a contradiction, he went on: "This gap is yawning. It's gaping and it's having the effect of pulling us apart. You see the politics of it. And the country's not going to stand for it forever so we have to deal with the tax code. It's wildly skewed toward taking care of those at the very top. It overwhelmingly favours investors over workers and it's riddled with unproductive expenditures."
The paradoxical comments illustrated Biden's dilemma – or opportunity. On the one hand, he is a centrist and having spent 36 years as a senator and eight years as vice-president can hardly be described as an outsider. On the other, he has faced criticism over links to the financial services industry, a major presence in his home state, Delaware.
A New York Times report three years ago noted that Biden supported a bill in 2005 that would have made it more difficult for consumers to seek bankruptcy protection. Obama voted against it. Executives and employees of the credit card issuer MBNA contributed roughly $200,000 to Biden campaigns from 1989 to 2010, the paper said. Warren was among those who called him out on it.
Still, as Democrats tack left on issues such as healthcare, Biden may seek to tap into the economic populism that propelled Sanders to run Hillary Clinton close in 2016. Many pundits have speculated that straight-talking Biden would have done better than Clinton at appealing to blue-collar voters and neutralising Trump in the ultimately decisive states of Michigan, Pennsylvania and Wisconsin.

History suggest a bumper year for Democrats but while Trump may be an electoral liability in some districts in others he is an asset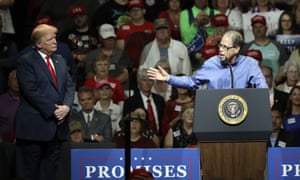 The Indiana Republican senatorial candidate Mike Braun, right, acknowledges Donald Trump during a Republican campaign rally this week in Elkhart. Photograph: Charles Rex Arbogast/AP
After months of hype about Democrats' chances of taking back both chambers of Congress in the November midterm elections, Republicans are now more sanguine. The "blue wave" is not hitting every beach.
Donald Trump's approval rating is rising, the economy is robust and there has been an apparent foreign policy breakthrough with North Korea. After losses in Virginia, Alabama and Pennsylvania, Republican confidence is up. While Democrats consistently lead in polls of the generic ballot, there is a sense, in the words of Republican strategist John Brabender, that "things are better today than 60 days ago".
Trump is still unpopular. But while that may be a negative in competitive House districts where the president lost or performed worse than past Republican presidential candidates, he is a key asset in deep red states where incumbent Democrats will be on the ballot.
"It's not a matter of do you use the president or not," said Brabender. "You have to use him tactically in places where he has a greater impact coming in."
This was put on display on Thursday night in Elkhart, Indiana, as Trump held a rally in a vast high school gymnasium in front of a crowd of thousands. Although he went on his trademark diversions – discussing former basketball coach Bobby Knight and the new US embassy in London – the president also attacked the Democratic senator Joe Donnelly and praised his Republican opponent, Mike Braun.
Although Trump veered off message – calling Donnelly "Sleeping Joe" when Republicans have gone to great lengths to brand him as "Mexico Joe" – it was a small price to pay. The party can now cut television ads featuring Trump touting Braun. In 2016, Trump won Indiana by almost 20%.
Missouri, North Dakota, Montana and West Virginia also stage key Senate races in November. Trump won them all by significant margins.
Brabender did strike a note of caution, saying "the Senate is always an exception". In 1994, for example, a year in which a Republican wave took the House, the GOP only managed to beat two incumbent Democrats in the upper chamber.
"Senate races are almost more like governor's races," Brabender said. "I don't want to totally dismiss the national environment but people really get to know candidates very well."
Another Republican strategist, who is working on a number of 2018 races, said Trump was not inherently an asset. "Every United States Senate candidate in the country ran ahead of [Trump]," he said, "and that shouldn't be the model of how we win elections moving forward. It's incumbent on us to nominate better candidates and minimize the damage."