15 May
News and Analyses, A Foreign Perspective
Nearly all of these are English-edition daily newspapers. These sites have interesting editorials and essays, and many have links to other good news sources. We try to limit this list to those sites which are regularly updated, reliable, with a high percentage of "up" time.
Funerals held as Palestinians mark the anniversary of the 'Nakba', or catastrophe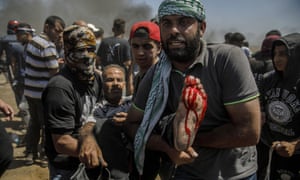 A protester is carried away after being shot by Israeli forces near the Gaza-Israeli frontier on Monday. Photograph: Marcus Yam/LA Times via Getty Images
Funerals are to be held in Gaza for the 58 people killed by Israeli forces as tens of thousands protested along the frontier against the opening of the US embassy in Jerusalem.
The funerals were expected to take place in the coastal enclave on Tuesday, coinciding with the day Palestinians mark the "Nakba", or catastrophe, commemorating the more than 700,000 people who fled or were expelled from their homes in the 1948 war surrounding Israel's creation.
Khaled Batch, the head of the grassroots organising committee of the Gaza protests, said Tuesday would be a day for funerals, suggesting there were no plans for further border marches after the bloodiest day in Gaza since the 2014 war. Israeli media reported that some tents where protesters had been gathering at the border have been taken down.
The violent scenes on Monday contrasted sharply with the glossy inauguration of Washington's new mission about 60 miles away in an affluent Jerusalem neighbourhood. The US president's daughter, Ivanka Trump, celebrated the opening to clapping and cheering from American and Israeli VIPs.
Israeli forces have killed at least 58 Palestinians and injured more than 1,200 during protests on the Gaza side of the border with Israel. It marks the deadliest day in Gaza since the 2014 war. In a video message played at the US embassy opening ceremony, Donald Trump said: 'The United States remains fully committed to facilitating a lasting peace agreement'
Israel's prime minister, Benjamin Netanyahu, joined the US in blaming Hamas, the Palestinian ruling faction in Gaza, for the deaths. He defended his country's use of force, saying "every country has the obligation to defend its borders".
The French president, Emmanuel Macron, condemned "the violence of the Israeli armed forces against protesters" in a telephone call with the Palestinian president, Mahmoud Abbas, and Jordan's King Abdullah II. He also reaffirmed criticism of the US decision to move the embassy to Jerusalem.
At the ceremony in Jerusalem, Washington's ambassador to Israel, David Friedman, stood on a stage painted with the US flag and said: "Today's historic event is attributed to the vision, courage and moral clarity of one person to whom we owe an enormous and eternal debt of gratitude: President Donald J Trump." The crowd cheered and gave a standing ovation.
The only direct reference to the bloodshed came from Trump's son-in-law, Jared Kushner, who said: "As we have seen from the protests of the last month and even today, those provoking violence are part of the problem and not part of the solution."
Trump, who had tweeted that Monday was a "great day for Israel", did not attend the embassy opening but spoke in a video message, saying he extended "a hand in friendship to Israel, the Palestinians and to all of their neighbours. May there be peace."
In Washington, the White House deputy press secretary, Raj Shah, was repeatedly challenged to condemn the Israeli response. "We believe Hamas is responsible for these tragic deaths," he told reporters. "Their rather cynical exploitation of the situation is what's leading to these deaths and we want it stopped."
The Israel Defence Forces said in a statement: "The rioters are hurling firebombs and explosive devices towards the security fence and IDF forces, and are burning tyres, throwing rocks and launching flaming objects in order to ignite fires in Israeli territory and harm IDF troops."
Turkey said it would recall its ambassadors to the US and Israel, and its president, Recep Tayyip Erdo?an, described Israel's actions as "genocide". South Africa also recalled its ambassador in protest at the "violent aggression carried out by Israeli armed forces".
The UN human rights chief, Zeid Ra'ad al-Hussein, decried Monday's "shocking killing of dozens", saying "those responsible for outrageous human rights violations must be held to account".
Kuwait requested an emergency meeting of the UN security council. Diplomats later told Agence France-Presse the US had blocked the request.
Trump's decision to move the embassy and recognise Jerusalem as the capital of Israel dismayed Palestinians, who see East Jerusalem as the capital of their future state. The holy city has been one of the most contentious issues in past negotiations, and broad international consensus has been that its status will be settled under a peace deal, although Trump has said Jerusalem is now "off the table".
Many Israelis have praised the decision to move the diplomatic mission. The Friends of Zion Museum has put up posters in Jerusalem saying: "Make Israel Great Again" and US flags have been hung from buildings in the city.

Palestinians clash with Israeli troops in Ramallah, West Bank – video
International condemnation of Israel's killing of 60 Palestinian protesters in Gaza has escalated as tens of thousands of people rallied in the coastal enclave to bury the dead.
The killings took place on Monday during demonstrations at the Gaza border fence, which coincided with a high-profile ceremony to mark the transfer of the US embassy from Tel Aviv to Jerusalem, which overturned decades of US foreign policy.
The UK prime minister, Theresa May, was among those who spoke out strongly on Tuesday. A spokesman said she was "deeply troubled" by Israel's use of live fire and "the scale of the violence".
On Tuesday Palestinians marked the nakba, or "catastrophe", commemorating the more than 700,000 Palestinians who fled or were expelled in the 1948 war surrounding Israel's creation.
Senior UN officials condemned the recent killings as an "outrageous human rights violation" and said it appeared that anyone approaching the Gaza border fence was liable to be killed by Israeli soldiers. Ireland summoned Israel's ambassador to protest against the fatalities. Russia and China also expressed their concern over the killings.
But any prospect of the US allowing an investigation under the aegis of the Security Council seemed remote after the American ambassador to the UN, Nikki Haley, threw Washington's weight behind Israel, saying no country would show the "restraint" that Israel had.
Most of the Gazans who died on Monday were shot by Israeli snipers, Gaza's health ministry said. According to the Hamas-run ministry, the dead included eight children under the age of 16. At least 2,400 people were wounded.
Summing up the concern of many, Rupert Colville, a spokesman for the UN high commissioner for human rights, said in Geneva: "The mere fact of approaching a fence is not a lethal, life-threatening act, so that does not warrant being shot. It seems that anyone is liable to be shot dead." He stressed that international laws that applied to Israel made clear that "lethal force may only be used as a measure of last, not first, resort."
In an apparent dismissal of Israel's justification for the high casualty levels, Colville said: "It is not acceptable to say that 'this is Hamas and therefore this is OK."

World Politics
United States
Internal documents obtained by the Guardian reveal a nationwide drive to persuade union members to quit and stop paying dues
Members of the American Federation of Teachers hold up signs depicting Education Secretary Betsy DeVos and David Koch, while protesting in support of unions outside of the supreme court on 26 February. Photograph: Jacquelyn Martin/AP
Rightwing activists are launching a nationwide drive to persuade public-sector trade union members to tear up their membership cards and stop paying dues, posing a direct threat to the progressive movement in America.
Documents obtained by the Guardian reveal that a network of radical conservative thinktanks spanning all 50 states is planning direct marketing campaigns targeted personally at union members to encourage them to quit. The secret push, the group hopes, could cost unions up to a fifth of their 7 million members, lead to the loss of millions of dollars in income and undermine a cornerstone of US progressive politics.
"Well run opt-out campaigns can cause public-sector unions to experience 5 to 20% declines in membership, costing hundreds of thousands or even millions of dollars in dues money. This can affect the resources and attention available for union leaders to devote to political action campaigns," the internal documents say.
The anti-union marketing drive is the brainchild of the State Policy Network (SPN), a coast-to-coast alliance of 66 rightwing thinktanks that has an $80m war chest to promote Donald Trump-friendly regressive policies such as low taxes and small government. The group is funded by such billionaire conservative donors as the Koch brothers and the Walton Family Foundation that stems from the Walmart fortune
Previous SPN literature exposed by the Guardian has revealed the political motives behind the network's attacks on unions. It aims to "defund and defang" public sector unions as a means to "reverse the failed policies of the American left".
The goal, the group said, was "permanently depriving the left from access to millions of dollars in dues extracted from unwilling union members every election cycle".
The Guardian has now obtained what SPN is calling a "toolkit" of advice to its followers on how to go about fomenting "union reform" – a euphemism for draining unions of members and cash. The "toolkit" sets out four "tactics" for depleting their power – "effective union reform", in its language.
One of those tactics is the opt-out campaign.
"To get employees to opt-out of their union," the documents say, "they first need to know they have a choice. A direct marketing campaign to union represented public employees that combines mail and digital outreach helps raise awareness and raise opt-out rates."
The SPN blueprint sets out how to acquire the private details of union members through state freedom of information laws so that opt-out propaganda can be targeted directly at them. It says: "Access to lists of union members is essential to this project. The most common means of obtaining lists is through requests made under state public records laws."
The toolkit is being circulated at a vital moment for public sector trade unions. The wave of school teachers' strikes in West Virginia, Oklahoma, Kentucky, Arizona, Colorado and elsewhere has reinvigorated the labor movement as a key part of the resistance to stagnating wages, waning resources and a hostile White House.
More perilously, the US supreme court is poised to deliver its ruling any day in Janus v AFSCME, one of the most important trade union cases in recent times. If the five conservative justices on the highest court vote in favor of the anti-union plaintiff, as many expect, they would deal a severe blow to organized labor by giving employees the right to opt-out of paying their share of the costs of collective bargaining even though they benefit from negotiated higher wages and improved conditions.

Indiana senator is second Democrat to support president's pick

Donnelly faces tough re-election fight in state Trump won handily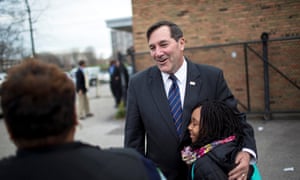 Senator Joe Donnelly faces a tough re-election fight in Indiana. Photograph: Aaron Bernstein/Reuters
Joe Donnelly of Indiana on Saturday became the second Democratic senator to back Donald Trump's pick to run the CIA, Gina Haspel, whose nomination is in question over her role in a rendition and torture programme run by the agency after 9/11.
In a statement issued on Saturday, Donnelly said he made his decision after a "tough, frank and extensive discussion" with Haspel, the acting CIA director, on topics including "issues of detention and interrogation".
"I believe she has learned from the past," he said, also citing the "strong support of both her colleagues at the agency and former CIA directors [Michael] Hayden, [Leon] Panetta and [John] Brennan, who served under Presidents Bush and Obama".
Donnelly is up for re-election in a state Trump won handily in 2016. The president attacked the senator this week, at a campaign-style rally in Elkhart, calling him "Sleeping Joe" and criticising his record in Washington, which Trump said made Donnelly, who was elected in 2012, an "incredible swamp person".
The rally came two days after a fiercely contested Republican primary, which was won in an upset by Mike Braun, a wealthy businessman and former state lawmaker.
The other Democrat to support Haspel is Joe Manchin of West Virginia, another senator up for re-election in a red state. His opponent will be the state attorney general, Patrick Morrisey, who this week came through a Republican primary featuring the ex-coal boss and convicted felon Don Blankenship, whom Trump rejected as unelectable. Manchin called Haspel "a person of great character".
Two Republican senators have announced their opposition to Haspel's nomination: Rand Paul of Kentucky and John McCain of Arizona, who is battling brain cancer and is not expected to be present for the voting.
Supporters of Haspel are pushing for votes by the Senate intelligence committee and the full Senate before the Memorial Day break, at the end of the month. Republicans hold a 51-49 majority and have Vice-President Mike Pence to break any tie.