17 May
News and Analyses, A Foreign Perspective
Nearly all of these are English-edition daily newspapers. These sites have interesting editorials and essays, and many have links to other good news sources. We try to limit this list to those sites which are regularly updated, reliable, with a high percentage of "up" time.
The first comprehensive study of CEO-to-worker pay reveals an extraordinary disparity – with the highest gap approaching 5,000 to 1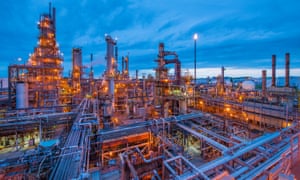 Companies singled out for criticism in the report include Marathon Petroleum, a gas station operator, whose CEO took home an astonishing 935 times more pay than an average employee in 2017. Photograph: Marathon Petroleum Corporat Handout/EPA
The first comprehensive study of the massive pay gap between the US executive suite and average workers has found that the average CEO-to-worker pay ratio has now reached 339 to 1, with the highest gap approaching 5,000 to 1.
The study, titled Rewarding Or Hoarding?, was published on Wednesday by Minnesota's Democratic US congressman Keith Ellison, and includes data on almost 14 million workers at 225 US companies with total annual revenues of $6.3tn.
Just the summary makes for sober reading.
In 188 of the 225 companies in the report's database, a single chief executive's pay could be used to pay more than 100 workers; the average worker at 219 of the 225 companies studied would need to work at least 45 years to earn what their CEO makes in one.
I knew inequality was a great problem in our society but I didn't understand quite how extreme it was

Keith Ellison, congressman
It also shows how some of the most extreme disparities in CEO-to-worker pay exist in industries that are considered consumer discretionary, such as fast food and retail, with a 977 to 1 disparity, one of the widest gaps.
"Now we know why CEOs didn't want this data released," says Ellison, who championed the implementation of the pay ratio disclosure rule as it was written into the Dodd-Frank financial reform bill of 2010. "I knew inequality was a great problem in our society but I didn't understand quite how extreme it was."
The requirements, long resisted by some of the largest US companies, simply tells companies to identify a median worker and then calculate how much the CEO makes in comparison to that person.
But the requirement triggered years of prevarication as companies claimed the method of calculating CEO compensation and median employee compensation had not been well defined. Some claimed that including workers employed abroad, especially in developing countries, would make pay ratio data even more extreme than it would be if calculated only within the US.
"If wealth is being concentrated into fewer and fewer hands, then obviously wealth is being dissipated from more and more people," Ellison said.
"We have people who are paying more half their income in rent, and we have whole school districts where poverty is erasing any opportunity for Americans to climb that ladder."
According to a recent Bloomberg analysis of 22 major world economies, the average CEO-worker pay gap in the US far outpaces that of other industrialized nations.
The average US CEO makes more than four times his or her counterpart in the other countries analyzed.
Ellison rejected claims from corporate America that executive suite compensation is a just reward for the skillful exercising of their business talents. "Truth is, they're doing nothing except extracting value and wealth from hard working people because they have economic advantages."
"With all this extra money they have, it corrupts our politics absolutely," he continues. "It concentrates markets and makes them less competitive."
Ellison has become a frequent target for criticism from the Trump administration, including from the president himself.
Last week, Ellison, who also serves as deputy chair of the Democratic National Committee, appeared at a Minnesota May Day parade wearing a black T-shirt with the words "Yo no creo en fronteras", or "I don't believe in borders". Trump described the slogan as an example of the US having "the worst immigration laws in the history of mankind".
Related Stories
Freshwater supplies have already seriously declined in 19 global hotspots – from China to the Caspian Sea – due to overuse, groundbreaking study shows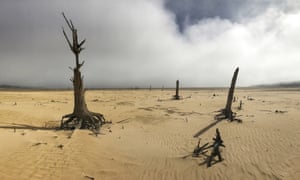 The Theewaterskloof Dam, a key source of water supply to Cape Town, South Africa ahead of the current water crisis. Photograph: Halden Krog/AP
Water shortages are likely to be the key environmental challenge of this century, scientists from Nasa have warned, as new data has revealed a drying-out of swaths of the globe between the tropics and the high latitudes, with 19 hotspots where water depletion has been dramatic.
Areas in northern and eastern India, the Middle East, California and Australia are among the hotspots where overuse of water resources has caused a serious decline in the availability of freshwater that is already causing problems. Without strong action by governments to preserve water the situation in these areas is likely to worsen.
Some of these hotspots were previously undocumented or poorly understood: a region in north-western China, in Xinjiang province, has suffered dramatic declines despite receiving normal amounts of rainfall, owing to groundwater depletion from industry and irrigation.
The Caspian Sea was also found to be showing strong declines owing to similar forces, which is resulting in a shrinking shoreline. Previously, this change had been attributed to natural variability, but the new report demonstrates it was caused in large part by the diversion and extraction of water from rivers that feed it, for agriculture and industry. This depletion mirrors the well-known fate of the disappearing Aral Sea in the same region: because the Caspian Sea is much bigger it would take millennia to disappear altogether, but its shrinking shoreline and pollution will cause major problems throughout its borderlands.
The comprehensive study, the first of its kind, took data from the Nasa Grace (Gravity Recovery and Climate Experiment) satellite mission to track trends in freshwater from 2002 to 2016 across the globe.
"What we are witnessing is major hydrologic change. We see for the first time a very distinctive pattern of the wet land areas of the world getting wetter, in the high latitudes and the tropics, and the dry areas in between getting drier," said James Famiglietti, of the Nasa Jet Propulsion Laboratory in California, and co-author of the paper published today in Nature. "Within the dry areas we see multiple hotspots resulting from groundwater depletion."
Climate scientists, including the Intergovernmental Panel on Climate Change, have predicted such a global trend. The new paper's authors said it was too soon to confirm whether their observations were definitely the result of global warming, but said their results showed a "clear human fingerprint" on the global water cycle.
The study is unprecedented, as the Grace data allowed the scientists to see in detail the changes in freshwater resources around the world, even where locally amassed data has been scarce or unavailable. By linking the satellite data with local monitoring, they added another crucial dimension.
Marc Stutter, of the James Hutton Institute in Aberdeen, who was not involved with the study, said: "Such new data add insight into how we manage both obvious surface waters and hidden subsurface water stores [as] the satellite techniques see vital hidden water reserves under our feet, much like an x-ray to see the health of our unseen water reserves."
He said it provided an early warning that could allow better management of water resources across the world, which was needed.

World Politics
Great Britain

This week's migrant visa revelations have made me seriously doubt the logical powers of our prime minister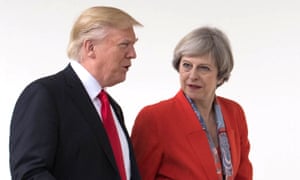 Donald Trump and Theresa May 'share an almost total lack of reasoning power and an ability to hold on to multiple contradictions by the sheer act of will'. Photograph: PA
A

t first sight, Theresa May and Donald Trump could hardly differ more in aspect, behaviour, demeanour and dignity. But what they share is an almost total lack of reasoning power and an ability to hold on to multiple contradictions by the sheer act of will.
The daily Brexit impasse of impossibilities has been May's hallmark, but this week's revelation on migrant visas reminds us of the full florid extent of her unreasoning. Over 6,000 highly skilled people from outside the EU were turned away between December 2017 and March this year, all highly qualified people urgently needed to fill waiting jobs: their prospective employers in the NHS, universities and industry are distraught. The Campaign for Science and Engineering has uncovered figures for those refused visas, using freedom of information requests: easy to see why the government stopped publishing figures last December.
As home secretary, Theresa May introduced an irrational, random cap of 1,600 tier 2 skilled visas a month, regardless of how urgently skills are needed. Start with the NHS, in obvious crisis, where 100,000 posts are unfilled. Why bar 1,518 doctors? Brexit is causing what the Royal College of Nursing calls a haemorrhage of nurses; more are leaving than joining, with new arrivals denied visas. Whatever your view of intractable anti-immigration politics, I can find no pollster who finds the public against recruiting doctors and other highly skilled people to add to the UK talent pool. This is a bee in May's bonnet alone. What is she thinking?
Her visa cap inflicts maximum harm in engineering, IT and all the industries Brexiters claim we will sell around the world. Recruitment to high-powered jobs of people from outside the EU is rising sharply, because the Brexit vote is deterring EU applicants.
Take just one example: the world-renowned Wellcome Sanger Institute claims visa problems have delayed important research at the institute. "Genomics is a sector vital for the delivery of the government's industrial strategy," says its associate director Dr Julia Wilson. The president of the Royal Society, Prof Venki Ramakrishnan, says the restrictions hold Britain back, especially in computing where "for the foreseeable future we are going to need to recruit IT professionals from overseas" protesting at "random immigration limits plucked out of the air for political purposes".
Between December and March, 1,226 IT specialists and 392 engineers were denied visas to take up offered jobs, along with 1,879 healthcare professionals, 197 teachers and 572 other professions. The Institution of Chemical Engineers director, Andy Furlong, says: "Chemical engineering is a global activity, which relies on free trade and the free movement of talent." Visa refusals "create blockages in the talent pipeline, which stifle innovation, collaboration and productivity".
May's implacable perversity was well observed by cabinet colleagues when she was home secretary. However hard they tried to reason with her, they always failed. They begged her to take students out of overall migration figures: it would bring down the headline figures, as they are not migrants but return home after graduating – and they bring funds for universities as well as vital future close relationships with wealthy trading nations. But nothing shifted her– even her prime minister couldn't prevail. Why? No one knows. No opinion polling suggested these are the foreigners that concerned Brexit voters.
Her approach to Brexit is similarly impossibilist: looking back, historians will wonder how serious politicians and civil servants sat by and watched nonsense in action. Beyond absurd is setting her cabinet to debate two customs options, both of which are non-starters with the EU, whose negotiators look on in astonished dismay as she continues to pursue contradictions – frictionless borders with no hard border in Northern Ireland, no border in the sea and no customs union.