19 May
News and Analyses, A Foreign Perspective
Nearly all of these are English-edition daily newspapers. These sites have interesting editorials and essays, and many have links to other good news sources. We try to limit this list to those sites which are regularly updated, reliable, with a high percentage of "up" time.
Trump the Dump

on Florida shooting
Trump the Dump on Florida shooting: 'We hurt for the entire community' – video

A few thoughts:
BULLSHIT!
And so it goes on and on. "We'll do what we can to ease your pain". "Your suffering is our burden also". "We comfort the grieving and the wounded". "We must actually make that difference."

More and more prayers. Prayers won't bring back the innocent who were killed.
The speech was written for him. You can put a glass of boiling hot water next to Trump the Dump's heart and it will freeze within seconds.
We allow people the freedom to own guns with no controls and kill our children. We know what kind of guns they can own. We know very well what they can do if they were inclined to shoot a place up. There is nothing you can do to change this aside from strong gun controls nationwide.
But with Trump the Dump and the Republicans with their NRA we will have the same dumb prayers over and over.
The McGlynn

Attack on a Texas high school is the 16th shooting to have resulted in death or injury during the first five months of the year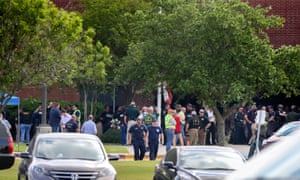 Law enforcement officers respond to an active shooter in front of Santa Fe high school Friday in Santa Fe, Texas. Photograph: Steve Gonzales/AP
Five months into 2018, there have been 16 shootings at US schools that have resulted in injury or death, based on data from campaign group Everytown for Gun Safety.
The shooting in Texas on Friday, where, by mid-morning, the death toll was given by a local sheriff as between eight and 10, now stands as the 16th school shooting of the year, according to the campaign group Everytown for Gun Safety.
At Parkland in Florida in February, 17 people were confirmed killed by an ex-student firing an assault weapon, in the worst school mass shooting of 2018 so far.
The tragedy sparked a new national grassroots movement, led by surviving students from the Marjory Stoneman Douglas high school where the Parkland shooting happened, calling for greater restrictions and background checks on gun ownership.
Donald Trump floated the idea of tighter gun control but also the option of arming teachers, and has not made any substantive changes that affect gun availability in the US.
In January, a 15-year-old student opened fire at a high school in Kentucky, leaving two students dead and 18 injured. Other incidents have been grave, but on a smaller scale.
In early February, one student in Los Angeles was shot in the head, and another in the arm, when a gun concealed in a fellow student's backpack went off.
Congressman Bill Nelson, a Democrat of Florida, said in the aftermath of the Parkland massacre: "Are we coming to expect these mass shootings to be routine? And then after every one we say 'enough is enough' and then it continues to happen?"
Congress has refused to tighten restrictions on gun ownership, even after 20 children and six educators were massacred in 2012 in Sandy Hook elementary school in Connecticut.
"We're lessening the threshold of how crazy someone needs to be to commit a mass shooting," Austin Eubanks, who survived the 1999 shooting at Columbine high school, told the Guardian last fall.
He was speaking in the wake of catastrophic Las Vegas shooting, where a depressed man took up position high up in a hotel, with a large arsenal of guns and ammunition, and sprayed bullets upon a music concert audience, killing 58 and injuring more than 800. Eubanks said he had watched an increasing pace of mass shootings across the US, in schools and elsewhere, with fear and anxiety.
The fifth anniversary of the Sandy Hook elementary school shooting last December passed in subdued fashion, with congressional Republicans refusing to pass new gun control laws and instead pushing for a law that would weaken gun restrictions nationwide and make it easier to carry a concealed weapon across state lines. Donald Trump won the White House campaigning on a promise to support the National Rifle Association (NRA), the influential gun rights group, and oppose any limits to Americans' right to own guns.
The repeated tragedies and frightening incidents continue to spark deeply divided political responses, with some Americans urging tighter laws on gun sales and ownership and others advocating for putting more armed guards in schools, or making it easier for teachers and parents to carry their own concealed weapons.
Experts caution that the toll of gun violence on children and teenagers falls heaviest outside of schools. Youngsters are much more likely to be shot in their own homes or neighborhoods than at school, according to research by the school safety expert Dewey Cornell.
But the emotional impact of school shootings has sparked a booming school safety industry. In 2017, the market for security equipment in the education sector was estimated at $2.68bn, according to industry analysts at IHS Markit. Some companies have capitalized on parents' fears by selling bulletproof backpacks or whiteboards, as well as offering ways to fortify school buildings themselves against attack.
While refusing to pass substantive gun control restrictions, Congress has approved hundreds of millions of dollars in federal spending to help put police officers in public schools, including $45m in 2013, the year after the Sandy Hook elementary school shooting.
Some gun rights advocates have pushed to expand gun-carrying in schools further. Andrew McDaniel, a state legislator in Missouri who introduced legislation last year to make it easier to carry guns in schools, told the Guardian that in rural schools where it might take 20 or 30 minutes for law enforcement to respond to a school shooting in progress, it made sense to have other armed citizens ready to step in.

In the semi-rural town an hour from Houston, residents suggested it has become not a matter of if, but when and where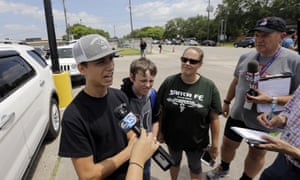 The Santa Fe shooting was the 16th shooting this year at a school during school hours that caused injury or death. Photograph: David J. Phillip/AP
Normally bustling on a Friday lunchtime, Pook's Crawfish Hole was closed. Where the giant roadside sign might usually promote the restaurant's specials, it said: "Thoughts and Prayers With Santa Fe."
In the deserted interior, a television mounted on the wall near dangling models of crustaceans was tuned to a local news channel's coverage of the school shooting that had unfolded that morning just a couple of miles away.
Pook's opens from January to June, when the crawfish from Louisiana, the next door state, are fresh. But on this day it was shut. "Out of respect," said Gregg Vicknair, the owner. A sign on the door encouraged would-be patrons to attend the candlelight vigil planned for the evening to mourn the 10 dead.
Community gatherings are the most natural and common short-term response in the aftermath of such a tragedy; what felt different from the norm in Santa Fe after the latest American school massacre was the sense that despite theshock, such events happen often enough that it would be almost naive to experience disbelief. Even for some children, it seems, it has become a matter of not if, but when and where.
A television journalist's interview with one Santa Fe student, Paige Curry, went viral on social media. "Was there a part of you that was like, 'This isn't real, this would not happen in my school?'" the reporter asked her.
Curry gave a rueful semi-laugh. "No, there wasn't," she replied. "It's been happening everywhere, I've always kind of felt like eventually it was going to happen here too."
Vicknair had a similar reply to a similar question: you never think it'll happen here, right? "People say that, but I always … " He paused. "Yes. I think that kind of stuff can happen anywhere."
The father of three added: "It makes you wonder. Like I hear people say all the time, [school is] supposed to be a safe place. But I guess nowadays it's just not."
Santa Fe high school had been placed on lockdown in response to a potential threat as recently as 28 February, when police were called after reports of popping sounds.
The deaths and injuries in Santa Fe happened three months after 17 students and staff were shot dead at a high school in Parkland, Florida, generating an immense amount of activism and attention, but has not so far translated into meaningful political action.
On Friday night, several hundred people, many wearing the green colours of the high school's sports teams, attended a vigil for the victims in the town. The event featured prayers led by local pastors and speeches by Ted Cruz, the US senator from Texas, and the governor, Greg Abbott, who told the crowd that Texas politicians would work to find solutions that return "normalcy" and "safety" to schools.
This was the 16th shooting this year at a school during school hours that caused injury or death. Combined, the tally of the previous fifteen incidents is 21 deaths and 46 injuries.
Students from Santa Fe high school listen during a prayer vigil. Photograph: David J. Phillip/AP
"It's just a shame and hopefully there will be changes nationwide to secure these schools. I'll leave that up to the professionals," Vicknair, 39, said. "I think we've got officials and stuff that can make those decisions."
Not yet swallowed by Houston's ever-expanding suburbia, Santa Fe is a spread-out place of about 13,000 people with quiet streets lined with single-storey ranch-style houses, some with front lawns as big as basketball courts.
Less racially diverse than other parts of Texas – a large majority of residents are white – and with a slightly higher average household income than the state as a whole, it has a semi-rural character. Still, with the busy Highway 6 running through the centre of town (and past the scene of the slaughter) it is easy enough for residents to commute to Houston, the Gulf coast seaside resort of Galveston or the oil refineries and chemical plants of Texas City.
Until now, it was perhaps best known for a case in 2000 in which the US supreme court ruled that the school district's policy of allowing student-led prayers before football games was unconstitutional.

Santa Fe high school freshman Caitlyn Girouard, center, hugs her friend outside the Alamo gym after the Santa Fe shooting on 18 May. Photograph: Michael Ciaglo/AP
Raymond Doreck's family has run a meat market in the town for 45 years. His daughter attends courses at the high school but was not there on Friday.
As images from rolling news reports flickered on the computer monitor on his desk, he confronted what he fears is a modern reality with no easy solution. "You have to look at it that it could happen anywhere. You just hope that it doesn't. I don't know how to stop it and I don't think gun control's the answer," the 56-year-old said in his small office, around the corner from a preparation room where trays of spicy beef jerky were stacked high.
Ten people were killed and 10 wounded in a shooting at a Texas high school. The incident – the 16th school shooting in the US this year – took place at Santa Fe high school on Friday morning before 8am local time. The suspected shooter was in custody.
"We grew up having guns, hunting, none of that ever happened when we had guns. We went to school, used to have guns in the back of our pickups, on the racks. Long as you didn't take them inside, you know? Nothing like that ever happened."
Outside the front entrance, at a flagpole next to a life-sized model of a cow, a man lowered the Stars and Stripes to half-staff.

Organisation co-founded by murdered activist sues Dutch bank over support for Agua Zarca dam on Gualcarque river
Activists demand justice after the murder of Honduran activist Berta Cáceres in 2016. Copinh, the environmental rights organisation she co-founded, is suing Dutch bank FMO. Photograph: Orlando Sierra/AFP/Getty Images
The organisation co-founded by the murdered environmental activist Berta Cáceres is taking legal action against a Dutch bank over its involvement in the construction of a controversial dam project in Honduras.
The Civic Council of Popular and Indigenous Organisations of Honduras (Copinh), along with the Cáceres family, announced the suit against the Dutch development bank FMO, one of the backers of the Agua Zarca dam on the Gualcarque river, in the Netherlands on Thursday.
The lawsuit says the bank failed to observe the human rights of local people affected by the project and disregarded warnings about human rights violations perpetrated in the area, and raised by Cáceres before her death in 2016.
FMO suspended loans to the company after Cáceres' death, pending a review. Last year, following protests by members of Copinh, the bank, along with the Finnish Fund for Industrial Cooperation, Finnfund, withdrew from the project "to reduce international and local tensions in the area". FMO and Finnfund had provided $15m (£11m) to the project. A third backer, the Central American Bank of Economic Integration (Cabei), which had given $24m, has also withdrawn support.
Cáceres' daughter, Bertha, told the Guardian that the legal action against FMO was designed to compel those providing international aid financing to abide by their responsibilities.

World Politics
United States