20 May
News and Analyses, A Foreign Perspective
Nearly all of these are English-edition daily newspapers. These sites have interesting editorials and essays, and many have links to other good news sources. We try to limit this list to those sites which are regularly updated, reliable, with a high percentage of "up" time.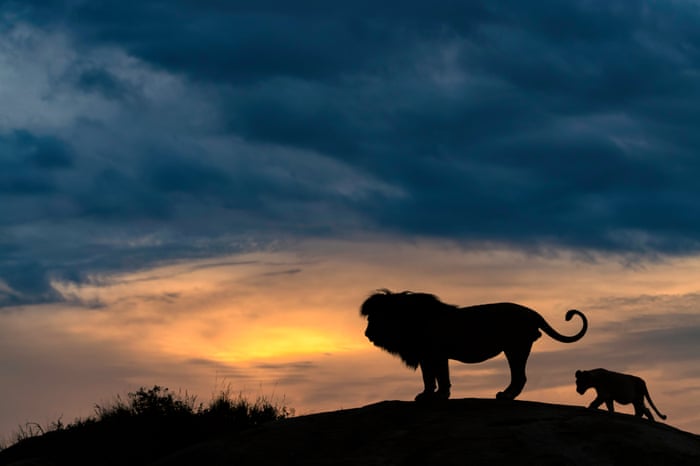 Serengeti, Tanzania
A lion and its cub appear like the famous scene fromthe Disney classic The Lion King as they sit on a rock and gaze into the evening sunset
Photograph: Marc Mol/Solent News

With crossings closed, some travellers have been waiting months for exit permits

A Palestinian protester using a slingshot to throw stones on the Gaza-Israel border. Photograph: Xinhua/Barcroft Images
In a stuffy basketball stadium in southern Gaza, the stands are packed. Young people, the elderly and families sit on blue and yellow plastic seats, their eyes fixed on the court.
But there is no game, and these people are not fans but hopeful travellers. The crowds carry suitcases with them and have been waiting to leave, some of them for months.
In the middle of the cavernous room, an official sits at a wooden table with a list of people who have been approved that day to exit into Egypt. When he calls a name, that person can join a bus heading across the border.
A 60-year-old woman said she had been attempting to get permission to leave from the Egyptian authorities for a year and four months. Although a Palestinian, she has lived for the past three decades in Germany, where she has citizenship, but came back for what she hoped would be a short visit to her parents.
"I registered to travel [out of Gaza] a week after I arrived. This is the first time I'm on the list," said Mufida, holding up her German passport. "No one's name has been called out today," she added.
Mufida, who asked to give only her first name, received a call last week that she had a permit to leave but would need to wait for her name to be called. For four days she has waited at the stadium. Rumours swirl that several thousand dollars in bribes will get you across, but Mufida smiled and said she did not have the cash. "Nobody should come back here," she said. Her seven children are waiting for her in Germany.
A decade-long blockade on Gaza, the tiny strip of land surrounded by Israel, Egypt and the Mediterranean, has led to the collapse of its economy and the enclave is regularly referred to as an open-air prison. It had been hoped that close to two months of protests, sparked by anger and desperation, would lessen this crisis for two million Palestinians. Since late March, tens of thousands have gathered weekly along the frontier with Israel to demonstrate against the conditions they live under.
Amid an international outcry and calls for investigations, Israeli fire has killed more than 110 people and thousands of others have been shot, mostly in the legs, according to health officials.
The most important thing for the protest was to break the siege, to live in freedom and dignity

Gaza academic
The movement peaked on Monday, when an estimated 40,000 descended on the frontier, many throwing stones towards Israeli forces stationed on sandbanks behind the fence. There were attempts to breach the perimeter, although none succeeded, and many more of the wounded were shot dozens of metres back from the fortified fence, including paramedics.
Monday's gatherings were focused on dismay over the opening of the US embassy in Jerusalem on the same day. And the protest organisers have called the movement the "Great March of Return", demanding refugees and their descendants – two-thirds of Gaza's residents – be allowed to return to homes lost in the 1948 war surrounding Israel's creation.
But the primary goal was ending the blockade, according to Mkhaimar Abusada, a political scientist at Gaza's Al-Azhar University. "That is the number-one aim of the protest, even if the slogan is the Great March of Return," he said. "The most important thing for the protest was to break the siege, to live in freedom and dignity, to live a better life."
Israel says it is forced to control access to the territory for security reasons, although the UN sees the blockade as collective punishment.

Ten died on Friday but in a conservative Christian town, a Parkland-style surge for tighter gun laws seems unlikely

People gather to pray outside Santa Fe high school. Photograph: Matt Patterson/EPA
A

mid the grief after the Parkland high school massacre, a powerful student activist movement emerged with stunning swiftness. It laid the foundation for nationwide demonstrations and a sustained push for gun law reform.
But in the wake of the fatal shooting of eight students and two teachers at a Texas high school on Friday, it seems doubtful that this highly conservative, deeply religious small town will generate similarly strident calls.
In a place of 13,000 residents and more than a dozen churches, the focus has been on prayers and siting the shooting in the context of a biblical battle between good and evil, rather than framing it as an avoidable consequence of policy failures in a country with a unique gun culture.
"Possibility, maybe. I'm not sure," said David Sustaita, an 18-year-old student at Santa Fe high school, when asked if a Parkland-style youth movement could emerge. He suggested relatively uncontroversial measures that do not rile gun rights advocates. "I'd like to see action. Metal detectors, better security, more cops," he said. "Like airport security."
According to authorities, a 17-year-old student hid a shotgun and a revolver in a trench coat then opened fire in an art class at the school, about 35 miles south-east of Houston.
So far the most vocal demands have come from outside Santa Fe. Art Acevedo, the Houston police chief, wrote on Facebook: "Please do not post anything about guns aren't the problem and there's little we can do … This isn't a time for prayers, and study and inaction, it's a time for prayers, action and the asking of God's forgiveness for our inaction (especially the elected officials that ran to the cameras today, acted in a solemn manner, called for prayers, and will once again do absolutely nothing)."
The elected officials that ran to the cameras today [and] called for prayers will once again do absolutely nothing

Art Acevedo, Houston police chief
Dan Patrick, the Texas lieutenant governor, was derided by liberal critics for proposing "door control" after telling reporters: "We may have to look at the design of our schools moving forward and retrofitting schools that are already built … Had there been one single entrance possibly for every student, maybe he would have been stopped."
Evidence suggests a higher rate of gun ownership is linked to a higher rate of gun homicides. But it would be awkward for Patrick and other senior Texas Republicans to recommend any measure that reduces access to weapons. They spend much of their time attempting to loosen gun regulations.
In recent years the Texas legislature – which meets in Austin, a mile or so from the site of the first mass shooting on a US college campus – has made it easier to bring concealed or openly-carried guns into many public spaces, including university campuses. Texas teachers are allowed to be armed in some, mainly rural, school districts, an idea embraced by Donald Trump after the deaths of 17 people in Florida in February.
'Hearts without God'
Another major mass shooting occurred in Texas last November, at a church service in the tiny town of Sutherland Springs near San Antonio, with 26 killed and 20 injured. For many gun rights supporters it was in one respect a success story because the perpetrator was chased and shot by a civilian, Stephen Willeford.
Another major mass shooting occurred in Texas last November, at a church service in the tiny town of Sutherland Springs near San Antonio, with 26 killed and 20 injured. For many gun rights supporters it was in one respect a success story because the perpetrator was chased and shot by a civilian, Stephen Willeford.
At the National Rifle Association's annual convention in Dallas two weeks ago, feted as a hero, Willeford couched his encounter with the killer in religious terms. "I yelled out and the only reason I can explain it is the Holy Spirit calling out the demon that was in him," he told NRATV.
Like Trump, Greg Abbott, the Texas governor, and Ted Cruz, the US senator, gave speeches in Dallas. Abbott declared that the answer to gun violence is more weapons. "The problem is not guns, it's hearts without God," he said.

With the referendum in the balance, campaigners are on the streets and social media, trying to swing the undecided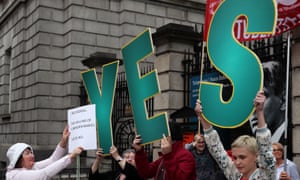 Campaigning outside parliament in Dublin last week; while the Yes campaigners were initially in the lead, the No camp has gained significant ground, with the vote hinging on the undecided. Photograph: Brian Lawless/PA
The polls have narrowed so much that a result once nearly taken for granted now hangs in the balance; the media are under fierce attack for bias; and questions are swirling about foreign influence and online ads.
As Ireland heads into the last week of campaigning for its historic referendum on abortion, the long shadow of two recent surprise election results – the Brexit referendum across the Irish sea, and Donald Trump's victory in the 2016 US presidential poll – is hanging over Irish voters.
They will decide on Friday whether to repeal an amendment dating back to the 1980s that enshrined in the constitution a near-total ban on abortion. The controls are the strictest in any western democracy, meaning that the battle has been closely watched by anti-abortion activists across the world.
The campaign began with a clear lead for the Yes campaigners, who support a repeal. But in a country where tradition and the church still have strong influence, the No camp has gained ground. Now the final result is expected to hinge on the one in five voters still undecided.
"Obviously, we look at Brexit and Trump and think the media don't always get it right any more. Or they are projecting one way to advance their own goal," said Emer Tóibín, of the Meath for Life campaign, which opposes a repeal.
She believes the narrowing in polls is due in part to campaigners sidestepping newspapers and television to reach voters more directly. "So much of the country had been fed one side of the story," she says in a cafe near her home in the county town Navan. "Freedom of speech is not alive and kicking."
She is stepping up the campaign in the run-up to the poll, determined to reach undecided voters and those "reluctant to discuss their views" – the elusive "silent majority" credited in both British and American upsets.
Tóibín's sense of urgency may be the one thing she shares with Sheila Donohue, a Catholic grandmother from a conservative background who admits she doesn't know where she would have stood had the referendum been held a decade ago.
Now, though, she is preparing to go out on the doorsteps appealing to voters for a repeal, inspired by a tragedy that thrust her family reluctantly into the heart of the debate.
"I will now go out canvassing," Donohue said. "I was so irate about things being said by people from a position of ignorance. They are punishing suffering."
In 2010, her daughter Siobhán found out at a routine scan for her third pregnancy that her son would not survive outside the womb, because his brain had not developed. Devastated by the prospect of carrying her baby to term only so that she could bury him, she travelled to Liverpool for a termination. After her return, she began fighting for other women in her position to receive treatment at home through the group Terminations for Medical Reasons.
Donohue has always supported her daughter without reservation, but behind the scenes. She even moved churches, choosing a congregation where no one knew her or her husband, to avoid discussing a difficult and highly emotional issue with fellow worshippers. But for the first time this week she will personally appeal to her fellow citizens to support a repeal. The trigger was the narrowing polls and a controversial debate on the national broadcaster, RTE, which was the subject of multiple complaints. "You do have to keep at the back of your mind that it might not get through," she said. "People are entitled to their opinion, but I will be telling Siobhán's story."
The already intense campaign was given an unexpected twist, and greater international attention, earlier this month when the US tech giants Google and Facebook said they would be changing the rules on political advertising in Ireland over concerns about foreign interference…………….But for Sheila Donohue, the fight will not be over until she knows no other woman will face her daughter's painful trip across to Britain. "They keep suffering over and over as they tell their stories. They can't get over it until this repeal is done."

World Politics
Great Britain
Cleaning up the streets – cartoon
David Simonds on the fate of the homeless in Windsor before the royal wedding
United States