21 May
News and Analyses, A Foreign Perspective
Nearly all of these are English-edition daily newspapers. These sites have interesting editorials and essays, and many have links to other good news sources. We try to limit this list to those sites which are regularly updated, reliable, with a high percentage of "up" time.
Republicans paid by the fossil fuel industry deny these realities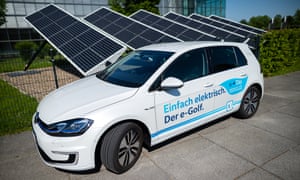 A Volkswagen e-Golf electric car stands in the front of the Volkswagen AG (VW) factory on May 8, 2018 in Dresden, Germany. Photograph: Jens Schlueter/Getty Images
Last week, the House Science, Space and Technology Committee held yet another climate science hearing similar to those from April 2017, February 2017, January 2016, May 2015, June 2014, December 2013, and so on. It seems as though disputing established climate science is House Republicans' favorite hobby. This time, it was Philip Duffy's turn to spend two hours playing whack-a-mole with the committee Republicans' endless supply of long-debunked climate myths.
Rep. Mo Brooks (R-AL) claimed that sea level rise is due to the White Cliffs of Dover tumbling into the ocean (yes, really), and his colleagues argued that scientists in the 1970s were predicting global cooling, that Earth is just returning to its "normal temperature," that Antarctic ice is growing, and sea levels are hardly rising.
Those last two claims originated from a Wall Street Journal (WSJ) editorial entered into the Congressional record by Chairman Lamar Smith (R-TX), written by Fred Singer. As the group Ozone Action documented, Singer has been a lifetime contrarian on virtually every scientific subject imaginable – acid rain, nuclear winter, nuclear waste, nuclear war, ozone depletion, secondhand smoke, amphibian population loss, and even minimum wage benefits. In recent decades he's worked for a plethora of fossil fuel-funded think tanks, denying established climate science.
Singer's WSJ editorial is difficult to follow, largely because it contradicts itself several times, saying:
There is also good data showing sea levels are in fact rising at an accelerating rate … to keep the rate of rise constant, as observed…
Obviously if sea level rise is accelerating, it's not increasing at a constant rate. The WSJ later "corrected" that first sentence, thus removing one of the few accurate statements in the editorial – sea level rise is indeed accelerating……………Here, Singer first claims that the basic physics of thermal expansion is wrong, or at least somehow doesn't apply to ocean water, but then argues it is real and is merely being offset by ice growth on Antarctica. The latter claim is of course also wrong – Antarctica has been losing land ice and a recent study found that it's responsible for 8% of sea level rise since 1993 (thermal expansion is the biggest contributor, at 42%).
As one sea level researcher at Climate Feedback described Singer's editorial, "If this were an essay in one of my undergraduate classes, he would fail." The whole thing is complete nonsense, denying basic physics, and yet was published in the WSJ and entered into the congressional record. This is the material that House Republicans and their conservative media allies who reject climate science and oppose all climate policies find most compelling. That says a lot about the state of climate denial on the American right today.

'Anchor' camps will undermine country's reputation for being welcoming, say critics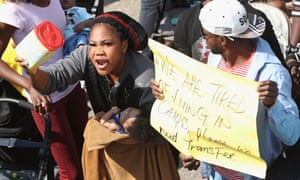 Camp residents hold a protest at the transit centre in Manching, Germany, for asylum-seekers. Photograph: Alexandra Beier/Getty Images
Mass holding centres that Germany's interior ministry wants to roll out across the country will stoke social tension between locals and migrants and undermine the welcoming image the country has gained in the eyes of the world, aid organisations have said.
So-called anchor centres – an acronym for arrival, decision, return – are designed to speed up deportations of unsuccessful asylum seekers, by containing large groups of people and the authorities who rule on their claims inside the same holding facility.
Until now, Germany's policy has been to embed new arrivals in communities across the country. But Angela Merkel's government is seeking to reverse its strategy, as a populist backlash builds against the chancellor's handling of the refugee crisis.
"We all know how difficult it is to deport people without protected status after they have been spread out across the country and put down roots in our cities and communities," the interior minister, Horst Seehofer, told the German parliament last week.
"In the future the end of an asylum application will coincide with the start of the deportation procedure," said the leader of the CSU and former Bavarian state premier, adding that he wanted to see states set up the new centres this autumn.
But the transit centre in Seehofer's home state that is meant to work as a prototype for the scheme has experienced high crime rates, mass protests and rising tensions between asylum seekers and security forces, the Guardian found during a visit to the Max-Immelmann barracks in Manching.
The converted army compound is part of a complex outside Ingolstadt, Upper Bavaria, that holds about 1,100 people, mainly from the west Balkans, Ukraine, Nigeria and Afghanistan.
"It is like a prison," said Lucky Raphael, 24, from Nigeria, who said inmates were not allowed to lock their rooms, cook their own food, or go outside to seek work or attend school. "We can go outside, but always in the fear that we could be arrested," said Raphael, who said he left his home country because of his dire economic and social circumstances, and arrived in Bavaria via Italy.
Raphael said had been living in the Manching transit centre for 11 months, though authorities say the average length of stay for people who have arrived here since September 2015 is four-and-a-half months.
Bavarian authorities hope to speed up the checking process with technology. They analyse metadata on smartphones and run speech samples through a "voice geometry" programme to determine the travel route and ethnic background of applicants who do not have passports.
They are reacting to an increasingly heated political debate about Germany's failure to deport asylum seekers whose applications have been rejected. Anis Amri, a Tunisian who in December 2016 killed 12 people by driving a truck into a crowd at a Berlin Christmas market, had been rejected but not deported. In 2017, about half a million unsuccessful asylum seekers remained in the country.
Anchor centres "send out a signal to people who have low chances of being allowed to stay," said Daniel Waidelich of the Upper Bavarian government. "It's not worth coming to Germany, because your claim is processed very quickly here." Since September 2015, the centre in Manching has carried out 1,000 deportations, while 2,500 inmates have left voluntarily.
Critics say the new centres create an absurd double-bind on those inmates at the transit centres who have realistic chances of being granted asylum: while they are actively hindered from integrating into German society while their application is pending, they are expected to immediately integrate as soon as they get the all-clear.
Of asylum applications from Nigeria in Upper Bavaria, 17% have succeeded in gaining the applicants protected status, many of them women who have been forced into prostitution, others Christian minorities persecuted by Boko Haram in the country's north-east.
"Integration is like a four-legged table," said Willi Dräxler of the Catholic aid charity Caritas, which has four people doing regular voluntary work at Manching. "Language, contacts in the local community, a job and a home are all vital ingredients. If you saw off one leg, the table is going to wobble. Within these transit centres, however, integration isn't happening at all."

Ten leading campaigners reportedly held as media denounce women as 'traitors' for supporting end to ban on female drivers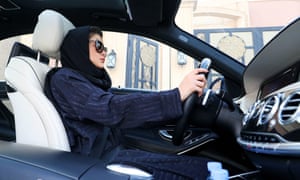 A Saudi woman tests a car in Riyadh in advance of the lifting of a ban on female drivers in Saudi Arabia in June. Photograph: Yousef Doubisi/AFP/Getty Images
At least 10 prominent Saudi activists, mostly women's rights campaigners, have now been reported to have been arrested in what appears to be an escalating clampdown ahead of the much-vaunted lifting of the prohibition on women driving in the kingdom on 24 June.
The arrests, with more feared by human rights campaigners, come amid a high-profile campaign in Saudi media outlets and on social media denouncing the women as "traitors".
According to human rights organisations working outside the kingdom, most of the women were warned in September against commenting on the lifting of the ban on female drivers, a reform initiative credited to Crown Prince Mohammed bin Salman, as well as on the anti-guardianship campaign.
Saudi Arabia's guardianship system requires women to obtain permission from their fathers, brothers, husbands or even sons for a host of life decisions.
According to the Gulf Centre for Human Rights (GCHR), among those arrested last week were Eman al-Nafjan and Loujain al-Hathloul, both well-known women's rights activists.
The two women are among nine campaigners whose names have been circulating on social media in recent days.
According to the GCHR, al-Hathloul was being held incommunicado while al-Nafjan was able to call her family once. Both are at undisclosed locations.
Al-Nafjan, who has been heavily involved in the campaign to allow women to drive in the kingdom, is a professor and the author behind the Saudiwoman's Weblog, a blog about Saudi society, culture, women's rights and human rights in general.
Al-Hathloul is a Saudi women's rights activist and a social media figure, who has been involved in the campaign for women to be allowed to drive, and was detained on 1 December 2014 for 75 days and again in June 2017.
The Saudi interior ministry has said that those detained are being investigated for communicating with "foreign entities", working to recruit people in sensitive government positions and providing money to foreign circles with the aim of destabilising and harming the kingdom.
Saudi-American women's activist and blogger Nora Abdulkarim, who has been posting information on Twitter about the recent arrests, said the move had created an atmosphere of fear.
"Saudi feminists are timidly returning to agitating on Twitter," she tweeted. "Some show support for arrested activists, some not. For 1st time in anti-guardianship campaign, very intimidating to speak."
After posting a list of nine of those detained, she added on Monday: "Unfortunately, list is already outdated. 10th arrest occurred today. This one is significant as it is first arrest we hear of new/youth #Saudi feminist activists (who became active in anti-guardianship campaign of 2016)."
According to Hiba Zayadin, of Human Rights Watch, the arrests have come amid a high-profile "smear" campaign accusing the women of disloyalty, she told the Guardian.
"We know of at least nine individuals who have been arrested whose names are circulating on social media. We believe there are nine confirmed, but we fear that there may be others who will arrested in the coming days.
"Some of those named – and others – were called in by officials in September after the announcement that the driving ban was being lifted, and told not to speak out in favour.
"So far as we know they complied, so we don't know why this is being done. But the vicious smear campaign against them has been quite unprecedented."
Among the media outlets that have attacked them is Okaz, which, according to Zayadin, ran a double-page spread featuring some of those arrested.
Pictures of some of the women have also appeared in social media posts, where they were accused of "contact with foreign entities with the aim of undermining the country's stability and social fabric".
A hashtag, #AgentsofEmbassies, and a graphic featuring the activists' faces, also spread on social media.
Campaigners, however, remain unsure of the precise motivation for the arrests.
"There's always been a sense that the women's activists in Saudi are protected, that they wouldn't be punished in the same way as other activists," said Zayadin.
"This feels like a message that they are not beyond punishment. Why? It is not clear but one theory is that it is for taking credit away from reforms being pushed by the crown prince.
"It is still pretty surprising that this should be happening days before the driving ban is lifted. Another theory is that it may be to insulate the leadership from ultra conservatives who are unhappy about the reforms."

World Politics
United States