22 May
News and Analyses, A Foreign Perspective
Nearly all of these are English-edition daily newspapers. These sites have interesting editorials and essays, and many have links to other good news sources. We try to limit this list to those sites which are regularly updated, reliable, with a high percentage of "up" time.
On international day for biological diversity, the IUCN celebrates successful conservation action with images and stories of 12 species and the efforts underway to improve their status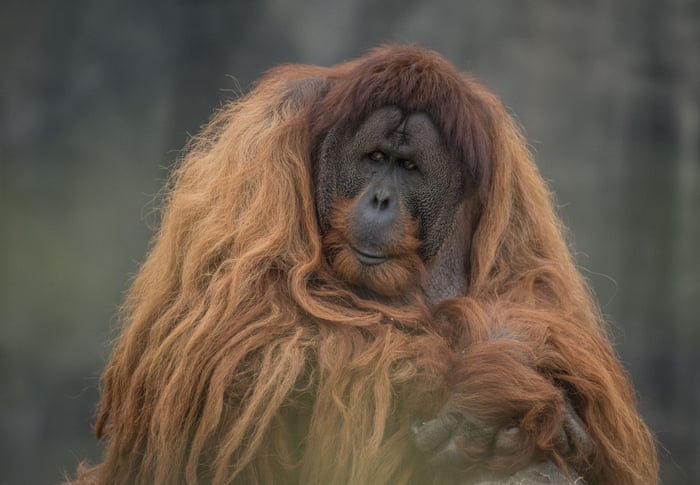 Orangutans are among the many species being pushed to the brink of extinction by unsustainable oil palm plantations, which are wiping out huge areas of rainforest. The Sumatran orangutan ( Pongo abelii) is critically endangered, with only about one-third (36%) of the species population living in protected areas. Chester zoo is now striving to make Chester, UK, the world's first 'sustainable palm oil city' to help protect rainforest across south-east Asia and prevent the extinction of orangutans.
Photograph: Chester Zoo/IUCN
Father, doctor and pro-choice campaigner accuses anti-abortion lobby of exploiting 'vulnerable group' in referendum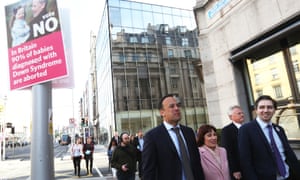 The Irish leader, Leo Varadkar (left), and other ministers walk by a poster using a child with Down's syndrome to argue against the repeal of the 8th amendment. Photograph: Brian Lawless/PA
A doctor, author and father of a son with Down's syndrome has hit out at Ireland's anti-abortion lobby for using children with the condition during campaigning for Friday's referendum.
With only days left before the Irish electorate votes on whether to introduce limited abortion into the state's hospitals, Dr Chris Kaposy has condemned the "propagandistic use" of children like his son by anti-abortion campaigners.
On Friday, Irish voters will decide whether to repeal the 8th amendment to the country's constitution, which gives equal right to life to both the foetus and mother from the moment of conception.
The electorate will also be asked, if the 8th is abolished, to enable the Irish parliament to draw up legislation that would legalise abortion in hospitals for pregnancies up to 12 weeks.
Anti-abortion campaigners have claimed in poster ads that repealing the 8th amendment would lead to widespread aborting of foetuses diagnosed with Down's syndrome.
They have used pictures of children with Down's syndrome on billboards with the message: "In Britain, 90% of babies with Down's syndrome are aborted."
Kaposy's criticisms echo those of the Irish prime minister, Leo Varadkar, who has described the use of images of children with Down's syndrome in the referendum campaign as wrong.
Referring to his nine-year-old son, Aaron, Kaposy said: "As the father of a child with Down's syndrome, I am opposed to the propagandistic use of people like my son in attempts to limit reproductive rights, as has happened in the Irish debate, as well as in the legislative actions taken in various American states to outlaw the abortion of foetuses with Down's syndrome."
Irish anti-abortion campaign groups have claimed that a Down's syndrome diagnosis could be used to access a termination under liberalised abortion laws. Kaposy, however, said the proposed reforms would not allow a Down's syndrome diagnosis to be a reason for an abortion.
"It is difficult to predict," he said. "In one study from the US, the [average] gestational age at abortion [in cases of Down's syndrome] was 13 weeks, though there is a trend toward earlier abortion with improved screening tests. Further, Down's syndrome is not a condition that typically threatens the life of the pregnant woman, nor does it cause serious health risks in pregnancy, not is it a condition that is typically fatal in utero or soon after birth."
Kaposy, who lectures in bioethics at Memorial University in Canada, said he believed more children with Down's syndrome should be brought into families like his own.
"People with Down's syndrome tend to lead flourishing lives. Their families typically thrive. Perhaps more parents would choose children with this condition if they knew these facts. Prospective parents should be empowered to make choices in favour of parenting children with disabilities like Down's syndrome, rather than being prohibited from choosing against disabilities."

Groundbreaking assessment of all life on Earth reveals humanity's surprisingly tiny part in it as well as our disproportionate impact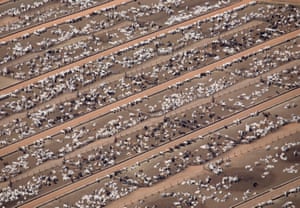 A cattle farm in Mato Grosso, Brazil. 60% of all mammals on Earth are livestock. Photograph: Daniel Beltra/Greenpeace
Humankind is revealed as simultaneously insignificant and utterly dominant in the grand scheme of life on Earth by a groundbreaking new assessment of all life on the planet.
The world's 7.6 billion people represent just 0.01% of all living things, according to the study. Yet since the dawn of civilisation, humanity has caused the loss of 83% of all wild mammals and half of plants, while livestock kept by humans abounds.
The new work is the first comprehensive estimate of the weight of every class of living creature and overturns some long-held assumptions. Bacteria are indeed a major life form – 13% of everything – but plants overshadow everything, representing 82% of all living matter. All other creatures, from insects to fungi, to fish and animals, make up just 5% of the world's biomass.
Another surprise is that the teeming life revealed in the oceans by the recent BBC television series Blue Planet II turns out to represent just 1% of all biomass. The vast majority of life is land-based and a large chunk – an eighth – is bacteria buried deep below the surface.
"I was shocked to find there wasn't already a comprehensive, holistic estimate of all the different components of biomass," said Prof Ron Milo, at the Weizmann Institute of Science in Israel, who led the work, published in the Proceedings of the National Academy of Sciences.
"I would hope this gives people a perspective on the very dominant role that humanity now plays on Earth," he said, adding that he now chooses to eat less meat due to the huge environmental impact of livestock.
The transformation of the planet by human activity has led scientists to the brink of declaring a new geological era – the Anthropocene. One suggested marker for this change are the bones of the domestic chicken, now ubiquitous across the globe.
The new work reveals that farmed poultry today makes up 70% of all birds on the planet, with just 30% being wild. The picture is even more stark for mammals – 60% of all mammals on Earth are livestock, mostly cattle and pigs, 36% are human and just 4% are wild animals.
"It is pretty staggering," said Milo. "In wildlife films, we see flocks of birds, of every kind, in vast amounts, and then when we did the analysis we found there are [far] more domesticated birds."
The destruction of wild habitat for farming, logging and development has resulted in the start of what many scientists consider the sixth mass extinction of life to occur in the Earth's four billion year history. About half the Earth's animals are thought to have been lost in the last 50 years.
But comparison of the new estimates with those for the time before humans became farmers and the industrial revolution began reveal the full extent of the huge decline. Just one-sixth of wild mammals, from mice to elephants, remain, surprising even the scientists. In the oceans, three centuries of whaling has left just a fifth of marine mammals in the oceans.
"It is definitely striking, our disproportionate place on Earth," said Milo. "When I do a puzzle with my daughters, there is usually an elephant next to a giraffe next to a rhino. But if I was trying to give them a more realistic sense of the world, it would be a cow next to a cow next to a cow and then a chicken."
Despite humanity's supremacy, in weight terms Homo sapiens is puny. Viruses alone have a combined weight three times that of humans, as do worms. Fish are 12 times greater than people and fungi 200 times as large.

World Politics
Italy
Anti-establishment Five Star Movement (M5S) and anti-migrant League name lawyer Giuseppe Conte as Italy's next leader
United States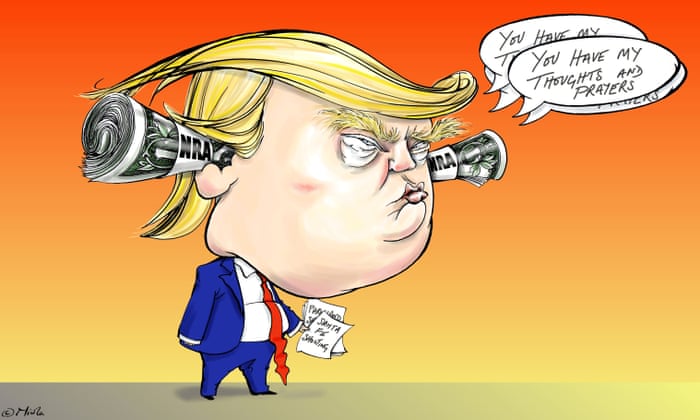 Nicola Jennings on Donald Trump and the Santa Fe shootings – cartoon