23 May
News and Analyses, A Foreign Perspective
Nearly all of these are English-edition daily newspapers. These sites have interesting editorials and essays, and many have links to other good news sources. We try to limit this list to those sites which are regularly updated, reliable, with a high percentage of "up" time.
Andanappa Yalagi, whose daughter died after a miscarriage at a Galway hospital, hopes the referendum will change the law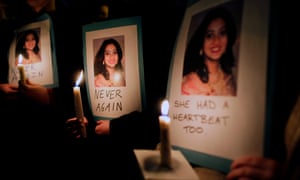 Thousands took part in candlelit vigils and protests following Savita Halappanavar's death in 2012. Photograph: Julien Behal/PA
H

er death was the "end of the world" to her family, and a catalyst for an historic vote this week that could change Ireland's constitution. Now, more than five years after Savita Halappanavar lost her life after a miscarriage in a Galway hospital, her father has urged voters to repeal the clause of the constitution that he says contributed to her death, and legalise abortion.
"I hope the people of Ireland remember my daughter Savita on the day of the referendum, and that what happened to her won't happen to any other family," Andanappa Yalagi told the Guardian by phone from his home in Karnataka, in south-west India.
He said his daughter's death at the age of 31 had devastated the family. "It's still very emotional after five years. I think about her every day. She didn't get the medical treatment she needed because of the eighth amendment. They must change the law."
Savita Halappanavar's parents call for 'yes' vote in Irish abortion referendum – video
Halappanavar's husband, Praveen, has not spoken publicly about her death since an out-of-court settlement was agreed shortly before a medical negligence case was due to open at Ireland's high court in 2016.
But in the weeks after his wife's death, he said: "It was the end of the world. She wanted to live, have babies … I still can't believe she's not with us. We just can't believe that in the 21st century, something like this would happen."
The family believe that at the centre of their tragedy was a clause in Ireland's constitution that gives protection to an unborn child, which has resulted in abortion being illegal in almost all circumstances. Voters will decide whether to repeal or retain this clause, known as the eighth amendment, in Friday's referendum.
On Tuesday the chair of an official investigation into Halappanavar's death, Prof Sir Sabaratnam Arulkumaran, called on voters to back the repeal of the clause, saying it tied doctors' hands.
Halappanavar, a dentist from Karnataka, was 17 weeks pregnant with her first child when she sought advice at University Hospital Galway for intense back pain on Sunday 21 October 2012.
Within hours, medical staff concluded that a miscarriage was inevitable, although a foetal heartbeat could be heard. The plan was to allow the pregnancy to end naturally.
After being told of the risk of infection following the rupture of the foetal membranes, the Halappanavars asked whether it was possible to medically induce the miscarriage. A consultant later recalled saying: "Under Irish law, if there's no evidence of risk to the life of the mother, our hands are tied as long there's a foetal heart[beat]." No intervention took place.
On the morning of Wednesday 24 October, the medical team diagnosed infection and, later, septic shock. A plan was made, but not enacted, to give Halappanavar a drug to induce an abortion. She spontaneously miscarried mid-afternoon and was subsequently admitted to intensive care, where she died in the early hours of Sunday 28 October, almost a week after being admitted to hospital.
In media interviews in the following weeks, Praveen Halappanavar said he and his wife had repeatedly asked for the pregnancy to be terminated after her admission to hospital, but they had been told "this is a Catholic country".

Reports of people being berated or attacked while communicating in the world's second most spoken language are on the rise
S

andy was trying to communicate with a colleague. Although her presence was unusual as a Latinx lawyer at a top southern California non-profit, she was used to talking to people in any language she wanted to. After all, she'd graduated from a top law school and worked near her Los Angeles-area, Latin-centric hometown.
But this time was different. She was speaking to a member of the custodian staff in Spanish about a trivial matter when an older white female executive forcefully told her to stop. That she should not socialize in another language because "other people" might think they were talking trash about them.
"I thought, wait a second. I'm a lawyer, I wouldn't speak badly about people [in any language] in a professional setting. I'm working, these are my peers, and yet this conversation was on my spare time," she said. "At the same time, they were happy to ask me to speak to Spanish-speaking clients when they needed to. I felt abused."
Nevertheless, she apologized and to this day deeply regrets doing so. That was two years ago, before the thirtysomething Mexican American lawyer left the firm in the wake of further HR incompetence and around the time Donald Trump began his ascent to the GOP. In the time since, Sandy has seen a rise in hateful rhetoric across the country and her family have personally experienced the brunt of it. But she hasn't felt physically at risk yet, a common feeling among people I spoke with for this piece.
Instead, she's felt a growing feeling of pride and affection for her dual culture and language skills.
"If I need to switch to Spanish to make others feel comfortable, I will do that," she told me forcefully.
It appears more anti-Spanish mobs are willing to test the resolve of people like Sandy. In the last few months, a constant stream of race-related attacks, physical and verbal, have peppered the North American landscape like a feral pest. Last January, a woman was kicked out of a Florida UPS for speaking Spanish, the month prior an adult physically attacked legal South American immigrants – including a child – at a Canadian mall, and a few days ago a border agent in Montana arrested two women for the same thing, leaving them shaking with anger and crying at the unfairness of it all. Then there's the case of the rich Manhattan lawyer who berated young workers at a deli for daring to communicate in the second most spoken language in the world in his presence.
The cause of these attacks has been attributed to the greater social presence, if not acceptance, of political parties around the world mining racial fears and resentment against minorities. It's the same or similar reasons why white communities have bought guns en masse across the land: they feel insecure about their place in the job marketplace and won't or can't understand trending demographic change towards "the other". In a country like the US, with a huge Hispanic population, a greater number of people seem to be projecting their own sense of personal risk on to others and lashing out.
While it's unlikely these people have sincerely seen a personal change in demographics that was truly overwhelming, and none that would allow for their behaviour, it's true more US residents speak a foreign language at home than at any other time. The US Census Bureau released data last year from the 2016 American Community Survey (ACS) that found 65.5 million US residents spoke a foreign language and about 40.5 million spoke Spanish. However, a Pew Research study also found the "share of Latinos who speak the language has declined over the past decade".

Eleven people protesting over pollution from a copper plant have been killed by police in Tamil Nadu in south India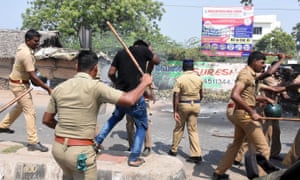 Indian police clash with protesters demanding the closure of the copper factory due to pollution concerns. Photograph: Arun Sankar/AFP/Getty Images
Another person has been shot dead during violent protests in south India against a copper plant operated by a British mining giant residents say is polluting the local environment.
Opposition politicians in the state of Tamil Nadu have accused the police of committing mass murder against protesters opposed to the expansion of a copper smelting facility in the port city of Thoothukudi.
Ten people were shot dead and about 80 wounded by police after crowds set fire to cars and pelted officers with stones on Tuesday. Another man, identified by Indian media as a 23-year-old named Kaliappan, was killed in further protests on Wednesday.
The Madras high court ordered a halt to the expansion of the 400,000-tonne facility in response to the unrest, and ordered authorities to hold public hearings before granting environmental approval to the construction.
The smelter, operated by an Indian subsidiary of London-based Vedanta Resources, has been repeatedly shut down over pollution complaints and was fined £10m in 2013 for breaching environmental norms and operating without the consent of the state pollution board.
The same year, activists allege a gas leak from the plant left hundreds with breathing difficulties, nausea and throat infections.
Residents and environmentalists have been protesting for the past three months against plans to double the capacity of the copper plant that they say is contaminating the air and fisheries around the site.
Sterlite Copper, the Indian subsidiary that owns the plant, says the facility operates "within all the specified parameters" and blamed the unrest on "nefarious elements".
Outrage over the police killings grew on Wednesday, and was fuelled by a video showing a plainclothes police officer boarding a bus and firing his rifle at protesters. A voice could be heard in the background saying: "At least one should die."
MK Stalin, leader of the main Tamil Nadu opposition party, the DMK, said police were guilty of atrocities.
"Mass murder of innocent people," he tweeted on Wednesday. "Who ordered the police firing on protesters? Why were automatic weapons used to disperse the crowd and under what law is this permitted?"
Rahul Gandhi, the national leader of the opposition Congress party, has called the deaths "a brutal example of state-sponsored terrorism". "These citizens were murdered for protesting against injustice," he said.
P Mahendran, superintendent of Thoothukudi district police, said 18 officers were also wounded in the clashes. "The situation is tense but under control today," he said. "The postmortem on the bodies is being conducted and they will be handed over to families today."
The plant, about 375 miles (600km) south of Tamil Nadu's state capital Chennai, is currently shut as the company awaits a licence to expand the site.
The protesters had set ablaze the local administrator's office after they were denied permission to hold a rally at the plant.
Police said efforts to disperse the crowd of several thousand with a baton charge and teargas volleys failed before authorities used live ammunition.

World Politics
United States
Victory in Georgia's Democratic primary is among most consequential in series of triumphs by female candidates ahead of midterm elections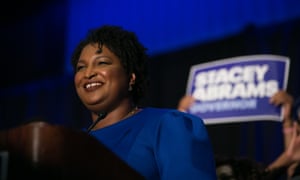 Stacey Abrams takes the stage to declare victory in the Democratic gubernatorial primary in Georgia. Photograph: Jessica McGowan/Getty Images
For the first time in the US, voters have chosen a black woman as nominee for state governor after Stacey Abrams declared victory in Georgia's Democratic primary.
Abrams – a former state House minority leader and progressive who earned support from both Hillary Clinton and Bernie Sanders – beat Stacey Evans, also a former state representative. The result was among the most consequential in a series of primaries that brought successes for female candidates across the country ahead of the 2018 midterm elections.
Abrams will attempt to make history as both America's first black female governor and the first woman to hold the position in Georgia. The Republican primary, which was largely contested among a group of white men, looked headed for a run-off as neither of the candidates secured a majority of the vote.
Abrams's victory came hours after Amy McGrath, a retired Marine fighter pilot, defeated the Democratic party's establishment candidate in the primary race for a House seat in Kentucky.
McGrath, who fashioned herself as part of a younger generation seeking to challenge the old guard in Washington, beat the Lexington mayor, Jim Gray, a millionaire who had been backed by the Democratic Congressional Campaign Committee.
Primaries were also held in Arkansas, where the state's governor, Asa Hutchinson, comfortably held off a primary challenge from the right.
Although Arkansas boasts of an entirely Republican delegation in Congress, Democrats are eyeing the state's 2nd congressional district. In a sign of the state's conservative climate, Democrats rallied behind moderate state representative Clarke Tucker over more liberal contenders.
Democrats need to flip 23 seats to take control of the House of Representatives in November.
The party has seen a sharp rise in progressive candidates since Donald Trump's election, but has faced lingering internal divisions over how to navigate the reliably red terrain of the American south. National Democratic groups have continued to struggle with whether the focus should be placed on the populist left or appealing to independents with more centrist candidates.
A contentious congressional primary in Texas drew unusually widespread attention as a microcosm of the debate, as national Democrats sought to undermine activist Laura Moser from securing the party's nomination and ultimately prevailed on Tuesday. Moser lost to attorney Lizzie Pannill Fletcher, who was not formally endorsed by the DCCC but its preferred candidate and will now endeavor to unseat Republican Representative John Culberson in November.
The victories of Abrams and McGrath were nonetheless held up as evidence of successful efforts in inspiring the party's base.
Abrams was bolstered in particular by African American voters and invested heavily in mobilizing Democrats who do not typically turn up at the polls. Trump carried Georgia by just five percentage points in the 2016 election, which some political analysts attributed to the state's changing demographics — namely the rise in communities of color.
Abrams enjoyed support from a bevy of progressive organizations, including Democracy for America, the Working Families Party, MoveOn, EMILY's List and NARAL Pro-Choice America. Abrams's victory was touted on Tuesday not simply for its historical significance and potential, but what the pro-women group Emily's List declared as "a clear sign that Georgia voters are ready for the next generation of progressive leadership".
"Stacey Abrams' victory tonight is an incredibly important win for the grassroots movement that rose up behind her in this primary and a Democratic Party that is, in many ways, still searching for a way forward after the crushing losses of 2016 and the outdated, Republican-lite playbook that caused them," said Jim Dean, the chair of Democracy for America.
Read Full Article>>