25 May
News and Analyses, A Foreign Perspective
Nearly all of these are English-edition daily newspapers. These sites have interesting editorials and essays, and many have links to other good news sources. We try to limit this list to those sites which are regularly updated, reliable, with a high percentage of "up" time.
The poor design of the ballot paper may cause confusion in the minds of some voters
.
Garda Pat McElroy stands with the sealed ballot box as he travels back to the mainland from Gola Island, off the Donegal coast, after voting in the abortion referendum was completed on Thursday. The inhabitants of Gola island voted a day earlier than the rest of the country. Photograph: Paul Faith/AFP/Getty Images
The decision voters make today on whether to delete the Eighth Amendment to the Constitution will have profound consequences for Irish society for years and possibly decades to come. That is why it is so important that as many citizens as possible exercise their right to vote.
The turnout in referendums has often been poor. For instance, in 1983, when the proposal to insert the Eighth Amendment into the Constitution was put to the people, the turnout was just 53 per cent.
Turnout in referendums has regularly fallen below 50 per cent, but on an issue of this importance it is imperative that a substantial majority of people cast their votes so that the outcome will have the maximum level of democratic legitimacy.
There are almost 3.34 million voters on the electoral register for today's referendum, almost one million more people than were entitled to vote in 1983.
The surge of people putting their names on the supplementary register in recent weeks indicates a welcome determination by voters to exercise their democratic right.
Polling stations will be open from 7am until 10 pm. Voters should have received a polling card in the post over the past week or so telling them at which polling station they should cast their vote. For convenience sake they should bring that card with them, but it is not a legal requirement.
People need to read the ballot paper carefully before marking an X in the Tá/Yes or Níl/No box
People who are on the electoral register but have not received a polling card are still entitled to vote. Voters do not need to have their polling card when they go to the polling station but they do need to produce some valid form of personal identification such as a driving licence, a passport or public services card.
Those who still unsure about how they should vote should consult the independent guide on the website of the Referendum Commission for unbiased facts about the proposed change to the Constitution.
One problem that may confront voters today is that the ballot paper they will be presented with is badly designed and could even create confusion about how it is to be completed.
The ballot paper begins by asking people in Irish and English if the voter approves of the proposal to amend the Constitution as contained in the 36th Amendment to the Constitution Bill 2018. The ballot paper does not refer to the fundamental point of the Bill, which is to delete the constitutional provision which recognises an equal right to life to the mother and the unborn.
The poor design of the ballot paper and the mixture of Irish and English in the way the question is framed may cause confusion in the minds of some voters. People need to read the ballot paper carefully before marking an X in the Tá/Yes or Níl/No box.
Yes voters slightly ahead as Ireland goes to the polls after hard-fought campaigns by both sides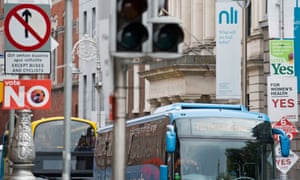 Buses pass signposts covered in placards from the "Yes" and "No" campaigns in Dublin on Thursday Photograph: Barry Cronin/AFP/Getty Images
The people of Ireland are voting today in a historic referendum on whether to repeal or retain a constitutional clause protecting the rights of the unborn that has produced one of the most restrictive abortion regimes in the world.
The outcome of the vote, expected to be close following a polarised and often acrimonious campaign, will either confirm Ireland on its journey from a conservative Catholic country to a socially liberal one, or indicate that social reforms over recent decades have reached their limit.
Leo Varadkar, Ireland's taoiseach, has warned that the referendum is a "once in a generation decision". If the proposal to repeal the constitutional clause is defeated, it is likely to be at least 35 years before voters get another say on the matter, he said this week.
At stake is article 40.3.3 of the Irish constitution, known as the eighth amendment. In place since 1983, it puts the "right to life of the unborn" on an equal status with the life of a pregnant woman. It underpins a near-total ban on abortion in Ireland, even in cases of rape, incest or fatal foetal abnormality.
Seeking or providing an abortion is punishable by up to 14 years in prison. There has been an exception for when a mother's life is at risk only since 2013, when a woman died from septicaemia following a drawn-out miscarriage.
As a result of the stringent controls on abortion, each year about 3,500 women travel abroad, mostly to the UK, to terminate their pregnancies – and an estimated 2,000 women illegally procure abortion pills online and self-administer them with no medical supervision.
My budget flight to get an abortion: the story no one in Ireland wants to tell – video
If the vote is in favour of repeal, the government plans to introduce legislation permitting unrestricted abortion during the first 12 weeks of pregnancy. Abortions up to the 23rd week will be permitted when a woman's health is threatened and in cases of a fatal foetal abnormality.
Polling stations across Ireland open at 7am and close at 10pm. Counting will begin on Saturday morning, with the final result expected to be formally announced in the late afternoon. However, the outcome may be clear earlier as results come in from key constituencies. Dublin is expected to be strongly yes-voting, and rural areas more inclined to vote no.
The votes of thousands of Irish expatriates travelling home to take part in the referendum could be significant. Some reported on social media that they were coming from as far away as Los Angeles, Australia, Vietnam and Argentina in order to cast their votes.
Lauryn Canny tweeted: "I'm coming #HomeToVote. Will be travelling 5,169 miles from LA to Dublin and will be thinking of every Irish woman who has had to travel to access healthcare that should be available in their own country. Let's do this, Ireland!"
Colette Kelleher tweeted: "My lovely son is coming #hometovote. This poor student used his birthday money to buy plane ticket home … He will #voteyes with his Dad. For his sister, his Mum & women of Ireland."
The latest opinion polls indicate a majority for repeal, although undecided voters – estimated at between 14% and 20% of the total – could hold sway. Two polls published this week showed small increases in the yes vote, with one putting it at 56% and another at 52%.
One poll also used a technique known as "wisdom of the crowds", asking people to estimate the result of the referendum. The outcome was 56-44% in favour of yes.
Private polling for Fianna Fail, whose parliamentary representatives are divided on the referendum, is believed to predict a similar outcome.
Friday's referendum comes three years after Ireland became the first country in the world to back same-sex marriage in a popular vote, confirming a profound shift in Ireland's social attitudes. Twenty years earlier, Ireland voted by the tightest of margins in a referendum to allow divorce, which was previously banned under the constitution.
Changes in social attitudes have been in lockstep with the declining influence of the Catholic church, once the dominant voice in Ireland and a crucial player in the drive to add an abortion ban to the constitution.
But revelations of sexual abuse and cover-up by priests in recent years have shaken Ireland's faith in the church, and the internet and social media have challenged the authority of the pulpit.
Although 78% of the population still identified as Catholic in 2016, the proportion is significantly smaller among people under the age of 35. Between 1972 and 2011, weekly church attendance fell from 91% to 30%. In Dublin, it dropped to 14%.
.

Meet the people fighting to keep Ireland's abortion ban – video
But there has also been an intense ground battle, with campaigners for both sides canvassing door-to-door, holding public rallies and meetings, and handing out leaflets on the streets in a bid to win over undecided voters.
The yes campaign has focused on the argument that abortion is a reality for thousands of Irish woman, but the constitutional ban merely exports the issue at huge emotional, physical and financial cost to a woman in a crisis situation.
The no campaign has repeatedly warned that "extremist" legislation would follow repeal. In fact, the government's proposals would bring Ireland into line with most of Europe.

A Texas nurse sued US Customs for seizing her money at the airport and then demanding that she waive rights to get it back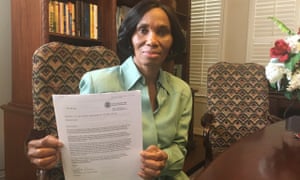 Anthonia Nwaorie shows the 'hold harmless agreement' in which she would agree never to pursue any kind of legal action against the government over the seizure. Photograph: The Guardian
Anthonia Nwaorie was only a few metres from boarding a plane when customs agents stopped her and started asking questions.
How many people are you carrying money for? How long have you been in the United States? How many people are travelling with you?
"I said, 'I'm travelling alone'," she recalled. "Whatever money that I have is my money." Nwaorie soon discovered that the reality was not so simple.
The 59-year-old nurse was travelling to Nigeria via Frankfurt, bringing medical supplies and $41,377 in cash – most of which she had saved up for years herself. She was planning to start a medical clinic for women and children in a village in Imo state, where she grew up before moving to the US in 1982 and becoming an American citizen 12 years later.
Nwaorie knew that travellers entering the US have to declare currency over $10,000. But she was completely unaware, she said, that the requirement also exists for anyone exiting the country.
On the basis that Nwaorie failed to declare the money on that October afternoon, Customs and Border Protection (CBP) seized it.
When the US attorney's office declined to charge her with a crime or try to keep her savings by initiating civil forfeiture proceedings, CBP wrote to Anthonia in April. "It is our decision to remit the currency seizure in full" within 8-10 weeks, the letter said.
Just one thing: she needed to sign a "hold harmless agreement" in which she would agree never to pursue any kind of legal action against the government over the seizure, and to reimburse the US for "any necessary expenses, attorney's fees, or costs incurred in the enforcement of any part of this agreement".
Nwaorie did not sign.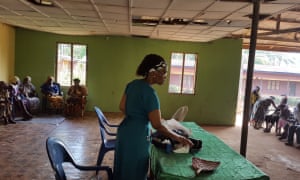 Anthonia Nwaorie at her week-long clinic in a church hall last year in a village in Imo state in Nigeria. Photograph: The Guardian
More than six months later , she still does not have her money back. And now she is the named plaintiff in a class-action lawsuit taking aim at CBP's practice of demanding that people whose property was seized by the government have to waive rights in order to get it back.
Asset forfeiture has long attracted scrutiny in cases when local law enforcers seize and keep the property of people who in many instances are never charged with a crime, often using it in a questionable manner, such as one example in a Texas county where proceeds were used to pay for a margarita machine at a barbecue cook-off.
It is also a considerable source of revenue for the federal government and a practice backed by leading figures in the current administration.
"I love that programme," the attorney general, Jeff Sessions, said in a speech last year. "We had so much fun doing that, taking drug dealers' money and passing it out to people trying to put drug dealers in jail. What's wrong with that?"
In 1986 the Department of Justice's asset forfeiture fund took in $93.7m, according to figures obtained by the Institute for Justice, a not-for-profit law firm that is fighting Nwaorie's case. By 2014, the figure was $4.5bn, inspiring a memorable headline in a 2015 Washington Post article: "Law enforcement took more stuff from people than burglars did last year."
"Anthonia's case really demonstrates how abusive civil forfeiture is," said one of her lawyers, Anya Bidwell, "because she's an outstanding individual, she's a US citizen, she wants to do good in the world and if she's not safe from civil forfeiture then nobody is safe from civil forfeiture.
"We want to make sure that it doesn't happen to people ever again, that these kind of hold harmless agreements are declared unconstitutional," she added. CBP declined to comment on the case, citing pending litigation.
Nwaorie said she tried to board her flight at Houston's George Bush intercontinental airport at about 4.15pm, but was held until 10.30pm. "By the time it was finished I was having the worst migraine I've ever had in my life," she said in an interview at her home in the Houston suburb of Katy. "Oh, God, they surely made me very angry."

World Politics
Spain
Opposition says ruling party's role in Gürtel corruption case has damaged democracy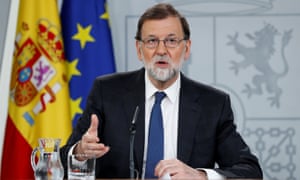 Mariano Rajoy said the motion would damage Spain's economic recovery. Photograph: Reuters
Spain's opposition socialist party has filed a no-confidence motion against the prime minister, Mariano Rajoy, a day after his governing People's party was found to have benefited from an illegal kickbacks-for-contracts scheme.
Pedro Sánchez, the leader of the PSOE, said the verdict in the Gürtel corruption case had "seriously damaged the health of our democracy" and further diminished Rajoy's credibility.
"That is why we have filed a motion of no confidence against Prime Minister Rajoy this morning," he said after a meeting of the PSOE's executive committee on Friday.
"A motion of no confidence that aims to bring normality back to our public life and to do away with this corruption thriller into which the People's party has plunged our politics, so that we can talk about the things that matter to our citizens."
Sánchez said the PSOE's "route map" was intended to usher in a socialist government that would restore stability and regenerate democracy before calling elections.
The anti-austerity Podemos party has said it will back the PSOE's motion.
The centre-right Ciudadanos party – which appears to be creeping ahead of the PP in the polls – refused to back the motion, instead urging Rajoy to call a snap general election.
"The government's conviction for corruption has pulled the plug on this parliament," said its leader, Albert Rivera.
"We need a clean, strong government that can deal with the [Catalan] separatist challenge."
The PSOE's motion will require majority backing to succeed, requiring the support of 176 of the 350 MPs.
As the socialists have 85 seats and Podemos 71, they will need the support of Ciudadanos, 32 seats, or other parties, including Catalan separatists, to carry the motion.
Rajoy ruled out a snap election and said the no-confidence motion would damage Spain's economic recovery and stability only days after the 2018 budget was approved. He added that it would weaken the political response to the threat of Catalan secession.
"This motion is bad for Spain, bad for Spaniards, brings with it too much uncertainty and is damaging to all citizens," he told reporters.
The prime minister accused Sánchez of opportunism and said the move would not lead to a viable government.
He also reaffirmed the PP's decision to appeal against the €240,000 (£210,000) fine imposed on the party after Spain's highest criminal court ruled that it had benefited from the Gürtel racket.
Luis Bárcenas, once a close ally of Rajoy, was jailed for 33 years for his part in the conspiracy and fined €44m.

United States