27 May
News and Analyses, A Foreign Perspective
Nearly all of these are English-edition daily newspapers. These sites have interesting editorials and essays, and many have links to other good news sources. We try to limit this list to those sites which are regularly updated, reliable, with a high percentage of "up" time.
Process will begin on Tuesday when cabinet discusses draft legislation, says health minister
History is made as Ireland votes to repeal anti-abortion laws – video report
Ireland's health minister has said he will push forward with new abortion laws after Saturday's resounding referendum result overturned a 35-year ban on terminations.
Simon Harris said he would start the process on Tuesday, when the Irish cabinet will meet to discuss draft legislation to allow terminations within the first 12 weeks of pregnancy, and up to 24 weeks in exceptional circumstances.
The Irish electorate voted by 1,429,981 votes to 723,632 in favour of abolishing the controversial eighth amendment to the constitution that gave equal legal status to the lives of a foetus and the woman carrying it. The result was a two-thirds majority: 66.4% yes to 33.6% no.
Draft legislation was set out before Friday's vote and will now be formalised over the coming weeks, to be tabled in the Dáil, Ireland's parliament, in the autumn. Speaking on Saturday, the taoiseach, Leo Varadkar, said he hoped the law would be changed before the end of the year.
The change is not expected to face significant hurdles in parliament, with members who opposed repeal acknowledging the overwhelming nature of the result.
On Saturday's announcement of the historic result at Dublin Castle, Harris told supporters of repeal: "Under the eighth amendment we used to say to women in crisis: take the boat or take the plane. Today we say, take our hand."
Varadkar said Saturday would be remembered as the day Ireland "embraced our responsibilities as citizens and as a country … The day Ireland stepped out from under the last of our shadows and into the light. The day we came of age as a country. The day we took our place among the nations of the world."
Saturday's triumph for abortion reformers occurred only months before Pope Francis visits the country – the first since John Paul II's tour of Ireland in 1979.
Orla O'Connor, the co-director of the Together for Yes campaign, said it was "a monumental day for women in Ireland", calling the result "a rejection of an Ireland that treats women as second-class citizens".
Ireland's foreign minister, Simon Coveney, stressed that the outcome proved this was "not Dublin versus the rest … not a rural-urban division".
One of the first constituencies to declare a result – Dublin Central – had nearly 77% voting yes. Yet even in traditionally conservative Roscommon/East Galway the first tallies from the count showed 57% for yes and 43% for no. Other rural constituencies such as Carlow/Kilkenny also voted 63.5% in favour of change.
In the last major referendum, the vote to legalise same-sex marriage three years ago, Roscommon was the only area to vote no.
This time, the only constituency to return a majority of no votes was Donegal, where 51.87% opposed repeal, while 48.13% backed it.
The overall turnout of Friday's abortion referendum, at 64.51%, exceeded the 60.5% that voted in the 2015 marriage plebiscite.
Victory for the yes side means that the only part of the United Kingdom and Ireland where abortion remains banned in almost all circumstances is Northern Ireland.
On Saturday afternoon, both Amnesty International and the Liberal Democrat leader, Vince Cable, called for Northern Ireland's near-total ban on abortion to be lifted.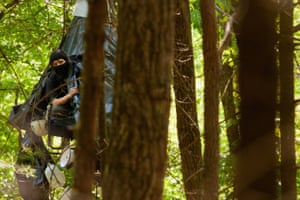 Mountain Valley Pipeline protester 'Nutty' looks out from her monopod in the Virginia forest on her 49th day 45ft above the ground. Photograph: Garrett MacLean for the Guardian
W

ay out in the Appalachian hills, on the line between Virginia and West Virginia, after an hour-long backwoods hike up Peters Mountain, an orderly clutch of tents were surrounded by a plastic yellow ribbon that read, "police line do not cross".
Past that, a woman sat on top of a 50ft pole.
Opposite the knot of tents where the woman's supporters kept 24-hour vigil lay an encampment of police, pipeline workers, and private security bearing floodlights, generators and hard, binocular-bespectacled stares.
At the time of our visit, she had been up there for more than 50 days and had vowed to not come down until the police extracted her – at great danger to her life – or until she was starved out. She ate only a tiny amount of food everyday at 6 o'clock. The platform on which she sat was about the size of a bathtub.
On Wednesday 23 May, the protester, nicknamed Nutty, finally came down after a record-breaking 57 days spent in the trees – the longest monopod protest sit in US history – to stop a fracked natural-gas pipeline from being built through the state. Her final three days in the trees were spent without food.
"I was and remain tremendously grateful to have been able to make an impact in the struggle against the Mountain Valley pipeline," she wrote in a statement to the Guardian upon her descent. "And am committed to continuing to participate in the global struggle against the processes of violent extraction, and against the structures of colonization, capitalism, white supremacy, and patriarchy it feeds."
It's about the little guy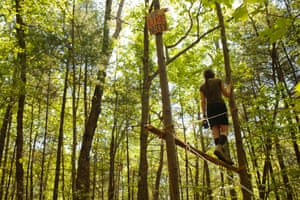 From a constructed lookout, Erin Mckelvy watches the police and pipeline workers to ensure nothing is done to endanger the safety of 'Nutty'. Photograph: Garrett MacLean for the Guardian
There are others, too, who remain in the forest and are still blocking construction by putting their lives on the line and refusing to move. On the far side of the mountain sits a man in a perch dangling from a tree. A bald gash of clearcut, about as wide as a truck is long, runs through the forest, up the mountain, and stops just at the tree from which he hangs. A handful of folks have also taken to the trees in a place called Little Teel Crossing, and just this Monday, a woman named Fern MacDougal made her new home in another aerial blockade on Peters Mountain.
A mother and daughter team, nicknamed Red and Minor respectively, came down from the trees after more than 30 days, on property that has been in their family for more than seven generations.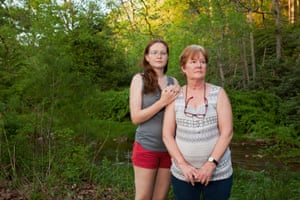 Red and Minor, mother and daughter pipeline protesters, stand in front of Bottom Creek. Both protesters' real name is Theresa Terry. Photograph: Garrett MacLean for the Guardian
These activists hold the typical concerns of having a gas pipeline run through the yard: if it leaks it poisons the water, the font of the incredible biodiversity in the area; there's a two-and-a-half-mile blast radius if it explodes; the pipeline is taking their land through eminent domain against their will for resource extraction that they feel will not benefit them or their neighbors.
But they also say this is about more than just a pipeline, built by Mountain Valley Pipeline LLC. It is, they say, also about the erosion of democracy and the natural world by money and the hunger for it. They see this pipeline as one more physical manifestation of the loss of personal agency in the face of an impersonal and uncaring government. They say it's about the little guy – in this case almost all women – being pushed too damn far and being unable to take it any more.
From the top of her pole, across the police-mandated 150ft barrier, Nutty had explained herself, shouting to be heard: "We're dealing with an ecology of oppression and violent structures that are tied together and interwoven, structures that are opposed to human survival, freedom, autonomy and the land."

Figures reveal defence firms' sales at new high, as Prince William prepares for visit to Ramallah and Jerusalem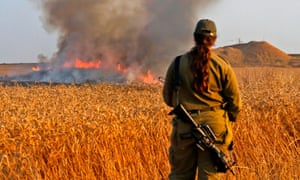 An Israeli soldier near the border with the Gaza Strip, where there were violent clashes earlier this month. Photograph: Jack Guez/AFP/Getty Images
Figures from the Campaign Against Arms Trade reveal that last year the UK issued £221m worth of arms licences to defence companies exporting to Israel. This made Israel the UK's eighth largest market for UK arms companies, a huge increase on the previous year's figure of £86m, itself a substantial rise on the £20m worth of arms licensed in 2015. In total, over the past five years, Israel has bought more than £350m worth of UK military hardware.
Licences issued to UK defence contractors exporting to Israel last year include those for targeting equipment, small arms ammunition, missiles, weapon sights and sniper rifles. In 2016 the UK issued licences for anti-armour ammunition, gun mountings, components for air-to-air missiles, targeting equipment, components for assault rifles, components for grenade-launchers and anti-riot shields.
Human rights groups have questioned the wisdom of sending a senior royal to a country whose use of lethal force last month has been the subject of concern from the UK government.
"After the appallingly excessive response of the Israeli security forces at the Gaza border, tensions in the occupied Palestinian territories are likely to be close to boiling point when Prince William makes this historic visit," said Kerry Moscogiuri, Amnesty International UK's campaigns director.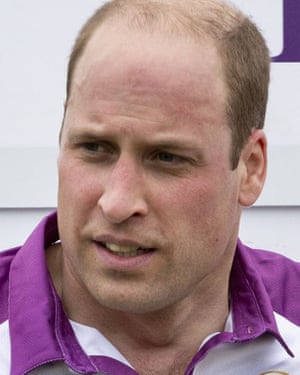 Prince William, Duke of Cambridge, will make a five-day visit to Israel. Photograph: Mark Cuthbert/Getty Images
The Israeli prime minister, Benjamin Netanyahu, defended Israel's response, saying "every country has an obligation to defend its borders". But Theresa May backed calls for an independent inquiry into the violence, which reportedly left 58 Palestinians dead. The British prime minister said the use of live rounds by Israeli forces was "deeply troubling" and called for greater restraint. Now the UK government faces questions as to whether UK-made weapons were used by the Israelis last month.
A review by government found the UK had issued 12 licences for arms it believed were likely to have been used in the 2014 war. In 2010 the then foreign secretary, David Miliband, said Israeli equipment used in an attack on Gaza "almost certainly" contained British-supplied components.
Andrew Smith of Campaign Against Arms Trade said: "The shootings we have seen over recent weeks have been an awful reminder of the appalling collective punishment and oppression that has been inflicted on the people of Gaza. By the government's own admission, UK arms have been used time and again against Palestinians. Yet the arms sales have continued unabated. There must be a full investigation into if any UK arms have been used in the atrocities we have seen over recent months."
The Duke of Cambridge's five-day trip will begin in Amman, Jordan, on Sunday 24 June, take in Ramallah, the Palestinian Authority's capital city, and end in Jerusalem. Netanyahu has said it will be "a historic visit, the first of its kind".
But Smith said it was taking place against the "backdrop of a massacre". He added: "If the prince does not speak out against the violence that has been inflicted, then it will be regarded as a major political endorsement. He must not use his visit to whitewash or legitimise these terrible abuses."

World Politics
United States
Donald Trump lets it all hang out – cartoon
David Simonds on the US president, payments, Stormy Daniels and Rudolph Giuliani



This entry was posted on Sunday, May 27th, 2018 at 12:54 pm and is filed under General. You can follow any responses to this entry through the RSS 2.0 feed. Both comments and pings are currently closed.