01 Jun
News and Analyses, A Foreign Perspective
Nearly all of these are English-edition daily newspapers. These sites have interesting editorials and essays, and many have links to other good news sources. We try to limit this list to those sites which are regularly updated, reliable, with a high percentage of "up" time.
Andrew Garn is a native New Yorker who grew up surrounded by the city's ubiquitous pigeons. For over a decade he has photographed, rehabilitated and observed the birds, documenting the entire spectrum of their development from newborn "squeakers" to fully fledged adults. The New York Pigeon: Behind the Feathers by Andrew Garn, with text by Emily S Rueb and Rita McMahon, is published by powerHouse Books Andrew Garn
Baby's first mambo steps: orphaned at two days old, this fellow was hand-fed by a concerned rehabber. Now, at 10 days, he is curious and confident.
Andrew Garn documents his love of pigeons in his book, The New York Pigeon.
World Politics
Spain
Parliament passes vote of no confidence in ruling People's party over corruption scandal
The moment Mariano Rajoy is ousted as Spain's PM – video
Mariano Rajoy, once viewed as the great survivor of Spanish politics, has been ousted as prime minister in a vote of no confidence after several former members of his party were convicted of corruption in a case that proved a scandal too far.
He will be replaced by Pedro Sánchez, the leader of Spain's opposition socialist PSOE party, which tabled the motion to unseat him.
It cements a remarkable comeback for Sánchez, who regained his leadership a year ago after a PSOE coup saw him deposed over his steadfast refusal to let Rajoy back into office following two inconclusive general elections.
The socialist motion won the support of 180 MPs – four more than the 176 needed in the 350-seat parliament. There was one abstention and 169 MPs opposed it.
Sánchez vowed to address the "pressing social needs" of Spaniards after years of austerity under Rajoy's conservative government, adding that he was "aware of the responsibility and the complex political moment of our country".
After the vote, Rajoy went over to Sánchez in the chamber and shook the incoming leader's hand.
Read Full Article>>

Leader may choose to resign rather than facing no-confidence vote in the wake of kickbacks-for-contracts scandal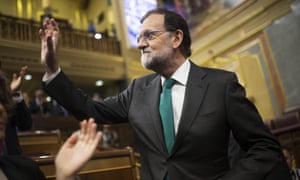 Mariano Rajoy accused the PSOE of opportunism and reminded the party of its past scandals. Photograph: Francisco Seco/AP
Mariano Rajoy's controversial and scandal-mired tenure as Spanish prime minister seemed all but certain to end on Friday after a small Basque party threw its weight behind a no-confidence motion tabled after Rajoy's party was found to have profited from a huge corruption racket.
The Basque Nationalist party (PNV) revealed on Thursday it had decided to back the motion, with a vote due on Friday, and deliver the key support required to oust Rajoy of the People's party (PP) and replace him with Pedro Sánchez of opposition socialist, PSOE.
The PNV's five votes – together with the support of groupings including the anti-austerity Podemos party, the two Catalan pro-independence parties and another Basque party – gave the PSOE 180 votes in Spain's 350-seat congress, four more than were needed.
Rajoy, who made a defiant appearance in parliament during the morning session, was absent from the chamber when the PNV announced its decision shortly after 5pm.
It later transpired that the PP leader had gone for an eight-hour lunch at a smart restaurant in central Madrid, from which he emerged at around 10pm. He was not in parliament on Friday morning.
The PNV said it had never sought to play a king-making role in Spanish politics, but felt an ethical and political duty to support the motion.
"This isn't simple; this isn't easy," said PNV spokesman Aitor Esteban. "But we have to do it." He said last week's court verdict, confirming the PP had benefited from a corruption scam, had marked "a before and an after".
A Spanish government spokesman said Rajoy was not considering his resignation despite being on the cusp of losing the vote in parliament.
The spokesman, who spoke on condition of anonymity because he was not authorised to be named in media reports, said Rajoy planned to address the lower house on Friday before the vote.
Rajoy had earlier accused the PSOE of opportunism, reminding it of its own corruption scandals.
"With what moral authority are you speaking? Are you perhaps Mother Teresa of Calcutta?" he asked. "There have been corrupt people in the PP, but the PP is not a corrupt party," he said.
Sánchez called for "democratic regeneration" as he sought the backing of MPs, saying: "Resign, Mr Rajoy. Your time is up."
He said Rajoy had failed to accept responsibility for the PP's corruption, which was made public last week when one of its former treasurers was sentenced to 33 years in prison for fraud and money laundering. The party was fined €240,000 (£210,000) after judges at Spain's highest criminal court ruled it had benefited from the kickbacks-for-contracts scheme.

United States
Chris Riddell on the US president's real priorities

Donald Trump is driving liberals crazy, says Jonathan Freedland, but how worried should they really be? He claims that norms of democracy – such as a free press and the rule of law – have already been undermined by the new president. And, he says, the idea of democracy is falling out of favour with young people across the globe