02 Jun
News and Analyses, A Foreign Perspective
Nearly all of these are English-edition daily newspapers. These sites have interesting editorials and essays, and many have links to other good news sources. We try to limit this list to those sites which are regularly updated, reliable, with a high percentage of "up" time.
Far-right interior minister insists he will keep campaign pledge to deport around 500,000 people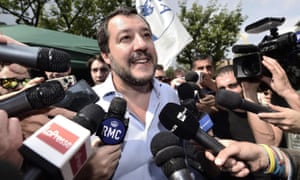 Matteo Salvini has vowed to take a tougher approach on immigration. Photograph: Flavio Lo Scalzo/EPA
Italy's interior minister, the far-right firebrand Matteo Salvini, has declared that one of the new populist government's top priorities will be to "send them home", signalling that he intends to keep a campaign promise to round up hundreds of thousands of undocumented immigrants in Italy.
The political chaos that has engulfed Italy in recent weeks has centred on questions about whether the government, which was sworn in on Friday and is led by the virtually unknown prime minister Giuseppe Conte, will take a tough line on Italy's fiscal commitments in Brussels.
But Salvini's rise to power, from talk-radio host on his party's show to his appointment to one of Italy's most powerful government positions, with oversight of domestic security, civil rights, immigration and asylum and elections, could force more dramatic change.
Hours after the government was approved by the Italian president, Sergio Mattarella, Salvini said Italy was going to take a tougher approach.
"Open doors in Italy for good people and a one-way ticket for those who come to Italy to create commotion and think they will be taken care of. 'Send them home' will be one of our top priorities," he said.
Salvini, who is head of the far-right League, a nationalist party that used to favour secession, campaigned on a pledge to deport about 500,000 migrantsliving illegally in Italy.
While the rhetoric caused concern among migration experts and humanitarian groups, it was seen as a highly unrealistic agenda, because Italy did not have the resources or legal flexibility to pursue costly mass deportations.
Migration experts contacted by the Guardian are nevertheless alarmed by Salvini's promotion. They fear that the rights of asylum seekers, migrants and refugees will be dramatically eroded in a country that is already struggling to accommodate and integrate the new arrivals into Italian communities.
Calogero Santoro is the head of Girasoli, a non-profit organisation that promotes the integration of migrants and refugees in local communities in Sicily. He said: "Fake news about migrants have spread all over Italy during the last campaign. My concern is the future of asylum seekers, people who are eligible for a refugee status. What will happen to them under [Salvini's] League?"
Santoro added: "This is what scares me. The previous government's deal with Tripoli is making the lives of these people harder and harder in Libya and now Salvini could make their life impossible in Italy too."
Santoro was referring to an agreement between Italy and Libya in which Italians helped to train Libyan coast guards, who have stopped migrant boats and taken people fleeing to Europe back to camps in Libya. The agreement has been condemned by human rights advocates. Multiple reports have described inhumane conditions, rape and other physical abuse.
Migration experts are also worried by the possibility that Salvini could reduce funding for reception centres – which have already been criticised by human right groups for poor conditions – and make life even more inhospitable for migrants.
"My fear is that Italy's reception centres will be transformed into little Calais 'Jungles' that will make migrants invisible to the public," said Fulvio Vassallo, an expert on asylum law from the University of Palermo.
World Politics
United States
For some, the president's efforts to undermine the justice department and the Mueller investigation represent a threat to democracy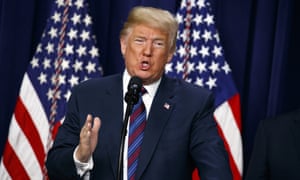 In recent weeks, Trump has escalated his war on his perceived foes in the DoJ, which hosts the office of special counsel Robert Mueller. Photograph: Evan Vucci/AP
A

sk people with deep knowledge of the US justice department about the damage Donald Trump might be doing to the country, and the conversation quickly flips back to Watergate.
Following Richard Nixon's failed attempt to pull the plug on a special prosecutor who turned out to be on to something, the need for investigators to work free from White House interference was recognized by the public and reinforced by elected officials.
But now Trump is president, the public can seem apathetic or amnesiac and the norms governing justice department independence are being tested. Severely.
In interviews, two former assistant attorneys general, law professors and analysts from across the political spectrum used recurring words to describe Trump's assault on justice: "dangerous", "alarming", "high-stakes".
Some analysts warn that national security has also been endangered, as Trump has undermined public trust in the Federal Bureau of Investigation (FBI) and intelligence agencies whose work is often conducted in secret and who therefore depend uniquely on such trust to function.
The question is whether Trump's snips and snaps at the norms of justice department independence represent some greater dislocation: a constitutional crisis of some kind or even an erosion of the rule of law in America, as some commentators have posited.
In recent weeks, Trump has escalated his war on his perceived foes in the Department of Justice (DoJ), which hosts the office of special counsel Robert Mueller, who is investigating alleged collusion between Moscow and Trump campaign officials.
That investigation, Trump has informed his Twitter followers, is the work of a "criminal deep state" engaged in a "WITCH HUNT" originally engineered by none other than Barack Obama.
If the Trump-supporting public is bothered by that kind of freewheeling conspiracy talk, there's little sign of it. The president's average approval rating is hovering close to 42%, pretty good for him. But others are deeply bothered by Trump's seemingly nonstop provocations directed at the FBI, the attorney general, the intelligence apparatus and other DoJ agencies.
On Thursday, Trump casually granted a pardon to the race-baiting conservative commentator Dinesh D'Souza, who pleaded guilty in 2014 to campaign finance charges. The pardon was taken as a potential signal to former associates not to "flip" and cooperate with federal prosecutors – because even if they are convicted, a pardon may be waiting.
In an interview aboard Air Force One, the president mentioned he was considering pardoning other boldface names with "unfair" convictions.
"We've never had a president attack the intelligence and law enforcement agencies that work for him in this way," Jack Goldsmith, a Harvard law professor and former assistant attorney general under George W Bush, said in an email. "He's attacking them in order to discredit the Mueller investigation. But the baleful impact on those agencies' morale and on public trust in them unfortunately extends far beyond that investigation."
While whispers of a "constitutional crisis" are in the air, many mainstream analyses reject that idea, pointing out among other things that the Mueller investigation continues full steam ahead, no matter how much Trump might whine about it. The bad news is that it doesn't take a constitutional crisis to constitute a national emergency, said Eric Posner, a University of Chicago professor specializing in constitutional law…………….Two recent Trump provocations have proven particularly incendiary. First, he cooperated with Republican congressman Devin Nunes and others in a campaign that led to the disclosure of the identity of an FBI informant. Then, Trump ordered the justice department to investigate its own investigation – of him.
"I hereby demand," Trump tweeted, "that the Department of Justice look into whether or not the FBI/DoJ infiltrated or surveilled the Trump Campaign for Political Purposes – and if any such demands or requests were made by people within the Obama Administration!"