05 Jun
News and Analyses, A Foreign Perspective
Nearly all of these are English-edition daily newspapers. These sites have interesting editorials and essays, and many have links to other good news sources. We try to limit this list to those sites which are regularly updated, reliable, with a high percentage of "up" time.
World Politics
United States
What could be the explanation for Melania's absence? The whole thing is sinister and weird
Prosecutors working on Trump-Russia inquiry claim former campaign manager violated bail terms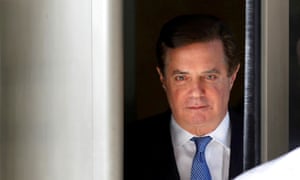 Former Trump campaign manager Paul Manafort leaves US district court in Washington in February. Investigators for Robert Mueller allege he has repeatedly tried to contact witnesses. Photograph: Yuri Gripas/Reuters
Federal investigators have accused Donald Trump's former campaign manager, Paul Manafort, of tampering with potential witnesses while on bail ahead of his federal bank fraud and tax case.
Prosecutors asked that the judge overseeing his case "revoke or revise" the order releasing him ahead of trial.
In a court filing on Monday, prosecutors working for the special counsel Robert Mueller, who is investigating possible collusion between the Trump campaign and Russia, said Manafort and an associate "repeatedly" attempted to contact witnesses using his phone and an encrypted messaging application. They allege it happened shortly after a grand jury returned a new indictment against him, violating the terms of his house arrest.
Mueller has indicted Manafort in federal courts in Washington and Virginia. He was released to home confinement after his arraignment in October.
Manafort faces felony charges in the two cases over allegations he concealed tens of millions of dollars from the Internal Revenue Service that he had earned advising pro-Russia politicians in Ukraine. He is also accused of conspiring to launder money and failing to register as a foreign agent when he lobbied for the pro-Russia Ukrainian government. The events took place before Trump ran for president.
Manafort has pleaded not guilty to all the charges.
FBI agent Brock Domin wrote in court documents that Manafort "contacted and attempted to contact" two unnamed witnesses, "in an effort to influence their testimony and to otherwise conceal evidence". He added: "The investigation into this matter is ongoing."
The witnesses, according to the court filings, worked with Manafort in organizing the Hapsburg Group, described by the counsel's office as "a group of former senior European politicians to take positions favorable to Ukraine, including by lobbying in the United States".
One of the potential witnesses told the government that he believed Manafort's outreach was an effort to "suborn perjury", a criminal offense to induce a witness to lie under oath. Manafort attempted to contact one of the witnesses in February after a federal grand jury in Washington returned a "superseding indictment", which accused him of having "secretly retained" a group of European officials to lobby for positions favorable to Ukraine in the US.
According to the court filing, Manafort called and messaged one of the witnesses on 24 February, the day after his longtime associate and a former Trump campaign official entered guilty pleas to conspiracy and lying to the FBI.
During one call the witness told the government that Manafort identified himself and said he wanted to give "a heads-up about Hapsburg". The witness said he hung up because he was "concerned" about the call, according to the affidavit.

Early this year, the South African government announced that Day Zero was looming – a moment, after three years of unprecedented drought, when dam levels would be so low that taps would be turned off and people would have to fetch water at communal collection points.
After taking remedial measures, Capetonians managed to push back the date of Day Zero until next year. We visited the city to find out how the threat of an apocalyptic disaster has changed lives