18 Jun
News and Analyses, A Foreign Perspective
Nearly all of these are English-edition daily newspapers. These sites have interesting editorials and essays, and many have links to other good news sources. We try to limit this list to those sites which are regularly updated, reliable, with a high percentage of "up" time.

Associated Press in McAllen, Texas
US Border Patrol allows reporters to visit holding facility
Protesters gather outside a detention facility in south Texas, where hundreds of children wait away from their parents in cages created by metal fencing. The US border patrol allowed reporters to briefly visit the site, where it holds families arrested at the southern US border. Melania Trump and Laura Bush have spoken out against the policy of separation and what they called heartbreaking scenes.
Inside an old warehouse in south Texas, hundreds of children wait away from their parents in a series of cages created by metal fencing.
One cage had 20 children inside. Scattered about are bottles of water, bags of chips and large foil sheets intended to serve as blankets.
One teenager told an advocate who visited she was helping care for a young child she didn't know because the child's aunt was somewhere else in the facility. She said she had to show others in her cell how to change the girl's diaper.
On Sunday, the US Border Patrol allowed reporters to briefly visit the facility where it holds families arrested at the southern border, responding to new criticism and protests over the Trump administration's "zero tolerance" policy and resulting separation of families.
More than 1,100 people were inside the large, dark facility that was divided into separate wings for unaccompanied children, adults on their own and mothers and fathers with children. The cages in each wing open into common areas, to use portable restrooms. The overhead lighting stays on around the clock.
Reporters were not allowed by agents to interview any of the detainees or take photos.
Nearly 2,000 children have been taken from their parents since the attorney general Jeff Sessions announced the policy, which directs homeland security officials to refer all cases of illegal entry into the US for prosecution.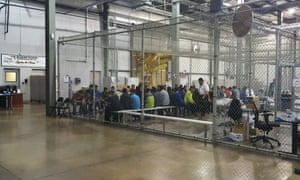 People who have been taken into custody related to cases of illegal entry into the United States, sit in one of the cages at a facility in McAllen, Texas, Sunday 17 June. Photograph: AP
Those kids inside who have been separated from their parents are already being traumatized

Senator Jeff Merkley
Church groups and human rights advocates have sharply criticized the policy, calling it inhumane.
Stories have spread of children being torn from their parents' arms, and parents not being able to find where their kids have gone. A group of congressional lawmakers visited the same facility on Sunday and were set to visit a longer-term shelter holding around 1,500 children – many of whom were separated from their parents.
"Those kids inside who have been separated from their parents are already being traumatized," said the Democratic senator Jeff Merkley, of Oregon, who was denied entry earlier this month to children's shelter. "It doesn't matter whether the floor is swept and the bedsheets tucked in tight."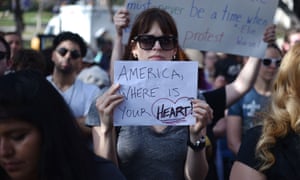 The separation of children and parents has been met with protests. Photograph: Robyn Beck/AFP/Getty Images
In Texas' Rio Grande Valley, the busiest corridor for people trying to enter the US, Border Patrol officials argue that they have to crack down on migrants and separate adults from children as a deterrent to others.
"When you exempt a group of people from the law … that creates a draw," said Manuel Padilla, the Border Patrol's chief agent here. "That creates the trends right here."
Agents running the holding facility – generally known as "Ursula" for the name of the street it's on – said everyone detained is given adequate food, access to showers and laundered clothes, and medical care.
People are supposed to move through the facility quickly. Under US law, children are required to be turned over within three days to shelters funded by the Department of Health and Human Services.
Padilla said agents in the Rio Grande Valley have allowed families with children under the age of five to stay together in most cases.
An advocate who spent several hours in the facility on Friday said she was deeply troubled by what she found. Michelle Brane, the director of migrant rights at the Women's Refugee Commission, met a 16-year-old girl who had been taking care of a young girl for three days. The teen and others in their cage thought the girl was two years old.
"She had to teach other kids in the cell to change her diaper," Brane said.
Brane said that after an attorney started to ask questions, agents found the girl's aunt and reunited them. It turned out that the girl was actually four. Part of the problem was that she did not speak Spanish but K'iche, a language indigenous to Guatemala.
"She was so traumatized that she wasn't talking," Brane said. "She was just curled up in a little ball."
Brane said she also saw officials at the facility scold a group of five-year-olds for playing around in their cage, telling them to settle down. There are no toys or books. But one boy nearby wasn't playing with the rest. According to Brane, he was quiet, clutching a piece of paper that was a photocopy of his mother's ID card.
"The government is literally taking kids away from their parents and leaving them in inappropriate conditions," Brane said. "If a parent left a child in a cage with no supervision with other five-year-olds, they'd be held accountable."

Climate change study predicts 'staggering impact' of swelling oceans on coastal communities within next 30 years
Oceanfront homes in Virginia Beach, Virginia. Houses on the US coastline could risk being flooded every two weeks. Photograph: Alamy
Sea level rise driven by climate change is set to pose an existential crisis to many US coastal communities, with new research finding that as many as 311,000 homes face being flooded every two weeks within the next 30 years.
The swelling oceans are forecast repeatedly to soak coastal residences collectively worth $120bn by 2045 if greenhouse gas emissions are not severely curtailed, experts warn. This will potentially inflict a huge financial and emotional toll on the half a million Americans who live in the properties at risk of having their basements, backyards, garages or living rooms inundated every other week.
"The impact could well be staggering," said Kristina Dahl, a senior climate scientist at the Union of Concerned Scientists (UCS). "This level of flooding would be a tipping point where people in these communities would think it's unsustainable.
"Even homes along the Gulf coast that are elevated would be affected, as they'd have to drive through salt water to get to work or face their kids' school being cut off. You can imagine people walking away from mortgages, away from their homes."
Sea levels are rising. For many cities on the the eastern shores of the United States, the problem is existential. We take a look at how Miami and Atlantic City are tackling climate change, and the challenges they face under a skeptical Trump administration that plans to cut funding for environmental programs
The UCS used federal data from a high sea level rise scenario projected by the National Oceanic and Atmospheric Administration, and combined it with property data from the online real estate company Zillow to quantify the level of risk across the lower 48 states.
Under this scenario, where planet-warming emissions are barely constrained and the seas rise by about 6.5ft globally by the end of the century, 311,000 homes along the US coastline would face flooding on average 26 times a year within the next 30 years – a typical lifespan for a new mortgage.
The losses would multiply by the end of the century, with the research warning that as many as 2.4m homes, worth around a trillion dollars, could be put at risk. Low-lying states would be particularly prone, with a million homes in Florida, 250,000 homes in New Jersey and 143,000 homes in New York at risk of chronic flooding by 2100.
Unfortunately, many coastal communities will face declining property values as risk perceptions catch up with reality
This persistent flooding is likely to rattle the housing market by lowering property prices and making mortgages untenable in certain areas. Flood insurance premiums could rise sharply, with people faced with the choice of increasing clean-up costs or retreating to higher ground inland.
"Unfortunately, in the years ahead many coastal communities will face declining property values as risk perceptions catch up with reality," said Rachel Cleetus, an economist and climate policy director at UCS. "In contrast with previous housing market crashes, values of properties chronically inundated due to sea level rise are unlikely to recover and will only continue to go further underwater, literally and figuratively."
The report does not factor in future technological advances that could ameliorate the impact of rising seas, although the US would be starting from a relatively low base compared with some countries given that it does not have a national sea level rise plan. And the current Trump administration has moved to erase the looming issue from consideration for federally funded infrastructure.
The oceans are rising by about 3mm a year due to the thermal expansion of seawater that's warming because of the burning of fossil fuels by humans. The melting of massive glaciers in Greenland and Antarctica is also pushing up the seas – Nasa announced last week that the amount of ice lost annually from Antarctica has tripled since 2012 to an enormous 241bn tons a year.
This slowly unfolding scenario is set to pose wrenching choices for many in the US. Previous research has suggested that about 13 million Americans may have to move due to sea level rise by the end of the century, with landlocked states such as Arizona and Wyoming set for a population surge.
"My flood insurance bill just went up by $100 this year, it went up $100 the year before," said Philip Stoddard, the mayor of South Miami. "People on the waterfront won't be able to stay unless they are very wealthy. This isn't a risk, it's inevitable.
"Miami is a beautiful and interesting place to live – I'm looking at a lizard on my windowsill right now. But people will face a cost to live here that will creep up and up. At some point they will have to make a rational economic decision and they may relocate. Some people will make the trade-off to live here. Some won't."
World Politics
United States
Opinion

 Donald Trump  Kim Jong-un

As the world's water needs grow so is concern that we're rapidly using up supplies. How worried should we be?
by Fiona Harvey Environment correspondent
Water seems the most renewable of all the Earth's resources. It falls from the sky as rain, it surrounds us in the oceans that cover nearly three-quarters of the planet's surface, and in the polar ice caps and mountain glaciers. It is the source of life on Earth and quite possibly beyond – the discovery of traces of water on Mars aroused excitement because it was the first indication that life may have existed there.
The problem is that most of the Earth's water resources are as inaccessible as if they were on Mars, and those that are accessible are unevenly distributed across the planet. Water is hard to transport over long distances, and our needs are growing, both for food and industry. Everything we do requires water, for drinking, washing, growing food, and for industry, construction and manufacturing. With more than 7.5 billion people on the planet, and the population projected to top 10 billion by 2050, the situation is set to grow more urgent.
Currently, 844 million people – about one in nine of the planet's population – lack access to clean, affordable water within half an hour of their homes, and every year nearly 300,000 children under five die of diarrhoea, linked to dirty water and poor sanitation. Providing water to those who need it is not only vital to human safety and security, but has huge social and economic benefits too. Children lose out on education and adults on work when they are sick from easily preventable diseases. Girls in developing countries are worst off, as they frequently stop going to school at puberty because of a lack of sanitation, and girls and women travelling miles to fetch water or forced to defecate in the open are vulnerable to violence. Providing affordable water saves lives and reduces the burden on healthcare, as well as freeing up economic resources. Every £1 invested in clean water yields at least £4 in economic returns, according to the charity WaterAid.
It would cost just over £21bn a year to 2030, or 0.1% of global GDP, to provide water and hygiene to all those who need it, but the World Bank estimates that the economic benefits would be $60bn a year.
Is climate change making things worse?
Climate change is bringing droughts and heatwaves across the globe, as well as floods and sea level rises. Pollution is growing, both of freshwater supplies and underground aquifers. The depletion of those aquifers can also make the remaining water more saline. Fertilisers leaching nitrates into the supplies can also make water unsuitable for drinking or irrigation.