20 Jun
News and Analyses, A Foreign Perspective
Nearly all of these are English-edition daily newspapers. These sites have interesting editorials and essays, and many have links to other good news sources. We try to limit this list to those sites which are regularly updated, reliable, with a high percentage of "up" time.

World Politics
United States
As immigration advocates struggle to help more than 1,600 children taken from their parents, Trump refuses to back down
The McGlynn
I'm not going to say what ought to be done with Jeff Sessions—this little devil who gives midgets a bad name—as I don't want to end up on some list these fascists keep.
Same goes for the lying, hypocritical son of Satan Trump.
Oh! What the hell! The fascists can go to hell!
Also, that blonde witch: how about we put

your

children in one of those cages for a (mere) week? No? Wouldn't like that, would you? She was heavily involved—and criticized—for her disgusting role in George W's bungled, inhumane, and racist reaction to the hurricane Katrina disaster.
Sessions of course, is infamous for his racism. Never mind Trump—a violent racist since he as a building owner, just like his racist father, wouldn't rent to black people (and were prosecuted for it). What a lovely trio of psychopaths.
The McGlynn
Why are families being separated at the southern US border? – video explainer
One month before Donald Trump's administration enacted a policy that allowed the government to take thousands of migrant children from their parents, the president twice told crowds at his rallies that immigrant gang members were not people.
"These are animals," he said in May. Over the weekend, video and photos emerged of the cage-like detention centers where children, separated from their parents, are housed.
His comment was directed at violent MS-13 gang members, and he deplored the idea that he had been talking about all immigrants. Today, however, as criticism mounts about a draconian set of immigration polices, advocates and attorneys are left wondering just how far Trump and his team are willing to go to stop immigrants from entering the country.
The most extreme example yet is the practice of family separation, which has seen more than 1,600 children taken from parents. Advocates say the practice had quietly been taking place for months before the government adopted it as policy in Apr
"It goes totally against what this country was founded on," Janet Gwilym, an attorney who has been representing children in Washington state, said. "We have a moral responsibility to take them in. It's international law to take in refugees; that's who these people are – and instead we are just adding to the trauma that they are going through."
Gwilym, managing attorney for the Seattle branch of Kids in Need of Defense (Kind), an advocacy group for unaccompanied immigrant children, said children aged 12 to 17 had been comforting toddlers who, like them, had just been taken from their parents.
She said children had said they were told by immigration officials that they would see their parents again in a few minutes but hadn't seen them for months.
In the face of widespread, bipartisan condemnation, and warnings from medical bodies about the long-term consequences these separations have on children, Trump and his cabinet have stood firm. "The United States will not be a migrant camp and it will not be a refugee holding facility. It won't be," Trump said during remarks at the White House on Monday.
Congress has not given Trump funds for any new stretches of wall, but in the interim, his administration has created an invisible wall of policies that advocates and attorneys say are meant to stem all types of immigration. The separation of children from their parents is just the most dramatic of many measures the Trump administration has taken to tackle illegal immigration across the United States.
Those affected include refugees, undocumented adults and children, who have also been targeted with a slate of actions such as the cancellation of a refugee program for children traveling from the dangerous Central American northern triangle countries.
There are now daily stories of undocumented people, resident in the United States for decades and with children born in the country, being targeted at their places of work and being forcibly returned home.
When it comes to the undocumented population living in the US, in the administration's eyes, there appears no longer to be any distinction between violent criminals and people who have been living quietly without legal status for decades.
From October 2016 to September 2017, US Immigration and Customs Enforcement (Ice) said, it had apprehended nearly 38,000 individuals who had no criminal convictions – a 146% increase from the previous year.
And in a similar style to the family separation policy, the administration abruptly canceled a program that provided temporary deportation relief for undocumented immigrants who had been raised in the US (known as Dreamers): Deferred Action for Childhood Arrivals (Daca).
After the revoking of Daca and termination of a special deportation relief measure called Temporary Protected Status for six countries, 1,038,600 people are no longer protected from deportation, according to government figures.
The policy crackdown has advanced on many fronts, but the most extraordinary turn was in April, when the Trump administration made family separation possible, by saying there would be "zero tolerance" for people who cross the border illegally.
.
Nikki Haley says council is 'protector of human rights abusers' that targets Israel in particular and ignores atrocities elsewhere
Nikki Haley: US will lead on human rights outside 'misnamed' UN council – video
The US is withdrawing from the United Nations human rights council, the Trump administration announced on Tuesday, calling it a "cesspool of political bias" that targets Israel in particular while ignoring atrocities in other countries.
The US ambassador to the UN, Nikki Haley, said she had traveled to the council's headquarters in Geneva a year ago to call for reforms, to no avail.
"Regrettably it is now clear that our call for reform was not heeded," Haley told reporters at the state department. "Human rights abusers continue to serve on, and be elected to, the council."
She added: "The world's most inhumane regimes continue to escape scrutiny and the council continues politicising and scapegoating of countries with positive human rights records in an attempt to distract from the abusers in their ranks."
"For too long the human rights council has been a protector of human rights abusers and a cesspool of political bias."
The UN secretary general, Antonio Guterres, expressed regret about the US withdrawal. The organisation's top human rights official, Zeid Ra'ad al-Hussein said in a tweet: "Given the state of human rights in today's world, the US should be stepping up, not stepping back."
Haley argued the US had spent a year in pursuit of reforms while the council's flaws deepened. She pointed to the election of the Democratic Republic of Congo to council membership in the past year, despite the US reform campaign, as proof that the body could not be fixed. She also noted the council had failed to hold a single session on Venezuela, which is a council member, or Iran, despite its ruthless crushing of opposition demonstrations.
"When a so-called human rights council cannot bring itself to address the massive abuses in Venezuela and Iran, and it welcomes the Democratic Republic of Congo as a new member, the council ceases to be worthy of its name," the ambassador said.
Haley also pointed to the continued existence of "agenda item 7", a permanent fixture on the schedule, exclusively devoted to the discussion of rights violations in the West Bank and Gaza Strip.
The UK foreign secretary, Boris Johnson, said the US decision to leave was "regrettable".
Johnson, who had called on Monday for agenda item 7 to be reformed, said in a statement: "The United States' decision to withdraw from the human rights council is regrettable.
"We've made no secret of the fact that the UK wants to see reform of the human rights council, but we are committed to working to strengthen the council from within," the foreign secretary added.
However, Haley criticised countries that expressed concern about the council but remained members, suggesting those countries lacked courage. "Almost every country we met with agrees with us, in principle and behind closed doors, that the human rights council needs major dramatic, systemic changes. Yet no other country has had the courage to join our fight," she said.
Calls by joint inquiry to bring forward UK car sales ban have been resisted by government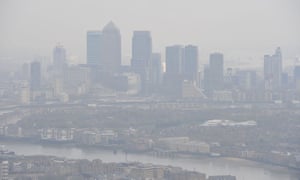 The London skyline. The government has previously been criticised for a lack of urgency in tackling the air pollution crisis. Photograph: Nick Ansell/PA
The government has been accused of dragging its feet on air quality improvements by a cross-party group of MPs.
A partnership of four committees said serious concerns remained about the UK's commitment to cutting pollution and its impact on public health.
The Commons environment, food and rural affairs, environmental audit, health and social care, and transport committees had made a series of recommendations to the government in the joint report in March. They included bringing forward a planned ban on the sale of new conventional diesel and petrol cars from 2040.
In its response, published on Wednesday, the government maintained that the existing date would put the UK at the forefront of the global transition to cleaner road transport.
It said its overall strategy to cut air pollution would "help us achieve our goals of cleaner air, a better environment, zero-emission vehicles and a strong, clean economy".
MPs remain concerned about efforts to improve air quality. Mary Creagh, the chair of the environmental audit committee, said: "We need cities where people can move and can breathe, so it is worrying that the government is dragging its feet on air quality, even in the face of legal action by the European court of justice.
"It is also concerning that the government is not ready to demonstrate global leadership by forcing manufacturers to produce only clean vehicles before 2040."
Lilian Greenwood, the chair of the transport select committee, said: "Our report called on the government to take action to reduce our reliance on cars and increase the use of public transport. We are disappointed, therefore, that the response does not include any substantial public transport or urban planning initiatives."
The government has previously been criticised for a lack of urgency in tackling the air pollution crisis. Several other countries including India, Norway, Ireland and the Netherlands have set much more ambitious targets for vehicle bans.
The unprecedented joint inquiry was launched amid concerns over the government's air quality plans, which have repeatedly been successfully challenged in the courts by environmental groups and found to be so inadequate as to be illegal.
The UN's special rapporteur on pollution said last year that the UK government was "flouting" its duty to protect the health of its citizens, while the problem was declared a public health emergency by a cross-party committee of MPs in 2016.
Air pollution causes an estimated 40,000 premature deaths a year in the UK and is linked to health problems from childhood illnesses to heart disease and dementia.
Concerns over nitrogen dioxide emissions have grown since Volkswagen was found in September 2015 to have cheated air pollution tests with 11m diesel vehicles worldwide.
On the small Welsh island of Skomer, puffin numbers are booming. But in former strongholds in Scotland, Norway and Iceland, the picture is ever more worrying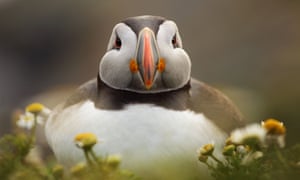 Skomer island puffin. Photograph: Alamy Stock Photo
B

ryony Baker lies spreadeagled at the edge of a cliff and reaches her hand deep into a hole in the ground that is almost entirely hidden beneath a clump of grass. She pushes further in and her arm disappears up to the shoulder. It is a little like watching a vet getting up close and personal with a labouring cow. "Ouch!" she exclaims suddenly, her face creasing in pain. She pulls her arm out and inspects her fingers, already covered in scars. "That one's definitely a puffin. They look sweet, but they can be pretty aggressive."
She presses her lips together in anticipation of another nip and pushes her hand in again. A large, dirty white egg emerges from the burrow – "warm, good" – and she places it safely on a cushion of moss. She reaches into the ground again. When she withdraws it, a second later, she's holding an irritated puffin by its orange beak. She rings it, notes its number – this is now Bird EZ88918 – then gently replaces it and its precious egg in the burrow.
Baker, who is funded by the Joint Nature Conservation Committee, is this year's seabird researcher on Skomer island, a remote wildlife haven off the west coast of Wales, which is managed for seabird conservation by the Wildlife Trust of South and West Wales (WTSWW).
By late May, the island is covered in a violet haze of bluebells mixed with red campion. Together with its neighbouring island Skokholm, Skomer is home to the highest concentration of Manx shearwaters in the world. But here on the narrow, high isthmus of land that still just connects Skomer's main landmass to a smaller outcrop known as The Neck, it is puffins (a type of auk) that are in the ascendant. With this year's count recording nearly 31,000 individuals, up from 14,000 in 2013, breeding adults are even starting to encroach into what were once "Manxie" burrows.
"We need to be cautious. We might have had an optimal day for counting them this year," observes Eddie Stubbings, one of Skomer's two wardens. But whatever the exact number, there is now a housing problem on the slopes where puffins hang out in the brilliant late-afternoon sunshine. A puffin takeover has begun in earnest. This involves the portly little birds marching into shearwater burrows and determinedly dragging out the hapless inhabitants. Graceful in the air but helpless on land, the shearwater becomes easy prey for hungry gulls. Bird EZ88918 is one of three puffins Baker discovers today that have commandeered burrows known previously to have been home to a pair of breeding shearwaters.
The apparently rude health of this Welsh puffin population is in marked contrast to the species' catastrophic decline in what were once thriving colonies on Shetland. The RSPB's seabird specialist Dr Ellie Owen confirms that on 20 monitored sites across Shetland, the 33,000 puffins counted in the last nationwide census in 2000 have plummeted to just 570 individuals. A Further afield, these auks are also in dire straits: Norway has seen vertiginous crashes, with hundreds of thousands of adult puffins in the once-teeming colony of Røst struggling to fledge any chicks in recent years……………The trawling of millions of tonnes of small oily fish, such as sprats and sandeels, for farmed fish and animal feed is another human impact that has denuded once prey-rich seas of the sustenance on which all seabirds rely. Birkhead was so alarmed by the recent loss of funding for his uniquely long-lived Skomer study that he has resorted to crowdfunding to meet the cost of training and paying researchers so it can continue.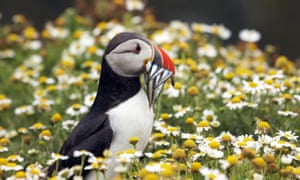 A puffin with sandeels. Photograph: Getty
Puffins have two distinct phases of their lives: four months on land to breed, with the rest of the year spent out at sea. So, the wider challenge of protecting puffins, says Wood, is that they need the north Atlantic ocean to be healthy enough to support the fish stocks on which they feed all year round. And while researchers stand a decent chance of counting seabirds when they are near their breeding colonies, working out where they are feeding while out at sea, what kind of fish they are catching and where in the water column those fish are shoaling, is far more difficult (for which, read expensive). Meanwhile, there is widespread concern that climate change could be affecting seabird survival in a variety of subtle and intermeshing ways.
"A quarter of Pembrokeshire's puffins died over the winter of 2013-14 – that's about 5,000 birds," says Wood. "They're tough creatures that can cope with stormy weather, but a conveyor belt of extreme storms stopped them feeding out at sea. It must have been like living in a washing machine." Tens of thousands of seabirds across Europe starved and were washed ashore. These seabird wrecks happen from time to time, but Wood says that if the predictions of more frequent and extreme storm events come true, and seabird wrecks become more common, "that might become more of a problem for puffins". Add in shifting fish distributions, oil pollution and the peril of plastic buildup in the oceans and it is easy to see how seabirds are facing ever-greater threats.

This entry was posted on Wednesday, June 20th, 2018 at 12:47 pm and is filed under General. You can follow any responses to this entry through the RSS 2.0 feed. Both comments and pings are currently closed.